Are you pedantic or a scofflaw?  Do you follow the rules or are you a rule-breaker?  The older I get, the more I like to break the rules, except those relating to driving or which may result in time spent behind bars (the jail kind, not the cocktail kind).  For instance, it's February and my holiday decorations are still up!  Who says holiday decorations need to be taken down immediately after New Year's Day?  Plus, Sous Chef and I long ago agreed to keep them up until Chinese New Year.   Or how about wearing white only from Memorial Day weekend to Labor Day weekend?  It is already pushing 90 degrees here in the Coachella Valley, so wearing white with sandals seems  perfectly acceptable, if not necessary.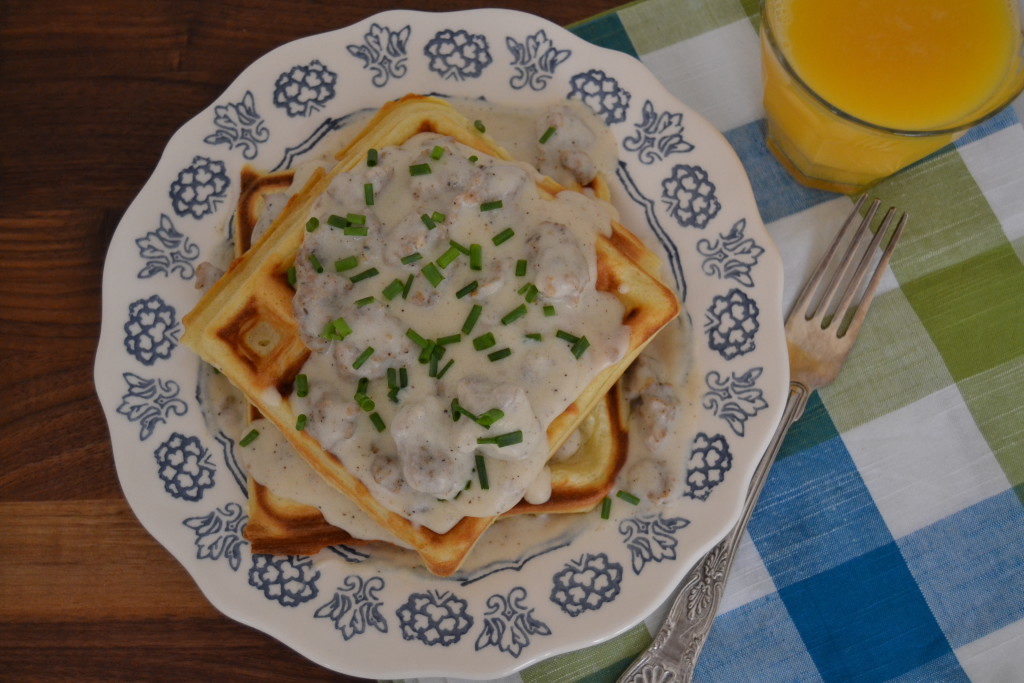 One rule I love to break is "having breakfast only during the breakfast hour."  Really, who has time to have breakfast in the morning?  The dogs need their morning ablutions and sustenance, if not a walk; my hair needs washing and curling; and no longer will a dab of makeup do.  Thus my morning repast consists of a green juice/smoothie drink and later a banana  as a snack.  So while I'm way too busy in the morning to make a real breakfast, I do love the items  that constitute breakfast and thoroughly enjoy having them during the dinner hour.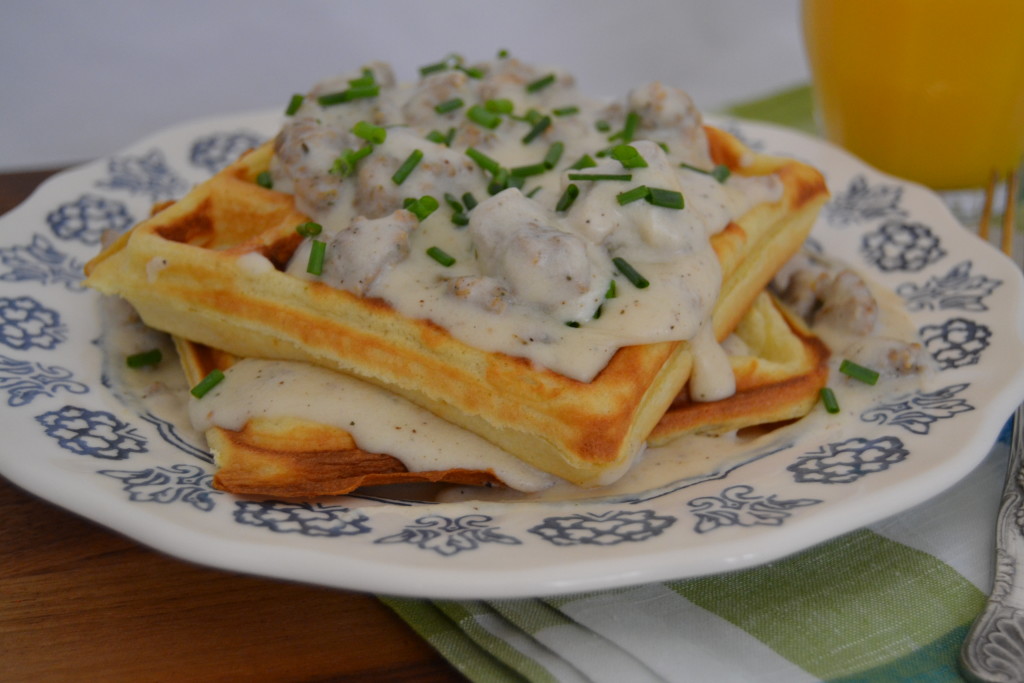 Krusteaz is totally on-board with this idea too and is launching a whole new movement, called "Brinner," to bring breakfast-to-dinner.  I was thrilled when they asked me to participate in the Brinner campaign and share some of my favorite breakfast-for-dinner recipes.  I'm a girl from Montana and my preferred breakfast is biscuits and gravy.  Unfortunately for me, I'm a bit of a flop when it comes to making biscuits.  This is where Krusteaz Belgium Waffle Mix is a lifesaver as I can now make Waffles & Gravy in about 15 minutes.  Waffles are extremely versatile and are finding their way into savory recipes more often.  They are a great platform for my "European-style" Brinner which consists of prosciutto, fresh mozzarella cheese, tomato, and herbs.  Or how about fried chicken and waffles?  They even make a great Brinner dessert  when adorned with whipped cream and fresh berries.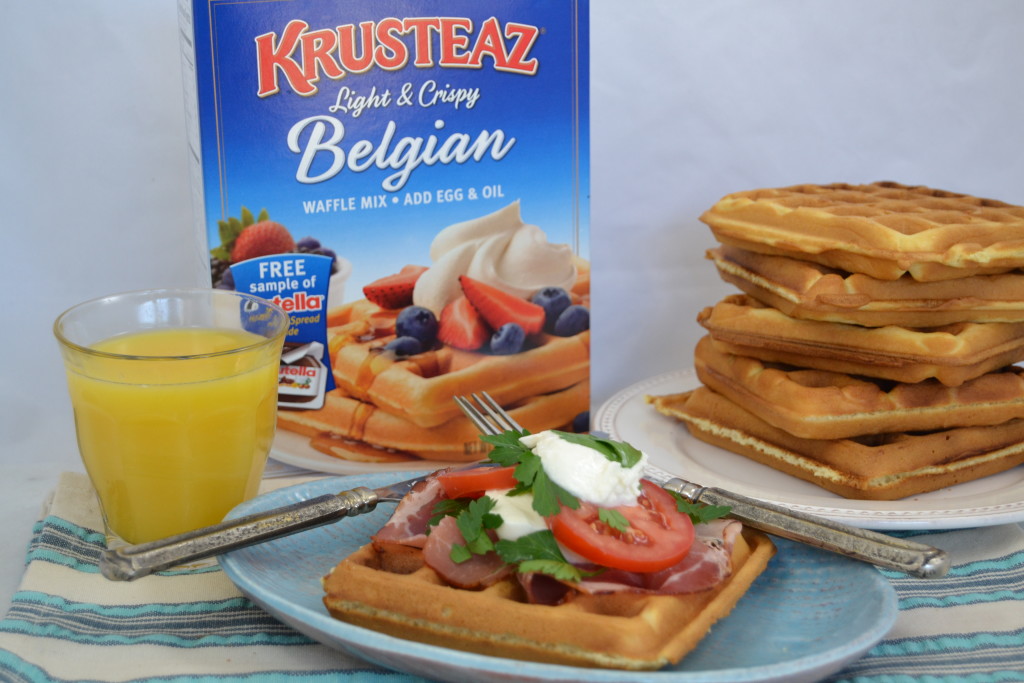 Break the rules.  Make Brinner tonight!
Note:  All comments on the Krusteaz products are strictly my own.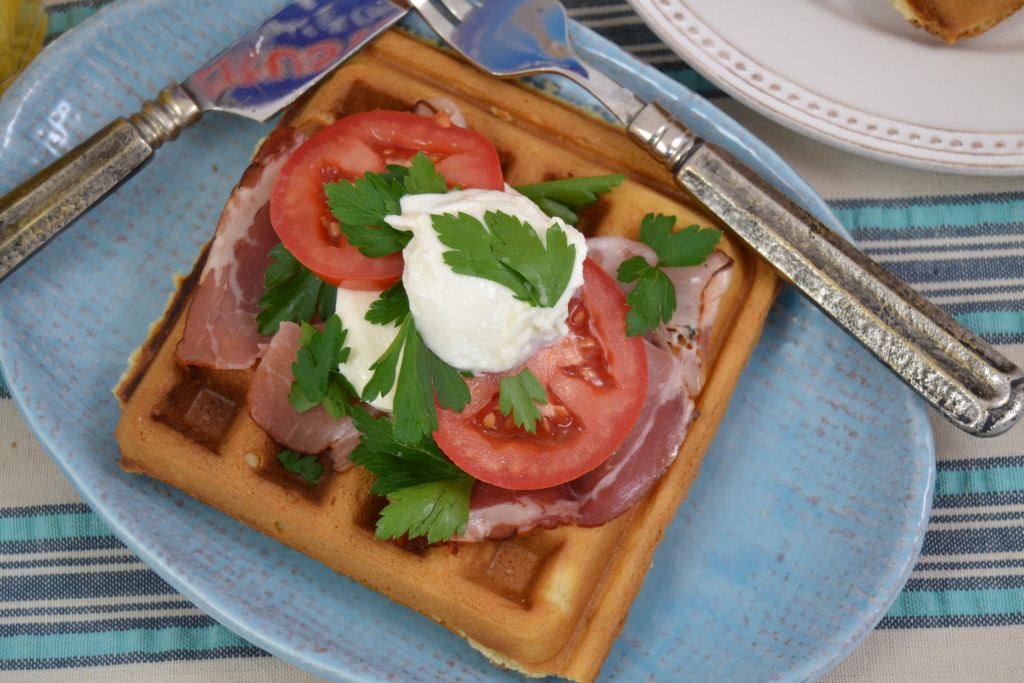 Waffles & Gravy
Ingredients
1 box Krusteaz Belgium Waffle Mix
6 turkey & herb sausages
2 cups whole milk
2 tablespoons unsalted butter
2 tablespoons all purpose flour
salt & pepper
chives
Instructions
Make waffle mix according to directions on box.
Remove turkey meat from casing and brown. Set aside.
In a sauce pan place milk, butter and bring to a simmer over medium heat. Whisk in the flour and cook for about 1 minute without browning. Raise the heat and continue to whisk sauce until it thickens – about 5 minutes. Season with salt and pepper. Add turkey mixture and combine.
Serve gravy mixture over waffles and garnish with chives.
European Breakfast Waffle
Ingredients
1 box Krusteaz Belgium Waffle Mix
1 package Proscuitto
1-2 Tomatoes, sliced
1 Fresh mozzarella ball, sliced
Italian Parsley or other herbs
Instructions
Prepare waffles according to directions on box.
Place proscuitto on waffle, I like about two slices, top with tomato slices, and mozzarella. Garnish with fresh herbs.