If Mrs. Patmore freaked over an electric mixer, how incredulous would she be to cook protein in tepid water?
Mrs. Patmore is not the only one averse to change in the kitchen.  For over five years I proudly displayed Thomas Keller's book Under Pressure:  Sous Vide but never had the courage to actually attempt this futuristic cooking method until just a few months ago when I received a Sous Vide Supreme water oven to try.  Since then I have been assiduously working to master its fundamentals and explore its exciting opportunities.
For Downton Abbey Sunday I traveled to the future with a modernized version of Spice-Rubbed Beef Brisket and Lobster Tail with Champagne Vanilla-Butter Sauce.  My  inspiration came from a recipe for Spiced Beef in the book "A Year in the Life of Downton Abbey"  by Elizabeth Fellowes.  The photo looked fabulous, the recipe seemed appropriate for a Downton Sunday, and the sous vide water oven a perfect implement.  We are cutting down on sodium, so curing with salt was out of the question.  Plus I am too impatient to wait seven days before cooking  a piece of meat.  Thus, slathering the beef brisket with a tasty spice rub seemed the answer.  One of Sous Chef's cooking mantras is to "keep it simple" (although he frequently includes the word "stupid" when addressing me).  So I made a rub of  brown sugar, black pepper, whole cloves, allspice, cumin seeds, coriander seeds, and paprika, rubbed it liberally over each side, and cooked the so adorned beef brisket for about 8 ½ hours in the Sous Vide Supreme.  A great benefit from this style of cooking is that it provides great latitude respecting cooking times—making it difficult to overcook — a great feature when you are entertaining guests, children or pets need immediate attention at a critical juncture, or you simply go asleep at the wheel.  In this case, the result was a beautiful, evenly cooked, moist and tender beef brisket suitable for the most discerning of carnivores.
"Simple" is not a term synonymous with the Downton Abbey lifestyle, however.  Their meals have a certain level of extravagance to reflect the status of the Crawley family.  So Sous Chef suggested a sous vide version of "Surf and Turf" by cooking lobster tails as well.  This was almost too easy to be considered cooking since it merely required placing the lobster tails in the vacuum bag and cooking at 60˚C/140˚F  for 30 minutes.  Yep, that's it folks.  If you want to jazz this up a bit, you can make a Champagne Vanilla-Butter Sauce and give the Lobster a bath in the sauce on the stove.  This sauce is simple (in keeping with the Sous Chef's mantra and the theme of the meal), smells divine, and works beautifully with the lobster.  If you can get your hands on some good lobster, this would be an impressive item to serve your Sweetie for Valentine's Day, after you have gifted her a sous vide cooking device, of course.
A meal at Downton Abbey would not be complete without wine.  I paired the Spice-Rubbed Beef Brisket and Lobster Tail with Champagne –Vanilla Butter Sauce with a Famille Perrin 2011 Les Cornuds Vinsobres, a red wine from the northern limit of the Southern Rhone Valley.  Supple tannins, smoky notes, and hints of dark berries complimented the Spice-Rubbed Beef Brisket without overwhelming the Lobster Tail.  It is a great pairing with any meat and a great value at $18 a bottle.  Alternatively, Champagne and sparkling wines always pair agreeably with lobster and, from experience, with meat as well.  So I would not hesitate to open a bottle of brut or rosé the next time I make this delightful dish.
Note:  I was asked by Sous Vide Supreme to test its product and to make a number of recipes that used its sous vide water oven.  I write about what interests me and, like Robert Parker the wine guru, cannot have my opinions bought because I receive complimentary cooking implements or products to test and comment about.  The opinions and experiences found in my blogs are expressly my own.  So when I say I like a product, I mean it.  And I like this product very much now that I am learning its proper uses and subtleties.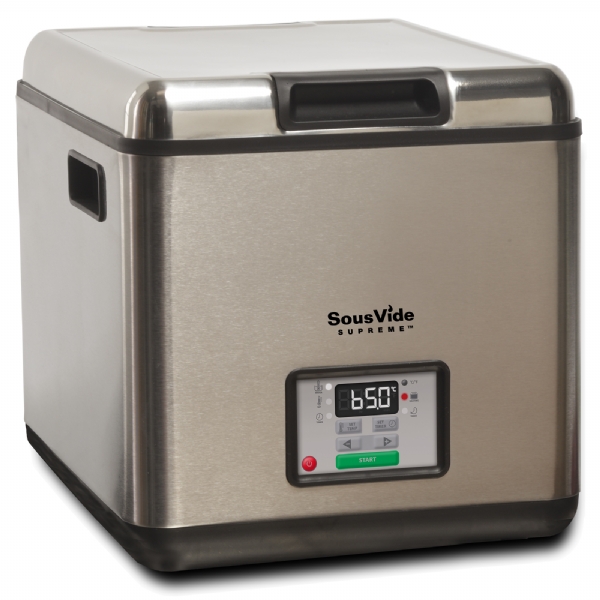 For more information on Sous Vide Supreme visit: www.sousvidesupreme.com
To purchase Famille Perrin Wines visit your local wine merchant, or order online from Total Wine
Spice Rubbed Sous-Vide Beef Brisket
For best results, marinate beef brisket overnight with the spice rub. If you do not like cloves, feel free to leave the whole cloves out of the spice rub.
Ingredients
Spice Rub:
Makes approximately 2 cups
½ cup dark brown sugar
2 tablespoons black pepper
1 tablespoon whole cloves
1 tablespoon all-spice
1 tablespoon cumin seed
1 tablespoon coriander seed
1 tablespoon Maldon Sea Salt Flakes
1 tablespoon hot paprika
1 3½ to 4 pound beef brisket
Instructions
To make rub, place brown sugar in a mixing bowl. Add the spices to a coffee grinder and grind until blended. Add mixture to brown sugar and mix thoroughly.
Beef Brisket:
Preheat Sous Vide Oven to 56.5 C/134 F
Rub approximately ½ cup of spice rub on each side of the beef brisket. Place beef brisket in sous vide bag and vacuum seal. Place in preheated Sous Vide Oven and cook for a minimum of 8-10 hours.
After beef brisket has cooked, remove package from Sous Vide Oven and let rest 15-20 minutes. After beef brisket has rested, remove from package and sear each side for approximately 2 minutes in a preheated dry pan.
Slice and serve.
Sous Vide Lobster Tails with a Champagne Vanilla Butter Sauce
Ingredients
2 lobster tails
⅓ cup champagne or sparkling wine
2 tablespoons butter
1 vanilla bean, seeds scraped out
squeeze of fresh lemon to garnish
Instructions
Preheat Sous Vide Oven to 60 C/140 F.
Place lobster tails in bag and vacuum seal.
Place bag with lobster tails in a Sous Vide Oven for 30 minutes. Remove after 30 minutes and rest lobster tails in package for 15-20 minutes.
While lobster tails are resting, melt butter over medium heat. Add champagne and vanilla seeds and vanilla bean shell to mixture and reduce heat. Add lobster tails and cook approximately 2 minutes per side.