Mary, Mary, quite contrary
How do your chickens grow?
Organic in feed and healthy by need,
They are next to the pigs, you know.
Wow, it has been an eventful season at Downton Abbey – hard to believe we are only two episodes in!  We try not to have any spoiler alerts in our posts, just in case you are new to Downton Abbey or haven't watched the most recent episodes.  So we focus instead on culinary matters rather than social issues or interpersonal relationships.  For this week's installment of Downton Sundays we are featuring a couple of breakfast items that might have been served upstairs at Downton Abbey.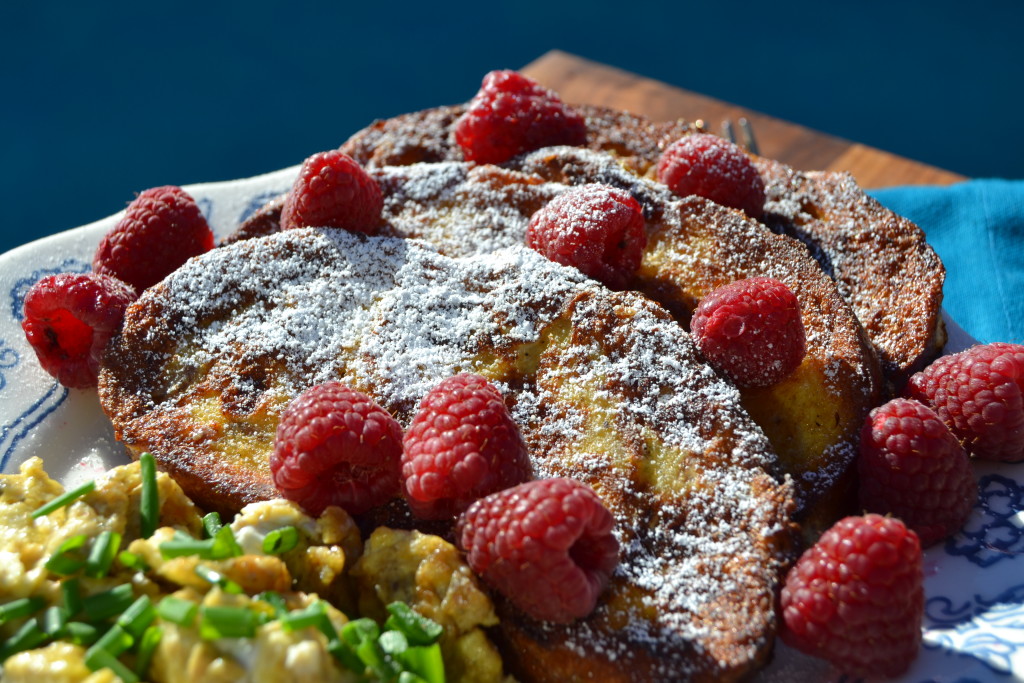 French Toast is a classic breakfast and brunch item that is a breeze to whip up and yet always seems to impress people.  We took our inspiration for this French Toast from the book "A Year in the Life of Downton Abbey: Seasonal Celebrations, Traditions and Recipes" by Jessica Fellowes.  Preparation is pretty straightforward:  slightly stale white bread is soaked in an egg and milk mixture and then browned in a skillet with melted butter.  Voila – French Toast!  We didn't vary from this formula; no reason to since it is tried and true.  But you can have a little fun by varying your bread selection.  Our local Whole Foods Market has been tempting me with a White Chocolate and Cranberry Bread for the past two months that I thought would be perfect for French Toast.  It was a great selection as the cranberry's tartness offsets the sweetness from the white chocolate.  The cranberry-white chocolate combination is fantastic and results in a rather festive looking French Toast.  One thing to remember:  if you are using this type of bread, or any bread that is already sweet, you really don't need much more than a light dusting of powdered sugar.  If you drown this French Toast in syrup, you will miss the bread's wonderful flavors.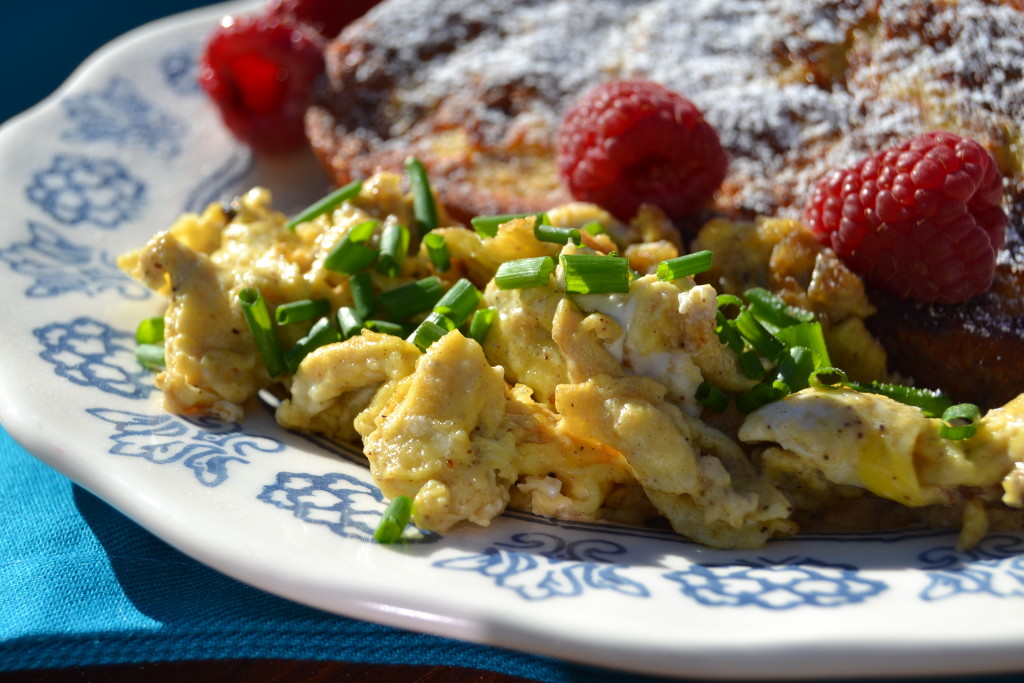 Eggs are a most versatile ingredient and one of the first things people learn to cook.  If you are like Lady Mary, it may be the only thing you know how to cook.  Sous Chef knows how to cook eggs but left it to me to make this version that is found in the "Unofficial Downton Abbey Cookbook" by Emily Ansara Baines.  The secret to "Lady Mary's Scrambled Eggs" is the addition of cream cheese.  It gives the dish a nice tang and creaminess without overwhelming the flavor of the eggs and elevates the flavor profile enough to make it appropriate for Lord Grantham's family and guests.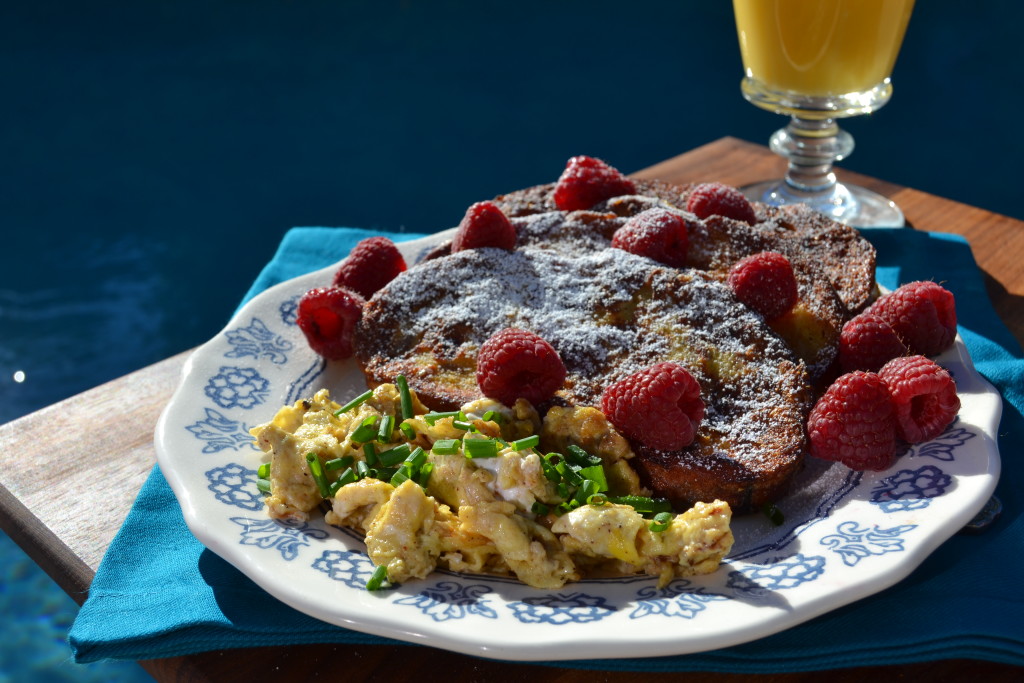 Stayed tuned for next week's installment of Downton Sundays!
White Chocolate & Cranberry French Toast
Ingredients
3 eggs
2 tablespoons of milk
salt and pepper
2 tablespoons butter
6 slices of slightly stale White Chocolate & Cranberry Bread
Powdered Sugar (for garnish)
Fresh Raspberries (for garnish)
Instructions
Crack the eggs into a baking dish. Add the milk, salt and pepper and whisk mixture until all ingredients are combined. Place bread in mixture and coat both sides.
Heat a frying pan over medium heat and add butter. When the butter is melted, place the bread that has been dredged in the egg mixture into the frying pan and cook each side for approximately 3-4 minutes until each side is golden. Repeat with remaining slices of bread.
Place French toast on plates, sprinkle with sugar and garnish with raspberries.
Downton Sundays: Lady Mary's Scrambled Eggs
This recipe is slightly adapted from The Unofficial Downton Abbey Cookbook by Emily Ansara Baines. We have been trying to maintain a low-sodium diet and since cream cheese contains sodium, we did not use as much salt as the recipe in the cookbook called for. We decreased the amount of cream cheese that was used in the cookbook also. We also used milk and increased the amount of chives.
Author:
Christy Majors, adapted from The Unofficial Downton Abbey Cookbook, Emily Ansara Baines
Ingredients
½ cup unsalted butter
5 large eggs (room temperature)
pinch of sea salt
freshly ground black pepper
4 tablespoons milk
2 ounces cream cheese broken into chunks
¼ cup chopped chives
Instructions
In a medium size bowl whisk the eggs, salt, pepper, milk together.
Melt the butter in a large skillet over medium heat. Reduce heat to low.
Pour egg mixture into skillet and gently stir. When egg mixture begins to thicken add cream cheese and stir until the eggs are the consistency you desire.
Place eggs on plate and garnish with chives