Bestia in DTLA is a "nightclub" for serious foodies.   Reservations are almost impossible to obtain, but when you get one  the obligatory cover charge is an adventurous appetite and developed palate.   Wallflowers and those who prefer their meats well-done should stay at home.  Those who think the menu at Olive Garden is daring should stay at home.  Those who like to hear everything that is being said by one's companion should stay at home.  Those who are inclined to substitute items should stay at home.  (Substitutions are politely declined; Chef knows best!).  But Bestia is just what the Doctor ordered.  (Seriously, my doctor did prescribe a trip to Bestia!)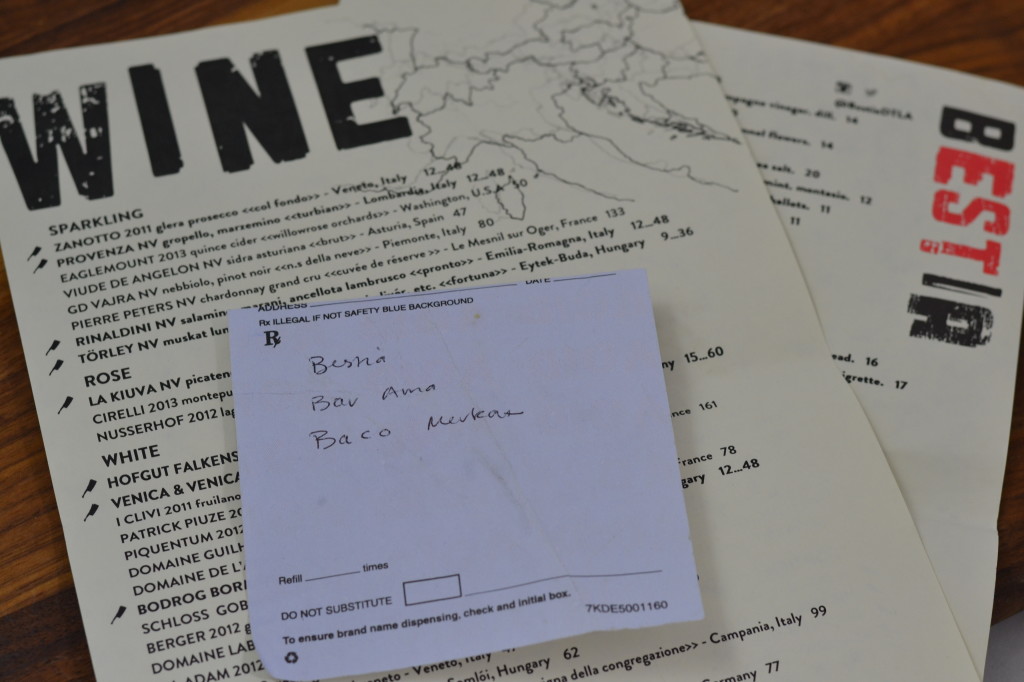 Bestia  means "beast" in Italian and this beast of a restaurant is located near the Los Angeles River in the "Arts District" in an unassuming factory building.  Rusted metal panels, chipped paint, and pipes adorn the outside.  Inside you will find high ceilings, unique meat hanger lighting, and one of the most happening restaurant scenes in DTLA.   The joint is just buzzing with a mixture of hip young foodies and seasoned veterans cohabiting for a chance to taste the delectable creations of Executive Chef Ori Menashe, sip the cocktails crafted by Mixologist Julian Cox, and feast on the dolci (sweets) conjured by Chef Genevieve Gergis.  But despite the crowd, the noise, and trendy vibe, this is one finely tuned restaurant that certainly deserves its recognition as the 14th Best Restaurant in Los Angeles in Jonathan Gold's 101 Best Restaurants in Los Angeles.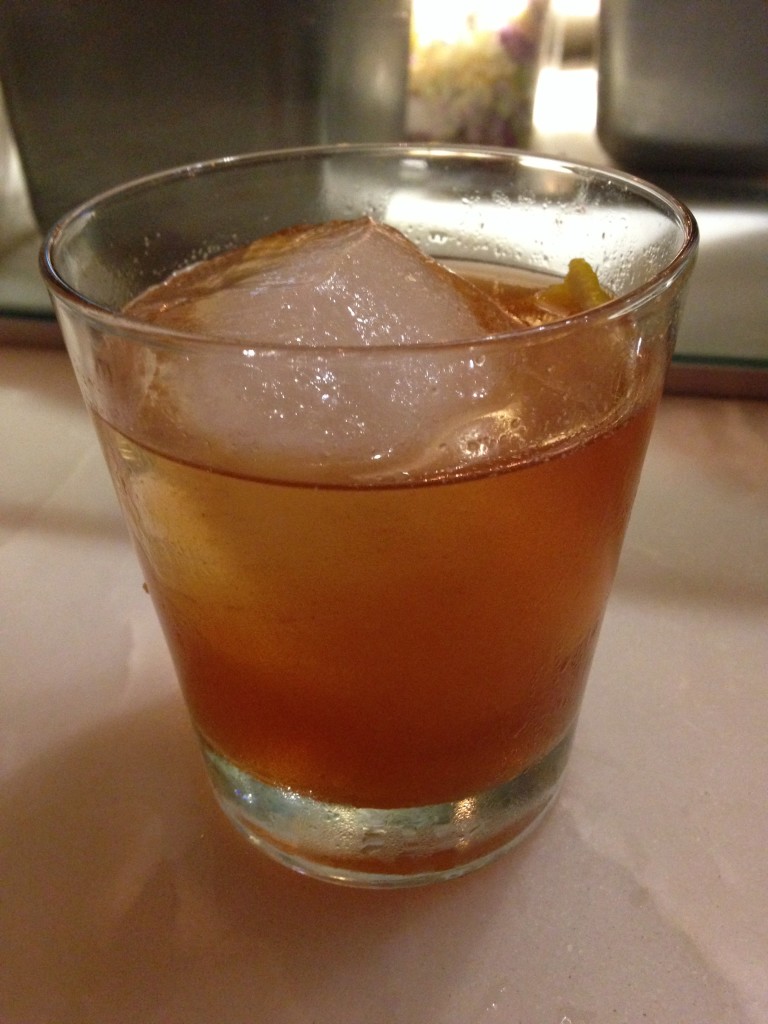 Our relief was palpable at actually being seated, so a celebratory cocktail was in order.  I was nearly rendered mute by the fabulous  cocktail program by Julian Cox and I vacillated like a paint mixer when trying to decide on a libation.  Fortunately, Sous Chef was with me so I was able to try two cocktails—his and mine.  He ordered the Chef's Old Fashion, which consists of lardo infused bourbon, hickory smoked sugar, and angostura bitters, and is a modern take on the classic Old Fashion.  It was exceptional.  I'm a Negroni lover so I had to try the White Negroni, which is made with gin, kina l'avion d'or suze, and grapefruit oils.  It was so good, "one sip will bathe the drooping spirits in delight beyond the bliss of dreams."  (John Milton).  Although I was tempted to do my own Tour de France through the cocktail menu, a Culinary Diva does not live on alcoholic potions alone.  So it was off to the menu and wine list for what turned out to be an excursion through heavenly delights.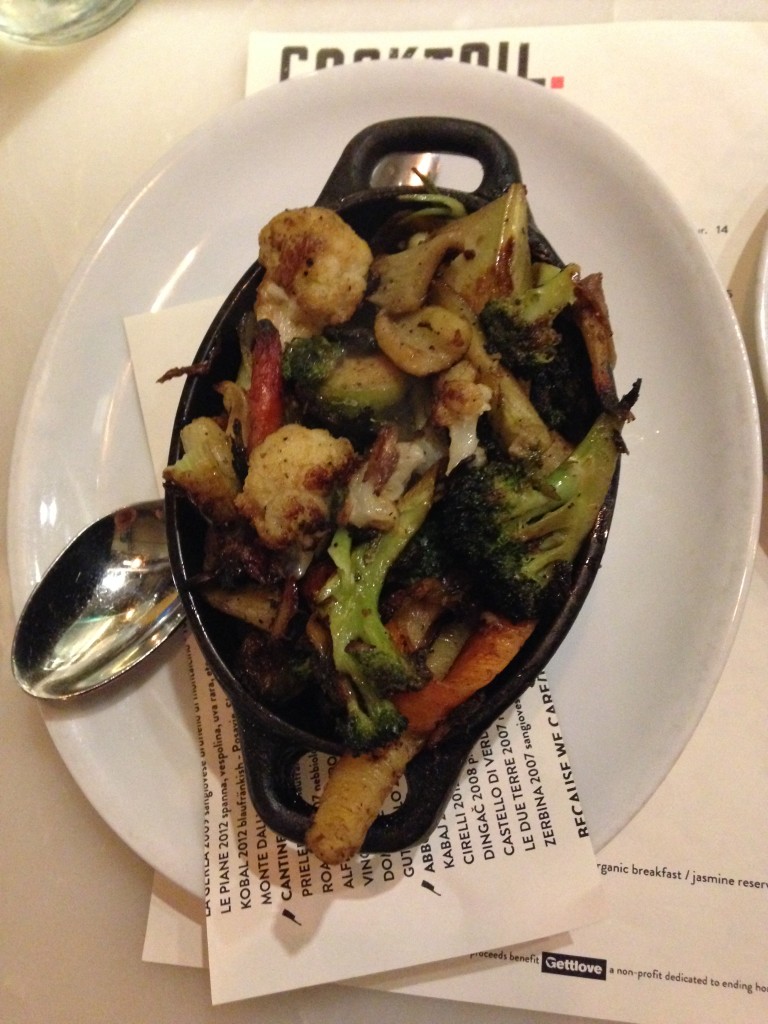 Bestia's menu is a feast for one's imagination and taste buds.  It is divided into six categories:  Piatti Piccoli, Antipasti, Pizze, Paste, Secondi, and Dolci.  Chef Ori has over 60 different forms of charcuterie that are all house-cured.  Numerous forms of pasta are made fresh daily.  As if that is not enough, he also raises his own yeast culture that is used for the sourdough Pain au Levain and pizza dough.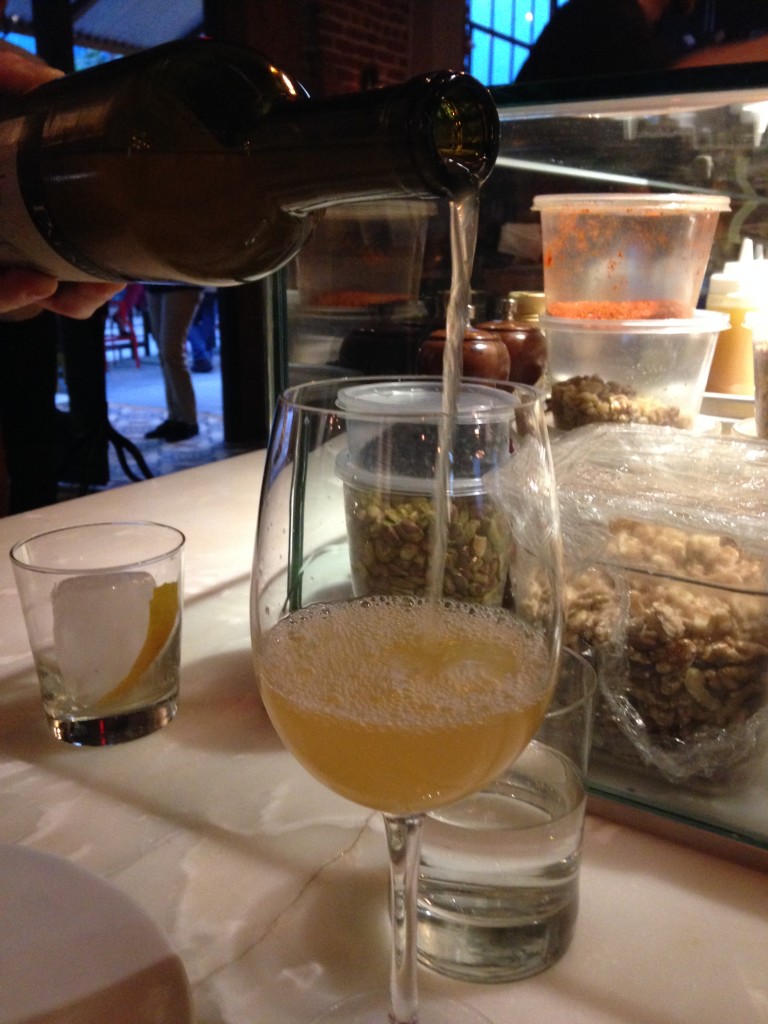 Sous Chef and I love tasting menus, particularly when visiting a restaurant for the first time.  When a specific tasting menu is not offered, we usually try to create a de facto one ourselves by seeking counsel from our server and sommelier (should there be one).  In this case, our server Justin was enlisted as our guide for this culinary adventure and he, in turn, consulted with others about the perfect wines to accompany the selected dishes.  Thank goodness we had help for the wine list is the most esoteric I have ever encountered.  It is like looking at a difficult section of the Master Sommelier exam.  One restaurant pundit  has suggested you are darn good if you can recognize two wines on the list.  But don't despair.  Although the wines might not be household names in Pasadena, each and every one we had was unique, interesting, and delightful and paired perfectly with its accompanying dish.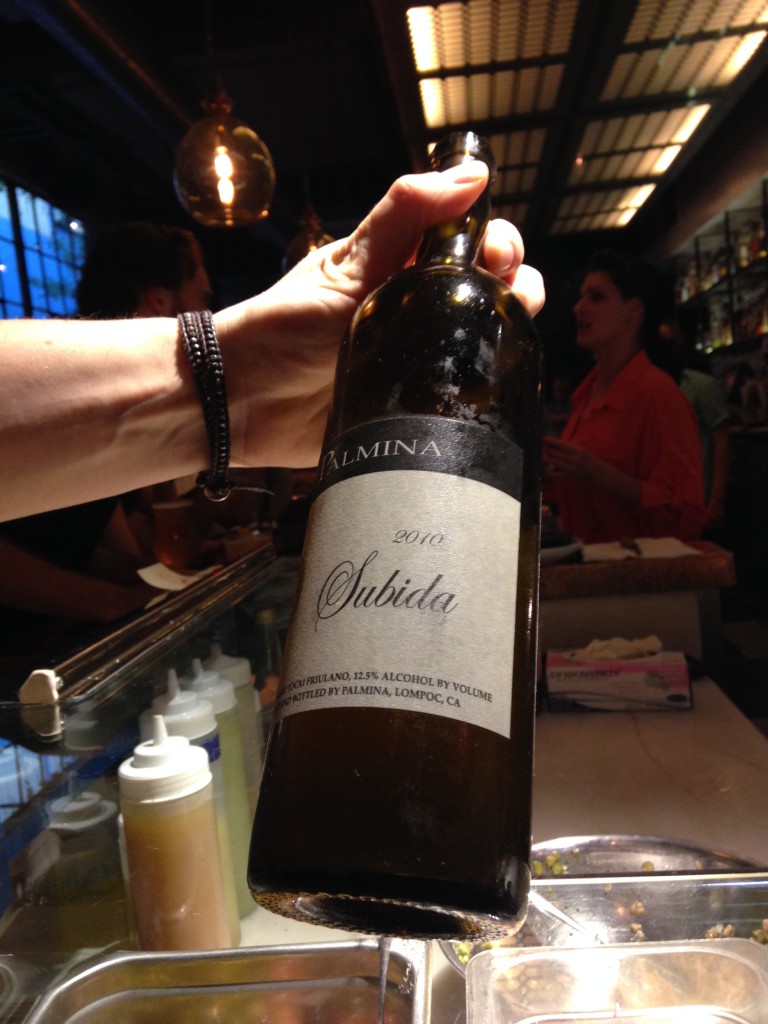 At Bestia, the Piatti Piccoli and Antipasti are smaller plates meant to be shared.  We decided on two:  the Roasted Pickled Vegetables, a special that night, and  the Grilled Beef Meatballs braised in beet greens with soffrito and tomatoes.  The vegetables were hot, fragrant, and delectable.  The wine pairing was euphemistically referred to as the "yellow wine."  It was a 2010 Palmina Subida from Lompoc, California.  The wine is produced by Steve Clifton of Brewer-Clifton fame, is made with the Italian Tocai Fruilano grape, and gets its yellowish hue from being crafted more in the manner of a red wine than a white wine.  One-half the grapes are de-stemmed, the balance are left in clusters, and the whole foot-stomped to gently break open the berries.  The wine is neither fined nor filtered, so what you see in the murky glow are elements of the wine and what you taste are notes of fruit, herbs, and spices.  This is a food wine, not an apéritif, and paired beautifully with the vegetables.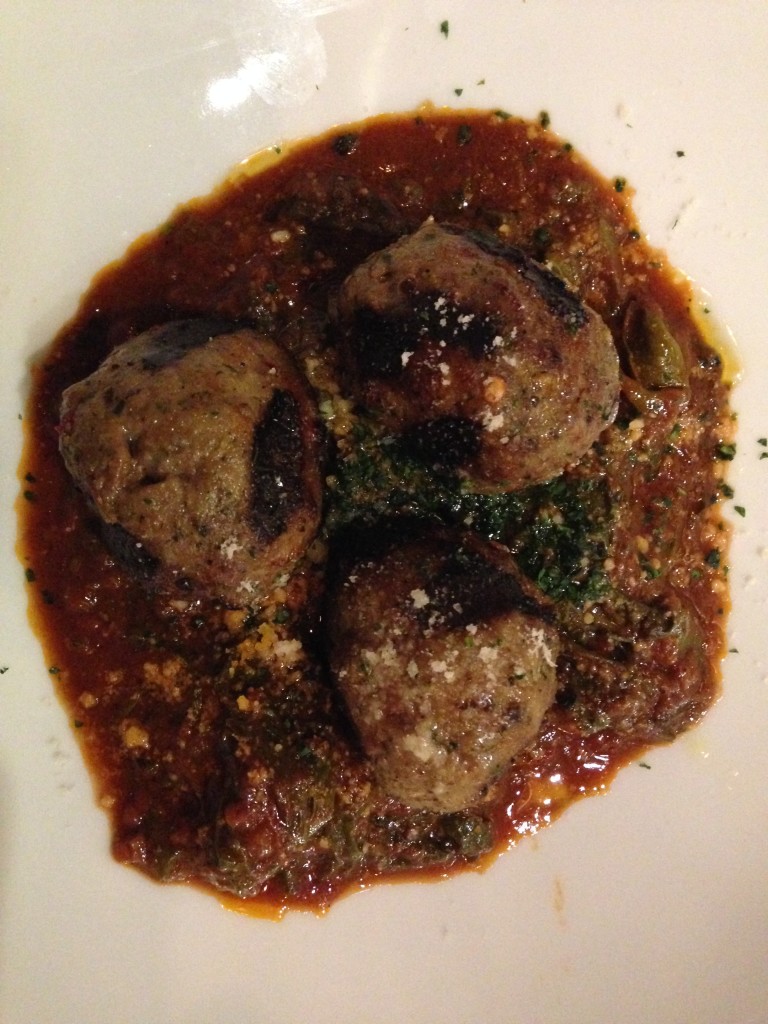 If you judge a restaurant on its meatballs alone, this restaurant is leaps and bounds above most any other restaurant in Los Angeles.  The meatballs had a complex flavor profile that changed with each bite as the flavors developed in your mouth, much like Rick Bayless's food does.   The braised beet greens added a touch of bitterness that was appealing when combined with the soffrito.  The wine pairing was a Paola Rinaldini Lambrusco Pronto NV from Emilia- Romagna, Italy.  It was a dry, slightly effervescent, earthy wine that held up well to the rich and bitter flavor components of the dish.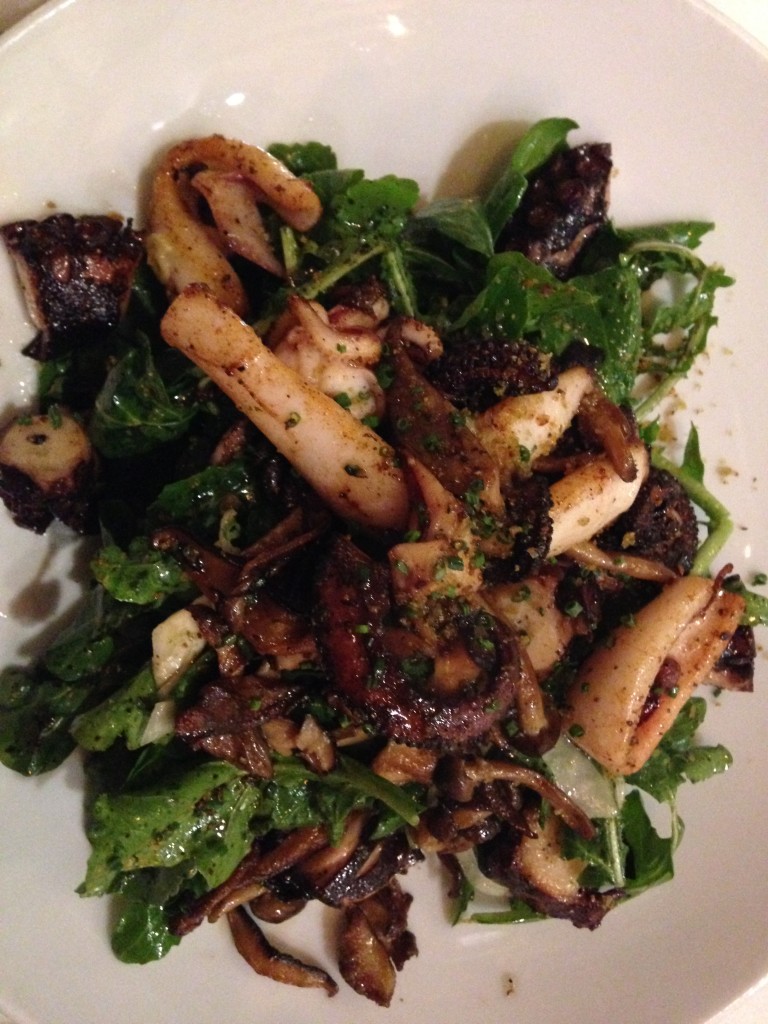 Sous Chef finds it impossible to abstain when octopus is offered.  So we ordered Grilled Octopus & Calamari with Arugula, Mixed Mushrooms, Fennel, and Aged Balsamic Chili Lemon Vinaigrette.  The octopus and calamari were cooked perfectly and were not rubbery or chewy.  They almost melted in your mouth.  Peppery arugula and mixed mushrooms added a nice contrast in textures and flavors.  The wine pairing was another sparkling wine, this time a Provenza NV from Lombardia, Italy.  This sparkling rose tickled the palate and romanced the nose with its fresh fruit flavors that offset the sharpness of the arugula.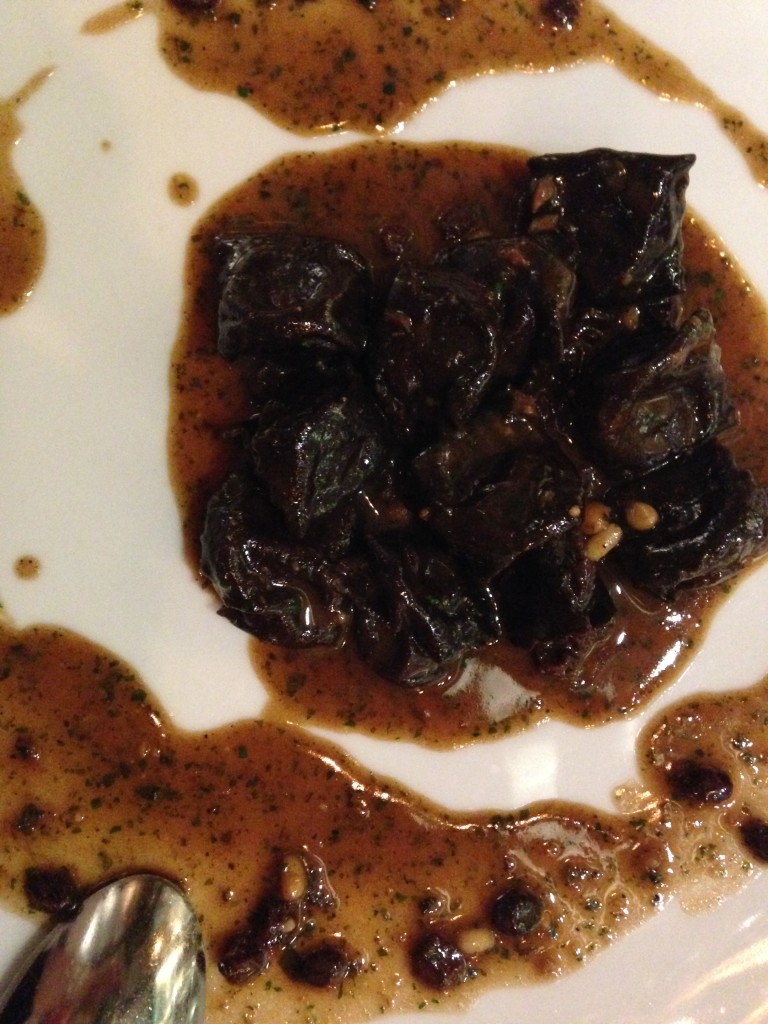 For the Paste course we settled on the Agnolotti alla Vaccinara  –  cacao pasta parcel, braised oxtail, burro fuso, grana padano, pine nuts and currants.  This may be the best pasta I have eaten outside of Italy.  The pasta was paper thin and filled with tasty morsels of braised oxtail.  It was rich in flavor and light on texture.  This is a pasta that I will dream about.  The wine pairing was a 2011 Alberto Tadeschi Pignoletto Emilia Spungola from Emilia Romagna, Italy.  I love how this wine was described by The Natural Wine Company:  "If it looks like a duck, swims like a duck, and quacks like a duck, then it probably is a duck.  While this wine may look, smell, feel, and even taste like an orange wine it hasn't spent time fermenting on its skins the way orange wines do."  Staff referred to this wine as the "orange wine," and indeed its bronze color was closer to orange than was the Palmina Subida which, although more yellow in color, was indeed made like an "orange wine."  But color aside, this was a deep, flavorful wine that performed ably in concert with the pasta.  As a side note, I think it was at this point in the evening, after the White Negroni and several glasses of wine, that I suggested to Sous Chef we move to DTLA so we can become regulars at Bestia.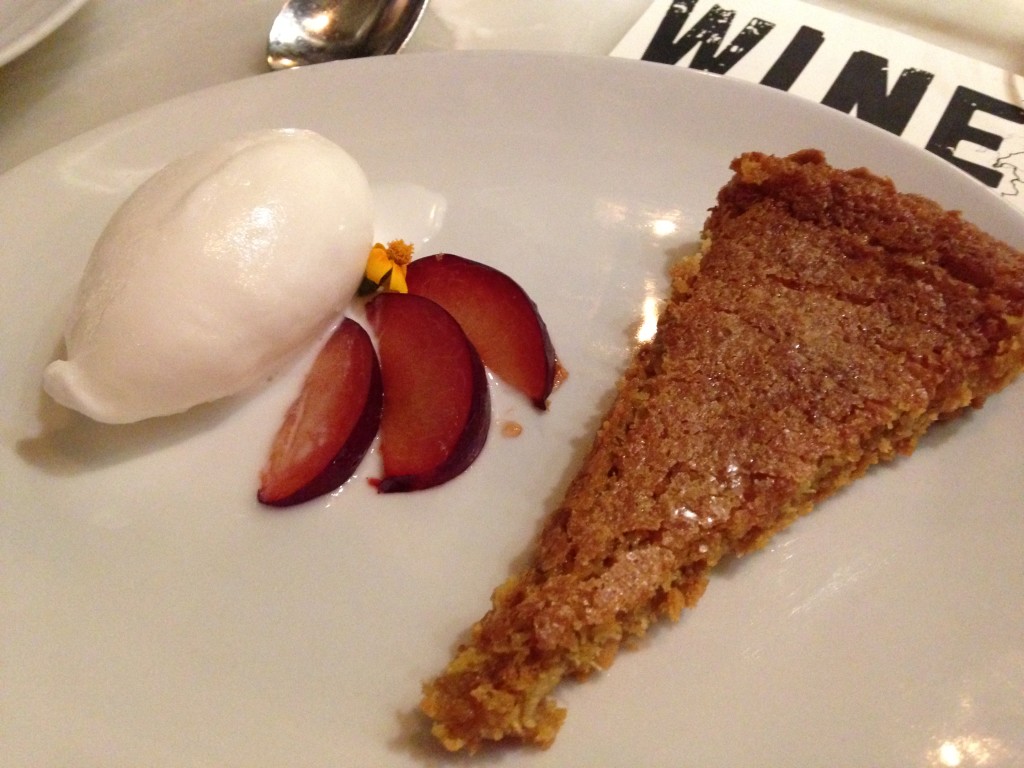 I frequently pass on desserts since many dolci menus are dominated by chocolate items that I cannot consume or are otherwise just uninspiringly pedestrian.  Chef Gergis' menu is an exception to the point I wanted to order everything she offered.  After a somewhat protracted negotiation, which concluded—to the best of my recollection—with the offer and acceptance of corporeal delights, Sous Chef let me select  two dolcis to end our dinner.  I chose a Butterscotch Coconut Tart with fresh Coconut Sorbetto and Santa Rosa Plums and a Lemon Poppy Seed Olive Oil Cake with Blueberry Mascarpone Ice Cream.  Both desserts were exquisite in appearance and executed perfectly.  The Butterscotch Coconut Tarte was rich and bold without being overdone or overly sweet.  The fresh plum slices on the plate added a bit of acidity that paired well with the coconut.  The Lemon Poppy Seed Olive Oil Cake was moist and melted in the mouth with each bite.  Pops of brightness from the lemon were complemented by the slightly grassy flavor of the olive oil.  The Blueberry Mascarpone Ice Cream added a subtle hint of tart sweetness that was inspiring.  The wine pairing was a 2010 Rosenhof Chardonnay Trockenbeerenauslese from Neusiedlersee, Austria.  This is a one hundred percent chardonnay based wine made almost exclusively from nobly-rotten raisin-like berries.  It is a dessert wine with sufficient acid and chardonnay characteristics to balance nicely the residual sugar.  It proved a worthy match for Chef Gergis' extraordinary desserts.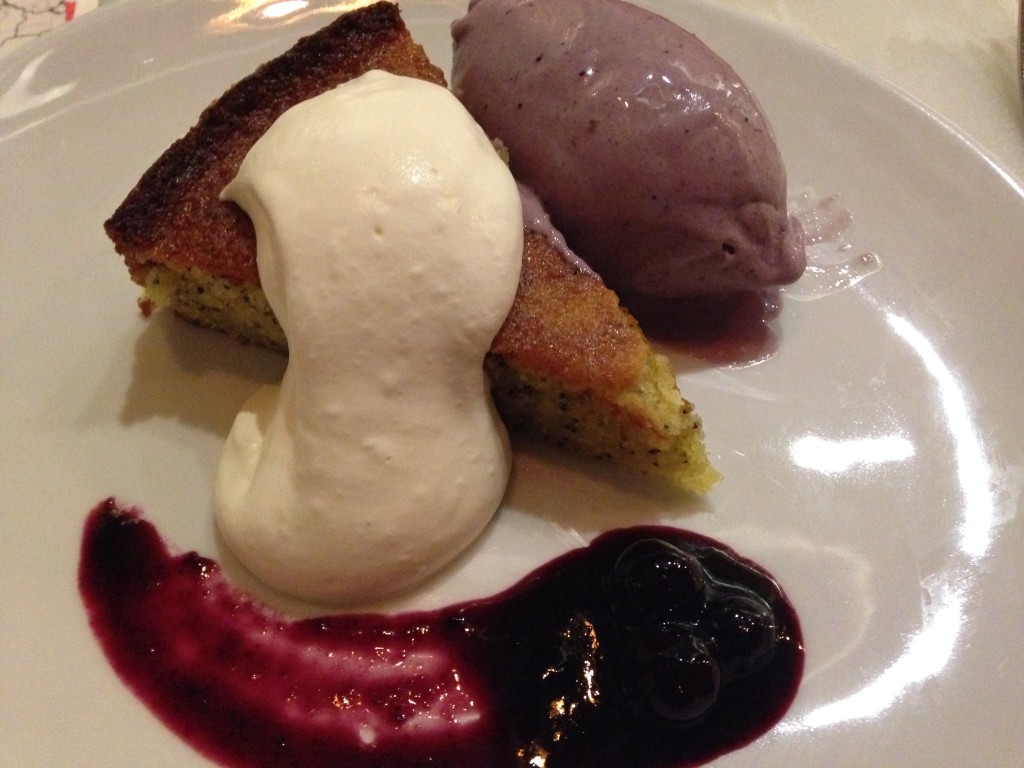 The dinner was a smashing success.  The cocktails, foods, and wines were exceptional.  The service was friendly, professional, informative, prompt, enthusiastic, and contributed mightily to a very fun evening.  Yes, I'm ready to move to Los Angeles.  This restaurant is too good to savor only when visiting.
For Reservations:
Telephone: 213.514.5724 or Open Table
2121 7th Place Los Angeles CA, 90021
Sun-Thurs 5pm-11pm / Fri-Sat 5pm-12am