It is Fancy Pants Season in the Coachella Valley and this week's French Fridays with Dorie Challenge could not have come at a worst time.  The endless array of $400/plate galas has begun where the full and part-time denizens dress up in the name of vanity and charity.  I nearly bankrupted Sous Chef (and I may still do so) when over a three year period I went to nearly every charity event and believed it was imperative never to be seen in the same gown twice.  After a stern lecture from Sous Chef, and with an overflowing closet filled with ceiling to floor dresses, I have adopted a more simple approach:  go black and accessorize, accessorize, accessorize from head to toe.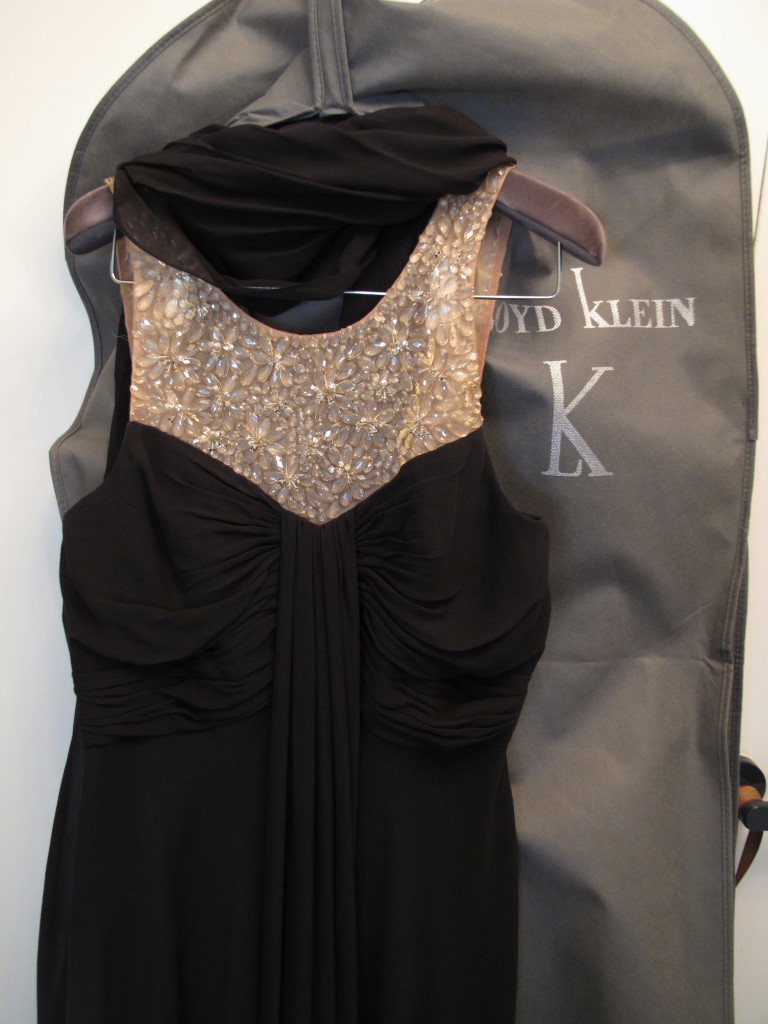 Saturday night is the Coachella Valley's premier event:  the Palm Springs International Film Festival Gala.  I will walk the red carpet with the likes of Julia Roberts and Sandra Bullock, so it is important I look my best.  Unfortunately, I have a fondness for pasta, particularly Mac & Cheese, and this week's Challenge is "Dressy Pasta Risotto," which is basically an elegant Mac & Cheese.  So while I should be nibbling on kale leaves and carrot sticks, I am forced to prepare, taste, and ultimately devour a rich, cheesy, creamy Dressy Pasta Risotto.  I am sure Julia and Sandra are not indulging themselves before having to slither into their slinky, shiny gowns for the event.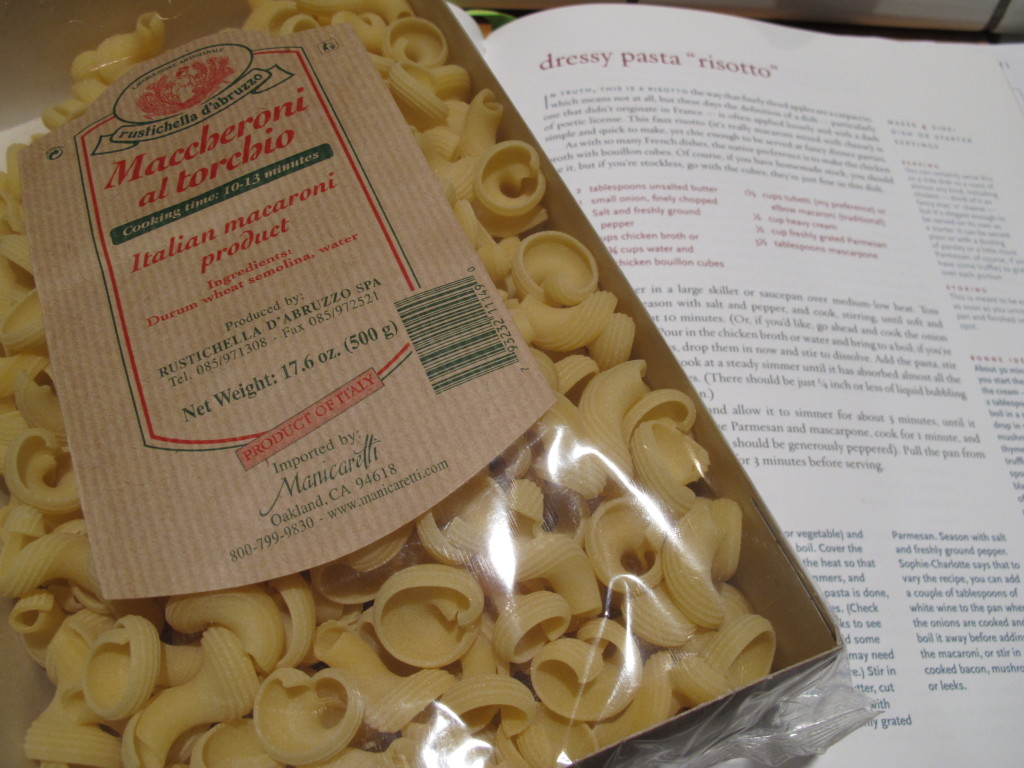 Dorie's "Dressy Pasta Risotto" is pasta that is cooked in the risotto method.  Bring chicken broth to a boil, reduce it to a simmer, and add the pasta.  Some of the liquid is absorbed by the pasta and the rest evaporates over about 25 minutes.  At this point, heavy cream, mascarpone cheese, and parmesan cheese are added to make a rich, creamy, cheesy sauce.  The result is perfect as a side dish or as an entrée.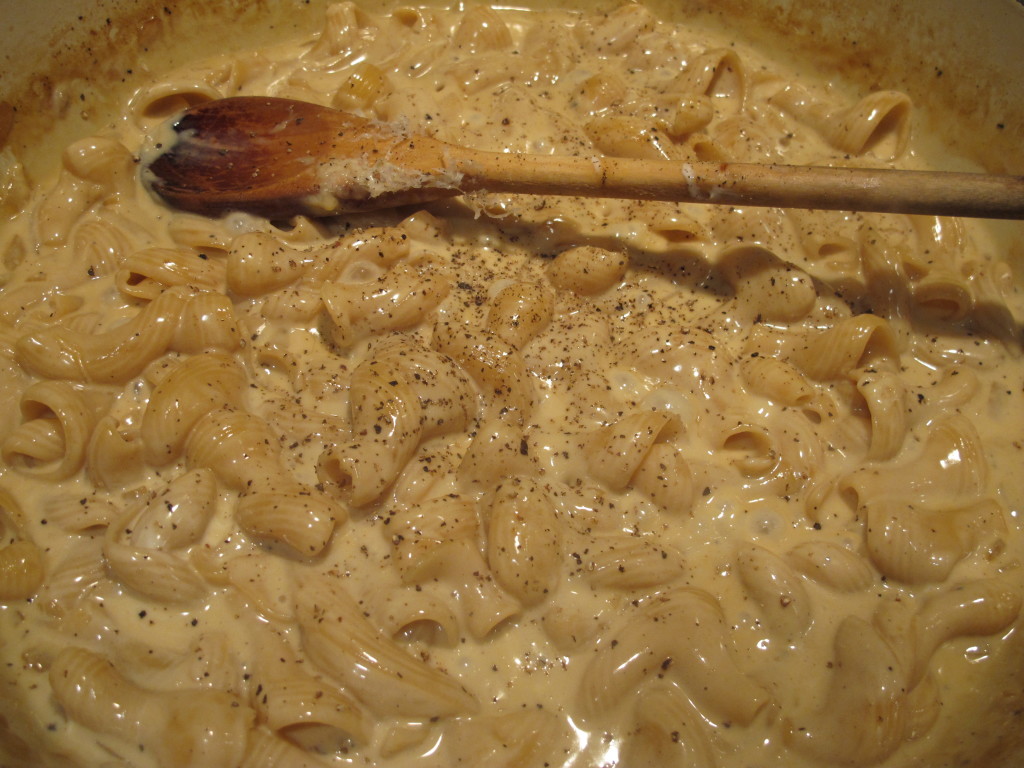 I served the Dressy Pasta Risotto at New Year's dinner as an accompaniment to Dorie's 20-Minute Duck Breasts and my version of Brussels sprouts with applewood bacon.  This dish was a huge hit and I am already scheming ways to use this again as an entrée.  Maybe I will add mushrooms and thin slices of beef to make a French-style Beef Stroganoff.  Or I can add chicken and call it a French-style Chicken Alfredo.  The alternatives seem endless as the Dressy Pants Risotto makes a great base to repurpose pieces of left-over meat into something spectacular for the dinner table.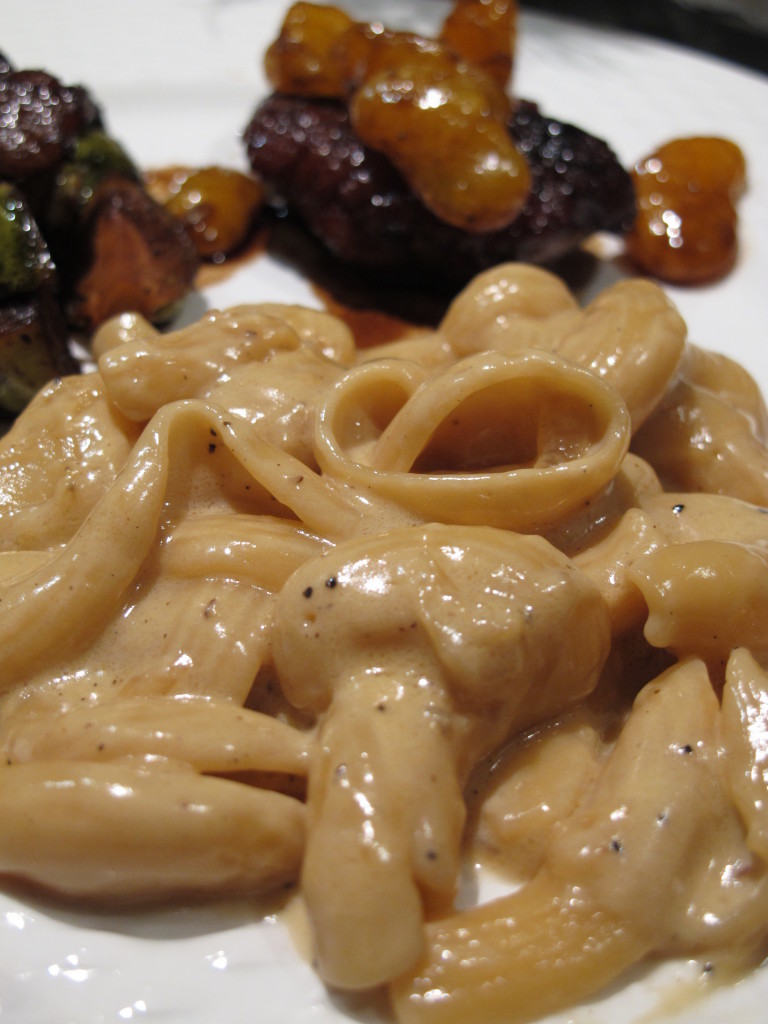 If you haven't bought Around My French Table by Dorie Greenspan, go buy it today, and make it your New Year's Resolution to cook your way through the book.  It's a gift you can share year round with your family and friends.  To read what other Dorista's have done this week with "Dressy Pasta Risotto" visit www.frenchfridayswithdorie.com.