I grabbed my red-checked tablecloth, a hunk of crusty bread, and a bistro glass full of Chassagne-Montrachet, played an Edith Pilaf album at full volume, and settled in to savor one of the best recipes I have made from Around My French Table by Dorie Greenspan.  The "Celery-Celery Soup" from this week's French Fridays with Dorie assignment made me think of a bistro along the Seine on a crisp fall afternoon, with Parisians scurrying about in their eternal haste while I and other tourists savored the moment and the food.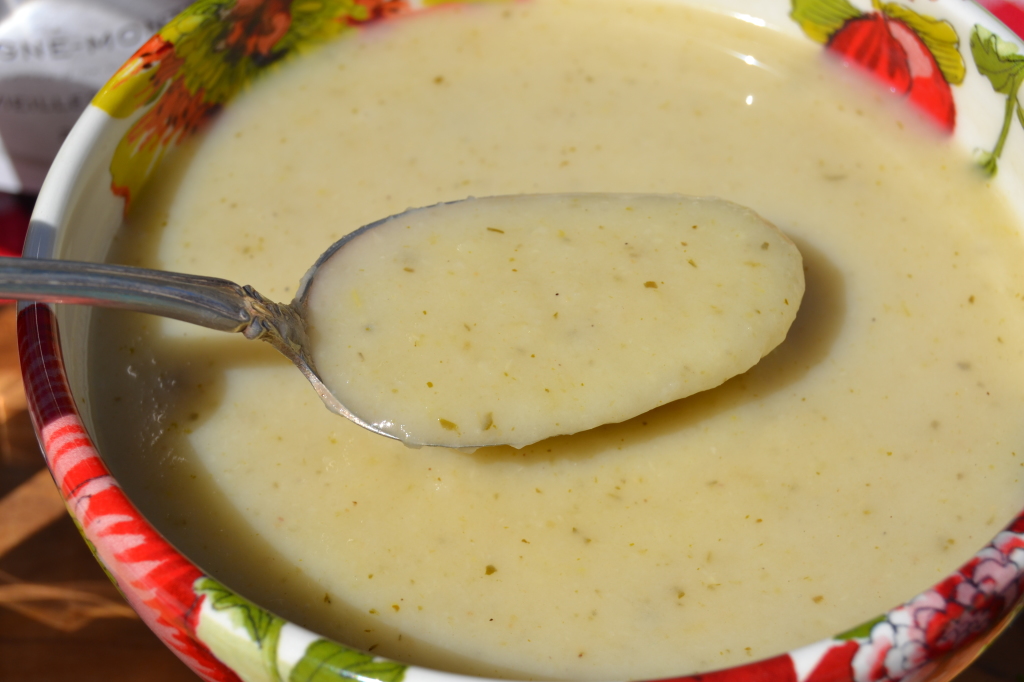 This soup creates magic from simple ingredients: celery, celery root, onion, apple, chicken broth, and a few herbs.  In combination there is a harmonious blend of the subtle sweetness of the apples, the semi-sweet flavor of the celery root, and the salty, anise-like flavor of the celery stalk.  The soup takes on a naturally creamy consistency and taste sans any dairy product, so it is perfect for the lactose intolerant and a quite healthy dish, particularly if you make your own chicken stock or use one that has no salt or preservatives.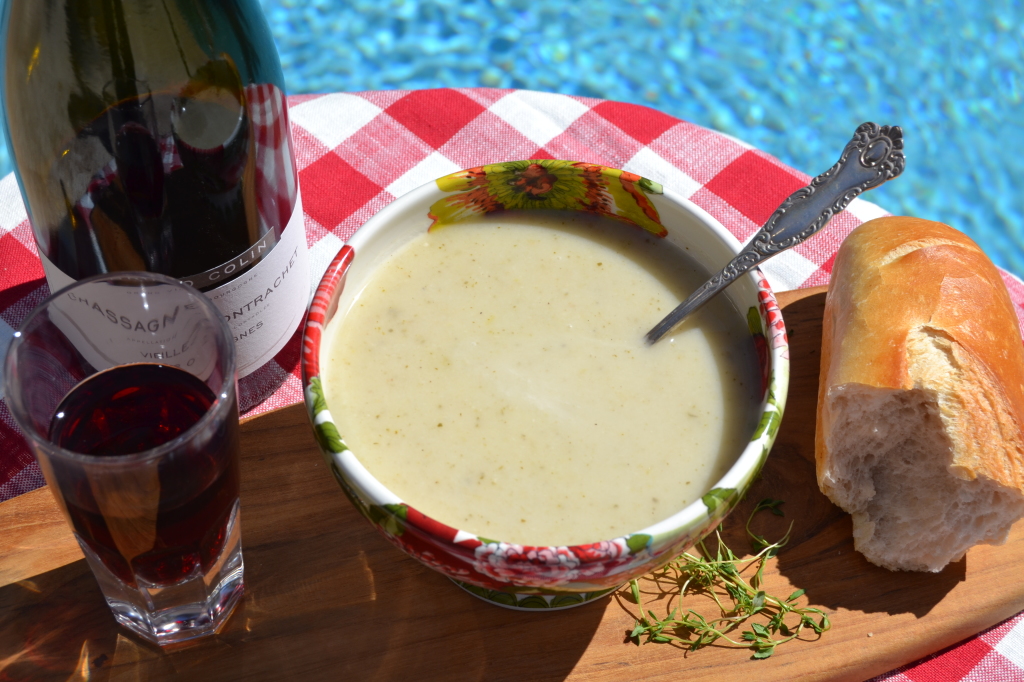 Unfortunately, Paris is many time zones away. So when I am in a frisky, Parisian way and need some "real" French cuisine with fresh, California-inspired twists, I head for Cuistot in Palm Desert, my favorite restaurant in the Coachella Valley.  Bernard Dervieux–chef, propriétaire, gourmand, and race car driver– is classically trained by Paul Bocuse and a master of the "potage."  He is adept at creating intensely flavored but light soups that can be enjoyed whether it is 113˚or 50˚ outside.  Chef Bernard makes a wonderful celery soup that I have had many times.  So it is a testament to the success of Dorie's Celery-Celery Soup when I say it made me think of Cuistot as well.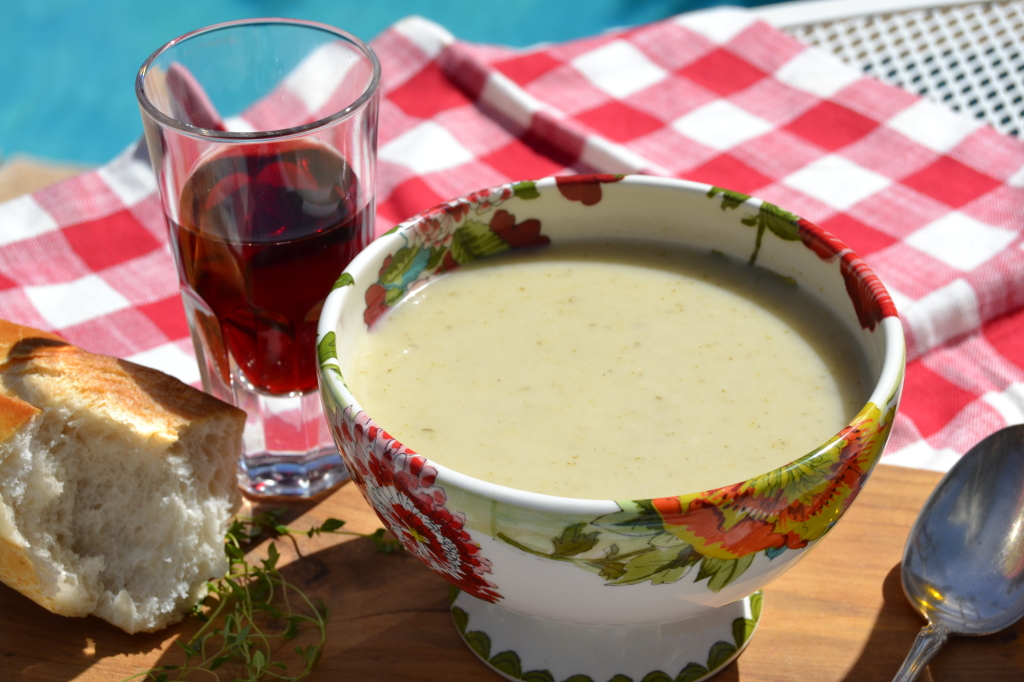 I paired the Celery-Celery Soup with a red 2011 Chassagne-Montrachet Vieilles Vignes from Bruno Colin, largely because the bottle was already open and because the wine is light and beautifully balanced with delicate minerality and nuanced complexity. Since there are no dairy products in the soup, why not red?  This wine was a great accompaniment and its color made the photo look better!  But all kidding aside, a dry white is a more conservative but perfectly acceptable pairing.
Be sure to check out how the Dorista's rated this soup by visiting www.frenchfridayswithdorie.com.
Celery-Celery Soup
This recipe is found in Dorie Greenspan's Book Around My French Table and on her website http://doriegreenspan.com/2009/01/snow-again-soup-again.html
Ingredients
2 tablespoons unsalted butter
3 stalks celery, with leaves, sliced
2 large yellow onions, peeled, trimmed and coarsely chopped
2 sweet apples, such as Macintosh or Fuji, peeled, cored and cubed
1 pound celery root, peeled, trimmed and cubed
1 bay leaf
1 sprig thyme
6 cups chicken or vegetable broth
Salt and freshly ground pepper
cre¨me fraiche, heavy cream or sour cream, for serving (optional)
Instructions
Melt the butter in a large Dutch oven or soup pot over low heat. Toss in the sliced celery, onions and apples, season with salt and pepper and cook, stirring often, for about 5 minutes, or until the vegetables are soft. Add the cubed celery root and turn it around in the butter. Toss the herbs into the pot, add the broth and bring to the boil. Lower the heat and cook at a gentle simmer for about 30 minutes, or until the celery root is soft enough to mash with the back of a spoon. If you can, pull out the bay leaf and what's left of the thyme.
Working in small batches in a blender (first choice) or food processor, puree the soup until it's smooth. (If you're using a processor or an immersion blender, you might not get a super-smooth soup. If you'd like, you can run the pureed soup through a strainer, but it's really not necessary. As you can see, mine is pretty chunky.) Taste for salt and pepper.
This needs to be served very hot (especially on a snowy day) and, while it really doesn't need an embellishment, like just about everything else in the world, it's better with cream, so either stir some into the pot or put a spoonful in the center of each bowl and let everyone swirl it into the soup.
Playing around: It's fun to put a little surprise in the bottom of the soup bowl. Cut a peeled and cored apple or two into chunks and toss it into a skillet with a little melted butter. Stir it around, season with salt and pepper, then sprinkle the cubes with some curry powder. Heat, stirring, until the powder is fragrant and coats the apple evenly. Put a spoonful of apple in each bowl before you ladle in the soup.