Sometimes Dorie surprises me.  Generally her recipes are somewhat labor intensive and the ingredients can be nearly impossible to find, especially in this desert outpost.  But this week our French Fridays with Dorie challenge is a breeze.  The Curried Chicken, Peppers and Peas en Papillote is so simple even a novice cook with minimal kitchen skills should be able to make this with little effort or trepidation.  For the experienced home cook, this is one of those no-brainer meals for frenetic days.
The curry spice adds a nice punch of flavor to the chicken and vegetables, while cooking "en papillote" (in the bag—referring of course to the cooking process and not one's sobriety) keeps the chicken moist, ensures the other ingredients are consistent in their doneness, and allows the various flavors to meld in a most delightful way.  And even better, this recipe and cooking process are easily adaptable to your own taste and the contents of your freezer or pantry.     Serve it with a side of jasmine rice or Dorie's Couscous Salad and dinner is ready in less than 30 minutes.  Take that Rachel Ray!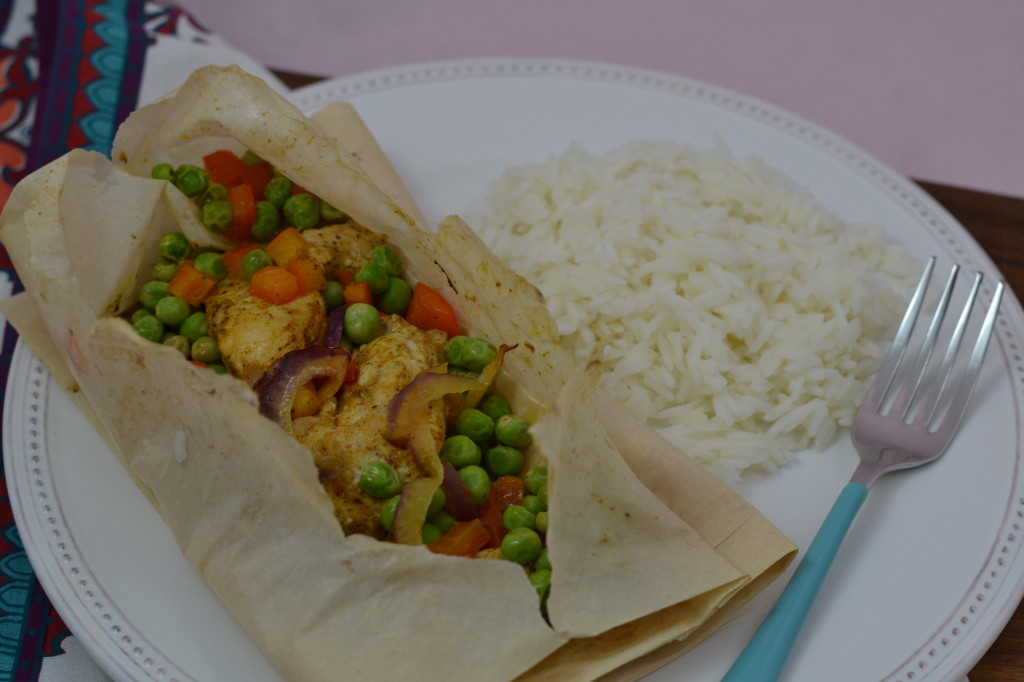 Make sure to check out the Dorista's experiences this week by visiting French Fridays With Dorie.
Curried Chicken, Peppers & Peas en Papillote
This recipe can be found in Dorie Greenspan's cookbook Around My French table.
Ingredients
2 skinless and boneless chicken cutlets
12 thin slices red onion, halved
½ red bell pepper, diced
1 cup peas, fresh or frozen
4 tsp olive oil
1 tsp curry powder
Salt and pepper, to taste
Instructions
Preheat the oven to 400ºF. Cut four 12-inch-long pieces of nonstick aluminum foil or parchment paper.
Cut the chicken into long strips, then cut the strips in half. Mix all the ingredients together and spoon equal amounts onto the center of each piece of foil or paper. Draw up the sides and seal the packets well—leaving room around the ingredients so they can steam. Put packets on a baking sheet.
Bake 17 to 20 minutes, or until the chicken is cooked. (Open a packet to test.) Spoon into soup plates and serve immediately.