Today is Flashback Friday!  Remember the late 1990's and early 2000's when Pan-Asian fusion was the rage, cell phones were just phones, and brick and mortar bookstores were still prevalent?  An age when seared ahi tuna was seemingly on every restaurant and catering menu?    I do and those memories came rushing back with this week's French Fridays with Dorie assignment:  Spice-Crusted Tuna.
Food fads come and go, cell phones are now small PDAs in which the function of making and receiving phone calls is merely an aside, and brick and mortar bookstores have gone the way of the dinosaur.  But seared tuna has endured.
The virtues of eating fish have been thoroughly documented and promoted since it is filled with omega-3 fatty acids that help keep our heart and brain healthy.  In fact, the American Heart Association recommends eating fish at least twice a week.  However, cooking fish at home can be challenging and their bones a real danger, even if one has had her or his throat blessed on the Feast of St. Blaise.  Seared tuna resolves these issues because it is boneless, usually readily available in filets, and so easy to prepare.  The dish is done in a jiffy just by blending a few spices according to your preference, patting the spices on the fish, and searing for 2 minutes a side.  This simple dish is a veritable chameleon that can be served as an appetizer or an entrée, placed on a bed of greens for a salad, over noodles for an Asian flair, or between bread for a sandwich.  Serving mine over rice noodle pasta made for a light, satisfying, healthy meal in just 15 minutes.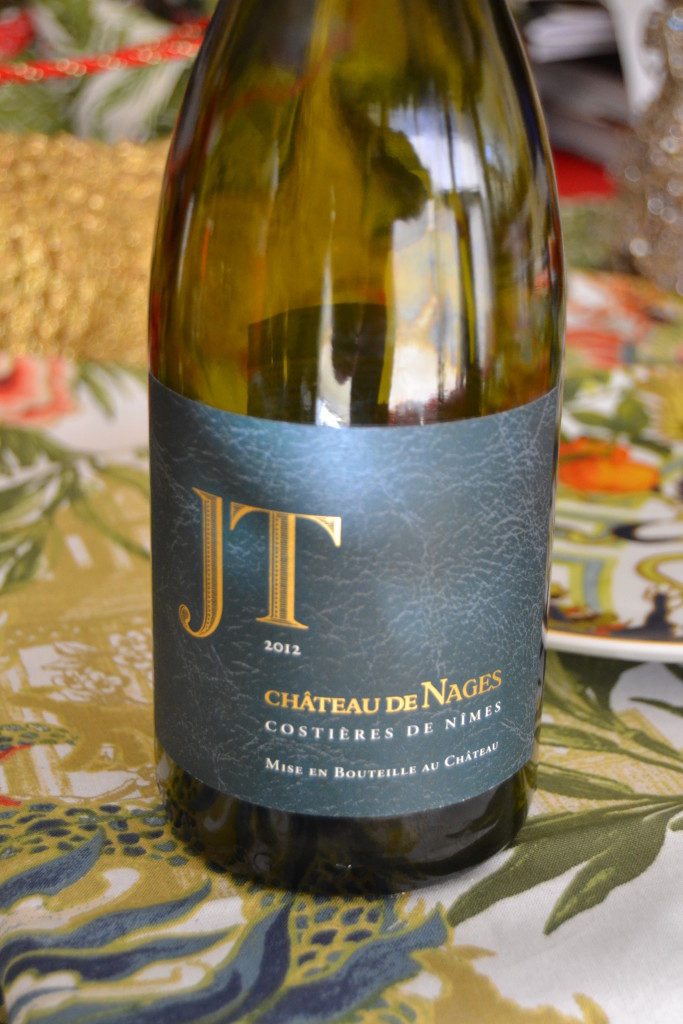 I paired the "Spice Crusted Tuna" with a 2012 Chateau de Nages Joseph Torres Blanc that retails for $19.99 a bottle at Total Wine.  One of my wine resolutions (include link) this year was to learn more about Rhone wines from France.  This particular wine is from Costieres de Nimes, Rhone, France and is comparable to a Chateauneuf du Pape Blanc.   The wine offers hints of stone fruits (apricot predominantly), citrus, minerality, and Anise and is medium bodied and elegant on the palate.  This is an all-around great wine and value.
But fear not if this wine is not available.  Any white wine from Rhone or the Loire Valley, such as Sancerre, Pouilly-Fumé or Vouvray, or their New and Old World counterparts will do.  And if you use a particularly spicy mixture, Gewürztraminer is an excellent alternative.
Visit the French Fridays with Dorie Group and see what they thought about this recipe and more at www.frenchfridayswithdorie.com.
Spice Crusted Tuna with Low Sodium Asian Noodles
Author:
Adapted from Dorie Greenspan, Around My French Table
Recipe type:
entree, salad, pasta
Cuisine:
French-Asian Fusion
Ingredients
Spice Crusted Tuna – recipe on page 304 of Dorie Greenspan's Around My French Table
1 package rice noodles
1 red chili, diced
5 green onions, diced
1 package Enoki Mushrooms
1 Persian cucumber, halved/diced
1 red bell pepper diced
3 slices ginger, chopped
1 tablespoon sesame oil
1 tablespoon Bragg Liquid Aminos (can use soy sauce if not on low-sodium diet)
Cilantro to garnish
½ cup chopped peanuts
Instructions
Prepare tuna as described in Around My French Table by Dorie Greenspan.
Heat pot of water to boiling, add rice noodles and cook as directed.
In large skillet, heat 1 tablespoon sesame oil. Add red chili, onions, red bell pepper, mushrooms and ginger and sauté for 4-5 minutes over medium heat.
When rice noodles are cooked, add rice noodles to skillet. Add Bragg Liquid Aminos to noodle mixture and toss until fully coated. Add diced peanuts, and cucumbers to the mixture and lightly heat through about 1 minute.
To serve, place noodle mixture in a bowl, top with sliced Spice Crusted Tuna and garnish with cilantro.