I am a self-professed cookbook bibliomaniac.  Cookbooks arrive fast and furiously at our house despite Sous Chef's protests that the bookshelves are sated.  (Seriously, there is always room for cookbooks, just like there is always room for that last cookie or dress that was marked down 90%).  And the cookbooks fall into a myriad of categories and purposes.  Some inhabit the wishful thinking category – such as NOMA or El Bulli, cookbooks for iconic restaurants one merely aspires to visit.  Others are needed  to complete a collection, such as Julia Child and Jacques Pepin cookbooks.  Then there are the travelogue cookbooks –the ones that take you on visual and virtual culinary vacations through stunning imagery and recipes that make you reminisce about your travels.  Finally we come to the ones every home chef has – the cookbooks that you return to time-after-time for recipes, ideas, or by general default.  I categorize these as a "good cookbook."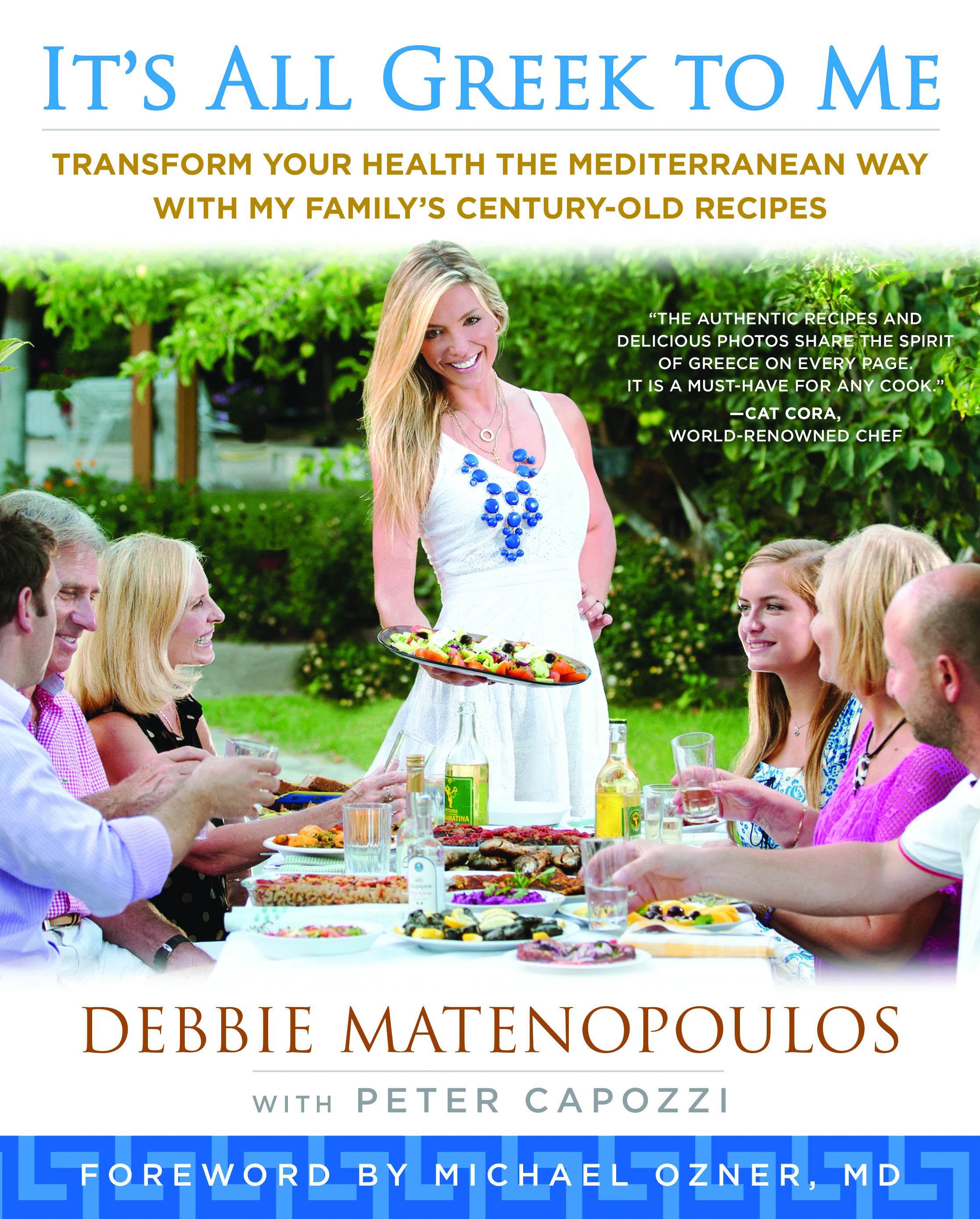 The traits of a good cookbook include the following:
Accessibility of ingredients
Ability to prepare on a weeknight
Recipes that will become part of your cooking repertoire
Recipes that become the canvas for your own creations – i.e., easily adaptable to fit your tastes and creativity
Reference for techniques and cooking times
Occasionally you luck out and discover a cookbook that provides the virtual culinary vacation your taste buds are longing for and, at the same time, is a good cookbook.  "It's All Greek to Me" by Debbie Matenopoulos is exactly that kind of cookbook.  It is filled with exciting Greek and Mediterranean recipes that the home cook can easily replicate.  The ingredients for the most part already reside in your pantry or refrigerator, and the few that do not can be easily sourced from your local market.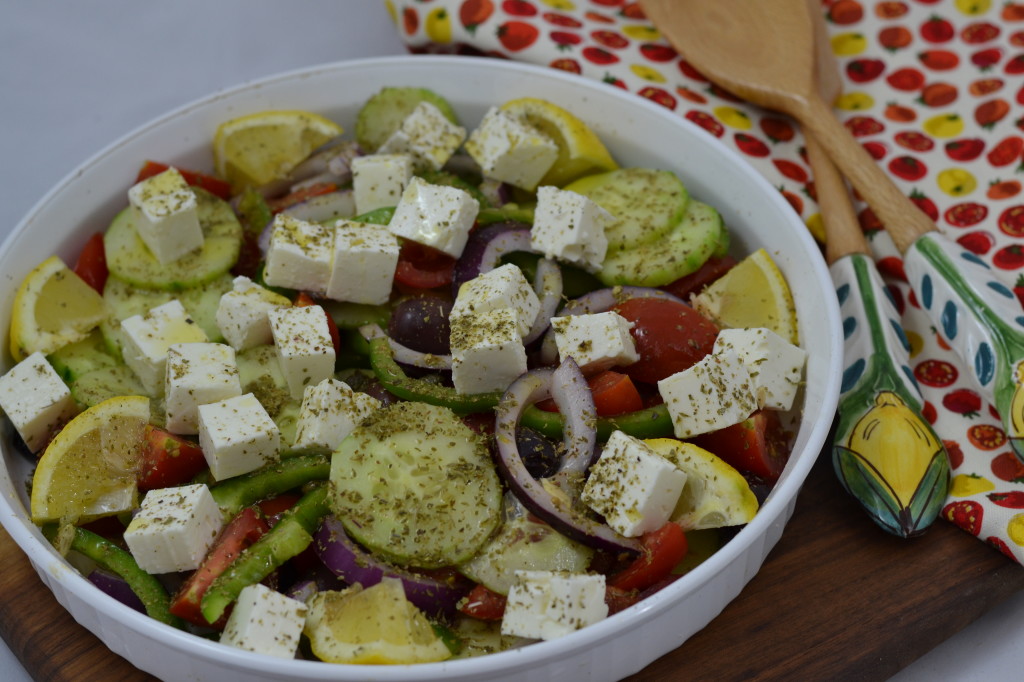 The cookbook is divided into five cleverly titled sections:  Acropolis, The Fabulous Athens Baker Boys, A Trip to the Monastery, The Butchers of Fanari, and Reading Debbie's Coffee Cup.  Each section is filled with stories, gorgeous photos of the country and food, and of course recipes.  It is a very approachable cookbook for any skill level in the kitchen and the recipes are carefully thought out with detailed instructions and suggested substitutions/additions.   This is one of those books you find yourself dog-earing recipes to try for future meals.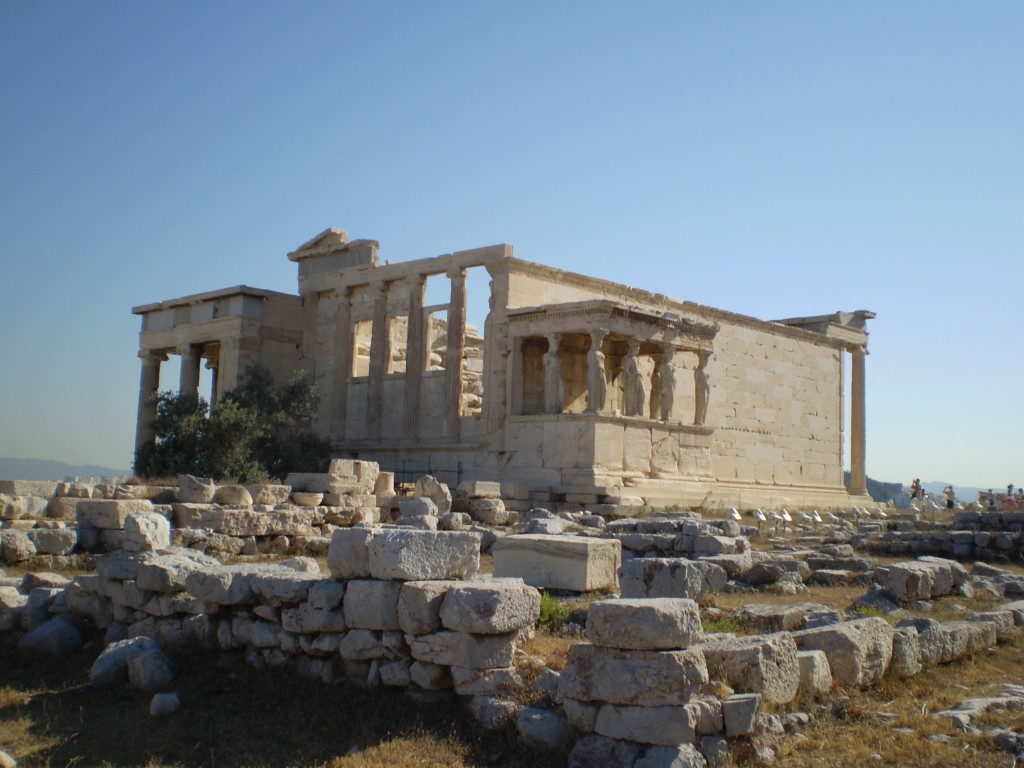 Three of the recipes that we love are Greek Village Salad, Lemony Grilled Chicken, and Summer Peach Salsa.  These recipes are perfect for quick weeknight dinners or summer entertaining.  They are packed full of flavor but light enough you won't feel like you should have worn elastic waistbands.   If not already on hand, the  ingredients are economical and easily found at your local market or Trader Joe's.  And  the leftovers can be combined and transformed into an entirely new meal, such as a Greek Chicken Salad.  Plus the Peach Salsa can be used on fish or pork or tossed into a salad as a dressing.  It is simply that versatile and tasty.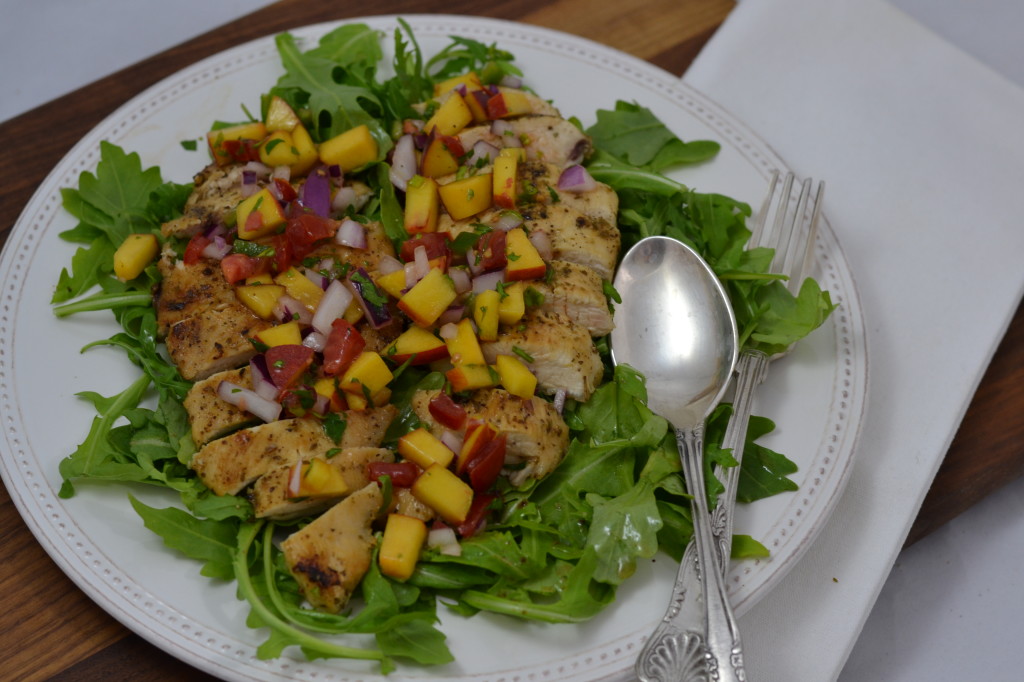 The Lemony Grilled Chicken is tenderized and flavored by a marinade of lemon juice, olive oil, dried oregano, green onions, and a little salt and pepper.  I forgot to buy green onions and substituted crushed garlic, which worked marvelously.  You can marinate the chicken in the morning, leave in the refrigerator, and have a fresh and delicious dinner ready in twenty minutes after you get home.  Or if you are distracted in the morning or forgetful like me, by using thin chicken breasts (or butterflying larger breasts) you can marinate for just an hour when you get home and use this time to have a cocktail or glass of wine while you prep the Greek Village Salad.  Better yet, make the cocktail and have your own version of Sous Chef do the prep work for you.  The Greek Village Salad and Summer Peach Salsa really just involve dicing, chopping, and stirring, things at which Sous Chef is very adept and I am all "thumbs," a dangerous situation when a Chef's Knife is in use.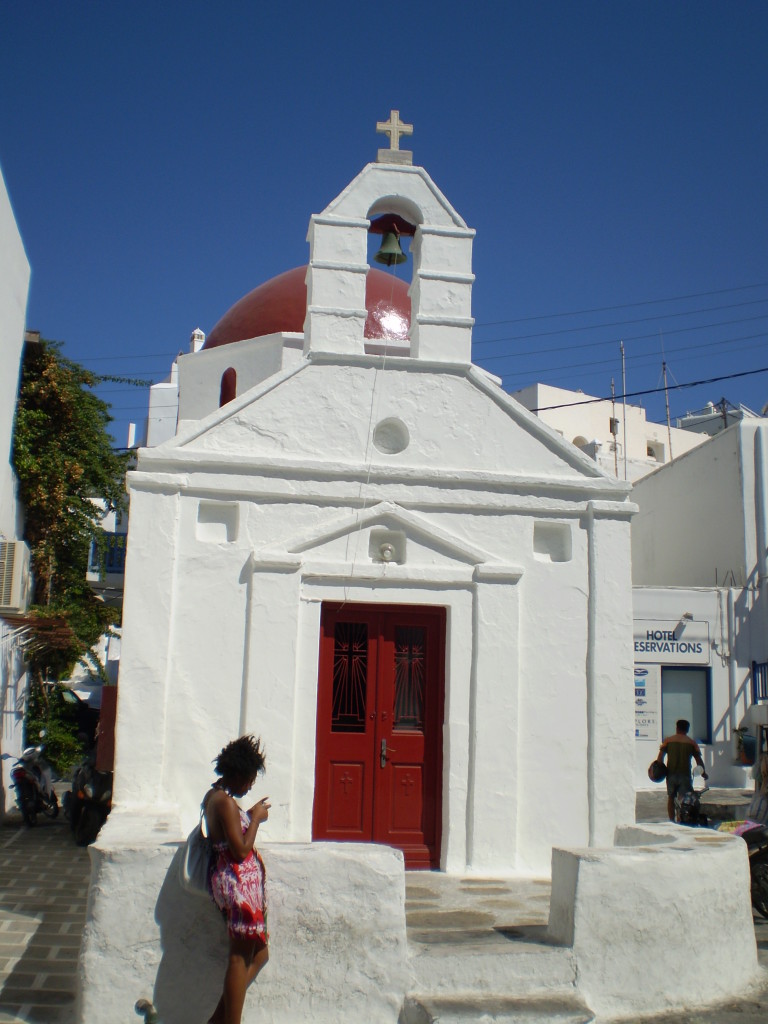 If you are thinking about adding a new cookbook to your collection, or learning how to cook Greek Food, "It's All Greek to Me" by Debbie Matenopoulos is a great starting point and a welcome addition to your library.  You can purchase the book on Amazon, at Barnes & Noble, or directly from BenBella Books.  Go ahead, find room for another cookbook and take a virtual culinary vacation to the Greek Islands with Debbie!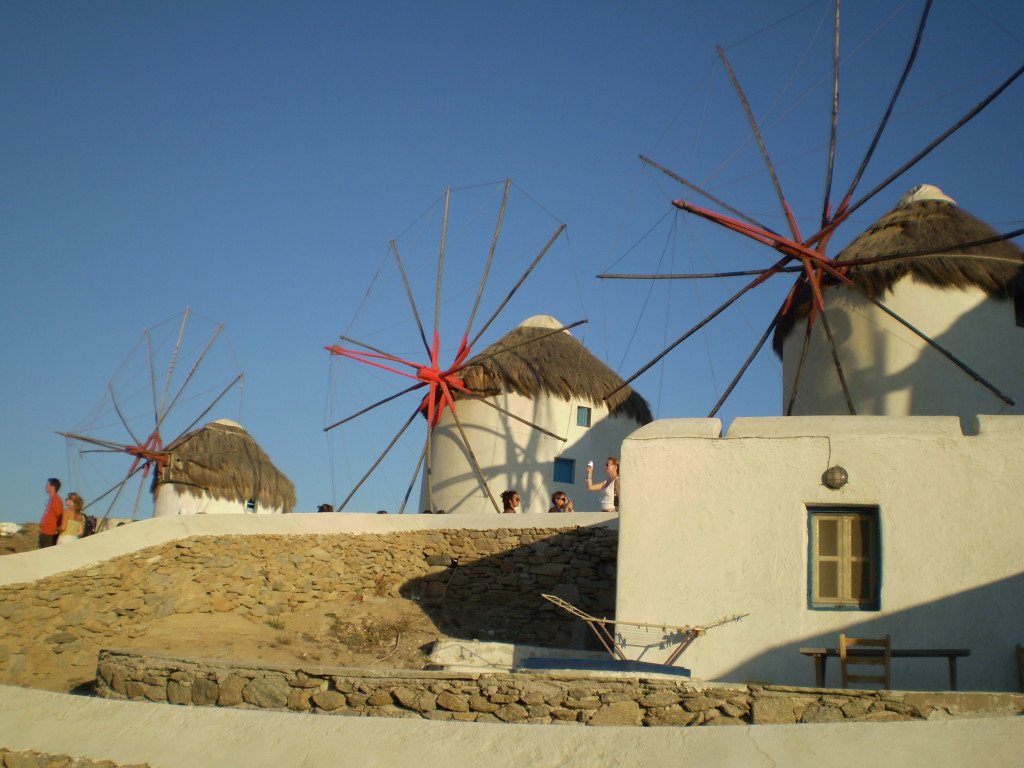 Lemony Grilled Chicken
Recipe courtesy of Ben Bella Books from "It's All Greek to Me" by Debbie Matenopoulos with Peter Capozzi This is a quick and delicious entrée that can be completed in twenty minutes. Perfect for weeknights or summer entertaining.
Author:
Debbie Matenopoulos
Ingredients
¼ cup freshly squeezed lemon juice (about 2 lemons)
¼ cup extra virgin olive oil
2 teaspoons dried oregano
5 scallions, soft green parts reserved, thinly sliced
4 skinless, boneless chicken breasts
1 teaspoon sea salt, plus more to taste
½ teaspoon freshly ground black pepper
4 cups loosely packed mixed greens or baby spinach
1 recipe Summer Peach Salsa or Latholemono
Instructions
In a medium mixing bowl, whisk together the lemon juice, olive oil, oregano, and white parts of the scallion and set aside.
Rinse the chicken under cold water, pat dry with paper towels, and season on both sides with the salt and pepper. Put the chicken into a large Ziploc bag and pour in the lemon juice mixture. Squeeze out as much air as possible, seal the bag, and shake to coat the chicken in the marinade. Refrigerate on a large plate for at least 1 hour or p to overnight. Flip the bag over at least once so that the chicken marinates evenly.
Prepare a very hot grill or set a grill pan over medium high heat. Brush the grill or grill pan with a little olive oil to prevent sticking. Remove the chicken from the marinade and grill for 4 to 6 minutes per side or until cooked through. Remove from the grill and let the chicken rest for about 10 minutes before serving.
To serve, evenly distribute the greens among 4 plates. Slice the chicken breasts into 1-inch diagonal slices and fan the slices over the greens. Spoon over the Summer Peach Salsa or Latholemono over the top of the chicken. Garnish with the reserved green parts of the scallions. This chicken is also delicious served with Tzatziki.
Summer Peach Salsa
Delicious summer salsa that works well with chicken, fish or pork, or as a dressing for a summer salad.
Author:
Debbie Matenopoloulos with Peter Capozzi
Ingredients
2 large ripe peaches, diced medium (about 1 cup)
2 ripe medium tomatoes, diced medium (about 1 cup)
½ large red onion, diced small (about 1 cup)
3 tablespoons finely chopped fresh Italian flat-leaf parsley
1 jalapeno pepper, seeds and white pith removed, finely chopped (optional)
2 tablespoons freshly squeezed lemon juice (1 lemon)
2 tablespoons extra virgin olive oil
¼ teaspoon sea salt, plus more to taste
¼ teaspoon freshly ground pepper
Instructions
In a medium mixing bowl, gently stir together all the ingredients.
Taste and adjust seasonings, if necessary. You can make this salsa a few hours ahead, cover, and refrigerate to allow all the flavors to come to together.
Variation: For an interesting flavor and a little more crunch, use 1 cup peeled and diced cucumber in place of the tomatoes.
Greek Village Salad
Author:
Debbie Matenopoulos with Peter Capozzi
Ingredients
1 seedless English Cucumber, peeled and diced
4 to 5 large ripe tomatoes, sliced into wedges
1 large red onion, sliced
1 large green bell pepper, sliced
1 cup Kalamata olives, plus more to taste
¼ pound brine-packed Greek feta cheese, drained and sliced lengthwise
1 teaspoon dried oregano
2 tablespoons capers, rinsed and drained (optional)
2 to 3 freshly squeezed lemon juice (1 lemon)
⅓ cup extra virgin olive oil
1 lemon cut into wedges, to serve with salad
sea salt (optional)
Instructions
Toss the cucumber, tomatoes, onion, bell pepper, and olives together in a large salad bowl and top with slices of feta. Crush the oregano in your hand to release its fragrant essential oils, then sprinkle over the salad along with the capers (if using). Drizzle the lemon juice over the salad, then the olive oil. Set aside to marinate at room temperature for 20 minutes, or serve immediately with some lemon wedges alongside for added zest. The feta is quite salty, which usually eliminates the need for added salt. Give the salad a taste just before serving, and sprinkle a pinch of salt over the cucumbers and tomatoes, if desired.