What's the difference between knowledge and wisdom?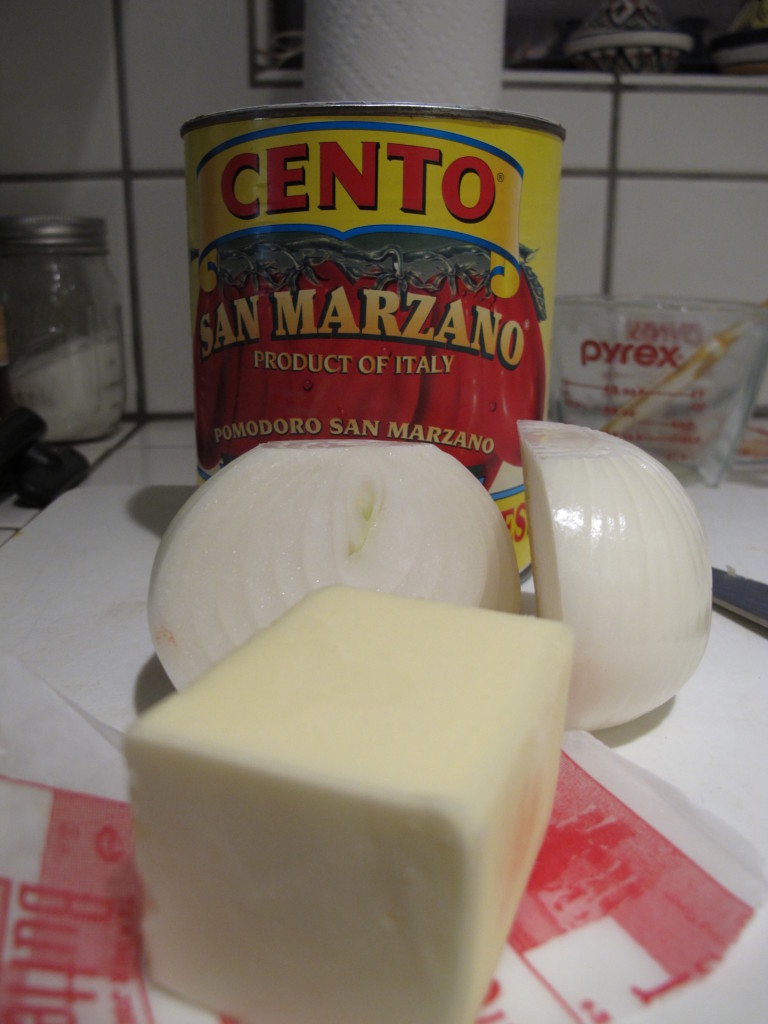 Knowledge is knowing a tomato is a fruit; wisdom is not putting it in a fruit salad. Or one can say, knowledge is knowing that tomatoes are the base ingredient for all red pasta and pizza sauces; wisdom is opening a can of Cento Italian tomatoes instead of struggling to boil, shock, skin, and chop fresh tomatoes of generally inferior quality.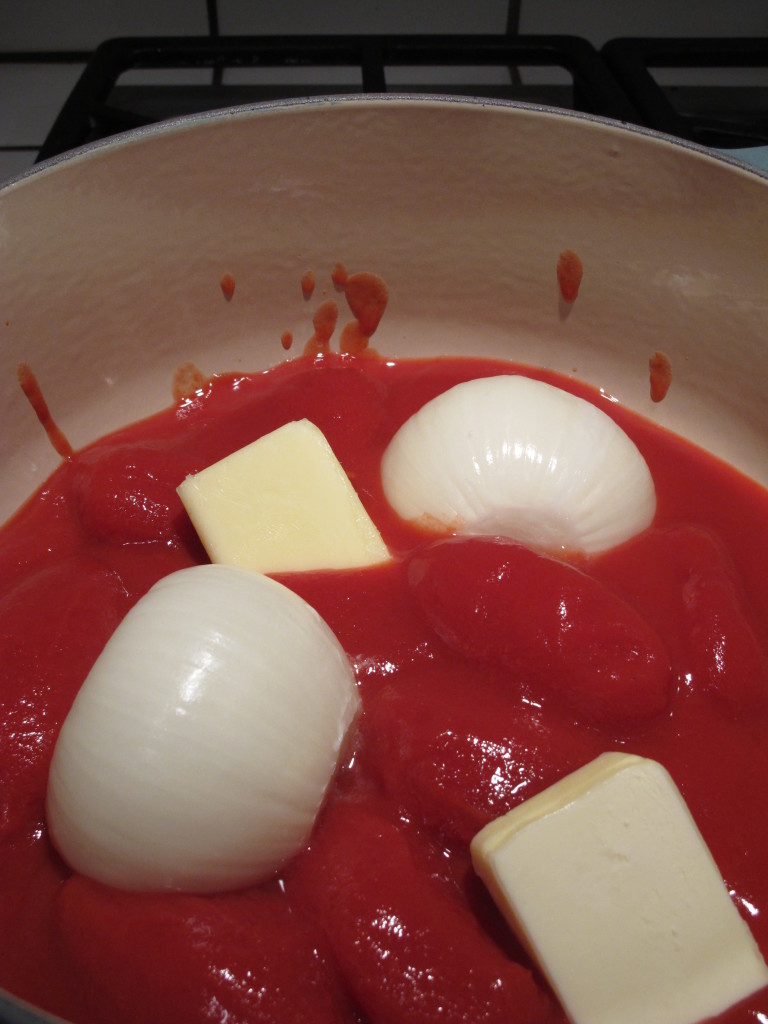 While Sous Chef may be off the sauce while he recovers, I am not. So when it came time to whip up some pizza and pasta after work, I went straight to Marcella Hazan's tomato sauce recipe. Like my Sous Chef, it is simple, quick to make, and powerfully good. It only requires tomatoes, butter, and an onion. And as so often the case, Italian canned tomatoes work really well. And please, when selecting Italian tomatoes read the label carefully and don't just rely on the name. Many Italian-sounding products are made somewhere other than Italy. So make sure your Italian tomatoes emigrated from the Mother Land and not Des Moines.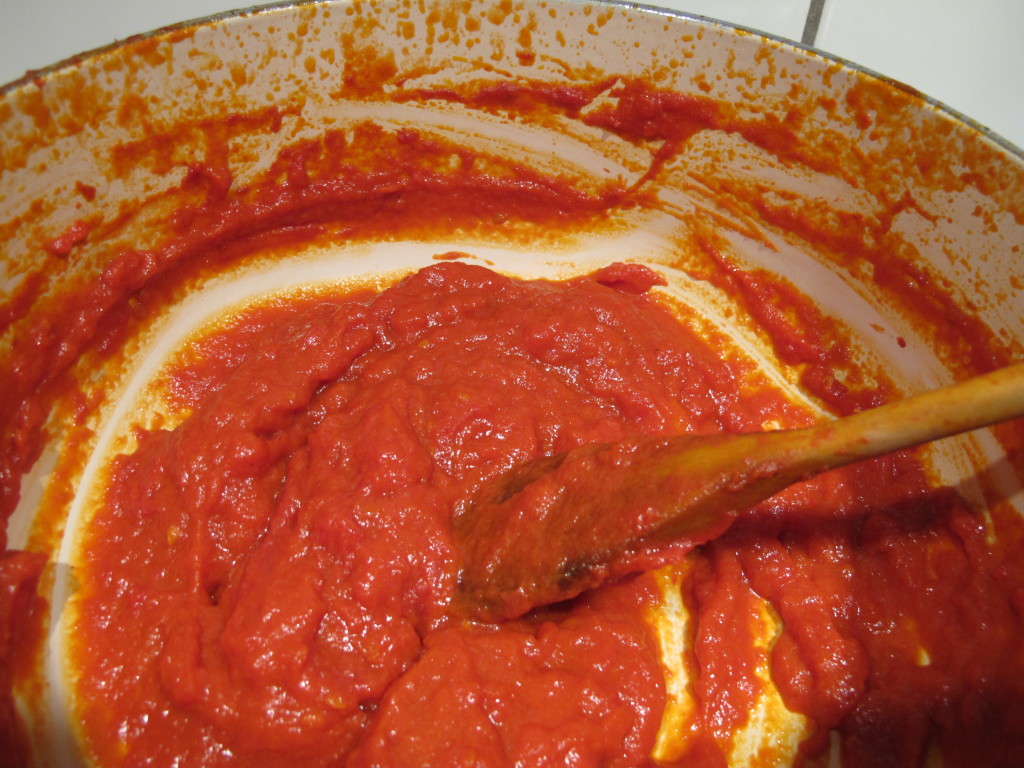 To make Marcella Hazan's tomato sauce, just pour the Italian tomatoes into a heavy pot, add a peeled onion that has been halved, drop in 5 tablespoons of butter and let the mixture simmer uncovered for 45 minutes over low heat, stirring occasionally to make certain the tomatoes break up and the flavors integrate well. Add salt and pepper to taste and you have an elegant, light, scrumptious sauce to adorn your favorite pasta or to spread over pizza dough. Either way, you have a dish that requires little effort or skill to make and is better tasting and healthier than take-out or drive-thru.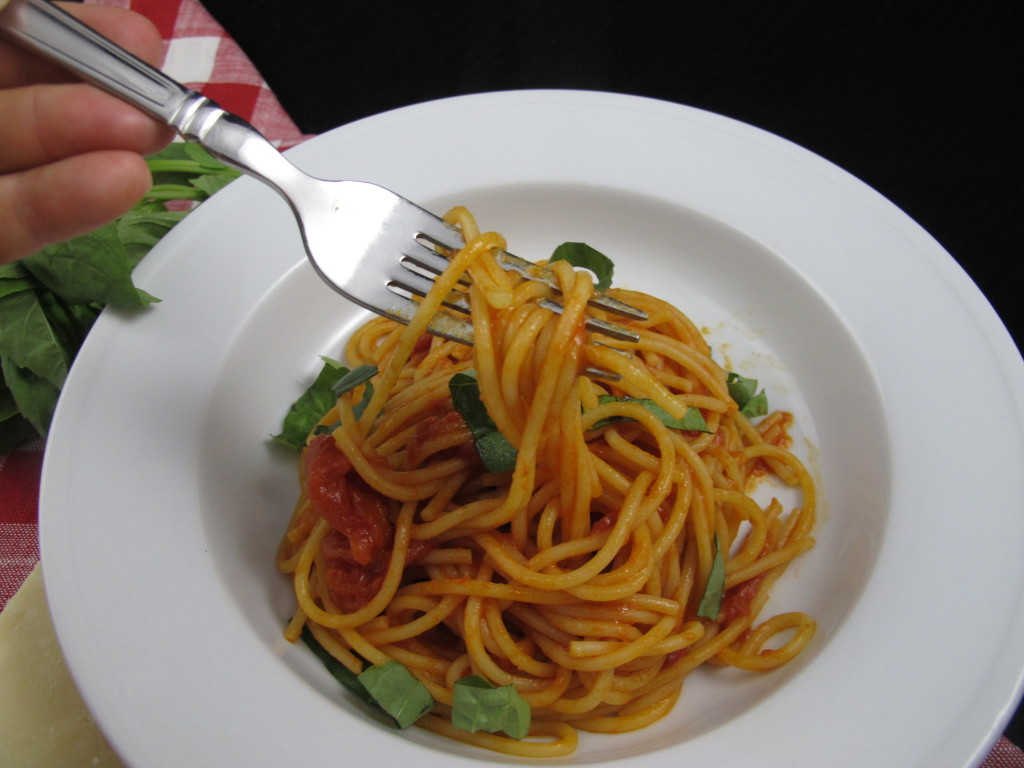 If you want to join the fun and get sauced, Mrs. Wheelbarrow Kitchen is hosting a blogging community dinner party celebrating Marcella Hazan on October 26th – for details: http://www.mrswheelbarrow.com/2013/09/october-26-dinner-party-celebrate-marcella-hazan-and-cook-for-people-you-love/.
A presto! (See you soon in Italian)
Tomato Sauce with Onion and Butter
This recipe is your new best friend. Made with pantry ingredients, it is a perfect sauce for spaghetti, gnocchi, penne, or rigatoni. It also is excellent as a base for pizza. Make a double batch as it freezes well.
Author:
Marcella Hazan – Essentials of Italian Cooking
Ingredients
2 cups canned imported Italian plum tomatoes with their juice
5 tablespoons butter
1 medium onion, peeled and cut in half
salt
1 to 1½ pounds pasta
Freshly grated Parmigiano-Reggiano cheese
Fresh basil torn for garnish
Instructions
Place the can of tomatoes included juice in a saucepan. Add the butter, onion, and salt, and cook uncovered at a very slow but steady simmer for 45 minutes. Stir from time to time, mashing any large piece of tomato in the pan with back of spoon. Taste and correct for salt. Discard onion before tossing the sauce with pasta.