Julia Child giving semi-homemade tips?  Shock, awe, a little disbelief? Yes, all of the above.  Yet, as I was revisiting French Classics from The French Chef, Julia Child, she was giving tips on dressing up store bought soup to make it look like you made French Onion Soup from scratch.    Of course she also made the French Onion Soup from scratch, and it was nostalgic to watch the early days of cooking on TV.
The Live Like Julia Project has given me the perfect excuse to Live Like Julia.  Not that I really needed an excuse for lingering lunches, or a little wine with lunch, or getting in my kitchen and testing out new techniques and recipes – but it did give me a little encouragement to keep up with what my passion is, regardless as to whether it feels at times that no cares about it.  Living Like Julia for me means to continue the hard work and plugging away at Confessions of a Culinary Diva because at the end of the day it is about the joy working hard to pursue your passions bring.  It is also a reminder that Julia didn't score a home-run on her first attempt, but kept plugging away until she finally made it.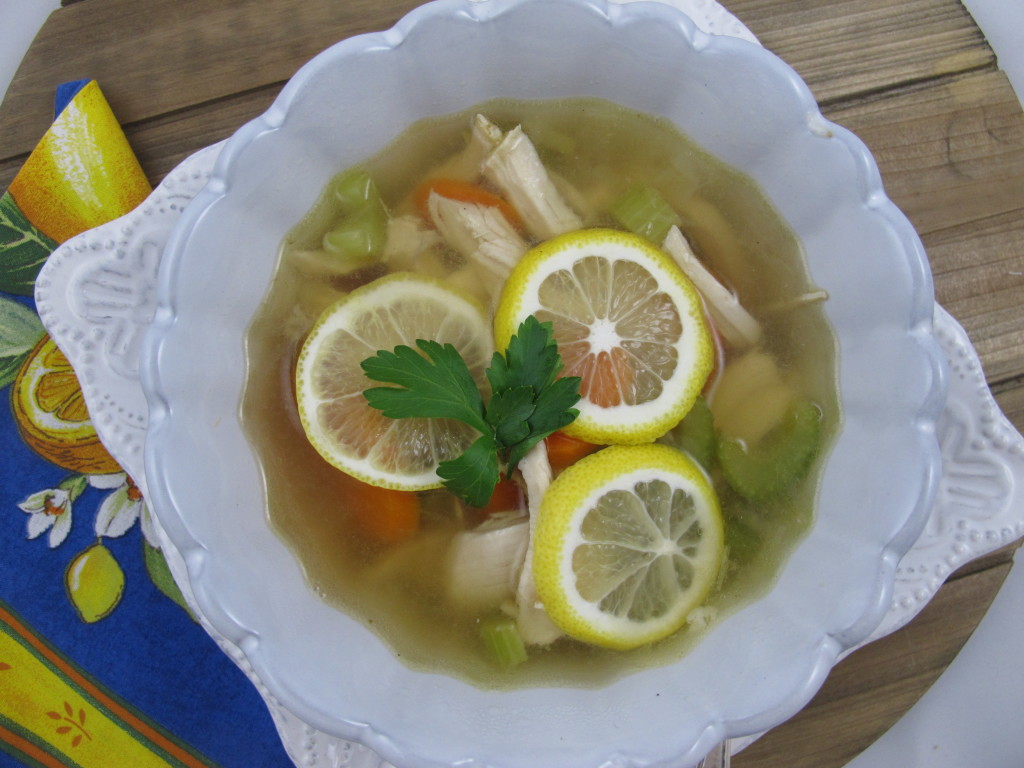 So in the spirit of Julia, how about a little Chicken Soup for the soul without any advice on doctoring up a can of Campbell's or Wolfgang Puck?  Soup is one of the items that frequently makes appearances on our table throughout the year.  With the seasons starting to change, and a lingering summer cold it was time to make some chicken soup.  Sous chef loves light, clear broths.  I find that making broth from scratch when you are making chicken soup is easy as it can be made while you are cooking the chicken.  For this soup I used five boneless, skinless chicken breasts and 10 cups of water, along with 2 bay leaves, 2 garlic cloves, ginger knob and salt and pepper to make the broth.  Once the chicken was cooked, and the broth completed, the broth was strained to eliminate any unwanted particles.  60 minutes later you have perfect broth and the cooked chicken needed for the soup – preservative and additive free!
Onions, Celery and garlic are softened in a teaspoon of olive oil, then the carrots, lemon zest, and two additional bay leaves are added.  The shredded chicken and broth are added back to the pot along with a few slivers of fresh ginger to simmer for about 20 minutes.  Voila!  Dinner is done.  The result is a light broth that has the essence of lemon and ginger, which really freshens up a classic chicken soup.  It adds this subtle layer that reminds your palate how lemon livens up the simplest of dishes, and the ginger makes it feel much more exotic.  It is loaded with heaps of shredded chicken that was infused with ginger when cooking.   Simple and satisfying, it met all of Sous Chefs requirements for the evening.
Live Like Julia Project: Ginger-Lemon Chicken Soup
Recipe type:
Ginger-Lemon Chicken Soup
Ingredients
5 skinless, boneless chicken breasts
1 knob of ginger, sliced and peeled
2 large onions, chopped
5 celery ribs, chopped
2 garlic cloves, peeled
2 garlic cloves, minced
1 teaspoon olive oil
4 carrots, peeled and sliced
4 teaspoons lemon zest
4 bay leaves
salt & pepper
Lemon slices (wheel shape)
Parsley or basil to garnish
Instructions
To make the broth:
Place chicken, 2 whole garlic cloves, 2 bay leaves, sliced peeled ginger, salt and pepper and 10 cups of water in a Dutch oven and bring to a boil over medium-high heat; reduce to low and simmer for 1 hour.
Remove the chicken, and let cool 15 minute. Pour remaining liquid through a wire-mesh strainer into a bowl, discarding the bay leaves. Place ginger slices back into broth to continue infusing flavor to broth. Wipe Dutch oven clean and add water if necessary to broth to equal 10 cups.
For Soup:
After the chicken has cooled, shred all 5 chicken breasts and put aside.
Heat oil in Dutch oven. Saute onion, celery, and garlic in hot oil in Dutch oven over medium-high heat 5-6 minutes or until tender. Add the shredded chicken, cooking liquid, carrots, lemon zest, bay leaves, and salt and pepper to taste. Cover and reduce heat to medium, and cook approximately 20 minutes or until the carrots are tender.
Garnish with Parsley or Basil, and thinly sliced lemon wheels.