Living Like Julia this past month has been a lot of hard work!  There has been a plethora of business matters to deal with, like ordering business cards, learning how to manage and grow a Facebook Page, how to maximize my use of Twitter and Instagram, and trying to discern and understand the other extant social media platforms.  What can I say?  I'm a late bloomer when it comes to social media.  Fortunately, Jimmy Fallon and Justin Timberlake have eliminated my need to learn #hashtags.  Whew!
Oh, I forgot to include the research that I've embarked on.  I found that I am just 10 books short of having the complete Julia Child Cookbook collection – which I can guarantee you will be completed by Christmas.  Then there was the discovery that to truly master French food/cooking I needed to get Larousse Gastronomique (the self-proclaimed "World's Greatest Culinary Encyclopedia"), Encyclopedia of Practical Gastronomy by Ali-Bab (the original was published as Gastronomie Pratique in 1907 and was written by a French mining engineer, Henri Babinski, who used the nom de plume "Ali-Bab;" since "je ne parle pas français," I got the 1974 English translated edition), and Clementine in the Kitchen by Samuel Chamberlain (early food writing with a touch of whimsy).  Needless to say, my Amazon cart has been getting a workout, as well as the UPS driver who delivers these treasures.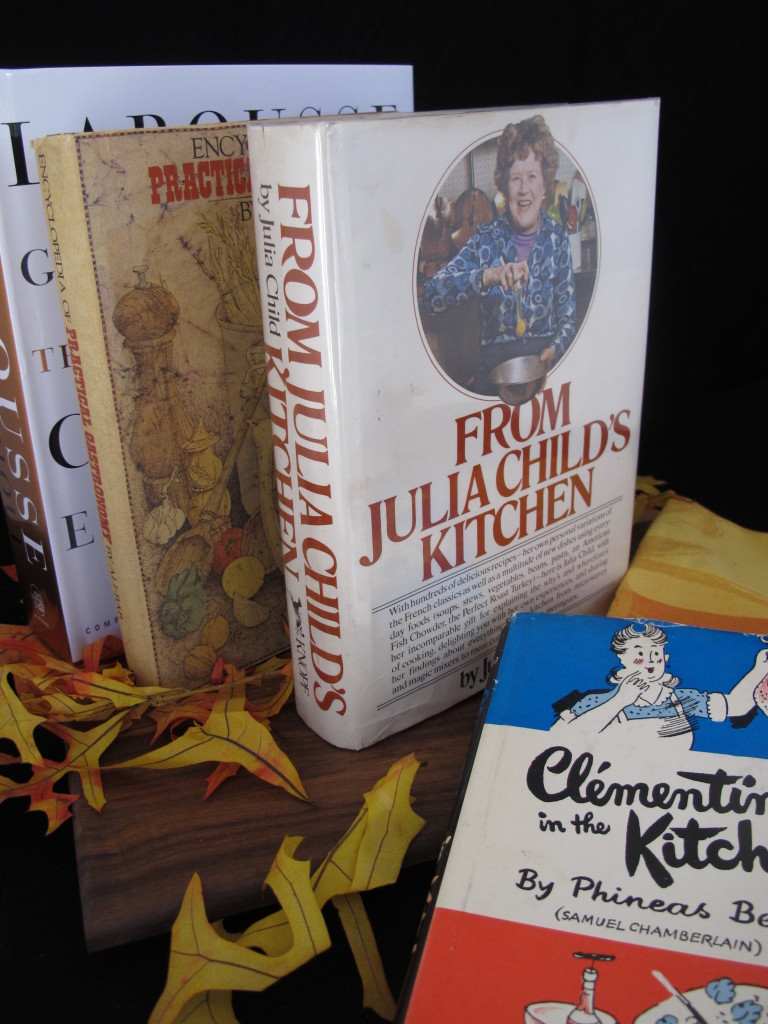 What have I learned?  I still love discovering new things, and have an endless curiosity when it comes to cuisine.  Sometimes in life you have dive in head first and just enjoy the moment.  My blog about Trattoria Neapolis exemplifies just such a moment.  Wondering how the Pumpkin Pie Ice Cream correlates to this?  It really doesn't other than it was a spur of the moment decision to purchase Pumpkin Egg Nog that inspired the ice cream.  Enjoy!
Pumpkin Pie Ice Cream
This is a great ice cream that is ideal for Southern California residents who want all the glory of Autumn foods when it is still 90 degrees and sunny out, or those who just love ice cream any time of the year. It has a rich flavor profile, and tastes like pumpkin pie.
Ingredients
5 large eggs
½ teaspoon ground cinnamon
½ teaspoon ground ginger
½ cup brown sugar
2 cups Pumpkin Egg Nog
½ cup of milk
½ teaspoon kosher salt
1 15 oz can pumpkin puree
1 teaspoon pure vanilla extract
Instructions
Prepare ice bath. Place metal bowl in ice bath to chill.
In a medium size, heat-proof bowl, whisk the yolks, cinnamon, ginger, and half of the brown sugar. Set aside.
In a heavy saucepan stir together the pumpkin egg nog, milk, pumpkin, vanilla, salt and remaining brown sugar over medium-high heat until the mixture starts to simmer. When mixture starts simmering, reduce heat to medium.
Gradually start tempering egg mixture with hot milk mixture buy either slowly drizzling mixture in from saucepan while whisking, or by adding approximately ½ cup full of milk mixture while whisking until you have added all milk mixture.
Return milk and egg mixture back to saucepan, and cook carefully over medium heat constantly, until it is thickened and coats the back of a spatula. (Your should be able to run your finger across the spatula and leave a clear path.)
Strain milk mixture through a fine-mesh strainer into metal bowl in ice bath. Stir to cool mixture.
Mixture can be cooled in refrigerator, or if cool enough from ice bath, placed into ice-cream maker. Follow ice-cream makers directions.