Opa!  We are celebrating the one year anniversary of my favorite Greek cookbook, It's All Greek to Me by Debbie Matenopoulos.   Its recipes are accessible, ingredients easy to locate, and the end product is consistently tasty and receives Sous Chef's seal of approval.  The recipes befit any climate, but particularly the warm weather that we have year-round in the Southern California desert.  Courtesy of Ben Bella Press and Debbie Matenopoulos, we have two great recipes to share with you from It's All Greek to Me.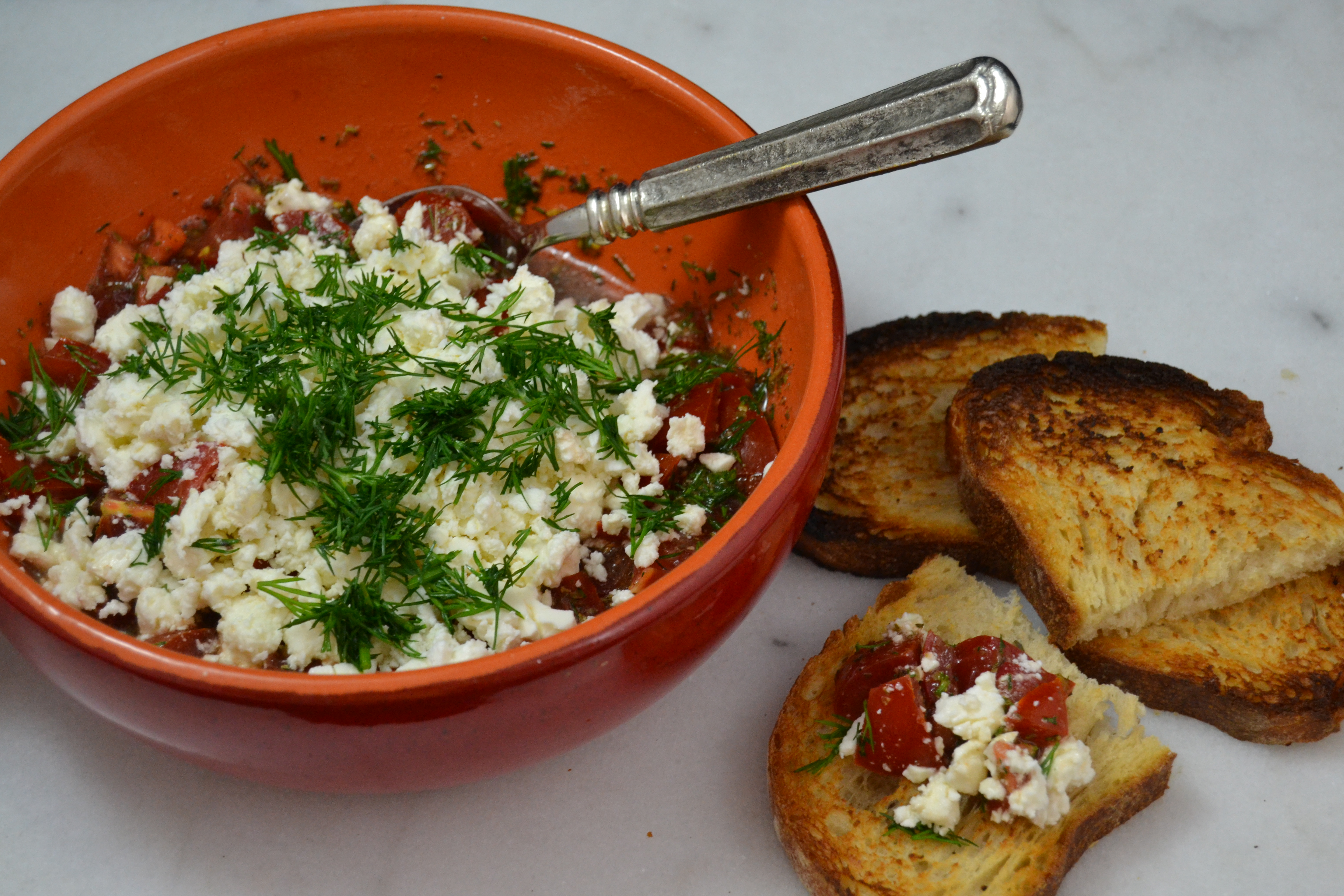 Bruschetta is one of my favorite appetizers and even makes a great lunch entrée, as it is basically an open face Tartine (sandwich).  It can be prepared well ahead of time as the tomatoes and other ingredients benefit from close association.  Debbie's Greek Bruschetta, also known as Dakos (DAH-kohs), is light and refreshing.  The addition of dill and brined feta cheese to the tomatoes adds a lively, bright bite on the palate.  This bruschetta mixture is so delicious that I'm thinking about utilizing it to make a Greek Pizza or as a lovely pasta sauce when tossed with some Orzo.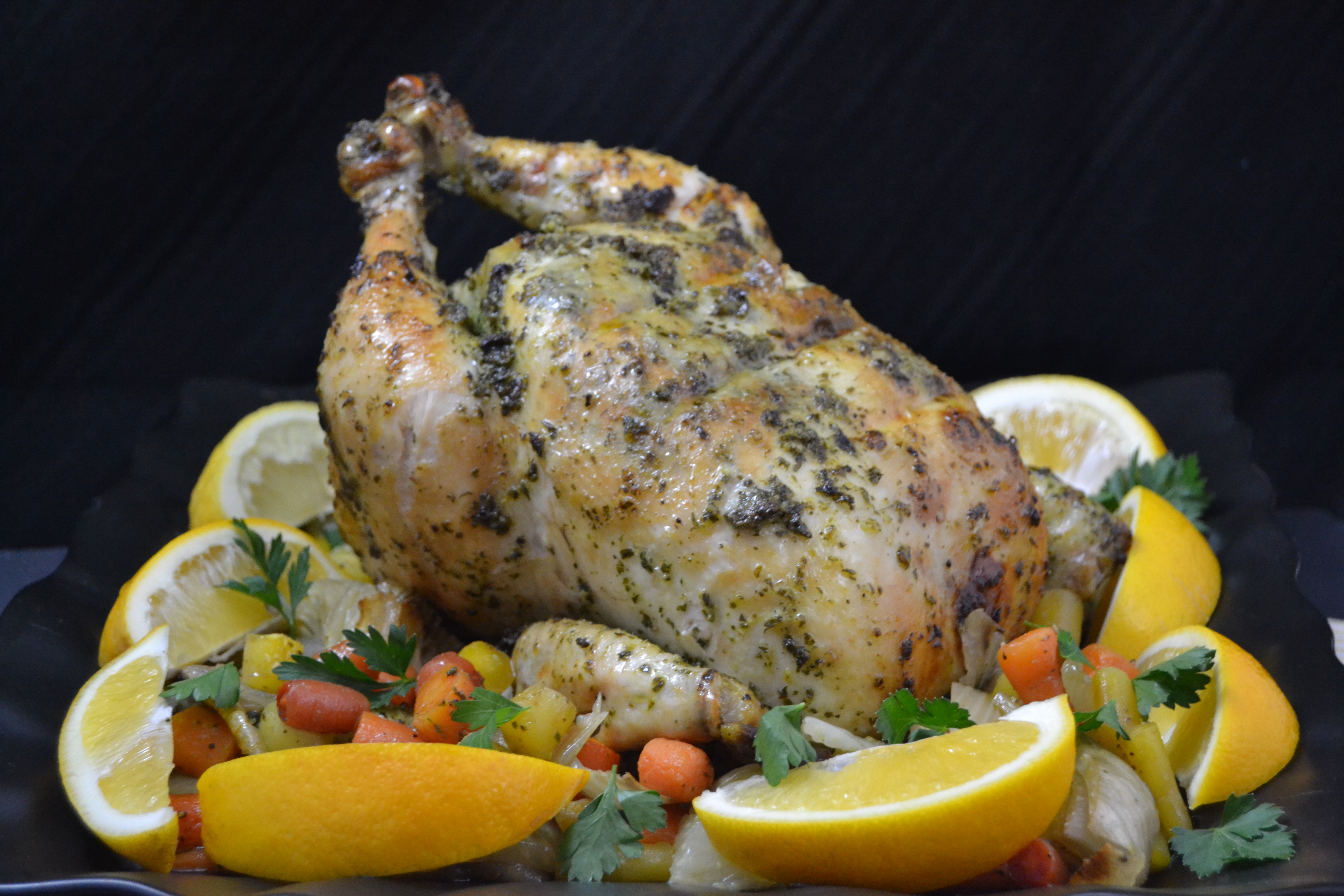 Everyone loves roast chicken, and we are no exception.  We buy three roast chickens from Whole Foods each week, one chicken for us and two for Coco & Rafa, the canine kiddies.  As good as the Whole Foods Naked Chicken is, there is nothing quite like roasting one's own chicken on a lazy Sunday afternoon.  Debbie's Perfect Herb-Roasted Chicken and Vegetables, also known as Olokliri Kota sti Skara (oh-LOH-klee-ree KOH-tah stee SKAH-rah), is exactly that:  perfect.  Fresh herbs and lemon are stuffed in the bird's cavity, the chicken is slathered with an herb sauce, placed on a bed of carrots, fennel and onions, and roasted for 85 minutes.   You will spend a most agreeable 85 minutes enjoying the intoxicating aroma of the roasting chicken.  The end result is succulent, juicy, flavorful chicken meat that literally falls off the bone.  Serve this with a crisp Greek wine or a great Rosé like Miraval.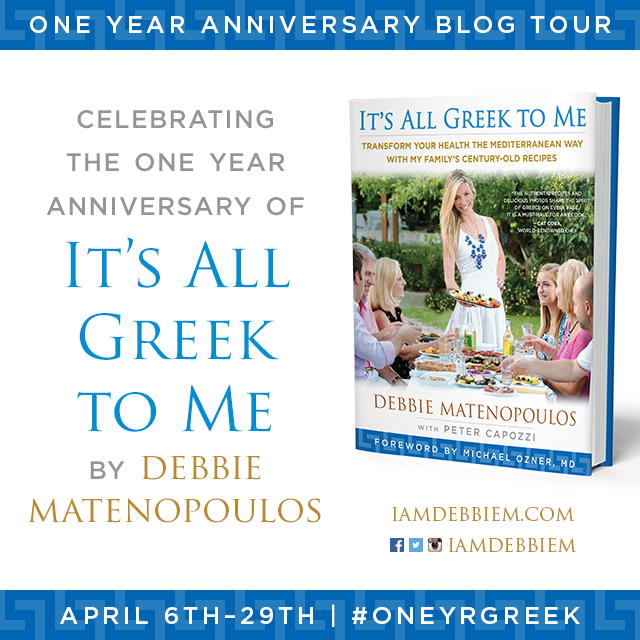 If you haven't purchased It's All Greek to Me, what are you waiting for?  Mother's Day is coming up and this would make a great gift for the female cooking enthusiast in your life.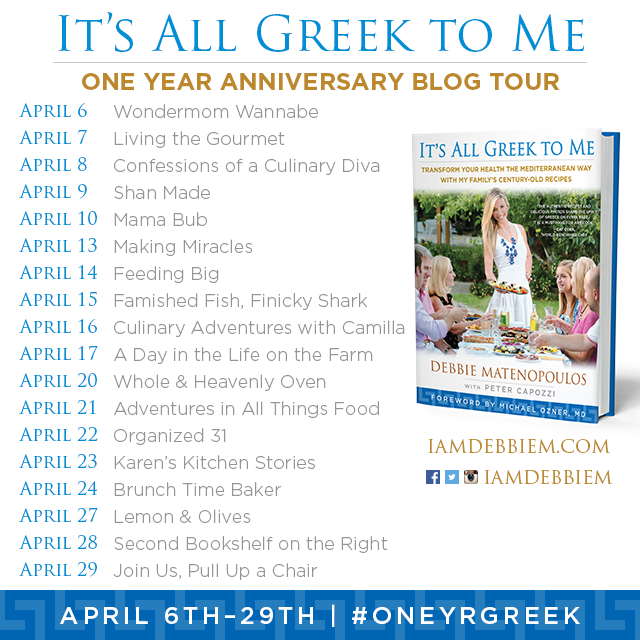 Greek Bruschetta
Dakos (DAH-kohs) Greek Bruschetta This is a traditional mezze salad from the island of Crete. I just love it. In Greece, this salad is served atop a barley rusk, called a paximadi. A rusk is just a form of hard bread that has been twice-baked to achieve crispness. You usually can find barley rusks in Mediterranean specialty shops or other gourmet markets. Choose very ripe, almost overly so, tomatoes so that their juice will really soak into the rusk beneath them. To make this vegan, just add another tomato and omit the feta.
Author:
Debbie Matenopoulos
Recipe type:
Appetizer, light entree
Ingredients
1 large barley rusk, about 7 inches or so in diameter
Extra-virgin olive oil, to taste
2 large or 3 medium tomatoes, cored and diced
½ teaspoon sea salt, plus more to taste
½ teaspoon freshly ground black pepper
1 pound brine-packed Greek feta, crumbled small
2 tablespoons chopped fresh dill
2 teaspoons dried oregano
Instructions
Lightly brush the flat top of the rusk with some of the olive oil. Mound the diced tomatoes on top and season them with nearly all of the salt and pepper, reserving about ⅛ teaspoon of each. Layer the feta on top of the tomatoes and evenly sprinkle the dill, oregano, and remaining salt and pepper on top of the cheese. Finally, drizzle olive oil to taste over the top and serve family style.
Debbie's Tip: Can't find a barley rusk? No problem! Simply buy a large round loaf of crusty, bakery-fresh bread and slice it in half horizontally. If serving on a plate instead of in a bowl, cut a thin slice off the top half so that it will sit flat on the plate without tipping over. Brush the cut side of the top half with olive oil. Set the bottom half aside for another use. Toast on a baking sheet in a 400-degree oven until very crispy and golden, about 10 minutes. Watch carefully to make sure it doesn't burn. To make the bread extra crispy, turn on the broiler for 1 or 2 minutes and crack the oven door slightly. Again, watch carefully because your bread can go from golden to charcoal in 10 seconds flat.
Perfect Herb Roasted Chicken
Olokliri Kota sti Skara (oh-LOH-klee-ree KOH-tah stee SKAH-rah) Perfect Herb-Roasted Chicken and Vegetables A good recipe for roasted chicken is a great addition to anyone's repertoire. This recipe can be doubled easily and yields an amazingly moist and flavorful chicken along with vegetables for a complete dinner.
Author:
Debbie Matenopoulos
Ingredients
1 roasting chicken, 41/2 to 6 pounds
21/2 teaspoons sea salt, divided
1 teaspoon freshly ground black pepper, divided
1 tablespoon lemon zest (1 lemon)
4 large lemons (1 of them zested)
10 sprigs fresh Italian flat-leaf parsley
10 sprigs fresh thyme
6 cloves garlic, smashed and peeled, divided
¾ cup roughly chopped fresh Italian flat-leaf parsley
¼ cup fresh thyme leaves
1 tablespoon dried oregano
⅓ cup extra-virgin olive oil
2 medium yellow onions, cut into thick slices
3 carrots, scrubbed clean, cut into
11/2-inch chunks
1 large fennel bulb (or 2 small), tops removed and sliced into wedges
Instructions
Preheat oven to 425 degrees.
Thoroughly rinse the chicken under cold water, inside and out, removing any stray feathers and giblets. Pat the chicken very dry inside and out with paper towels. Tuck the wing tips under the body. Season the cavity with ½ teaspoon of the salt and ¼ teaspoon of the pepper. Slice the zested lemon in half, and place in the cavity along with the parsley and thyme sprigs and 3 cloves of the garlic. Tie the legs together with kitchen twine. Set chicken aside at room temperature.
Add the remaining 3 cloves of garlic, chopped parsley, thyme leaves, dried oregano, 1 teaspoon of the salt, and ½ teaspoon of the pepper to the bowl of a food processor. With the motor running, slowly pour in the olive oil until the mixture just comes together. Stir in the lemon zest. Alternatively, you can mash the garlic, seasonings, and oil together with a mortar and pestle. Set the herb mixture aside.
Distribute the onions, carrots, and fennel evenly onto the bottom of a large roasting pan, and season them with ½ teaspoon of the salt and ¼ teaspoon of the pepper. Slice 2 of the remaining lemons into large wedges and distribute them among the vegetables. Rub the chicken (top, bottom, sides) evenly with the herb mixture, making sure not to miss any nooks or crannies. For added measure, if desired, very carefully loosen the skin over the breast, and rub some of the herb mixture between the skin and the breast meat. Set the chicken on top of the vegetables in the pan and roast for 11/2 hours or until the juices run clear when you make a small slice between a thigh and a leg.
Transfer the chicken and vegetables to a large serving dish, and cover with foil to rest for 20 minutes so that the juices can settle. After 20 minutes, remove the foil, cut the twine around the legs, and discard the contents of the cavity.
Carve the chicken and serve it with the vegetables and the remaining lemon cut into wedges for garnish.