The recent International Food Bloggers Conference (IFBC) in Seattle was somewhat like a Chamber of Commerce event for foodies with attendees handing out business cards like Halloween candy and collecting them like Olympic pins, sponsors vying to fill attendees' mouths and bags with copious quantities of foods, wines and spirits, produce, products, brochures, and other materials, and speakers selling their expertise, concepts, and books with fervor, if not outright histrionics.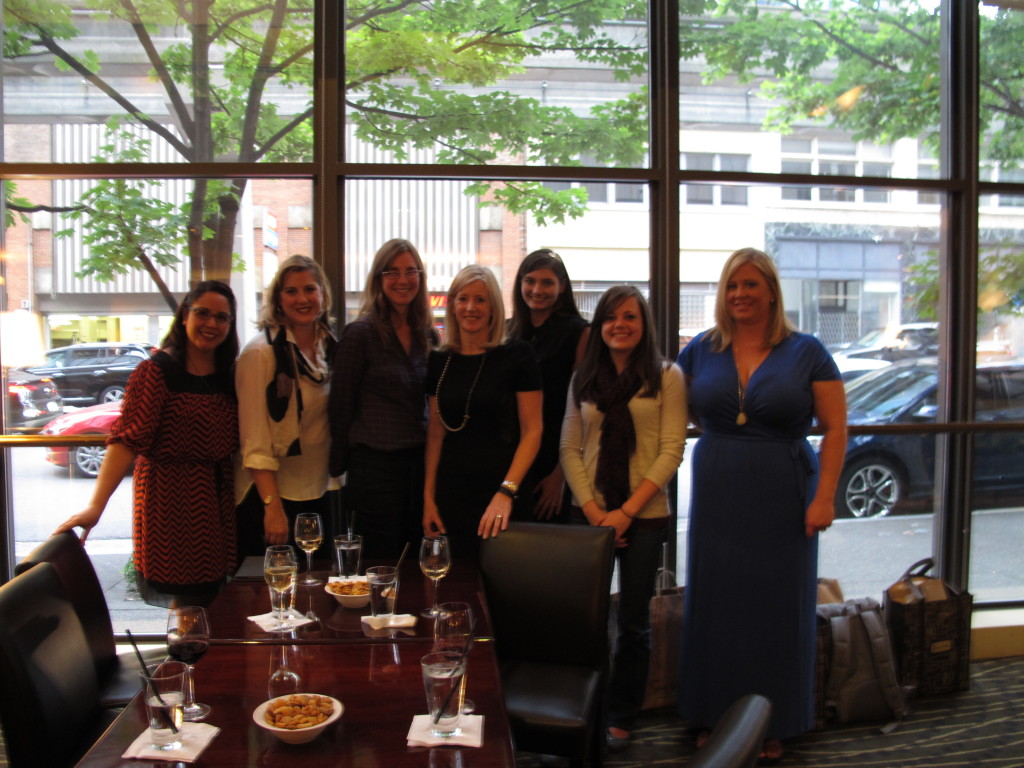 It is a popular maxim that the time, effort, and cost of a conference are justified if you learn just one thing or meet just one influential person. The IFBC exceeded those goals, big time.  First, the presentations and exhibits were tailored to the food blogger industry and afforded insights into the processes, procedures, and techniques for making food blogging interesting and more effective.  Second, it afforded the opportunity to meet and discuss with sponsors their new, and often innovative, produce and products for the home and professional chef.  In fact, I received so much "stuff" at the conference that Sous Chef chose to send it home by FedEx rather than discard valuable clothing or purchase yet another suitcase to drag around and ultimately pay an airline baggage penalty.  Third, it confirmed what Julia Child has said about "people who love food are always the best people."  I met scores of people, from all parts of the country, whose shared interest in food, wine, cooking, and travel made it easy to engage in lively and productive conversation.  I intend to implement many of the food blogging suggestions and techniques, cultivate close and long-lasting relationships with a bevy of sponsors, and develop many friendships initiated or expanded at the conference.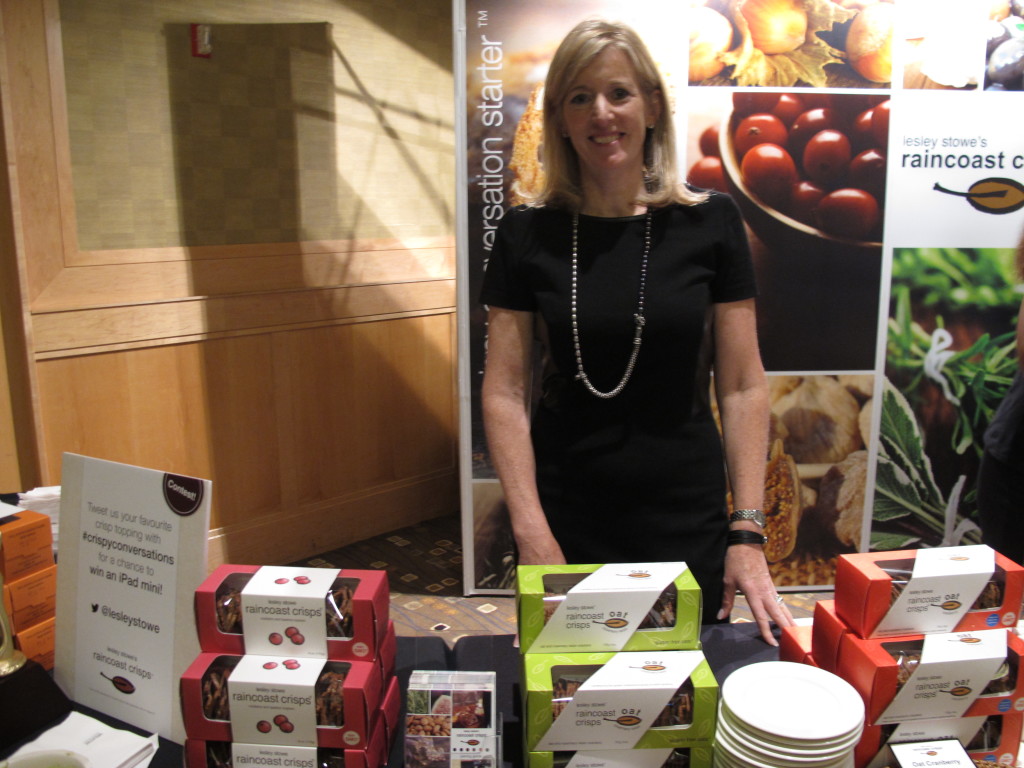 A particular highlight was meeting Lesley Stowe, founder and CEO of Lesley Stowe Fine Foods, and learning more about her inspirational story. A graduate of Le Cordon Bleu in Paris, upon returning to Vancouver she eventually started a catering business, gourmet food store, and published "The Lesley Stowe Fine Foods Cookbook."  Her ability to predict and capitalize on food trends has led to the creation of many original products, including the Lesley Stowe Raincoast Crisps that Whole Foods helped launch and which are now available internationally.  There is even a "limited edition" version, the Pumpkin Spice Raincoast Crisp, that is available only during the holiday season and which Sous Chef and I are devouring by the handful.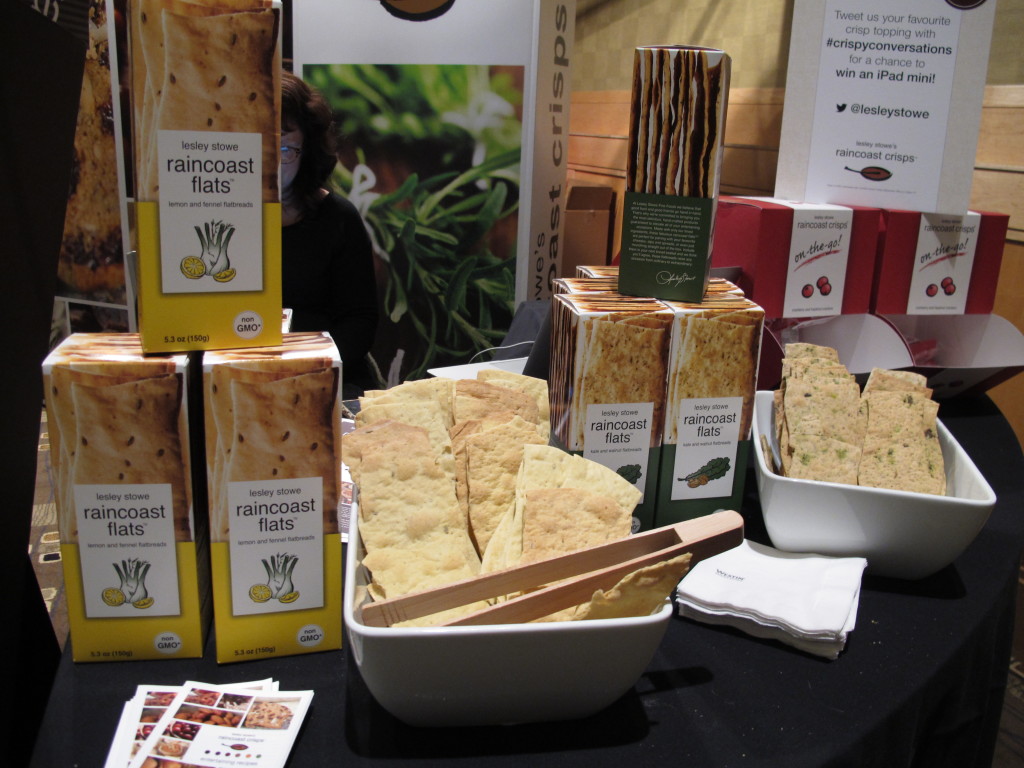 But this is a "what have you done for me lately world" that requires the constant expansion of one's repertoire. So at the IFBC we were introduced to Lesley Stowe Fine Foods' newest addition:  the Raincoast Flats.  As the name suggests, these are flat, crispy, crackers that are light in color and slightly larger than the plaques used by James Bond for betting at the Chemin de Fer tables in Monte Carlo.  They come in two flavors — Lemon and Fennel, and Kale and Walnut—and each is appealing to the palate.  The Lemon and Fennel is lighter and brighter in taste and texture and the Kale and Walnut is heartier with more pronounced flavors.  Each admirably passes Sous Chef's "two bite test" (eating a piece in two or more bites without it crumbling and dumping dip all down the front of his shirt).  My head is flooded with visions about how to utilize the Raincoast Flats this holiday entertaining season, but you'll have to stay tuned to learn how these visions become reality.  In the interim, Whole Foods will be the only place you can find the Raincoast Flats once they are released in October.
Oh, and one last secret I learned from Lesley. She has a new dessert cookbook that will be available in December for U.S. Residents.  If you know anyone who loves desserts, this would be a nice little surprise to find under the tree.   (Hint, hint, Sous Chef.)
As always, the opinions and experiences found in my blogs are expressly my own, even when my head is teeming with recipe ideas.