"The moment had arrived for a Daiquiri. It was a delicate compound; it elevated my contentment to an even higher pitch."1
– Joseph Hergesheimer,
San Cristobal de la Habana
Papa Hemingway loved the Daiquiri and so do I.  It is simplicity itself; a classic, crisp, refreshing cocktail that will elevate any occasion at which it is served.  Just combine light rum with lime juice and simple syrup and then shake or blend with ice and it's done.  For Papa Hemingway's eponymous version, just add grapefruit juice and maraschino liqueur in place of sugar (see my previous Blog about this).  In its frozen state, a Daiquiri looks like a mound of unadulterated snow and is best consumed with a straw.  In its shaken state, it is like looking into a limpid pool of ice water.  Indeed, the Daiquiri's simplicity makes it a cocktail platform for the creative, if not the absurd.  So I was thrilled that I received a copy of Puerto Rican Cooking by Carmen Aboy Valldejuli as part of the Food Blogger Cookbook Swap for the very reason there are lots of Daiquiri recipes in it!  If you are new to traditional Daiquiris, Primer Magazine has a Daiquiri overview on its website that is worth a click to familiarize yourself with the drink: http://www.primermagazine.com/2012/learn/the-daiquiri.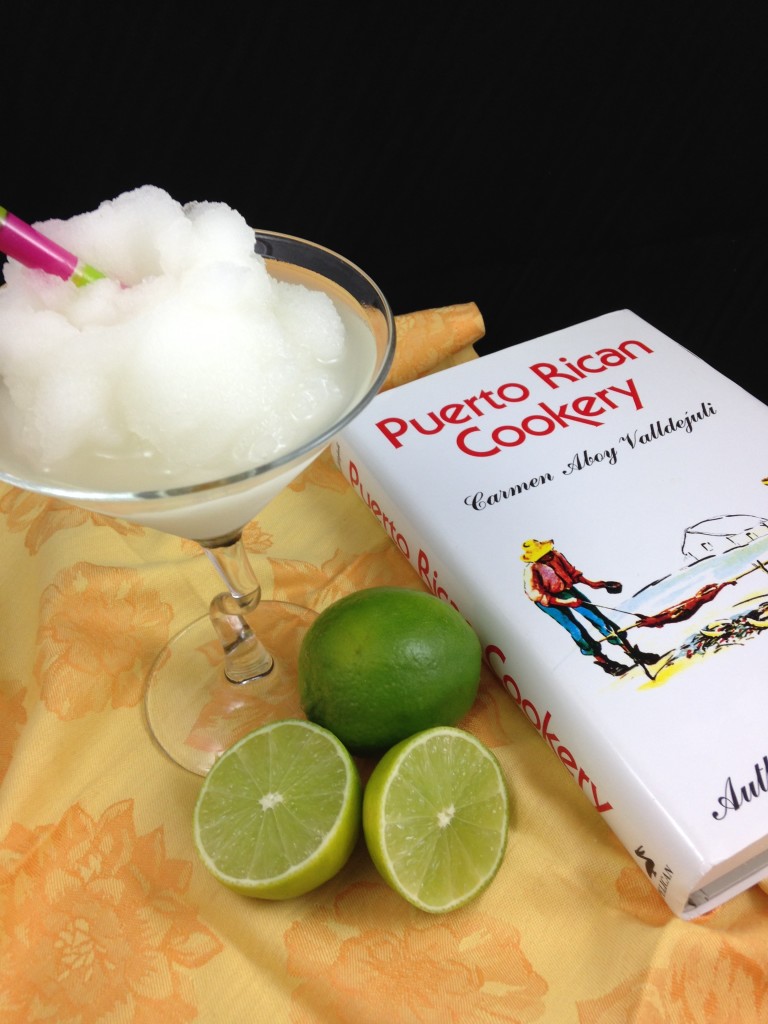 Jimmy Buffett and I think alike in one sense.  Put some booze and ice in a blender and soon it will render a frozen concoction that helps me hang on.  I know that many traditionalists scoff at the notion of creating a frozen cocktail.  But living in an area that produces 120 days of 100+ temperatures makes one really appreciate the cooling refreshment of an adult snow cone in a chilled glass.  Just the other night, Sous Chef grabbed Puerto Rican Cooking, looked up a Daiquiri recipe, poured the ingredients into our trusty Vitamix, added ice cubes, punched the button and in less than a minute that frozen concoction was calming our flu-generated sore throats in the most amiable fashion.  After a couple of these libations, the words flowed from my keyboard as I tried to capture the spirit of this drink for you.  That the words came out more like P.G. Wodehouse than Ernest Hemingway is likely attributable to the pleasingly anesthetizing effect of the drink.
The Food Blogger Cookbook Swap was hosted by Alyssa of www.EverydayMaven.com and Faith of http://www.anediblemosiac.com.  I sent a cookbook to a food blogger and received a cookbook in return, which just happened to be from Adrianna from Great Food 360.  Adrianna is a fellow Dorista and participates in French Fridays with Dorie, so I have loved reading her blog and experiences in Puerto Rican cooking.   Adrianna sent a copy of Puerto Rican Cooking, a book that is "considered today to be [one of] the definitive books on island cooking" by no less than Craig Claiborne of The New York Times.  A big thanks to Adrianna for expanding my regional cooking knowledge to include Puerto Rican cuisine.  Make sure to head over to her blog at http://greatfood360.com/ , and visit the other great blogs from fellow participants:
A Baker's House
An Edible Mosaic
avocado bravado
Blue Kale Road
Blueberries And Blessings
Cheap Recipe Blog
Confessions of a Culinary Diva
Create Amazing Meals
Cucina Kristina
Culinary Adventures with Camilla
Cupcake Project
Dinner is Served 1972
Done With Corn
Eats Well With Others
Everyday Maven
Flour Me With Love 
From My Sweet Heart 
girlichef 
Great Food 360° 
Healthy. Delicious. 
I'm Gonna Cook That! 
Je Mange la Ville 
Karen's Kitchen Stories 
Kitchen Treaty 
Olive and Herb
OnTheMove-In The Galley 
Our Best Bites 
Paleo Gone Sassy
poet in the pantry 
Rhubarb and Honey 
Rocky Mountain Cooking
Shikha la mode 
Shockingly Delicious
Sifting Focus 
Spiceroots
Spoonful of Flavor 
Tara's Multicultural Table 
The Not So Exciting Adventures of a Dabbler 
The Suburban Soapbox 
The Whole Family's Food 
Daiquiri Frappe' (Frozen Daiquiri)
Author:
Puerto Rican Cookery by Carmen Aboy Valldejuli
Ingredients
2 ounces (4 tablespoons) White Puerto Rican Rum
2 tablespoons fresh lime juice
1 teaspoon sugar
1 cup ice
Instructions
Blend all ingredients in an blender.
Serve frappe' in chilled cocktail glass.