Eight words.  Just eight words.  But they were perhaps the most important eight words since I heard:  "The rabbit still lives.  You are not pregnant."  The eight words that resonated through my head like a clarion song:  "We have an opening at 9:15 on Sunday."
Just like that, two decades of effort, dreaming, and heartbreak were expunged.  Sous Chef and I were finally going to dine at The French Laundry!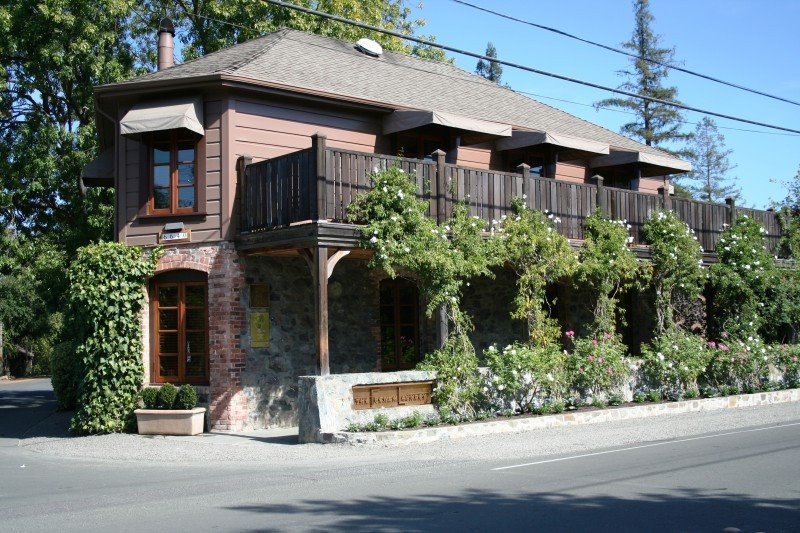 The French Laundry is magical. It is like a Disneyland for the serious culinary enthusiast.  And like Disneyland the anticipation and excitement builds from the moment you arrive.  Across from the entrance is one of the finest restaurant gardens imaginable.  Gorgeous herbs, vegetables, and egg-laying chickens are arranged in orderly rows and pens.  Opposite the garden is a two story French country-style house built in 1890 as a French steam laundry and which now accommodates the restaurant.  In front along the road are abundant white rose bushes growing like vines up the building's columns.  As you enter the courtyard, to the right is the kitchen framed with large glass windows that allow you to watch the sizeable staff performing like an orchestra, perfectly in sync.  To the left is the Holy Grail:  the entrance to the Culinary Temple.  Nirvana is close, but there is still acute trepidation.  Notwithstanding our reservation confirmation, what if some unscrupulous foodie had learned of our reservation and had already claimed our dining spot?  Sous Chef seemed to tell everyone on our journey about that coveted reservation and the date/time we were dining, so my paranoia was justified.  Alas, we were in luck, and after displaying proper identification and references, and whispering that night's secret password, we were admitted.  Sous Chef later opined that he did not know if he should kiss the floor, the maître d', or both.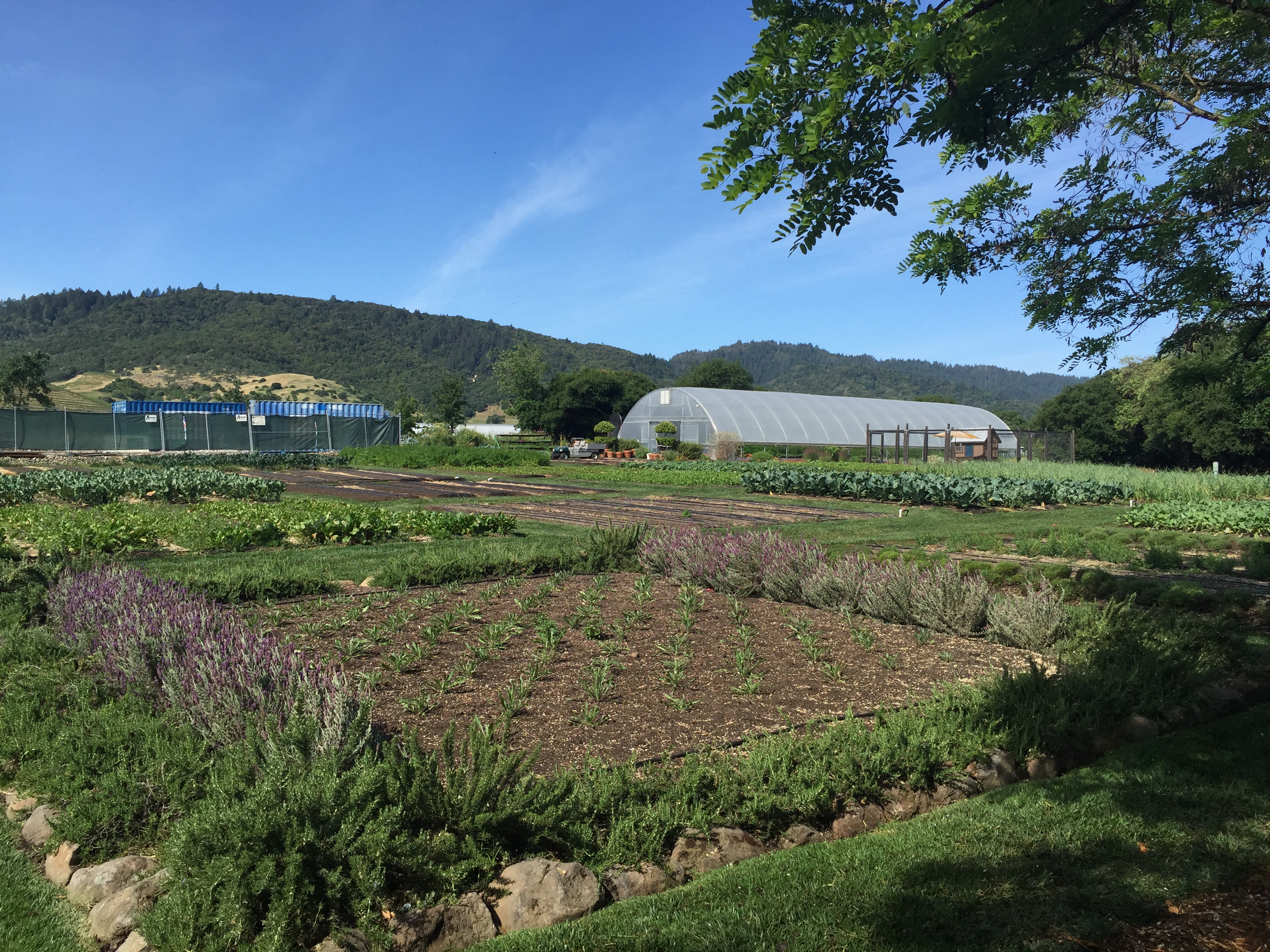 Our table was well situated to observe the action around us, so I chanced a quick glance to assess the other diners.  There was a table of young Asian hipsters with their iPhones on the table, ready to record the entire event with a series of selfies.  Across the way were several middle-aged couples, definitely not from Southern California as they had a more natural look and it did not appear their faces would melt if the candle got too close.  And over in the corner was a table of more mature diners at which the gray haired males were documenting their dinner with their iPhones (they unfortunately forgot to turn the flash off, so their photos will have a harsh light glare).  In the midst of all this photojournalism, and even though I am The Culinary Diva, I opted not to take photos.  Two reasons:  first, though photos show the dish, rarely do photos in restaurants do justice to the food because of lighting or lack thereof; and, second, I wanted to focus on the food experience and not worry about multi-tasking.  I would have to capture this experience through memories and words.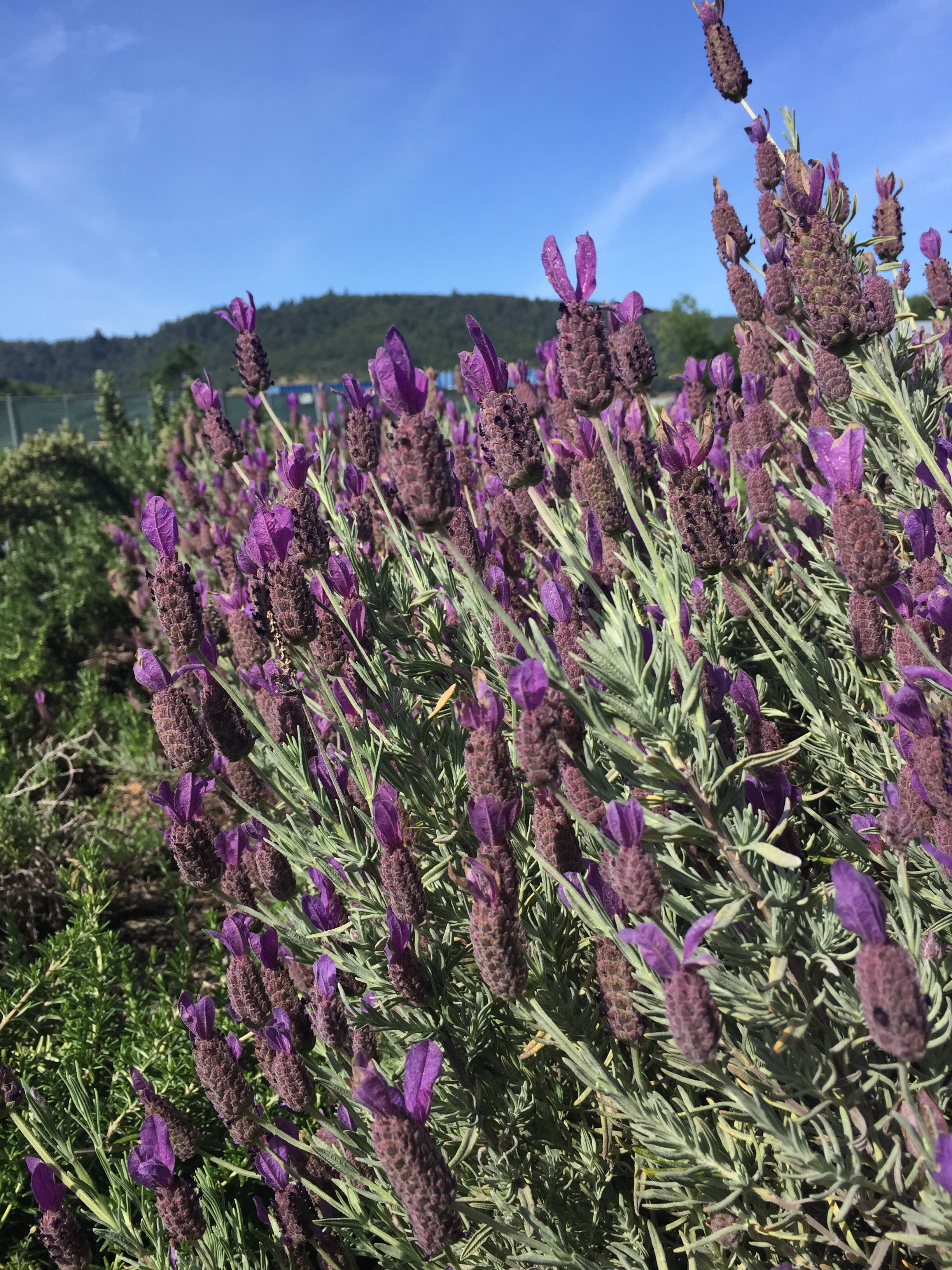 Dining is done in three rooms, two downstairs and one upstairs, at only seventeen or so tables.  These rooms are quaint yet elegant.  The furnishings are not over-done.  The whole was surprisingly comfortable and cozy, the kind of place you could spend a lot of time.  In keeping with its status, I anticipated pretentious food and attitude.  The food of course is unbelievable – but not pretentious—as I knew and could identify the ingredients used.  Missing were the chemically induced foams claiming to be essences of this or that, the ingredients that are otherwise discarded as offal, and the combinations of herbs and spices that seem random at best.  Just beautifully fresh ingredients simply prepared.  Each item on the plate had a purpose and complimented the other items. Beauty of plating was achieved by the color and textures of the food and sauces and not by creating architectural wonders or adding extraneous foreign objects.  The pace was not rushed, but went quickly enough that you did not feel like you might fall asleep since the hour was so late and the meal lasts at least three hours.  The service was impeccable and friendly.  Not in your face, but the staff always anticipated when we needed more water or wine or it was time to clear the plates.  The servers operated as a team that was perfectly choreographed.  It was like watching a ballet within a restaurant rather than a theatre.  During the course of the evening we were in contact with everyone working in the dining rooms which added a special measure of pleasure as each took a moment to converse about the food and wine, our needs, and observations.
About the food….
The first amuse bouche was a warm Gourgere with creamy, aged Gruyère cheese, whose flavor just exploded in your mouth. This was followed by a Fluke Tartar served in an ice cream cone – chilled but not so cold you could not taste the fish. A glass of utterly delicious Gaston Chiquet Blanc de Blancs d'Ay, Grand Cru champagne was served with the amuse bouche and was the accompaniment to the first course as well.
The first course was Oysters and Pearls that was like a savory tapioca pudding.  Rich and creamy pearl tapioca was the canvas for the White Sturgeon Caviar and Island Creek Oysters.  The caviar added a salty, crunchy bite while the oysters added a briny layer of flavor.  The combination of the tapioca, caviar, and oysters awarded each bite with a medley of flavors.
The second course was Hawaiian Hearts of Peach Palm.  Baby lettuce greens from Thomas Keller's garden were artfully clothed in a dressing that was almost non-existent but subtly brought out the flavor of the greens. An avocado puree was placed in the perfect positon so you could brush your greens against it while you maneuvered your fork around the plate.  Bright orange slivers of Satsuma Mandarins were placed between the greens and Croutons of Peach Palm.  This is how salads should taste:  fresh from the garden, lightly dressed, and with complimentary flavors—not lettuce from a convenience bag that is drenched in a commercial dressing.  This course was served with a Nigl Riesling Seftenberger Pelligen-Privat Kremstal which our server felt would also work well with the next course.  The wine was perfectly balanced, dry, and crisp.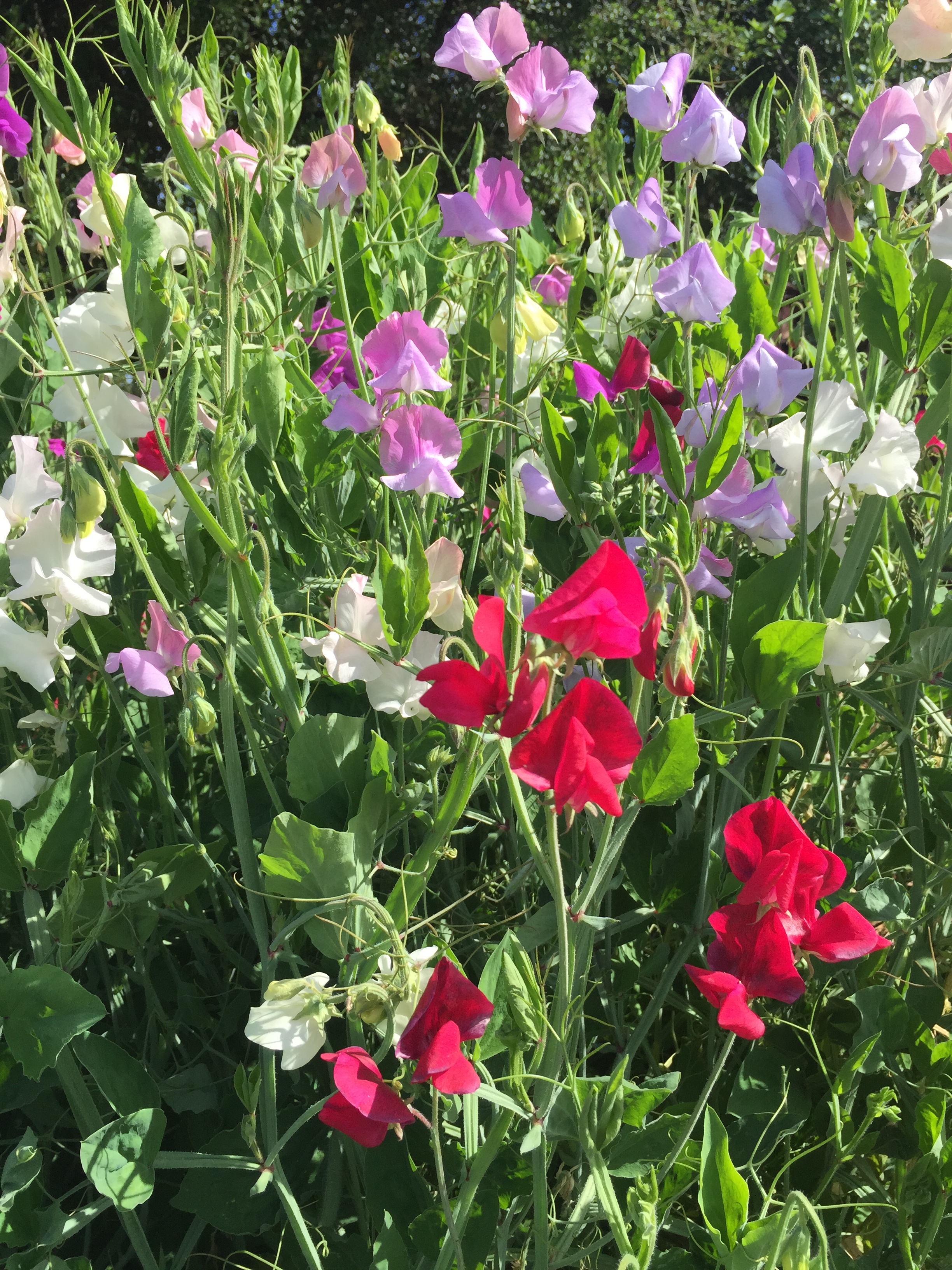 At this point we were brought a brioche roll with a hint of Fleur de Sel.  Light and fluffy in texture, it melted like butter in the mouth.
Slow Cooked Fillet of Wild King Salmon may seem prosaic, but let me tell you this was beyond amazing.  The salmon fillet was poached and wrapped in a bright green broccoli crepe.  The salmon was not heavily seasoned with rubs, herbs or spices so common today.  The flavor and texture were perfect – you could taste the freshness of the fish.  The fish was firm but easy to cut with the fish knife.  And the broccoli crepe not only added a visual stimulation that was an alluring contrast to the salmon's beautiful color, but added a subtle earthy flavor tying the land and see together. Dashes of preserved Meyer Lemon added a sweet tang, and the bitter radish added the bite needed to offset the almost sweet nature of the salmon. The Nigl Riesling paired marvelously, and is a good reference for pairing with salmon in the future.
Next was the Monterey Bay Abalone "Piccata".  Wow.  Wow. Wow.  Just Wow.  Most abalone that is served in restaurants is pounded into a flat fillet and then dredged and fried within a degree of overdone.  This abalone appeared to be in its natural shape, as if it had just been scooped out of its shell.  The texture was soft and chewy with just enough seasoning to bring out the natural abalone flavor.  It was served on a Charred Eggplant Puree, with baby Globe Artichokes anchoring the sides.  The "Piccata" was a blend of Cerignola Olives, Aji Dulce Peppers, and Pine Nuts. This dish was paired with an unfiltered Alban Vineyards Roussanne from Edna Valley. The Roussanne was full in flavor and color but did not overwhelm the dish.  Sous Chef was particularly excited about this pairing since John Alban is a founding member of the Rhone Rangers and whose winery was established exclusively for Rhone varietals.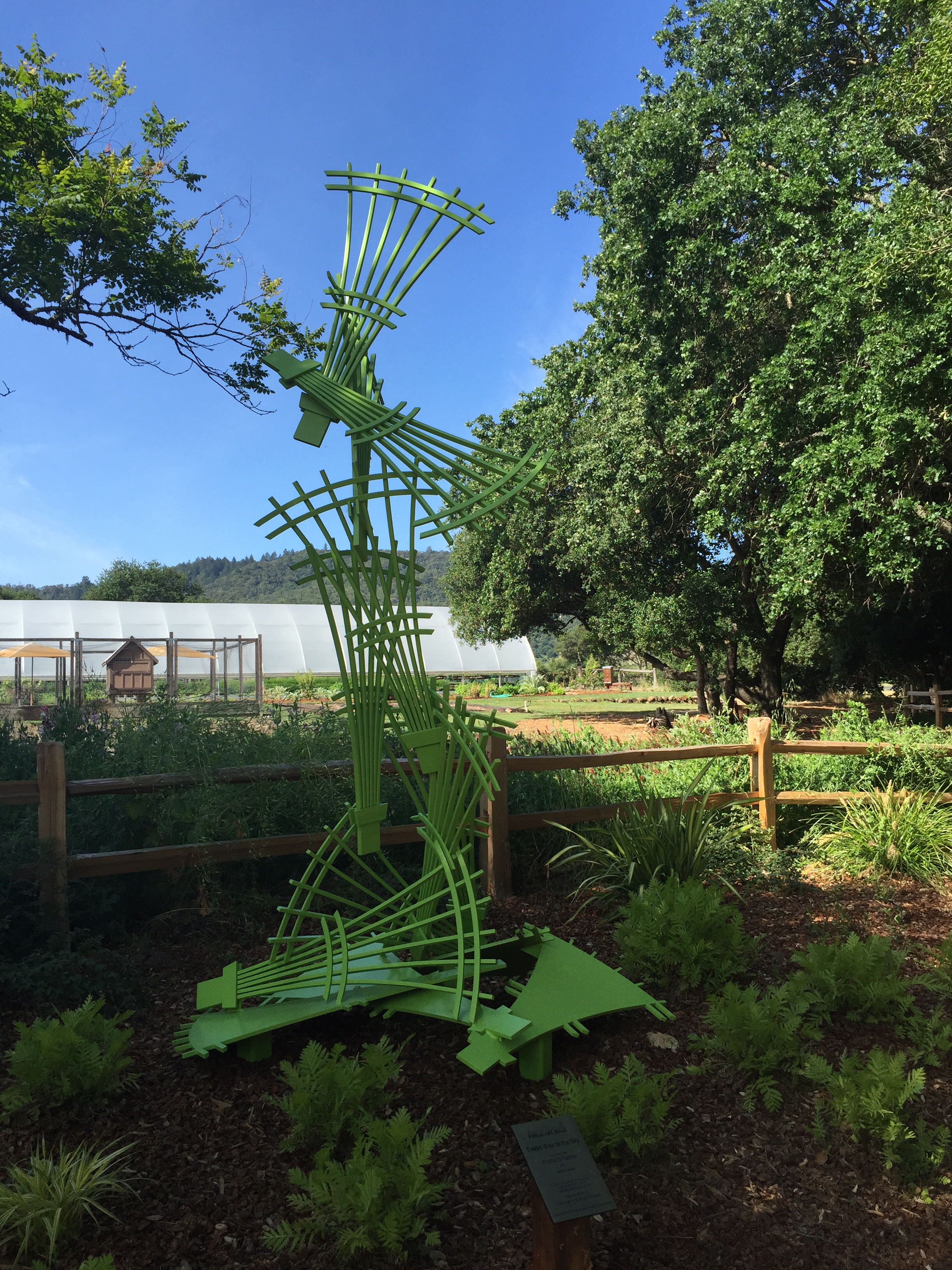 Now officially in a gastronomic state of insatiable pleasure, my palate was primed and ready for the Wildflower Honey Lacquered Liberty Farms Duck.  The duck skin was crispy and the meat was moist and succulent.  This was served over an artful puree of roasted garden beets, with slices of the roasted beets.  A light, slightly earthy Amaranth and Green Peppercorn Jus was dribbled on the duck. The flavors of the duck, roasted beets, and jus melded together to create the best duck I have ever tasted. This was paired with a Dubreil-Fontaine, Beaune "Montrevenots," 1er Cru Burgundy.  I prefer the French style of Pinot Noir, and for good reason.  It simply goes better with food than some hedonistic, jammy, 15% alcohol-laden fruit bomb.
For the next course, Sous Chef and I parted ways.  Sous Chef opted for the Herb Roasted Elysian Fields Farm Lamb served with an English Pea "Croquette," Garden Carrots, and Pea Tendrils.  I'm not a lamb fan, so I was "forced" to order the Charcoal Grilled Japanese Wagyu "Ris de Veau" served Morel Mushrooms, Fava Beans, Garden Turnips, and Garlic Jus.  This was the real thing, Wagyu from Japan and not some ersatz wagyu produced on the plains of Montana.  Of course authenticity has its price, and in this case the $100 supplement raised Sous Chef's eyebrows to the zenith.  This was my first experience with Japanese Wagyu.  Simply prepared with a sprinkle of Fleur de Sel for finishing, the flavors were delicate, the texture supple, and "melt in the mouth" truly described the effort needed to masticate each piece.  Worth the $100 supplement – definitely!  And let's not forget the lamb dish.  According to Sous Chef, it was perfectly cooked, perfectly and simply seasoned, and the best piece of lamb he had ever enjoyed.  Both of our courses were paired with a 2010 Inglenook Rutherford Cabernet Sauvignon.  This wine brought a tear to Sous Chef's eye and he and our sommelier reminisced about the history of this winery and its recent rejuvenation.  The wine was a classic Rutherford Cabernet Sauvignon in that it was full bodied with some herbaceous tones, but its tannins were soft and supple.
To transition from the savory courses a "Tomme D'Abondance" was presented.  It consisted of Fig Marmalade, Garden Fennel, Spiced Wine Glaze, and English Walnuts that helped ready the palate and was paired with a Vietti Moscato d'Asti Cascinetta 2013 from Piedmont.  Pale yellow in color with a slight frizz, the wine had aromas of peaches, rose petals, and ginger, slightly sweet with modest acidity and good balance.  An excellent complement to the dish.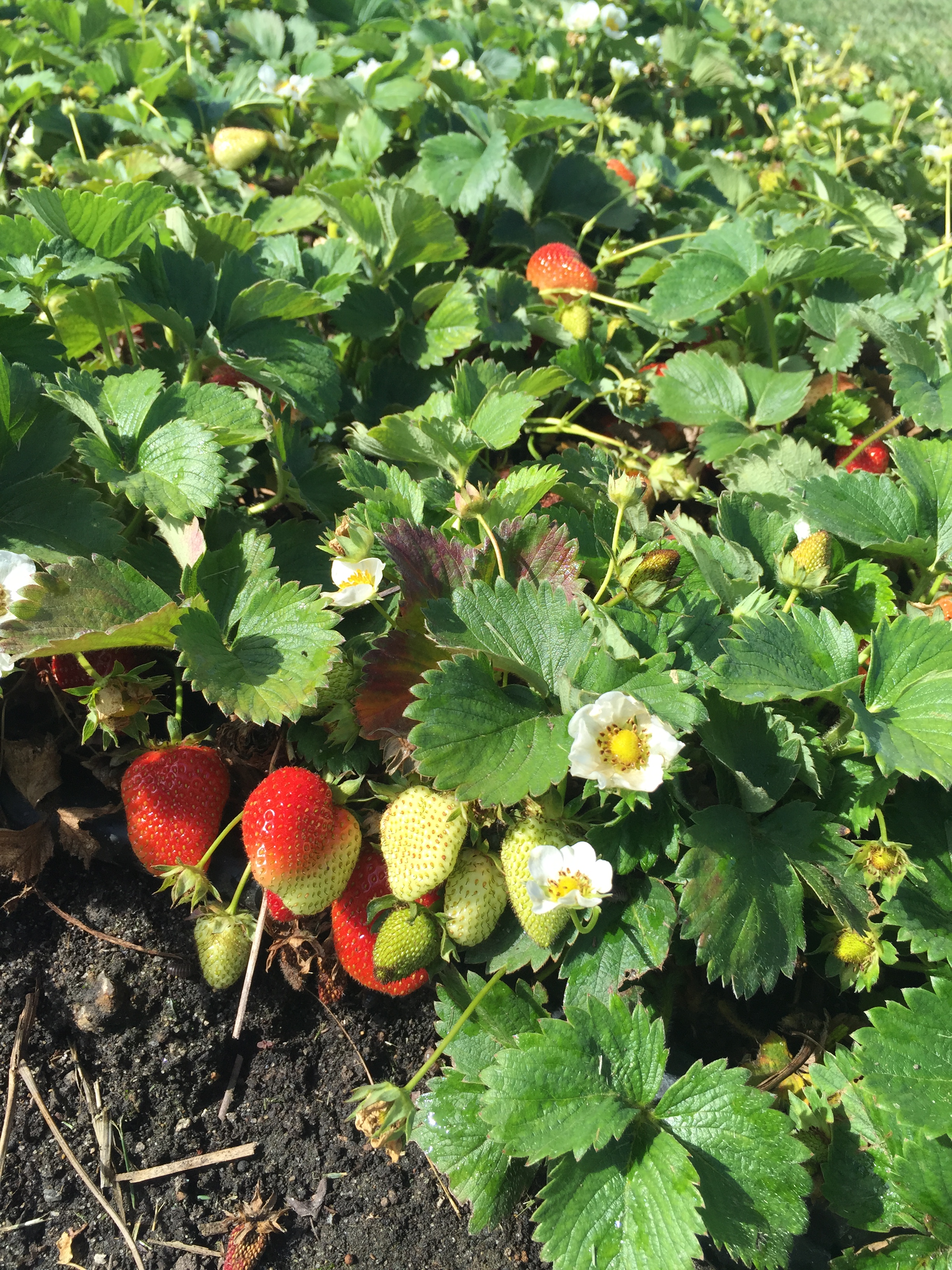 Next Garden Strawberries were served over a Buttermilk Panna Cotta Cream – so light in texture it almost floated away. A glass of Cossart Gordon Bual, 10 year Madeira was brought to accompany this and the panoply of remaining desserts:  Chocolate Dusted Hazelnuts, Peanut Butter & Jelly and Pistachio Macaroons, and individual specialty chocolates and candies.  This Madeira was medium sweet with a spiciness that nicely balanced the sweetness.
Nine courses and no ingredient used more than once.  I have a new respect for Thomas Keller and his culinary brilliance.  And it is not just the food and wine that make this one of the best restaurants in the world, it is the entire package that creates a truly exceptional experience.  If this is on your culinary bucket list, spend the time and effort required to get a reservation – you won't regret it.  Do make sure to budget so you can fully enjoy the occasion and not be thinking about the cost of the meal.  This dining experience is meant to be relished and savored, and recalled over-and-over in dinner conversation.  The value:  priceless.