I am Phyllo-Phobic and not afraid to admit it.  This phobia has plagued me for years and probably derives from the difficulty in using this dough or the confusion wrought by there being no agreement about whether it is spelled phyllo, fillo, fyllo, or filo.  On the rare occasion the phobia is conquered, it is usually done through the copious consumption of alcohol, an exasperated "I don't give a "[Insert Favorite Expletive]" attitude toward the result, or both.
Unfortunately for me and Sous Chef, my Phyllo-Phobia prevailed when I attempted this week's "French Fridays with Dorie" challenge.  Two tries—two failures.  The first try was so unsuccessful that I turned the beautiful piece of ahi tuna into a sashimi appetizer for the Italian pizza I made as a replacement dish.  (Which, by the way, was quite smashing with fresh mozzarella, baby heirloom tomatoes, and fresh basil.)  The second try resulted in a more successful failure.  Although bone dry and crumbly, the phyllo crust at least supported the toppings for a moment before disintegrating into little golden flakes that settled like dandruff over everything nearby.  Sous Chef diligently ate the pizza while grumbling about the crust and making pointed remarks about the French leaving pizza to the Italians, while I ditched the crust, ate the toppings, and downed a couple of glasses of wine.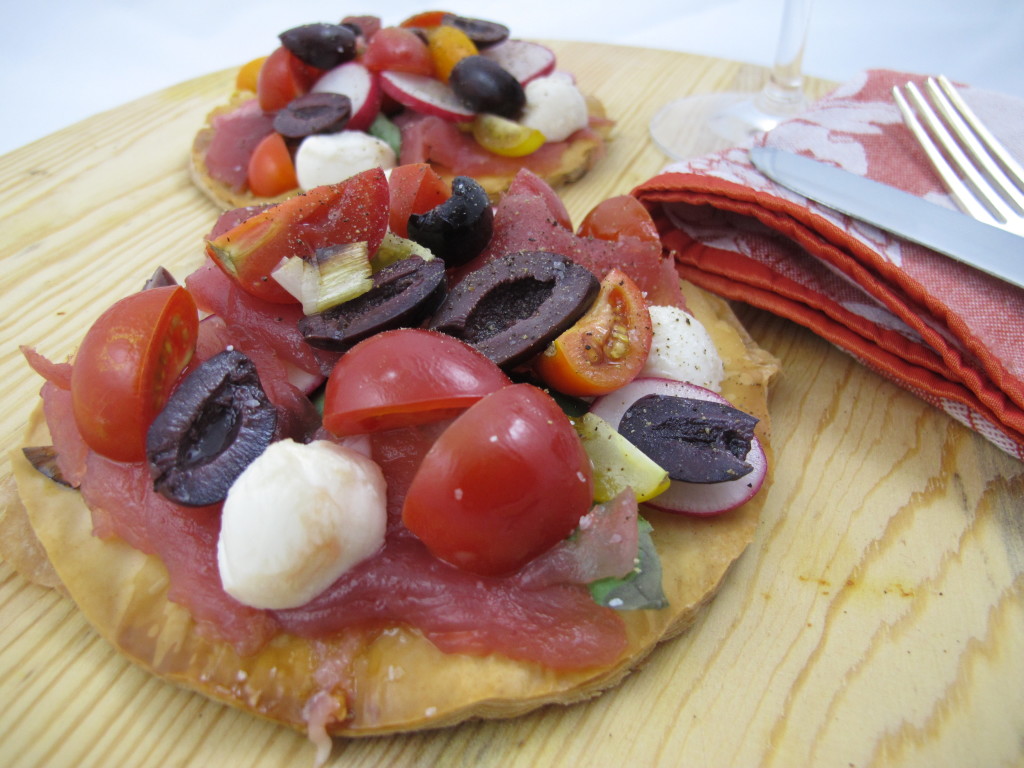 The idea of this "pizza" of sorts is great – light, fluffy, puffy, phyllo dough topped with a variety of fresh ingredients that share a delightful synergy.  The toppings on their own would have made a delicious starter salad or entrée if served in a larger portion.  The crisp, spicy radish works quite well with the sashimi tuna – almost like daikon would in a sushi restaurant.  The basil, tomato, olive, and mozzarella combo is classic and form a "franctalian" tetrad of sorts.  It should have been a perfect dish for a late summer evening, if I had not screwed it up.  Or if phyllo dough were not such a temperamental ingredient.  I don't know if the phyllo dough was not damp enough, was too damp, was too warm, was too cold, was defrosted improperly, or not defrosted enough, or cooked too long or not cooked long enough.  That is the mystery of phyllo dough.  Its secrets are rarely, if ever, revealed—at least not to me.
Lesson learned!  So "Live Like Julia" and drink while you cook.  Because I want to master this dish, one day I am going to grab a package of phyllo dough and a good bottle of Pinot Noir and try until I am out of both.
To see what other Doristas did this week, visit French Fridays with Dorie.