Drumroll please……..I'm excited to announce a new project that is near and dear to my heart – Weekends In a French Kitchen. I'm lucky to partner with three dynamic women – Tammy from Chez Nous , Alice from A Mama, Baby & Shar-pei in the Kitchen and Emily from Blue Bungalow. Like me, they are Francophiles always looking for a way to bring a bit of the French lifestyle into our homes and kitchens.
I'm particularly thrilled about this endeavor as we have all completed Around My French Table by Dorie Greenspan and will be challenging our cooking skills by tackling Cafe Boulud Cookbook by Daniel Boulud & Dorie Greenspan. I've been a huge fan of Daniel Boulud for years and have all of his cookbooks and now I have the motivation to cook through them. If you have never cooked with an online cooking group, you may find yourself surprised about the friendships that develop and the kindred spirits you find.
Wondering if this group is for you? Have you ever wanted to whip up a soufflé?(This is something everyone should know how to do – it is a no-brainer way to impress guests once you learn the technique.) Wrestle a lobster? (Technically, I've done that and the lobster won.) Move about the kitchen with the grace and presence of a seasoned French chef, dicing, mixing, and stirring up delectable meals? (Disclaimer: Sous Chef is my official dicer, mincer and anything that involves technical knife work. He cringes when he sees me with a knife.) And have you wanted to do it in such a way that if that souffle becomes the greatest triumph of your life, or if that lobster wins the fight, you have someone to celebrate and/or commiserate with who knows exactly what you're talking about? (Just make sure to always have a bottle of Champagne on hand – it is perfect for celebrations or drowning your tears over a failed meal.) Then you've come to the right place!
The Three French Hens are a group of, you've guessed it–three women! We also have a resident Chickadee. We are all foodies and Francophiles, scattered across the globe, and have virtually gathered together to cook through every single recipe in particular French cookbooks that catch our fancy. We are looking for other home cooks that want to take on this challenge with us!
We're beginning with two books, because apparently we're just plain crazy! (It's true, there has to be a bit of lunacy involved to take on this project and cook through two cookbooks at the same time and maybe a cocktail or two.)However, because we're cooking through Cafe Boulud Cookbook by Daniel Boulud & Dorie Greenspan as well as A Kitchen In France: A Year Of Cooking In My Farmhouse by Mimi Thorisson, we're confident that this will be a truly fantastic experience! (Possibly quite expensive too – but less expensive than a gourmet dinner in a French Restaurant for two, or a trip to France.) If two books is two much for you, please don't let that stop you; pick just one and jump on our merry bandwagon! (Or if you have ADD, jump between the two and cook what you want!)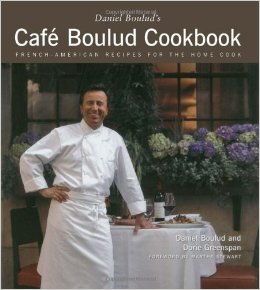 Whether you are a novice cook, seasoned professional, or anywhere in between, we invite you to take this culinary journey and to share your adventures with us, gathering in our virtual country kitchens each weekend as we gather in yours.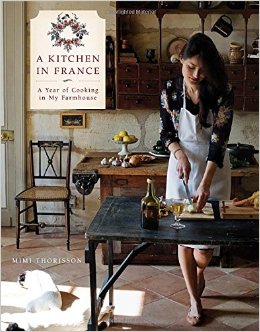 Since we are still organizing our group and some members haven't had a chance to purchase the cookbook(s) yet, we will begin our adventure on July 4th, 2015. So pick up those cookbooks, click on the "Join" tab to get started, and rise to your inner chef!
A few tips to get you started:
1) Always read the recipe before jumping in. I've learned this the hard way, sometimes even simple recipes take more time than you expect.
2) If there is pastry dough involved, make sure you allow chilling time.
3) A great bottle of wine can compensate for any disasters or disappointments in the kitchen.
4) Sometimes improvisation is in order – don't be afraid, just go for it!
5) If possible try the recipe as written by the author the first time you make it so you taste what they intended.
6) Be fearless in the kitchen and cook with abandon! I have a photo of Julia Child in my kitchen to remind me of that when I cook.
We can't wait to cook along with you! It's going to be a delicious adventure!
Bon appetit!
The Three French Hens & One Chickadee,
Christy, Tammy, Alice, & Emily
PS, to celebrate we are each giving away a set of cookbooks to get you started. Three lucky winners will win a copy of Cafe Boulud Cookbook by Daniel Boulud & Dorie Greenspan as well as A Kitchen In France: A Year Of Cooking In My Farmhouse by Mimi Thorisson.