Here is the buzz about Liz of That Skinny Chick Can Bake!  I am dubious about a skinny Santa during the holidays, and, as a rule, I am disinclined to trust a skinny chef.  Give me a James Beard or Paul Prudhomme or Paula Dean type, someone who looks like he or she actually eats and enjoys what they cook.  But Liz is an exception to my rule and the eponymous name for her food blog describes her well.  Liz is one of those skinny chicks you want to hate because she is thin, but you just can't help but love her because she has such a bubbly and sweet personality and makes such delectable desserts.
This month the C.L.U.E. Food Blogger Society theme is all about baking something your grandmother would have made.  My grandmothers were great bakers and That Skinny Chick Can Bake website has many recipes that would have appealed to them.  I'm just relieved that Liz's photos are calorie free because I felt like I gained five unwanted pounds just trying to select a recipe.
Liz's Cranberry Cream Cheese Bars were the perfect selection.  Both of my grandmothers were quite frugal and repurposing leftovers was part of their kitchen wizardry.  The beauty of this recipe is that it utilizes items you have in your pantry and can be served to a crowd.  It's also quite festive and a great dessert to bring to party, your office or just to have around for snacking!
I brought two trays of the Cranberry Cream Cheese Bars to my office and they received rave reviews and requests for the recipe.  We concluded they are not overly sweet–just sweet enough to satiate a sweet tooth.  In texture and taste they remind me of a California cheesecake.  Smooth and creamy with, in this case, a nice crunch and nutty flavor from the oatmeal crust.  The cranberries add a slightly acidic bright note and a sense of healthiness for those who shop at Whole Foods or deign to control calories during the holidays.  This is a festive looking, crowd pleasing recipe that is easy to whip up and use at home or for service at a party, in the office, or as a snack that will send folks back for seconds and thirds.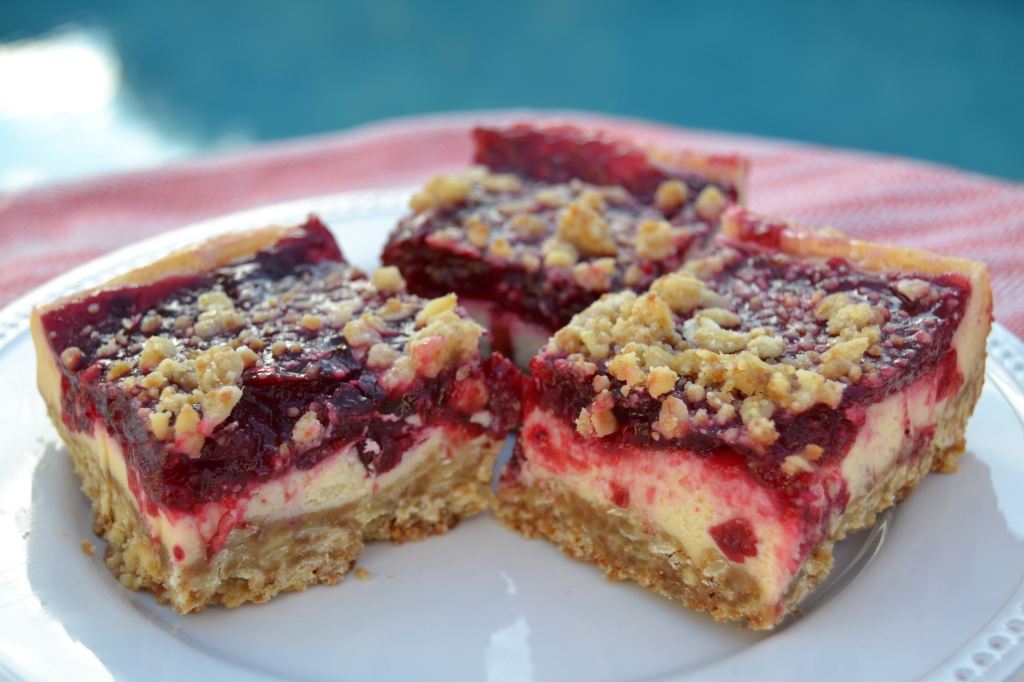 Make sure to check out all the other great recipes we found this month:
Cranberry Cream Cheese Bars
Author:
Liz Berg -That Skinny Chick Can Bake
Ingredients
•2 cups flour
•1½ cups quick oats
•¾ cups plus 1 tablespoon brown sugar, divided
•1 cup butter, at room temperature
•8 ounces cream cheese, at room temperature
•1 can (14 ounces) sweetened condensed milk
•¼ cup freshly squeezed lemon juice
•1 teaspoon vanilla
•2 tablespoons cornstarch
•1 (16 ounces) can whole berry cranberry sauce
Instructions
Preheat oven 350°. Line a 13 x 9 baking pan with non-stick foil.
In large bowl combine flour, oats, ¾ cup sugar and butter; mix until crumbly. Set aside 1½ cups crumbs for topping, and press the rest into the prepared pan. Bake 15 minutes. Cool completely.
In large bowl beat cream cheese until fluffy, gradually mix in condensed milk, lemon juice, and vanilla until smooth. Spread over crust. In small bowl combine remaining 1 tablespoon brown sugar, cornstarch and cranberry sauce. Spoon over cream cheese mixture. Sprinkle reserved crumb mixture over top.
Bake 40 minutes. Let cool completely on wire rack, then chill before cutting. Store in refrigerator.