Living in a resort town has challenges.  Sure, there are spas, golf, tennis, shopping and over 355 days of sunshine, but you miss certain things like seasons. Our seasons in Palm Springs consist of warm and hot aka spring/summer. This month the Blogger Clue Society is featuring Autumn dishes which created a bit of a challenge when it is mid-October and your temperatures are still in the 100's. Trust me, no one feels like pumpkin anything when you are still wearing flip-flops, tank tops and swimming in the pool to cool off.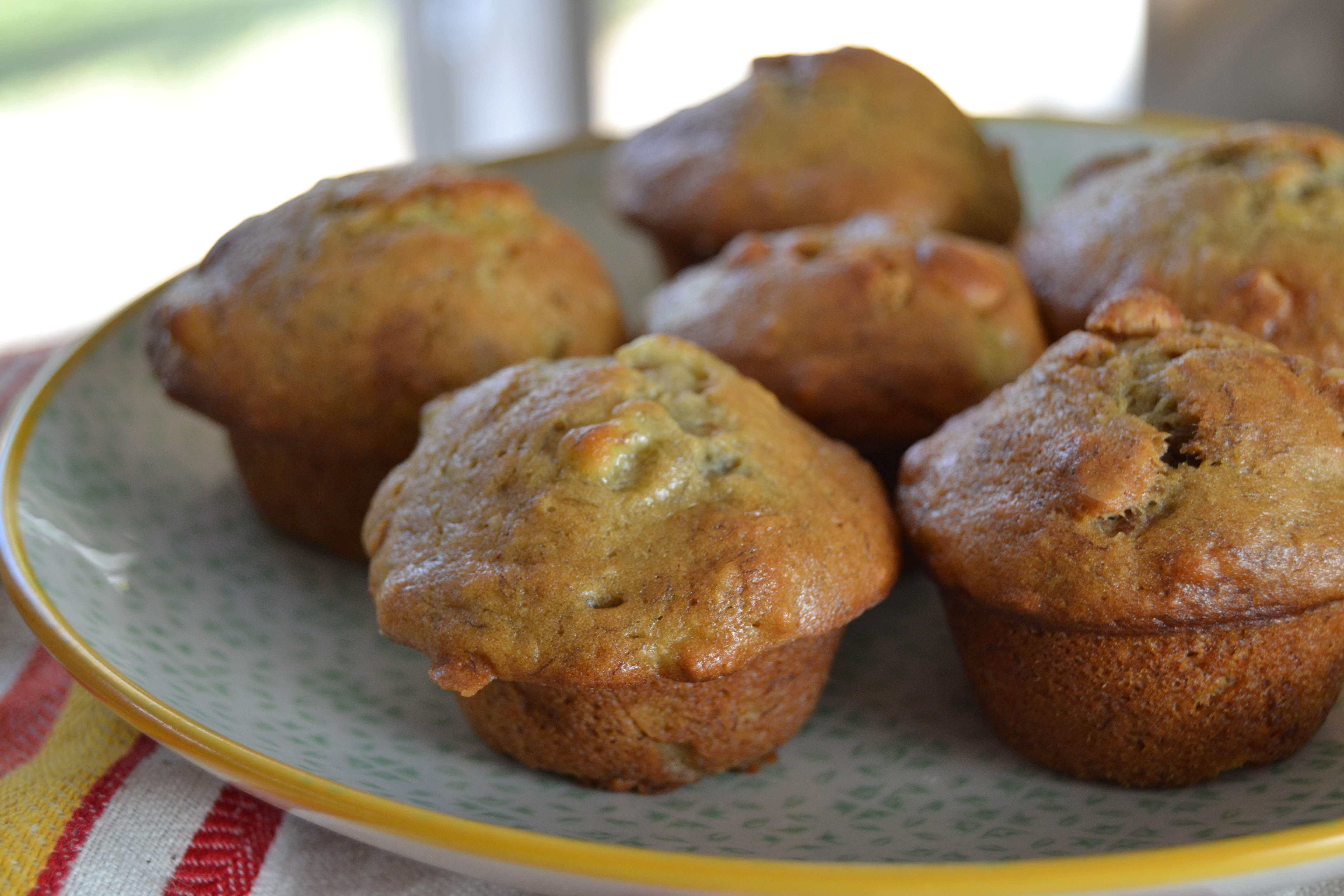 I was assigned this month to Azmina of the lovely blog Lawyer Loves Lunch this month. Azmina is one busy professional with a full-time career as Lawyer,  two little ones at home, a food blog and lives in the vibrant city of San Francisco. I'm exhausted just thinking about her daily activities. Her site is filled with family friendly and company worthy recipes for the busy family. She had several tempting recipes including one for Pumpkin Spice Cake/Bread, that I almost indulged in until Sous Chef said I could not turn the A/C down to 50 to enjoy some fall temperatures in our home. There was a lovely recipe for roasted tomatoes, but I was afraid that only fit the theme of fall in the desert (our gardening season is just starting). Then I found a recipe for Banana Peanut Butter Cup Muffins that seemed ideal.
These tasty little muffins are quite healthy with three bananas and peanut butter. They make the perfect breakfast bite on the go, mid-day pick me up for the busy person, and are quite delightful to bake and share.
Make sure to check out the rest of the great Autumn inspired recipes from the Blogger Clue Society:
Banana Peanut Butter Chip Muffins
Author:
adapted from Lawyer who Lunches
Ingredients
3 ripe bananas
⅓ cup melted butter
¾ cup sugar
1 egg beaten
2 teaspoons vanilla
1 teaspoon baking soda
1½ cups all purpose flour
½ cup peanut butter chips
½ cup chopped walnuts
Instructions
Preheat oven to 350 degrees.
Prepare muffin tin with tin liners or spray with Pam for Baking.
Smash bananas in a bowl. Add flour, sugar, baking soda and mix until combined. Add melted butter and mix until combined, then add egg and vanilla and mix until combined. Add peanut butter chips and walnuts and mix until combined.
Spoon heaping mixture into mini-muffin tin and back approximately 18 minutes.