It's PARTY TIME!  The Blogger C.L.U.E. Society is all about the Berry this month.  That's right folks luscious berries to get you in the mood for summer entertaining.
This month my assignment was Kathy from Bakeaway With Me.  I've been blogging comrades with Kathy for a few years now and first met her through French Fridays with Dorie.  Kathy has a way of making you drool with every delectable post.  She specializes in all kinds of baked goods, and I'm certain that I gain a few pounds every time I read her posts.  Kathy is the kind of kindred spirit you feel like you've known forever, though we've never actually met in person.  She also is a fellow Havanese lover.  (All dogs are great, but Havanese are particularly special – they are nicknamed the "Velcro-Dog" for a reason, and are quite good at manipulating their two-legged family).  Needless to say, there was an abundance of fabulous berry recipes to select from at Bakeaway With Me and I highly recommend visiting for inspiration.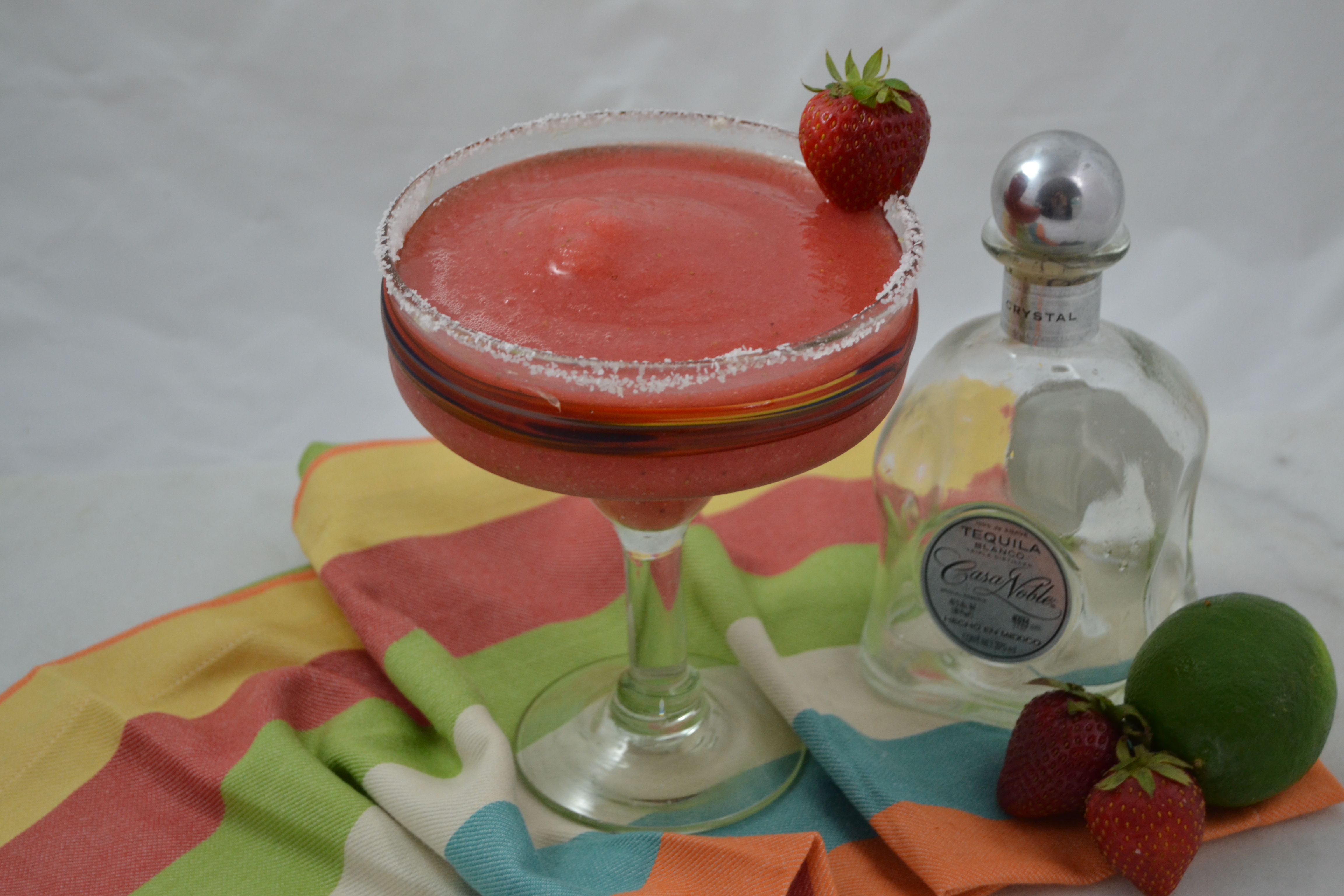 Since Sous Chef and I have been traveling rather extensively this past month, and had just returned from a culinary extravaganza to Napa, our waistlines needed a little vacation from dessert.  Kathy has a great recipe for Frozen Raspberry Margaritas that I've been wanting to try since she posted it in February.  The only adaptation that I made was the switch from raspberries to strawberries and that was by necessity – apparently there was a run on raspberries in Indian Wells.  If you like fruity margaritas, you want to try recipe.  It is perfectly balanced and not too sweet!
Check out the Berry Inspiration from the rest of the crew:
That Skinny Chick Can Bake
Kate's Kitchen
Taking On Magazines
Eliot's Eats
Authentic Suburban Gourmet
From Cupcakes to Caviar
A Mama, Baby & Shar-pei in the Kitchen
Lawyer Loves Lunch
Kelli's Kitchen
Liv Life
Cooking in Stilettos
Cooking on the Ranch
Bakeaway with Me
annaDishes
Food Lust People Love
A Day in the Life on the Farm
Lemons & Anchovies
girlichef
Cake Duchess
A Spoonful of Thyme
Making Miracles
Sew You Think You Can Cook
#BloggerClue Society: Strawberry Margaritas
Author:
Kathy from Bakeaway with Me
Ingredients
2 cups ice cubes
1 cup frozen raspberries or 1 pint of fresh strawberries
¼ cup sparkling water
¼ simple syrup or agave nectar
4 tablespoons Chambord
3 tablespoons fresh lime juice
4 ounces Casa Noble Crystal Tequila
For rims of glasses:
1 tablespoon salt mixed with 2 tablespoons sugar
Instructions
Place the ice in a blender and pulse several times to begin breaking up the ice. Add the Berries, sparkling water, simple syrup, Chambord and 2 tablespoons of the lime juice and the tequila. Blend until smooth about 30 seconds.
Pour remaining tablespoon lime juice into a small saucer. in another saucer, pour a thin layer of salt mixed with sugar. Dip the rims of the glasses in the lime juice then the sugar-salt mixture. Pour margarita mixture into the glasses. Serve