Spring is in the air and the Blogger Clue Society is bringing you their favorite recipes to ring in Spring with.  It's officially time to put away your roasts, stews, and hearty dishes and bring out the greens, fruits and chilled wines.  This month I am featuring Lea Ann's site Cooking on the Ranch.  If you are not familiar with Cooking on the Ranch you need to bookmark her site and visit regularly.  Cooking on the Ranch is filled with Western/Southwestern/Mexican culinary inspiration, beautiful photographs and a glimpse into life in Colorado.  Lea Ann loves wine and cooking, and talking about wine and cooking.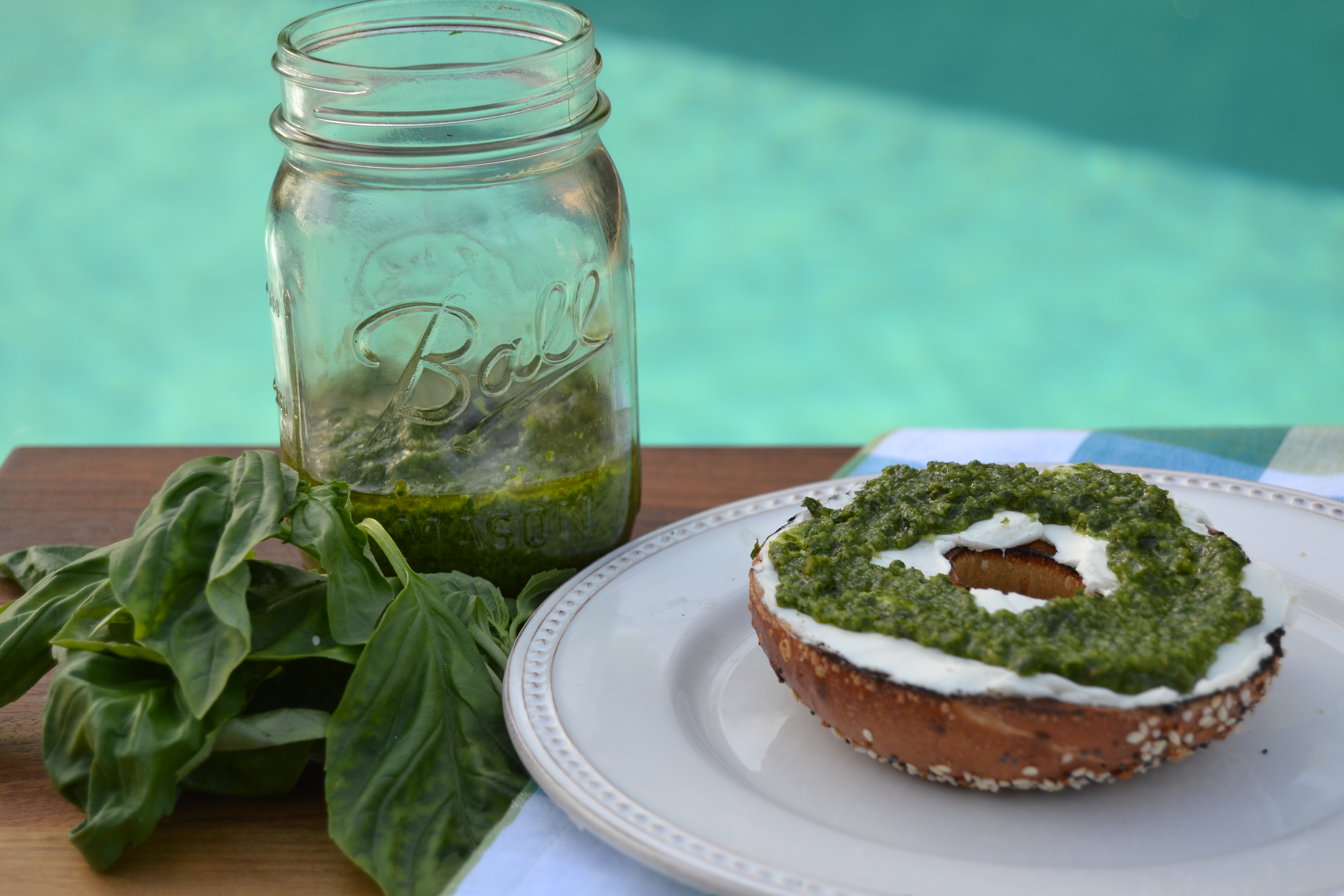 I'm normally not great at following guidelines, and selecting a great spring recipe proved to be a difficult task for me.  The Blood-Orange-Margarita tempted me (no surprise), the Hatch Chile recipes sounded fabulous – but clearly not a "Spring" dish, and so many great shrimp recipes ( is shrimp really a "Spring" food?).  Then I saw the recipe for Pesto.  When it comes to sauces I tend to be tomato-centric and forget about Pesto.  Pesto just screams "Spring".  It is green, bright, lively in flavor and makes me want to have a picnic outside.  Pesto is also incredibly versatile.  It makes a great dip, sauce, and topping for your favorite carb (potato, bread, bagel).  Lea Ann's recipe is terrific and reminded me of a forgotten sauce that will now be making regular appearances on our table.
Make sure to find your Spring Recipe Inspiration by checking out what the other Blogger Clue Society members found:
Fresh Basil Pesto
Author:
Lea Ann – Cooking on the Ranch
Ingredients
2 cups fresh basil leaves, packed
½ cup freshly grated Parmesan-Reggiano or Romano cheese
½ cup extra virgin olive oil
⅓ cup pine nuts, toasted
2 medium garlic cloves, minced
Salt and freshly ground black pepper to taste
Instructions
Rinse and dry the fresh basil leaves. Combine basil with the toasted pine nuts in a food processor. Pulse a few times in a food processor. Add the garlic, pulse again two more times.
Slowly add the olive oil in a constant stream while the food processor is on. Scrape down the sides of the food processor with a rubber spatula. Add the grated cheese and pulse again until blended. Add Salt and freshly ground black pepper to taste.