You say rabbit and I say rarebit, but by any other name it is cheese sauce on toast.  As simple as this seems, the unusual name can cause confusion.  Sous Chef apparently had no clear vision of the dish when I told him I was making Irish Rarebit for St. Patrick's Day.  While he loves green beer on this occasion, he dislikes corned beef in any iteration and abhors creamed chipped beef.  So he was dismayed about my choice of meal for this most sacred of days since he erroneously thought rarebit is either one or the other.  As usual, I ignored his consternation and made the Irish Rarebit.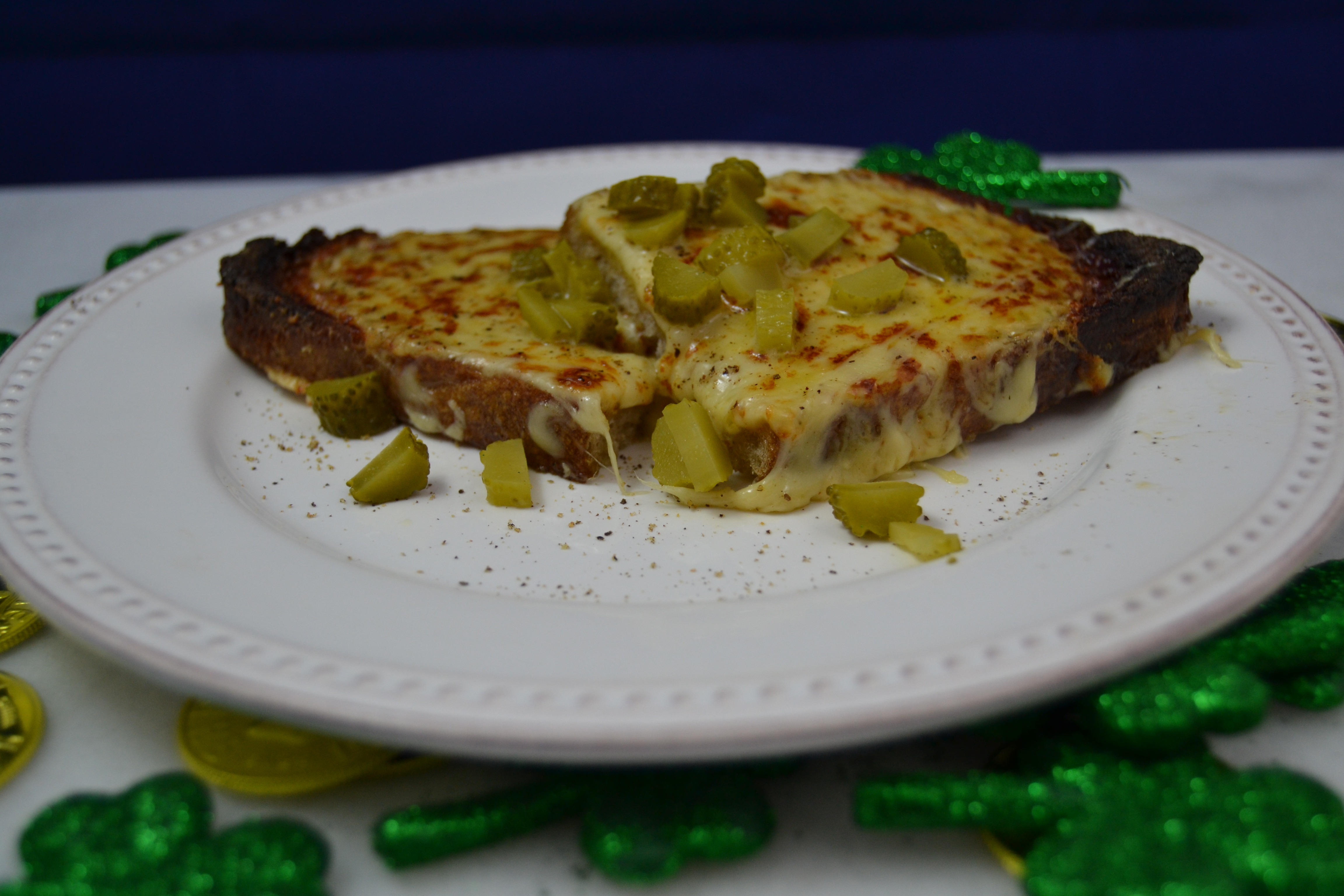 Curious about what rarebit is?  This delectable dish originated in the 1700's and various versions can be found in old cookery books, including those by Escoffier and Saulnier.  Basically it is an open-faced grilled cheese sandwich.  An ooey, gooey, savory melted cheese sauce is poured over toasted bread and broiled until it is golden and bubbly.  This platform serves for many versions of rarebit, which differ from one another, not in concept, but in the choice of bread, cheese, additives for the sauce, and any toppings.  In the recipe below, the cheese sauce is topped with diced cornichons for an extra punch of flavor.  But with Cinco de Mayo fast approaching, Sous Chef insisted we test pickled jalapeño slices as a substitute for the cornichons, which delectably kicked up the heat a notch while retaining the cornichons' acidic bite to balance the cheese.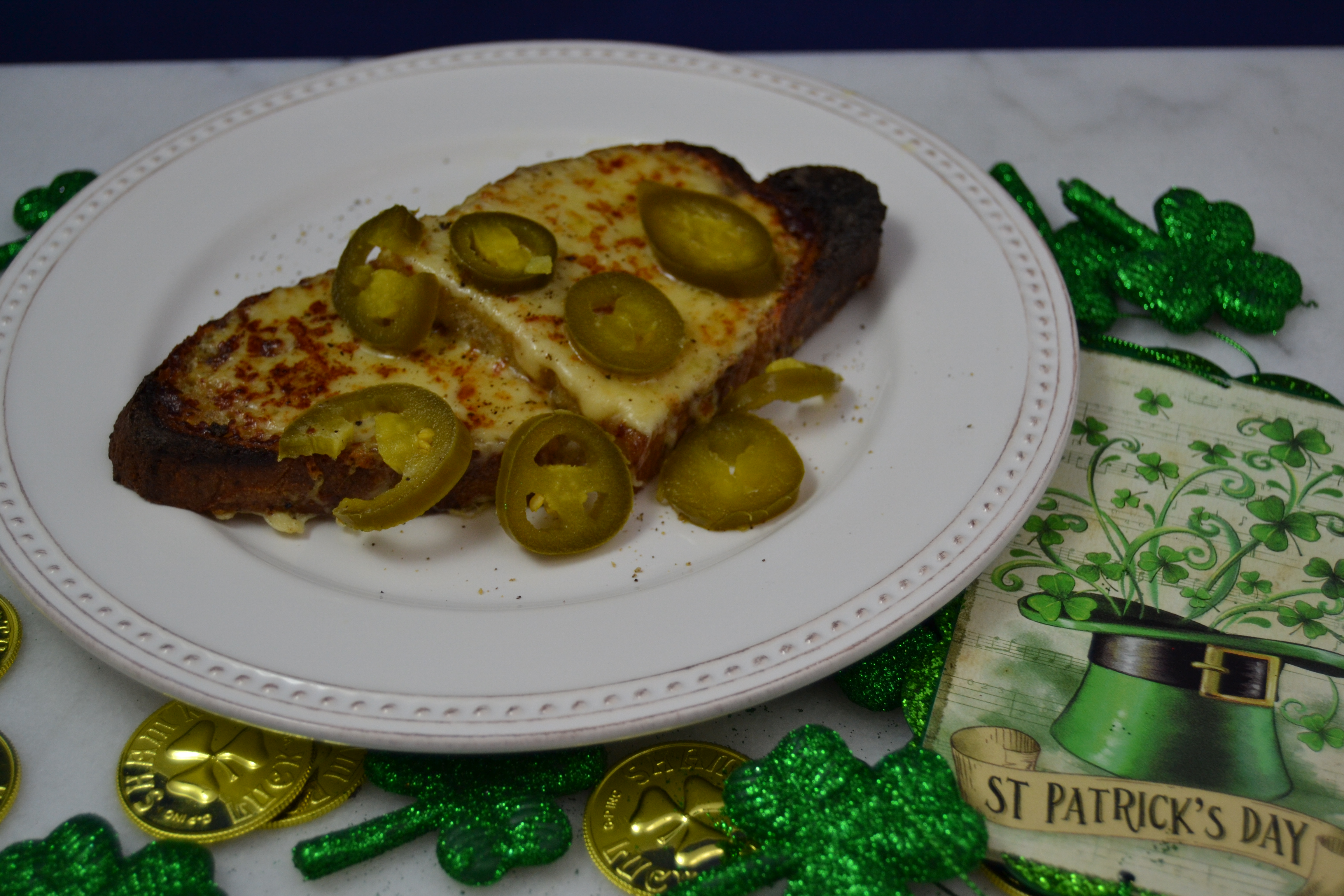 While folk lore says rarebit is believed to cause nightmares, and Gomer Pyle and Sergeant Carter suffered sleepwalking and personality changes after over-indulging, neither Sous Chef nor I suffered any of these outcomes.  Rather I view the following Irish Rarebit recipe as a potential remedy for the common case of St. Patrick's Day late evening or morning-after miseries.
Erin go Bragh!
Irish Rarebit
Author:
adapted from The Complete Irish Pub Cookbook
Recipe type:
Appetizer, Entree
Ingredients
2 cups shredded Kerrygold Dubliner Cheese
2 tablespoons Kerrygold Unsalted Butter
¼ cup heavy cream
1 teaspoon Bragg's Apple Cider Vinegar
1½ teaspoons dry mustard
4 slices toasted Wolfgang Rye, Whole Wheat or Soda Bread
2 tablespoons chopped cornichons or 2 tablespoons pickled jalapeno peppers
salt & pepper
Instructions
Preheat the broiler.
Put the cheese, butter and milk in a saucepan and heat gently, stirring, until creamy and smooth. Add the vinegar, mustard and seasoning to the sauce.
Toast bread. Place on a lined baking sheet. Pour the sauce over the bread. Place under the preheated broiler for 2-3 minutes until golden and bubbly.
Sprinkle with chopped pickles or jalapeno peppers, and a grind of fresh pepper.
Serve immediately.