The English may not have invented tradition, but surely they have perfected it!  As Henry James said:  "It takes an endless amount of history to make even a little tradition."  Well, Pimm's No. 1 has been around since about 1840 (or 1823 or 1832, depending on the source), so I think that qualifies as an endless history, particularly in this age of sound bites, abbreviated texts, and short video clips.
This week's installment of Downton Sundays is all about the Pimm's Cup, particularly those made with Pimm's No. 1, a gin based fruit cup liqueur.  Pimm's No. 1 Cup was created by oyster bar owner James Pimm who realized his customers lingered longer when they sipped their gin. (Maybe it was common back then to stop for a tipple, guzzle it, and leave?)  By 1851 Pimm's No. 1 was being produced on a large scale and sold to other liquor emporiums.  Its popularity extended throughout the British Empire, and was often found in Officers' Mess Halls from Sri Lanka to Khartoum.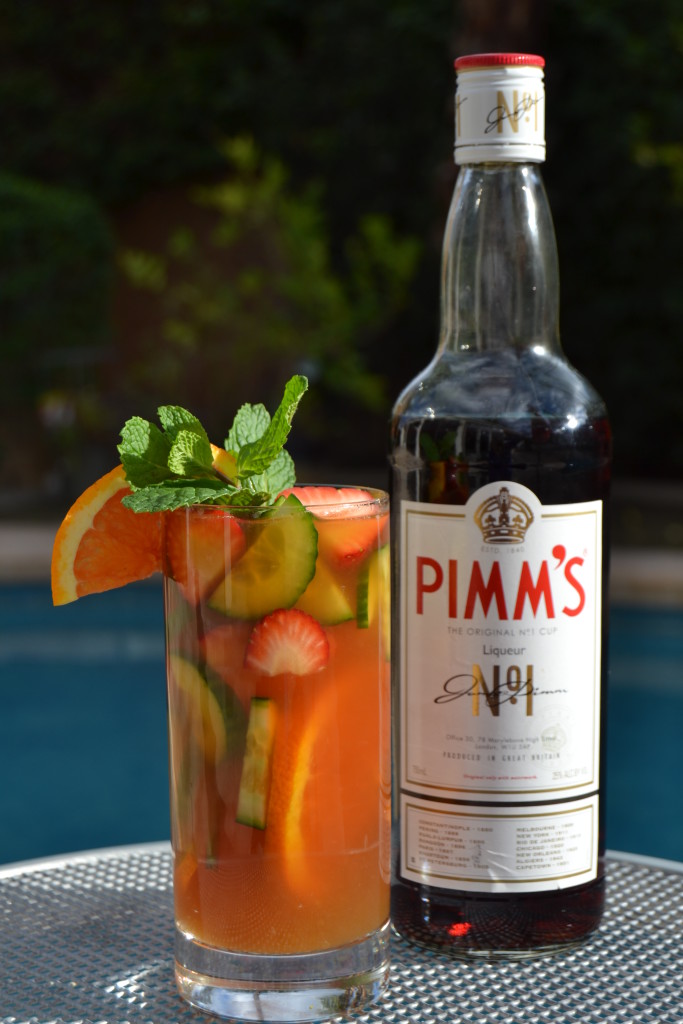 But the Pimm's Cup's appeal was not limited to battle field environs.  It became and still is a popular choice for afternoon garden parties, picnics, cricket test matches, polo, and tennis.  It is a fixture at Wimbledon where it and champagne have been the two staple drinks for eons.  The Downton Abbey denizens surely imbibed their fair share of the stuff as they were always very proper when partaking of such casual and recreational activities.  To ensure compliance with tradition, the show actually employs Alastair Bruce as its historical adviser.  Wouldn't want the Pimm's No. 1 Cup to be inappropriately prepared or served!
If you are a Pimm's Cup novice, you may be scratching your head wondering what this drink is all about.  You may have heard about it or ever seen a dusty bottle of Pimm's No. 1 sitting forlornly at the back of a bar.  But what is it exactly?  Well, I don't exactly know since the recipes for this liqueur are so closely protected that it is said only six people in the world know them (the "Secret Six").  The very first was Pimm's No. 1, a gin based liqueur with hints of spice and citrus fruit.  It is the equivalent of a liquid fruit salad.  Other numbered versions based on different spirits followed until there were six in total.  But through the years the other numbers have fallen by the wayside, except for Pimm's No. 6 (which is vodka based) and a version of No. 3, now marketed as Pimm's Winter Cup.   There is also an unnumbered liqueur that is called "Pimm's Blackberry & Elderberry."
The original Pimm's No. 1 Cup is a mixture of Pimm's No. 1 and English lemonade (a carbonated, clear beverage) and garnished with a gala of fruit.  In its "classic" form it is a 1:3 (according to the Pimm's official website: Anyone for Pimm's), a 1:2 (according to many commentators) or a 2:3 (according to Mr. Boston) ratio of Pimm's No. 1 to lemonade that is added to a tankard or glass bearing an array of garnishments:  mint sprig and cucumber, strawberry, and apple (or orange) slices. It is usually made by the pitcher and, in that respect, it reminds me of properly prepared sangria, the difference being that fruit flavors are already in the Pimm's liqueur whereas the fruit in the pitcher gives a fruit flavor to the sangria.  No wonder Pimm's Cup is an official drink of Wimbledon: you can drink your meal and never miss any of the action!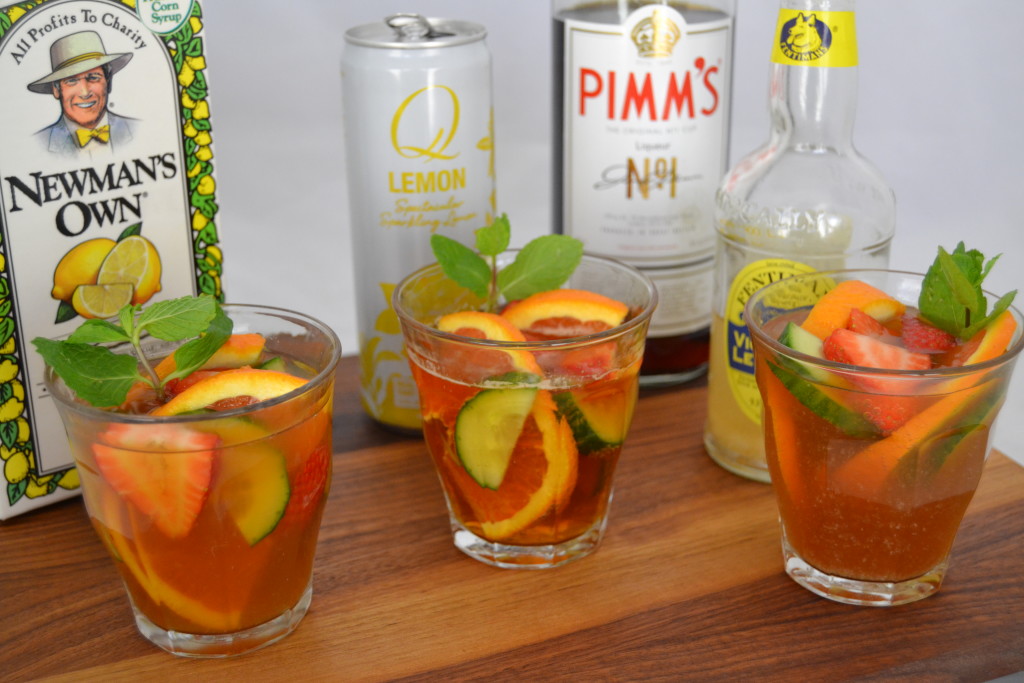 The English version of lemonade is not readily available stateside, if at all, so modern variations have developed in an effort to find a suitable substitute.  Most often lemon-lime soda, ginger ale, or Seven-Up is used, and some recipes call for ginger beer.  As typical of the times, mixologists have bastardized Pimm's No. 1 Cup, not just to find a substitute for the English lemonade but to fulfill their need to tweak or put their own spin on a classic drink.  Not surprising since, as Woody Allen said:  "Tradition is the illusion of permanence."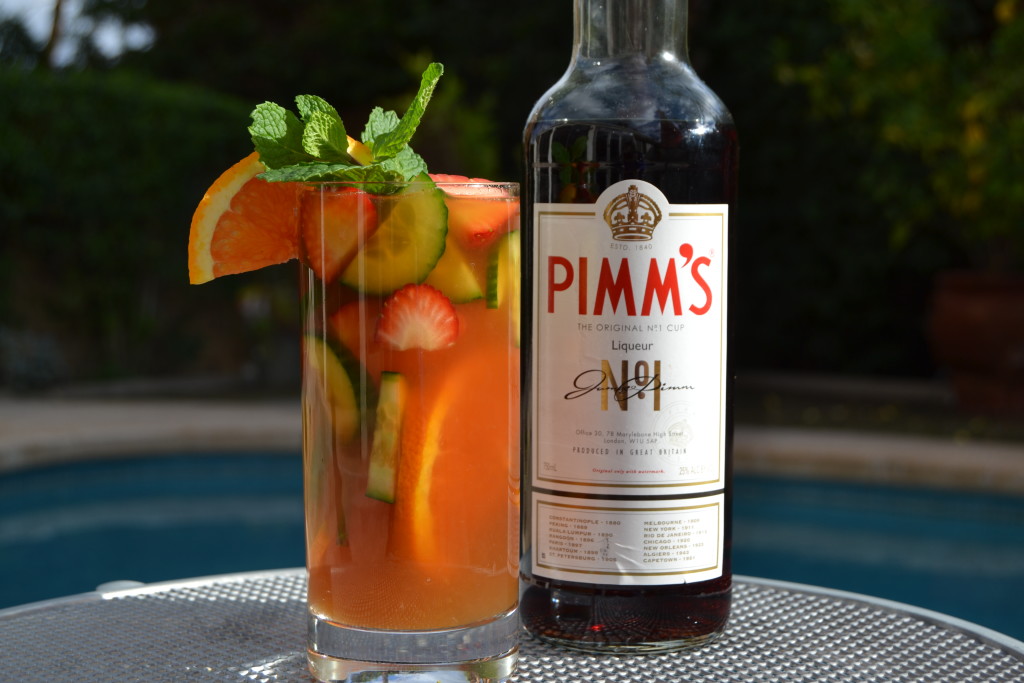 Sous Chef and I are traditionalists, however, and we wanted to find a suitable lemonade drink that would best emulate the original Pimm's No. 1 Cup.  Our testing included Fentiman's Victorian Lemonade (made in Canada but under license from a UK company), Q's Sparkling Lemonade, and Newman's Own Virgin Lemonade.  While all lemonades made good drinks, we concluded the following:
Best Lemonade for Pimm's No. 1 Cup – Fentiman's Victorian Lemonade.  It is tart, not too sweet, and its carbonation gives a vibrancy and freshness on the palate.  While not pure lemonade since it contains ginger and herbal extracts, it certainly comes closer than the others to being like the English version.
Second Place went to Newman's Own Virgin Lemonade.  It has a fresh, lively taste but is a tad sweeter than the Fentiman's and lacks its effervescence.  Nevertheless, it made a lovely Pimm's No. 1 Cup.
Third Place went to Q's Sparkling Lemonade.  In appearance, this was very clear and did not cloud the glass like the others did.  But this lemonade does not have a strong lemon flavor and feels and tastes more like sparkling mineral water with a hint of lemon.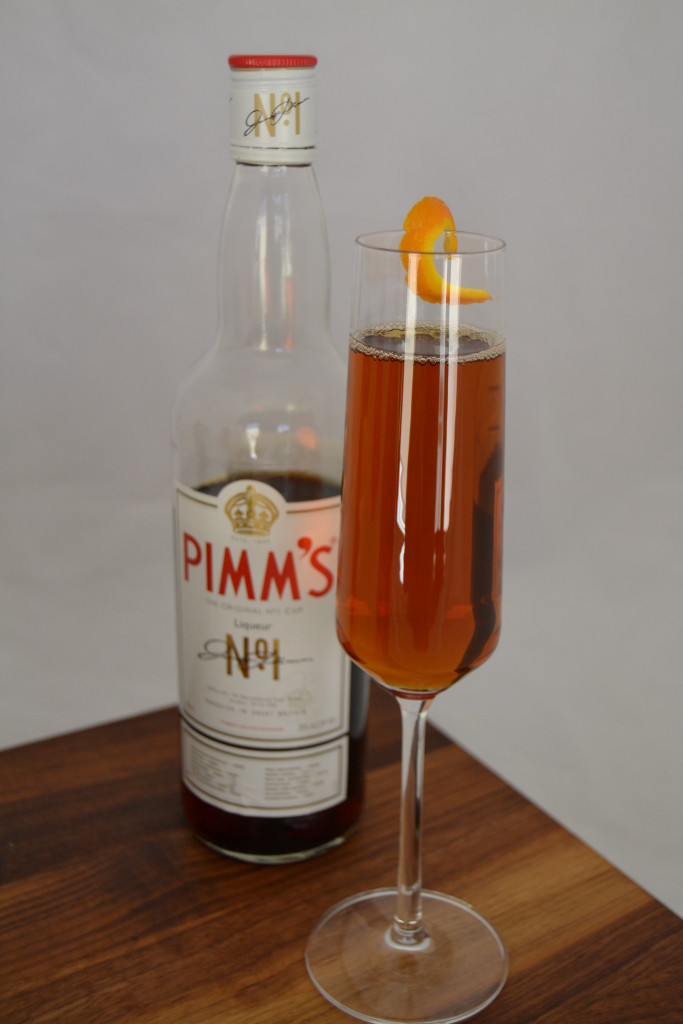 So when it comes to Pimm's Cup No. 1, we prefer the original, and most likely will prefer that over the various adaptations offered today.  However, as Winston Churchill so aptly stated:  "Without tradition, art is a flock of sheep without a shepherd.  Without innovation, it is a corpse."  So being the inquisitive Culinary Diva that I am, and desiring to keep the Grim Reaper in check, I wanted to test Pimm's Blackberry & Elderflower liqueur against Pimm's No. 1 as the base for a sparkling cocktail.  The results were quite marvelous and I now have two more sparkling cocktails in my repertoire.  If you love a classic Champagne Cocktail, try Pimm's No. 1 with your Champagne.  The flavor profile is similar, and it is a breeze to make since you don't have to get the sugar cubes and bitters out.  If your Champagne Cocktail of choice is a Kir Royale, Pimm's Blackberry & Elderflower is perfect.  Classic, elegant, and gorgeous in color.  I can envision each of these sparkling concoctions being served at Downton Abbey as a pre-dinner aperitif.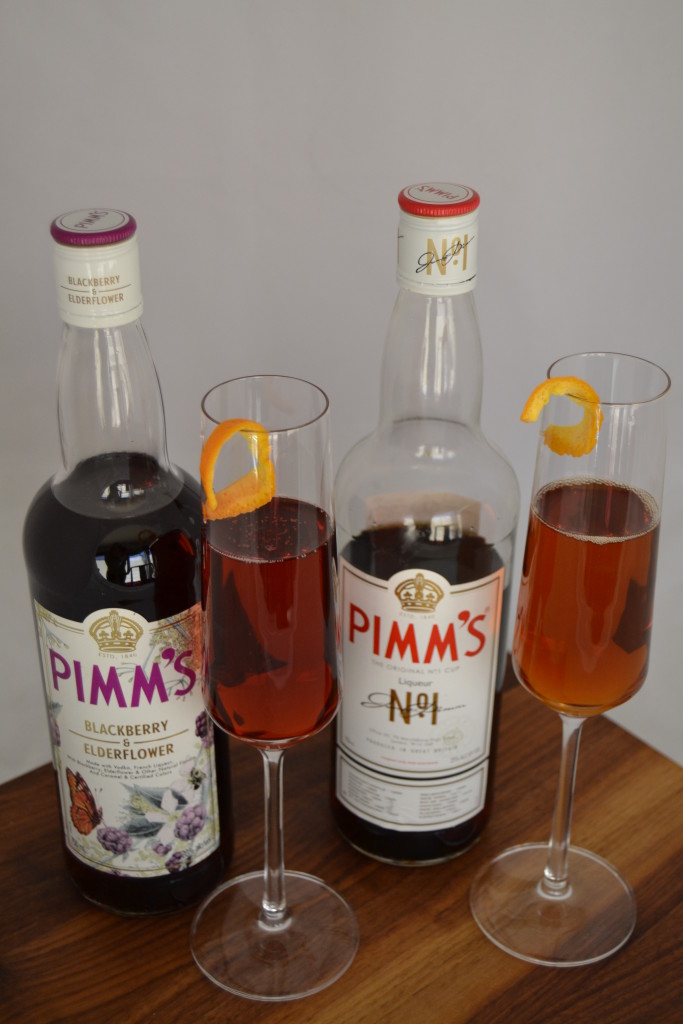 Original Pimm's Cup
Ingredients
•Highball glass
•50ml PIMM'S No.1
•150ml of Lemonade
•Mint, orange, strawberries
•Cucumber to garnish and ice
Instructions
Pile all the ingredients in a tall glass, mix and sip. Best make a jugful, you never know who'll turn up at the sound of the ice tray leaving your freezer.
Pimm's Champagne Cocktail
Ingredients
½ ounce Pimm's No. 1 or Pimm's Blackberry & Elderflower
Champagne or Sparkling Wine
Orange Zest Garnish
Instructions
Place Pimm's into champagne flute. Top with Champagne or Sparkling Wine. Garnish with Orange Zest.