Sometimes the best birthday gifts are "gifties" (i.e., self-given gifts), and Dorie Greenspan has given herself a doozy of a giftie. How about having a book published for your 39th birthday!  In this case, Baking Chez Moi, to be released on October 27, which has received rave reviews from the press, members of the culinary world, and Dorie's close personal friends.  If that's not excitement enough for one birthday girl, the Doristas are celebrating Dorie's birthday by throwing a virtual birthday bash.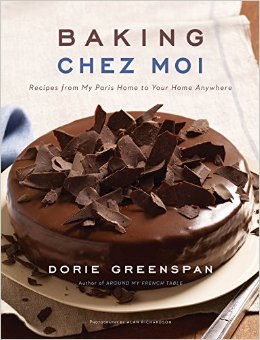 Each Dorista has selected one of four recipes from Baking Chez Moi to prepare and write about in terms so glowing as to make Dorie blush.  I am something of a birthday glutton and celebrate for an entire month to ensure that one and all can bestow an appropriate accolade or present, and also so Sous Chef has no excuse for not planning a wonderful celebration.  So instead of making just one recipe, I made two.
The first was Granola Cake that I have made three times since first seeing the recipe in September. Better than a granola bar and just as versatile, this cake is moist, chewy, and a perfect all-day/all-night comfort food.  I varied the recipe by using white chocolate since I get migraines from the real thing, but I don't think it compromised the flavors or texture in the slightest.  The second is Brown Butter Peach Tourte.  Butter makes the baking world go around, and this recipe is just loaded with the stuff.  The crust was light and rich in flavor and just oozing buttery goodness.  No fresh peaches were available, so I used frozen sliced peaches from Whole Foods.  These were pure slices of peach, no liquid or sauce, and they worked fantastically as a fresh fruit substitute.
What is a birthday party without gifts? To celebrate Dorie's birthday I'm bestowing a copy of Baking Chez Moi through a drawing (no purchase or bribing of The Culinary Diva is necessary).  To enter, just leave a comment with an answer to any one of the five questions below (for fun, try to answer all five).  The winner will be drawn from all qualified entries and announced on Monday, November 3rd.  A comment will constitute an entry whether its answer is correct or not, although only one entry per person will be accepted for the drawing, so go ahead and see if you are Dorie's biggest fan or not.
How well do you know Dorie Greenspan:
Question 1 – How many cookbooks has Dorie Greenspan authored/co-authored?
5
8
10
11
Question 2 – Who is the original Dorista?
Trevor of Sis Boom Blog
Daniel Boulud
Michael Greenspan
Pierre Herme
Question 3 – How many times has Dorie Greenspan won the James Beard Foundation Award?
5
2
0
3
Question 4 – What is the name of Dorie's Blog?
On the Road with Dorie Greenspan
French Fridays with Dorie
Tuesdays with Dorie
doriegreenspan.com
Question 5 – Which recipe did not make the cover of Baking Chez Moi?
Brown Butter Peach Tourte
Carrément Chocolate
Canneles'
Palets de Dames, Lille Style
Make sure to pick up your copy of Baking Chez Moi and check out the virtual Birthday Party for Dorie:
Chocolate Cream Puffs with Mascarpone Filling
For Recipes. click on link below:
Palets des Dames, Lille Style
Chocolate Cream Puffs with Mascarpone and Rose Filling
(Answers: Q1-d; Q2-c; Q3-b; Q4-d; Q5-a)
Granola Cake
From Press Herald: http://www.pressherald.com/2014/09/16/dorie-greenspan-heres-bake-next/ GRANOLA CAKE "I created this cake to do something fun and unusual with the granola I was making for friends, and now I just keep making it, whether I have homemade granola or not," Dorie Greenspan writes in her new cookbook, "Baking Chez Moi" (Houghton Mifflin Harcourt, 2014). "I think of this as a snack cake and nibble it out of hand, but that's so not French. When I serve it in Paris, I cut it into 2-inch squares, put them on plates, top with ice cream and serve with forks and spoons."
Author:
Dorie Greenspan – Baking Chez Moi
Ingredients
½ cup (1 stick) unsalted butter, room temperature, plus extra for the pan
1 cup (136 grams) all-purpose flour
¼ teaspoon baking powder
¼ teaspoon baking soda
¼ teaspoon ground cinnamon (if granola is not spiced)
Pinch of freshly grated nutmeg (if granola is not spiced)
1 cup (120 grams) granola, preferably homemade
4 ounces (113 grams) bittersweet, milk or white chocolate, finely chopped
½ cup (60 grams) shredded coconut, sweetened or unsweetened
½ cup (100 grams) packed light brown sugar
¼ cup (50 grams) granulated sugar
1 large egg, room temperature
1½ teaspoons vanilla extract
¼ teaspoon fine sea salt
Instructions
Set a rack on the oven's middle shelf, then heat the oven to 325 F. Coat an 8-inch square baking pan with butter, then line it with kitchen parchment or waxed paper.
In a small bowl, whisk together the flour, baking powder, baking soda and cinnamon and nutmeg, if using. In another bowl, toss together the granola, chocolate and coconut.
Working in a stand mixer fitted with the paddle attachment, or in a large bowl with a hand mixer, beat the ½ cup of butter at low-medium speed for 2 to 3 minutes, or until soft and creamy. Add both sugars and beat for 2 minutes. Add the egg and beat until the mixture is smooth, about 2 minutes more.
Beat in the vanilla and salt. Reduce the speed to low and add the flour mixture, mixing only until it disappears into the batter. Add the granola mixture, again mixing just until incorporated. Scrape the batter, which will be very thick, into the prepared pan. Smooth the top of the batter to make sure it gets into the corners.
Bake the cake for 35 to 40 minutes, or until the top is honey brown and sugar-crackly; a skewer inserted at the center should come out clean. Transfer the pan to a rack and let rest for 10 minutes, then run a knife around the edges of the cake and unmold it onto the rack; invert and cool to room temperature on the rack.
The cake is very moist and will keep, wrapped in plastic, at room temperature for about 4 days. You also can wrap it airtight and freeze it for up to 2 months; defrost it still wrapped.
Nutrition information per serving: 200 calories; 100 calories from fat (50 percent of total calories); 11 g fat (7 g saturated; 0 g trans fats); 25 mg cholesterol; 24 g carbohydrate; 2 g fiber; 12 g sugar; 3 g protein; 65 mg sodium.
Recipe adapted from Dorie Greenspan's "Baking Chez Moi," Houghton Mifflin Harcourt, 2014
CONGRATULATIONS:  Aaron Rishell & Cakelaw, after truffles and a great bottle of Burgundy I decided to give away two copies of Baking Chez Moi!