Carrots may be 87% water, but that remaining 13% can sure be tasty when cooked properly. This week's French Fridays with Dorie challenge demonstrates how flavor can be extracted from a carrot in a startlingly wonderful way. Although titled "Monkfish with Double Carrots," the carrots are really the star of this recipe. The secret is cooking the carrots in carrot juice that has been enhanced with butter and rosemary. The result is tender, moist , intensely flavorful carrots swimming languorously in a shimmering orange sea of broth that can be used on its own as a soup or combined with a variety of fish and fowl. And it is so easy to make. Just have your Sous Chef surrogate peel and cut carrots into one-half inch thick rounds, add to the carrot juice mixture, cook for about twelve minutes, and voilà!
The most difficult part of this recipe is finding suitable monkfish. Whereas the lobster is a charmingly colored and designed multi-legged crawler whose visage adorns many articles of clothing, plastic bibs, and ersatz seafood restaurants, the monkfish has a shockingly big head and mouth that even its mother would admit to being downright ugly, if not scary. Its appearance gives the Norwegian Wolffish  a run for its money when it comes to the most disgusting-looking fish category. But like many of God's creatures, there are compensations for deficiencies. So whereas lacking in the looks department, the monkfish is known as the "poor man's lobster" for good reason. Its dense, firm tail meat has a mild and slightly sweet taste that is reminiscent of a good piece of lobster tail, but at a distinctly lower price.
Sous Chef is a monkfish aficionado and never passes an opportunity to order monkfish when offered in a restaurant or when he sees it fresh at a quality fishmonger, such as McCall's Meat & Fish in the Los Feliz area of Los Angeles. Back in January we visited McCall's Meat & Fish and he could not resist the glistening white, sweet, ocean-smelling piece of monkfish that had just arrived fresh from the North Atlantic and, though lying inert on a bed of ice, beckoned him like the good kind of siren song of a dozen French chefs. We took the monkfish home and I used this recipe to create a truly wonderful and memorable meal, which included a fine bottle of Champagne and Sous Chef's frequent mutterings of "bon . . . bon" or some such French expression. Because I had jumped the gun on the French Fridays with Dorie group, I forgot about that experience until this week's challenge.
McCall's Meat & Fish requires a special trip from the desert, so we went to the newly opened Whole Foods in Palm Desert in hopes of finding fresh monkfish. Alas, none was to be had, but Sous Chef was touted on the merits of a package of frozen monkfish filets residing in a nearby freezer. Having no other option, we took the frozen version home, defrosted the pieces overnight in the manner described on the packaging (thereby averting the defrosting debacle that befell me when preparing the Norwegian Wolffish), and cooked them per Dorie's recipe. The result was disappointing but not unexpected. Whereas the fresh monkfish was firm and white, the packaged variety was gray, less firm, and smelled nothing like the open ocean, but more like murky, stagnant harbor water instead. Fortunately, the monkfish did not denigrate the flavor of the carrots and broth, so once removed we feasted ravenously on the gorgeous liquid and carrot disks.
We paired this dish with a 2013 Assyrtiko Santorini from Greek Wine Cellars, a light, fresh Greek wine that balances good acidity with citrus and mineral notes. But a nice Sancerre or Sauvignon Blanc would function just as well.
The lesson learned from this experience: If you can't find fresh monkfish, skip the frozen monkfish and use what Dorie would term a bonne ideé – scallops, shrimp, or any firm white fish that you enjoy eating. But remember that finding fresh monkfish is worth the extra effort. And don't forget one of my personal mottos: a high-quality wine can overcome many culinary shortfalls.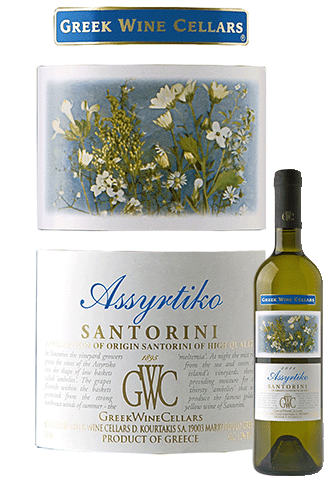 Make sure to check out what the rest of the French Fridays with Dorie group thought of this recipe by visiting www.frenchfridayswithdorie.com.