Fate brought us together, and it was love at first crunch.
There in the cheese section of Bristol Farms was a mound of autumn-colored, peek-a-boo boxes displaying the rather unusual name Lesley Stowe Raincoast Crisps and containing gnarly looking crackers or wafers of some kind that were labeled Cranberry Hazelnut, Fig and Olive, and Salty Date and Almond. For someone who thought water crackers were de rigueur, I wasn't sure what to make of this product.  But I am the Culinary Diva after all, and Sous Chef is an intrepid Tonto or Sancho Panza, so we loaded up on Raincoast Crisps and the rest is history, as they say.  Since that day long ago, Raincoast Crisps have become a member of our household, there always being a box or two or more around, ready to volunteer for the most mundane to the most elegant culinary employment.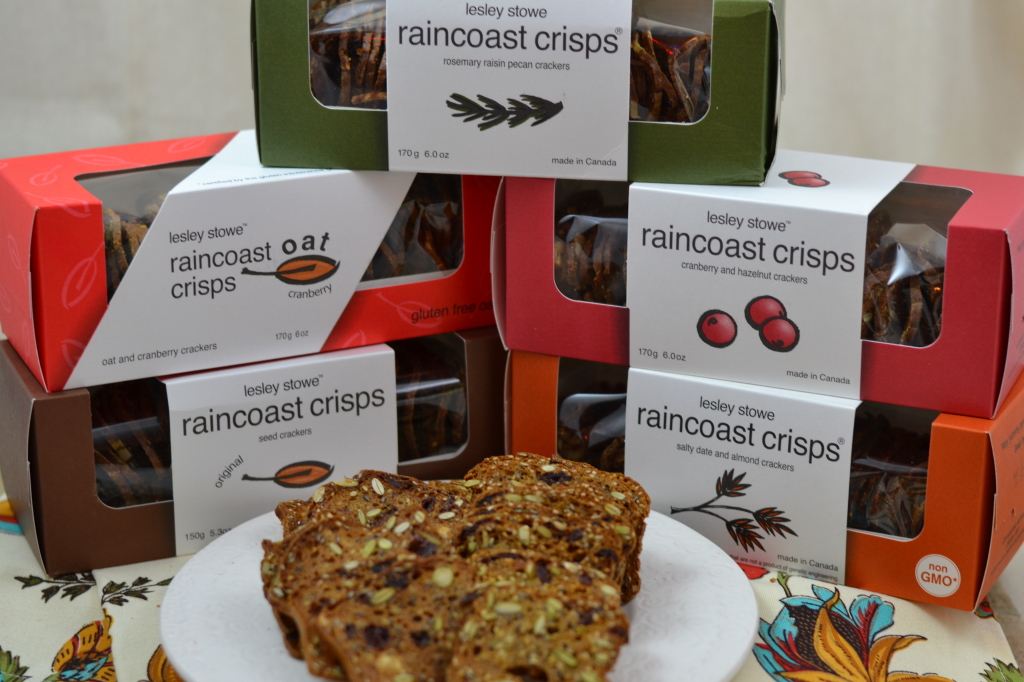 We have enjoyed all the Raincoast Crisps available locally and honestly have made little effort to distinguish among them or to pair them specifically with certain types of cheeses, foods or flavor profiles. We generally just grab what is closest at hand and enjoy as a snack, as a scoop for dips of all types, consistencies, and flavors, and as a platform for a wide variety of appetizers.  Sous Chef imposes rigorous criteria for appetizers, the main ones being they are easy to hold and edible without spillage or collapse in one small bite or two.  Raincoast Crisps pass the two-bite test with flying colors.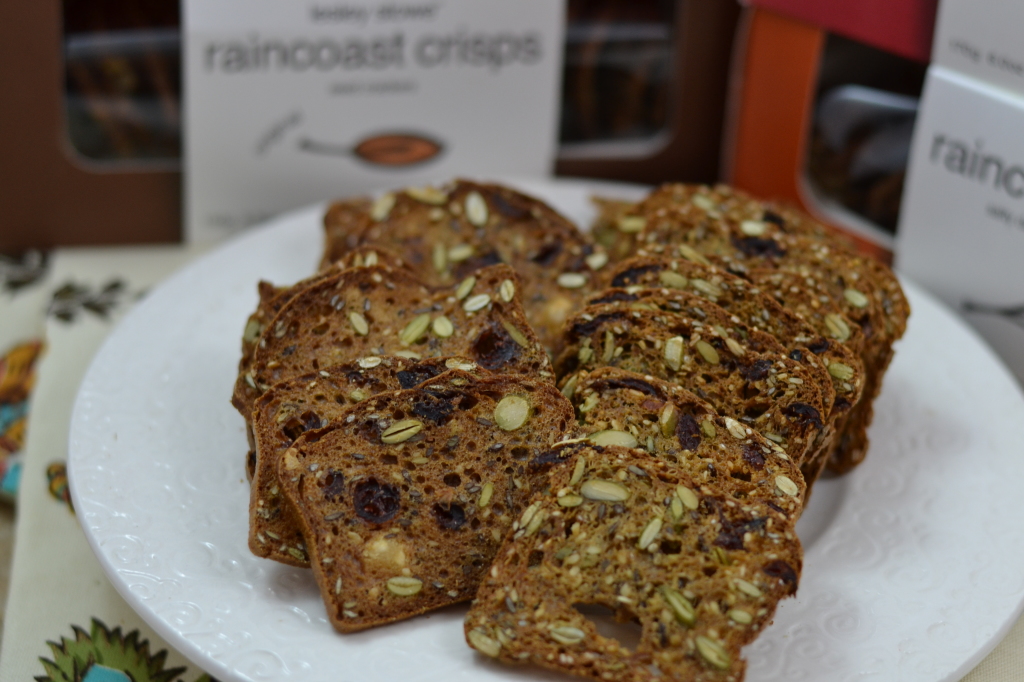 If you are not familiar with Raincoast Crisps, they are made in small batches with all-natural ingredients that make their dark, undulating surface look like a lunar landscape or an explosion in the nuts and grains section of a health food store. They come in a multitude of crispy combinations (visit lesleystowe.com for a complete list) and there is even a gluten-free option made with oat flour for those who are reducing wheat in their diets.  This option is packed with nutritious seeds and does not include nuts.  Either way, these crisps pack a flavorful punch and are the perfect accompaniment to just about anything.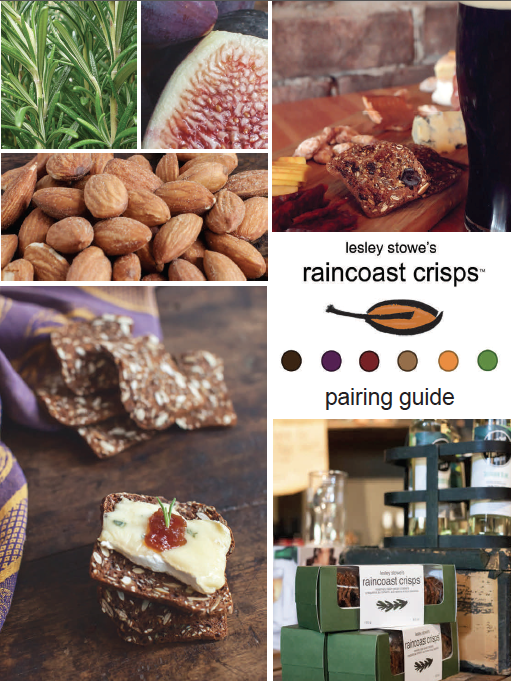 I was asked by Lesley Stowe Fine Foods to sample and share my experiences about their Raincoast Crisps, and I am glad to do so. I am the Culinary Diva and not Ruth Reichl or Jonathan Gold.  I write about what I like—and hopefully what will be of interest to foodies and non-foodies—and leave critical reviews to others.  The opinions and experiences found in my blogs are expressly my own.  So when I say I like a product, I mean it.  And I like this product very much.  As I have described, I am pretty casual about my use of the Raincoast Crisps, so I was interested to learn just how serious the Lesley Stowe people are about their product.  Included in a box that contained an assortment of Raincoast Crisps was a guide for pairing each crisp with the perfect cheese, charcuterie, wine, and beer.  It is obvious a lot of thought was given to the pairing guide and it has inspired me to focus more closely on the attributes of each crisp and to think about using those attributes in imaginative ways and with appropriate wine and beer combinations.  So stay tuned as I undertake this culinary adventure.