"We know, as they do in Naples, that the finest ingredients, simply paired, create the most robust culinary experiences."  Michael's Pizzeria at the River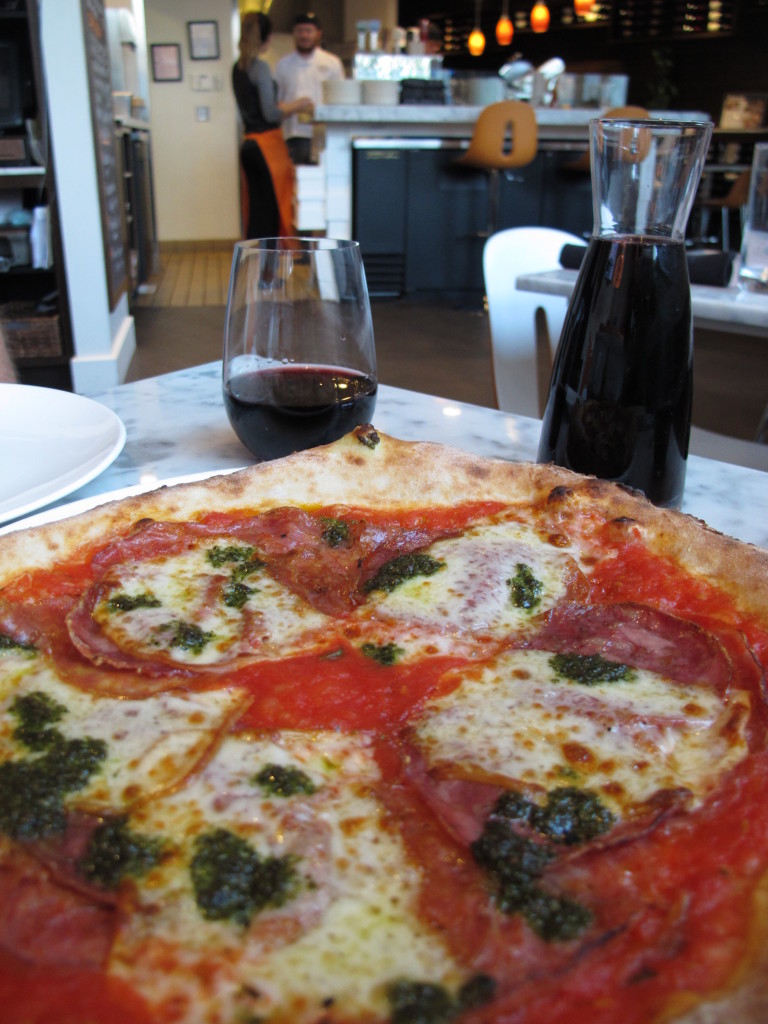 The pizza was invented in Naples, Italy, so it is fair to say that city's denizens and their descendants know a whole lot about what makes a nonpareil pizza.  Brooklyn born of Italian descent, Michael Dene successfully demonstrates he is true to his Neapolitan roots at Michael's Pizzeria at The River in Rancho Mirage.
Michael's Pizzeria opened shortly after I hosted a Food 52 Mozzarella-Making Party.  The local press had touted that the restaurant daily makes its own fresh mozzarella.  Having just fashioned fresh mozzarella, I had an appreciation for the process and its finer taste and wanted to give the restaurant a try for this reason.  It was love at first mouthful, and I have been back many times and have developed a plethora of fond memories.  Michael's Pizzeria is where my best friend and I planned our epic "Julia Child's 100th Birthday Celebration."  It is where Sous Chef and I head when we want true Neapolitan Pizza, or feel nostalgic and want to ponder our past and future travels to Italy.  It is where I refer friends, clients, and fellow foodies when they are in town and want a good meal.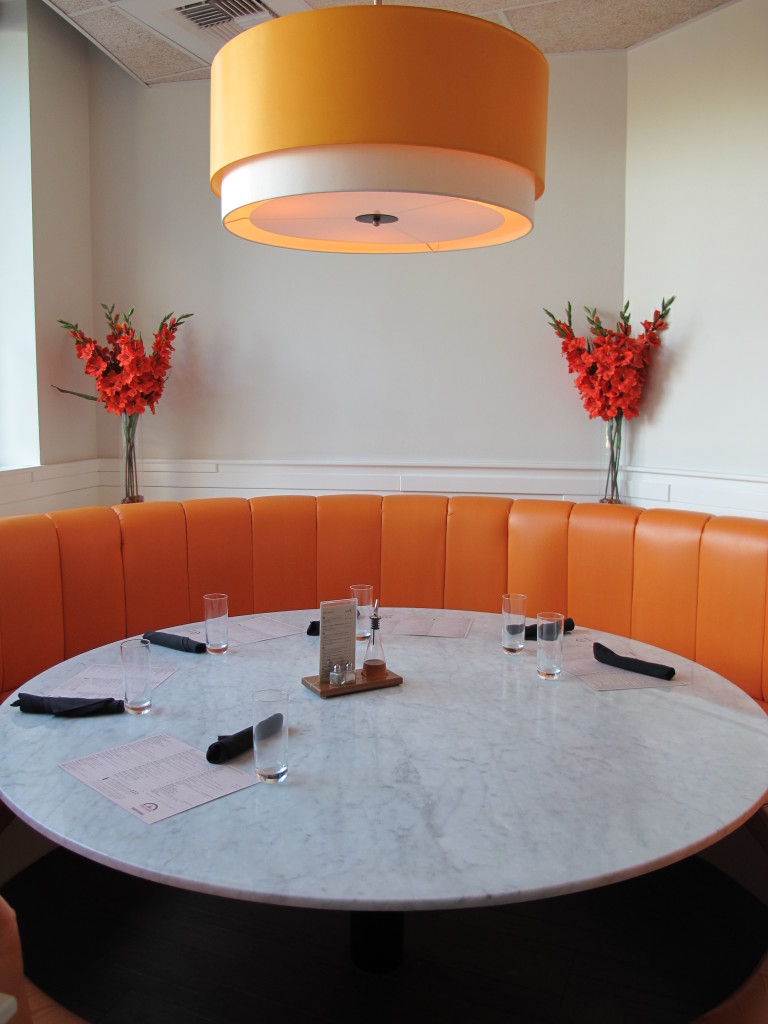 Don't underestimate the importance of appearance in one's assessment of a restaurant.   The chic modern décor sets the tone for a relaxed dining experience.   Carrera marble tabletops are enlivened by splashes of Mario Batali Orange throughout the restaurant.  The kitchen is open, so you feel part of the action, and if you sit at the counter you can converse with the chefs and pick up a few tips to implement at home.  This being the 21st century, there is no need for wicker clad Chianti bottles and ersatz grape vines to connote one has entered an establishment dedicated to Italian cooking—and none adorn the walls or ceilings here.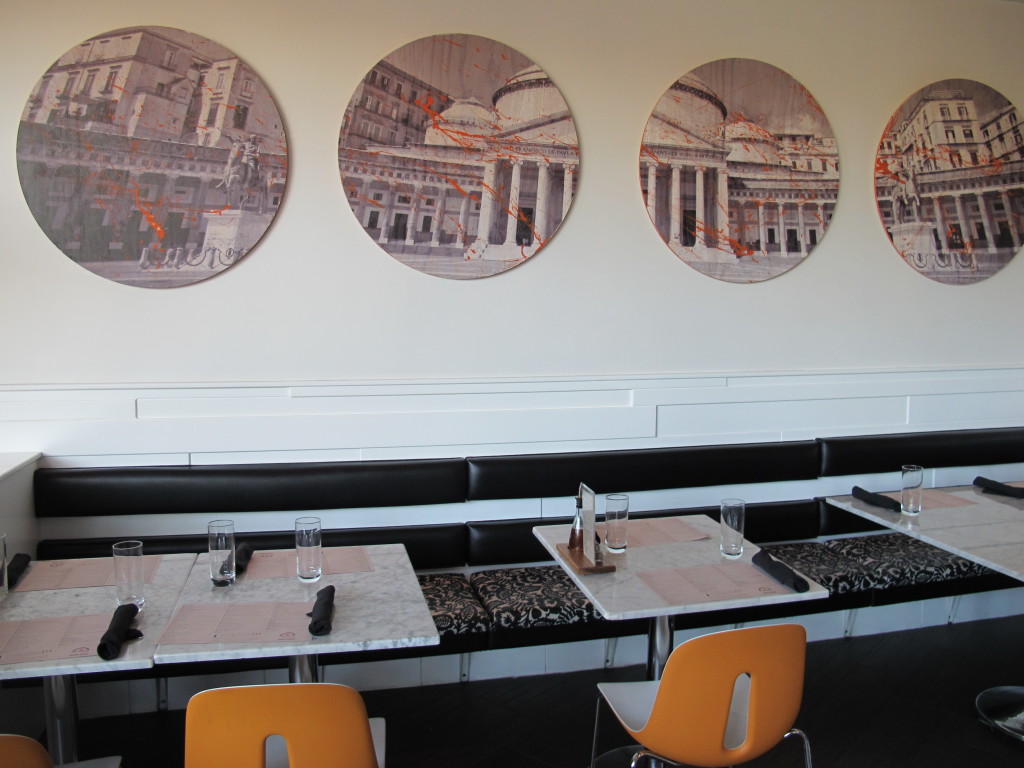 For those unaware of the difference between "American" style pizza (aka Pizza Hut, Domino's, etc.) and Neapolitan Pizza here are a few things to remember:
1)      Neapolitan Pizza originated in Naples, Italy.
2)      It is made from simple and fresh ingredients, and consists primarily of basic dough, raw tomatoes, fresh mozzarella cheese (aka not the hard kind that you can shred), fresh basil and olive oil.
3)      The crust is thin and the pizza  is not served sliced.  If sliced when hot, moisture forms beneath the crust and no one, particularly a Neapolitan, wants a soggy pizza.  So eat it with a knife and fork or just tear off a hunk at a time and enjoy.
4)      The pizza is generally served in smaller sizes (10-12 inches).
5)      The pizza is cooked at an extremely high temperature  for a very short time.
Many restaurants today talk about freshness:  freshness of ingredients, freshness of preparation, freshness of the servers (just kidding about the last one).  Michael's Pizzeria does more than just talk—it practices the essence of true Italian cooking.  It sources locally grown, organic vegetables, grows its own herbs and tomatoes, makes its sausage in-house, and makes daily all its sauces, dough, and cheeses from scratch.  The result is a menu of great variety adaptable to those who have but a few moments before the feature starts at the nearby Century Theater or who want and have time for a more thorough investigation of the culinary offerings.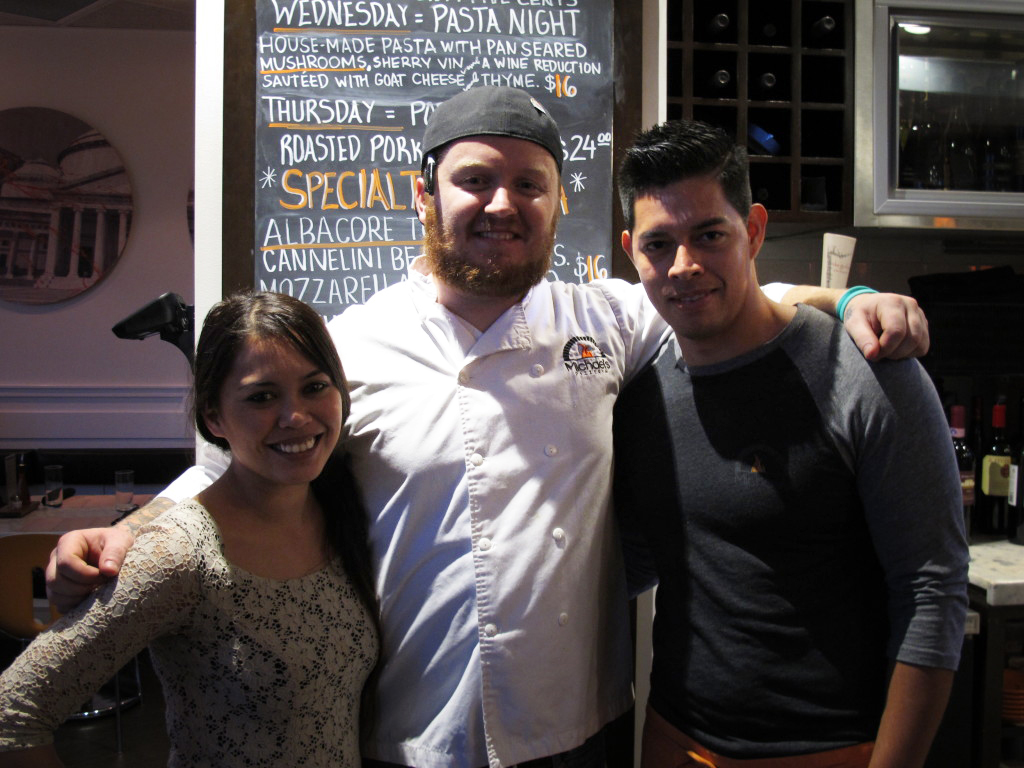 As the Culinary Diva, wine is an essential component to every non-working time meal and Michael's Pizzeria has a thoughtful selection of mostly Italian wines to complement its cuisine.  Italy produces and exports more wine than any other country, has twenty wine regions, and is the domicile of hundreds and hundreds of grape varieties.  Although I like Italian wines, for these reasons I find navigating through the Italian wines on a wine list a difficult task.  Asking one's server—or sommelier if it is "that" kind of restaurant—is always advisable.  But Michael's Pizzeria makes the process even simpler for novice and oenophile alike.  Each item on the menu bears a symbol that cross-references to the wine list to provide you with proper pairing suggestions.  The symbol is the side of a die, with one to six dots as appropriate.  So the diner has no excuse for not having the perfect wine/food pairing.  Wine is  available by the glass, carafe or bottle and is very reasonably priced.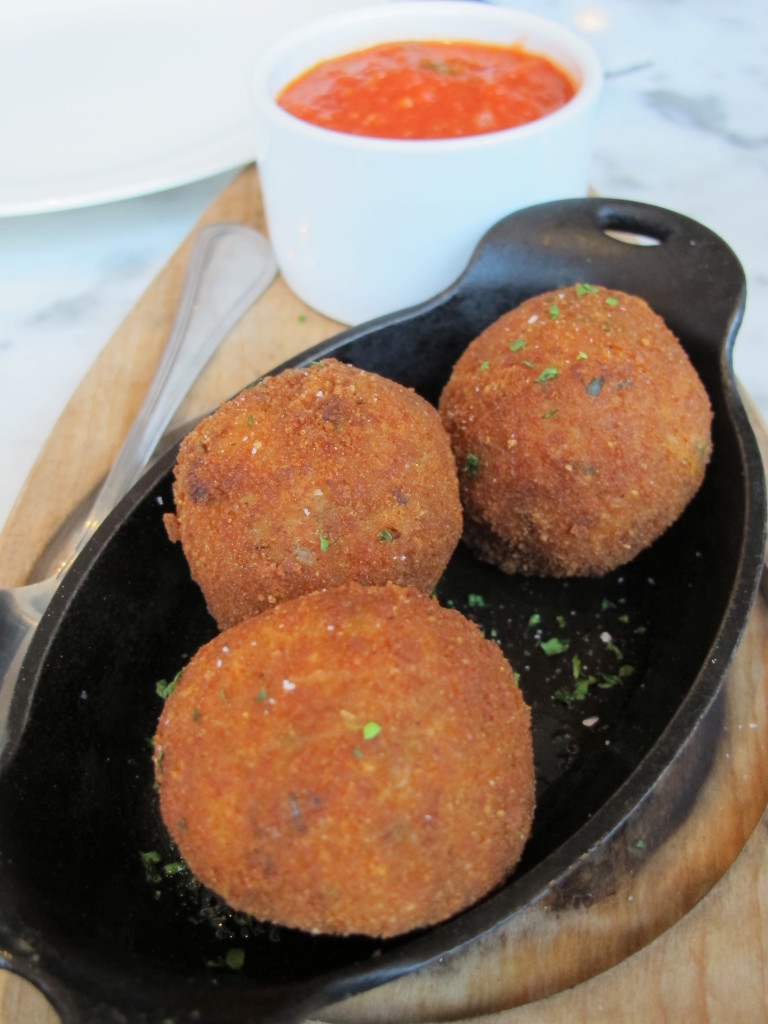 At a recent visit, Sous Chef and I sampled a wide range of Italian delicacies.  We started with Arancini, one  of my very favorite appetizers.  There is something comforting about this little ball of crunchy goodness and the Arancini Bolognese we were served is one of the best I've had.  It was like a little puffy cloud of heavenly rice that has been stuffed with a piece of mozzarella, fresh parsley, and Bolognese sauce and cooked to a golden brown.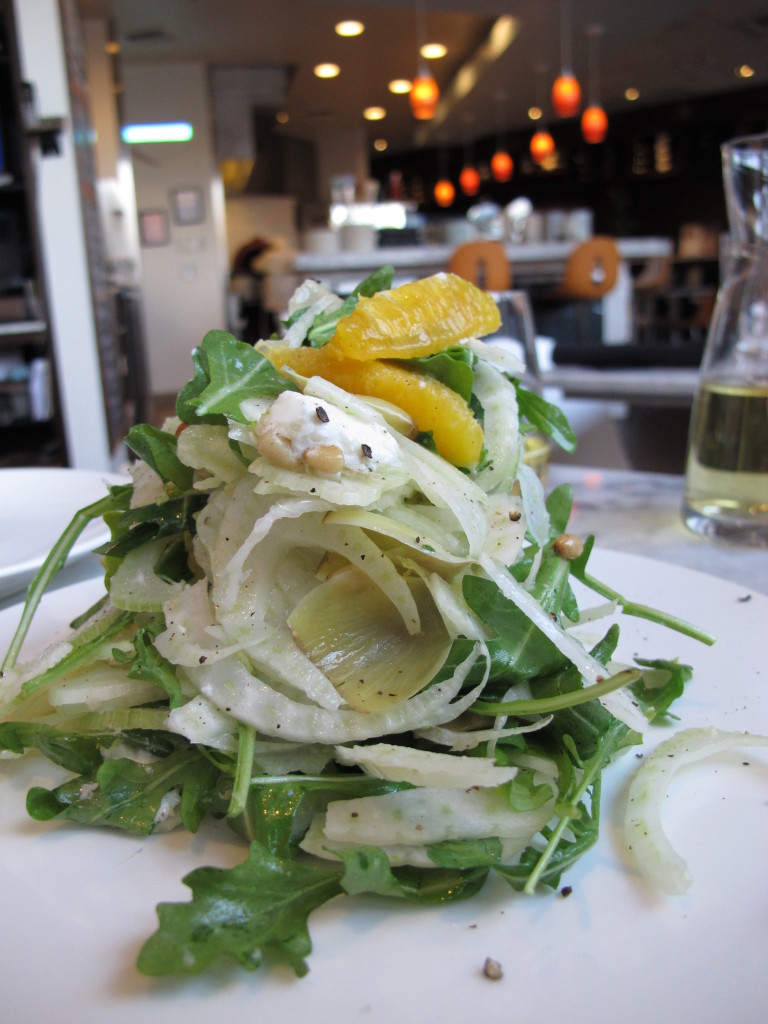 Every meal needs a healthy portion of fresh vegetables, and Michael's Pizzeria has a great selection of fresh salads.  One of my favorites is the Insalata di Finocchi, and this Sous Chef and I shared.  This salad has all the good stuff I love: shaved fennel, confit artichokes, goat cheese, pine nuts, orange slices and arugula.  Could you ask for a more perfect salad?  The textures and flavors play well together, and the citrus vinaigrette (citrus, olive oil) gently caresses and enhances the peppery arugula leaves and rich licorice flavor of the fennel.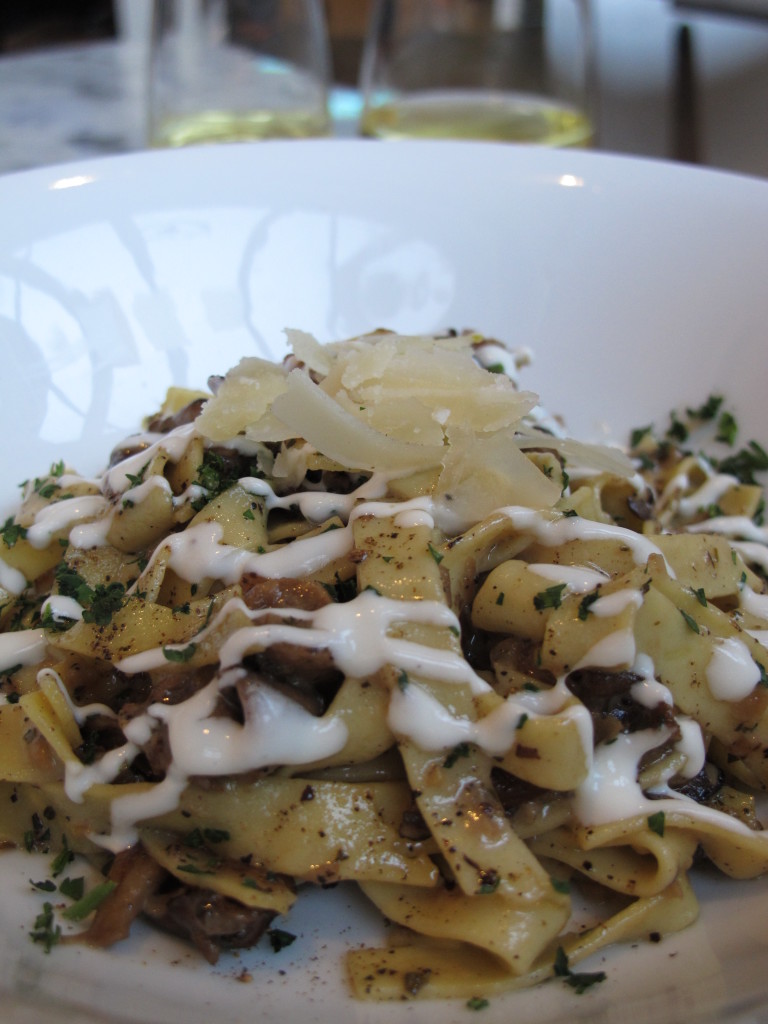 For me, a good pasta dish must be fresh, simply prepared, cooked slightly al dente, of a reasonable portion size (I don't like being served an individual portion that is enough to feed the local Boy Scouts' troop) , and aesthetically pleasing.  Michael's Pizzeria does not disappoint in this regard.  One of my favorites is the Wild Mushroom Pasta.  It consists of a medley of wild mushrooms, a light and flavorful sauce of mascarpone, goat cheese and sherry wine vinegar, a little grana paduano cheese and parsley.    This is one pasta I keep dreaming about and frequently order.   If you enjoy good pasta, consider that every Wednesday Michael's features a different pasta special.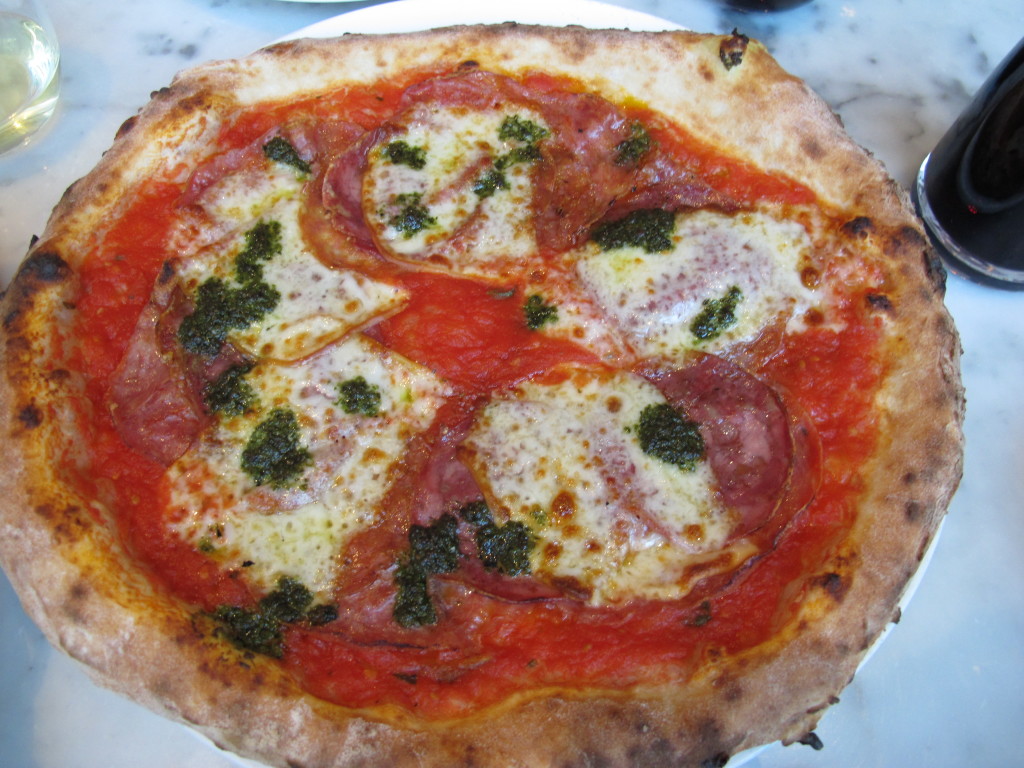 Pizza is the cornerstone of the menu and there are eight red and seven white sauce selections to choose from.  I've tried nearly all of them and can vouch for their tastiness.  Two of my menu favorites are the Verdure, which has tomato, brussel sprouts, sunchoke (aka Jerusalem artichoke), kale, rapini and grana,  and the Speck, which has speck, spinach, gorgonzola and mozzarella.  However, insiders know to ask for the off-menu Jonica, which is a pretty incredible pizza.  The Jonica consists of sopressatta, finocchiona, calabrese, tomato sauce and a spot of pesto.  This combination makes my culinary taste buds sing with happiness – a little spice, a little sweet (tomato), and a little salty.  On this occasion we ordered the Jonica.  Sous Chef and I find an individual pizza is the perfect size to share.  And if you are feeling a little sated by this time, you can always follow Yogi Berra's advice:  "You better cut the pizza in four pieces because I'm not hungry enough to eat six."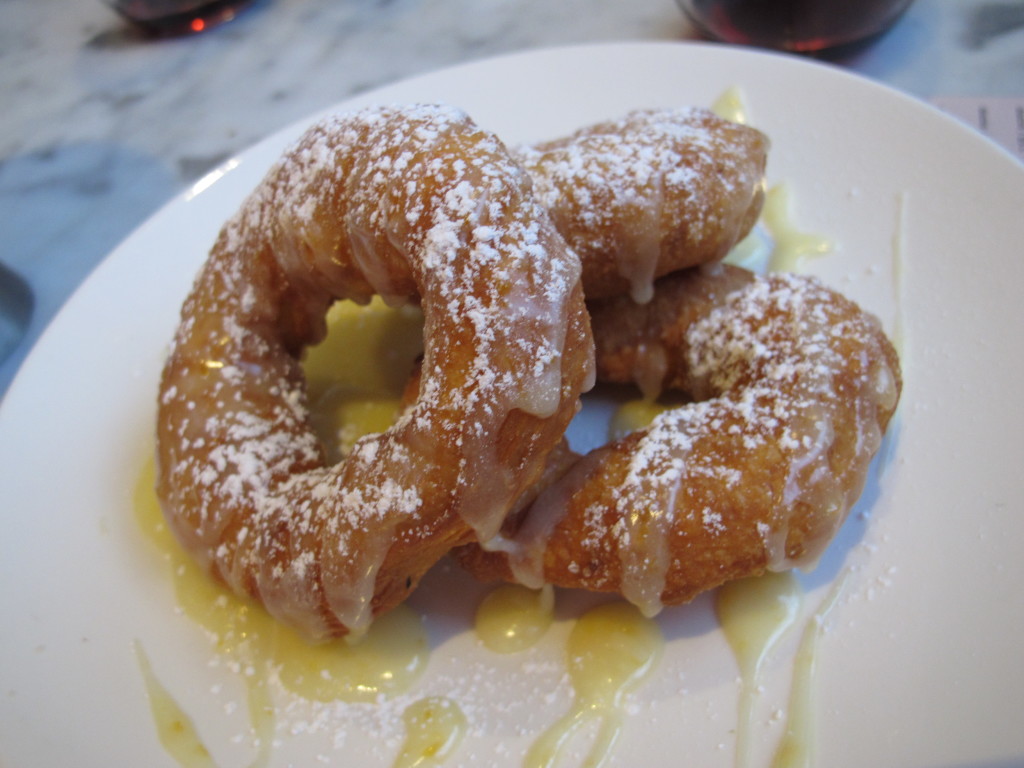 If sweets are your thing, save some room for the dessert selections.   These range from a light scoop of gelato or sorbetto to a heartier Ciambelle.  We've tried them all and one I keep going back to is the Ciambelle.  There are many versions of Ciambelle, which basically refers to the shape of the cookie, donut or cake.  Michael's Pizzeria's Ciambelle is an Italian potato donut served warm with an orange glaze.   These donuts melt in your mouth, and the orange glaze gives them a zesty lift in flavor.  The potato flour gives them an airy denseness, and the yeast they use to make these donuts proof for two days before being used.  Sous Chef and I shamelessly fought over this dish.  I prevailed, but only because I wielded my knife in a threatening manner and Sous Chef knows I am not dexterous with cutlery.  Don't worry though.  Sous Chef was well plated as we had also ordered the Basil Gelato.  Don't be surprised if you confuse it for a hazelnut or chocolate gelato when they bring it to you as it has a rich chocolate color.   But from the first bite, there is no mistaking the fresh, slightly minty, spring-like basil flavor.  This gelato has a touch of sweetness and a whole lot of creamy goodness going on.
Michael's Pizzeria is open daily for lunch and dinner.  And note that on Monday through Thursday there are delightful specials that are described below.  So what are you waiting for?  Head out the door to Michael's Pizzeria!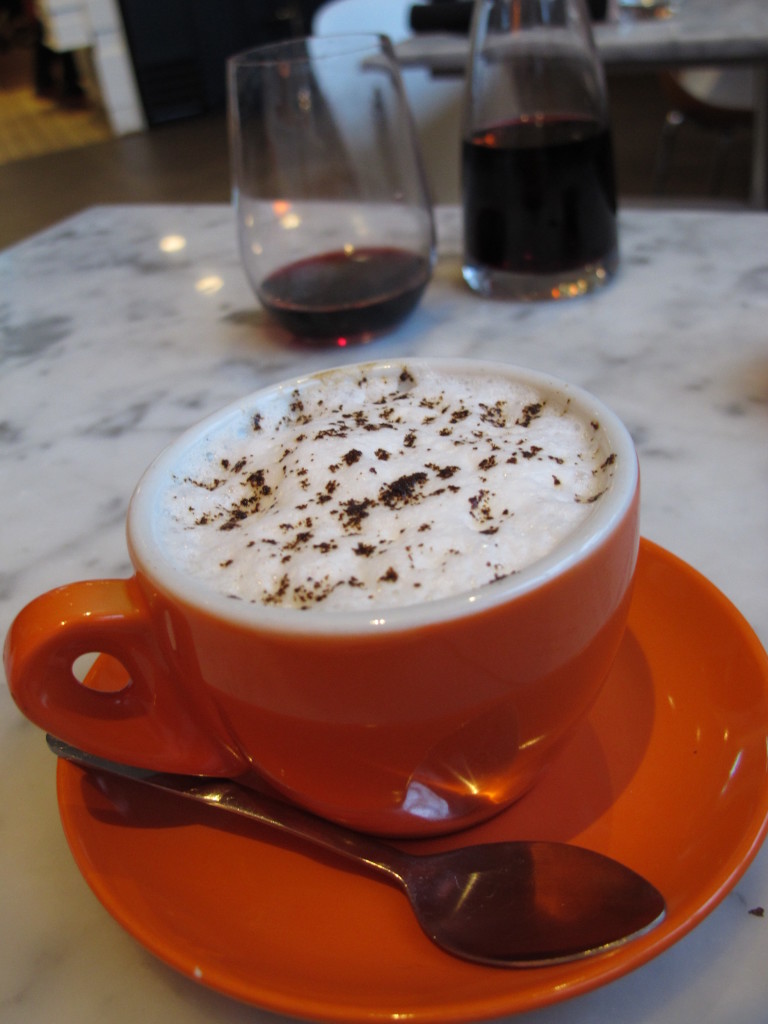 Michael's Pizzeria
71800 Highway 111, Suite A122
Rancho Mirage, CA 92270
760-341-4222
Open Lunch and Dinner Daily
Sun-Thurs 11 to 10
Fri-Sat 11 to 11
Reservations available on Open Table
Specials:
Monday night:  Margherita Pizza Night – get a free Margherita pizza with the purchase of another pizza on the menu
Tuesday night:  Buy One Drink, Get one for a Quarter
Wednesday night:  Pasta night
Thursday night:  Porchetta Night (rolled, marinated duroc pork loin & belly, roasted whole and served with market vegetables)
Italian Potato Doughnuts
Author:
Chef David Coleman
Ingredients
1lb russet potatoes (peeled weight)
1Cup whole milk
½ T fresh yeast
4 each eggs
4.5 cup OO flour
1.5 t salt
¼ cup sugar
½ cup olive oil
2 T sweet dry vermouth
1 each orange zested
Instructions
Starting in cold water, simmer potatoes until soft. Rice potatoes and set aside. Pitch yeast into milk that is above 75 degrees and wait ten minutes. Add all other ingredients, reserving flour, and whisk. Sift in flour and begin kneading. Knead for two minutes then place in large bowl that has been lightly oiled cover with towel and place bowl in a warm but not hot space and wait until dough has doubled in size, approx. 45 min to an hour. Remove dough on to floured work surface and knead again for 30 seconds. Cut 1 ounce portions and roll into doughnut shapes and place on to lightly floured sheet tray. Leave at room temp for an hour until they double in size or place in refrigerator over night.
To cook
Place portioned dough into preheated canola oil at 350 degrees, for one minute then flip and allow to cook another 1 minute. Remove and place on grease absorbent surface. Glaze immediately. And serve.