The wee Leprechauns are soon upon us and Sous Chef has historically treated St. Patrick's Day as something of a religious holiday that demands good (or at least "traditional") Irish fare.  According to Dublin-born Chef Darren Pettigrew of Heights Tavern, "The joke [about Irish cuisine] is corned beef and cabbage.  You don't eat corned beef and cabbage in Ireland."  Sous Chef does not care about the origins of corned beef and cabbage, he simply forbids its presence in our home.  He says it has something to do with Sunday night dinners at the Occidental College dining hall after long weekends of carousing.
Like many others, I assumed corned beef and cabbage to be the quintessential Irish dish and the foundation for any St. Patrick's meal.  Since it is a forbidden food in our household, I needed to find Irish alternatives from my cornucopia of regional cookbooks.  That is why I grabbed the Avoca Café cookbook off the shelf and, to my surprise, found it has really interesting contemporary recipes.
Petit Pois and Mint Soup is a perfect example of this new "Irish Food".  It is light, fresh and vibrant, with a bright green color that reminds Sous Chef of the green beer served at Casey's Bar on bygone St. Patrick's Days.  It can be prepared in advance, served warm, cold or room temperature, which makes it a winner in terms of entertaining.  Another great thing:  it can be prepared with fresh or frozen small green peas , and if you have mint available the other ingredients are likely already in your pantry.
This St. Patrick's Day, avoid corned beef and cabbage and try the flavors of New Irish Cooking.  Erin Go Bragh!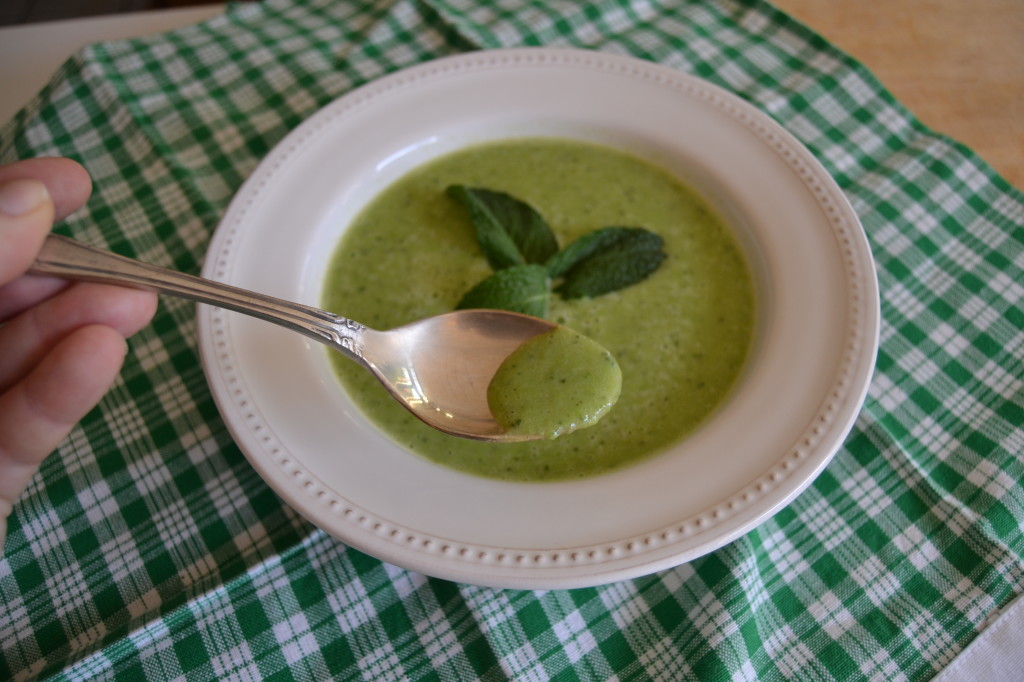 Petit Pois & Mint Soup
Author:
Avoca Cafe Cookbook
Recipe type:
Appetizer, Soup
Ingredients
1 onion, peeled and chopped (I used a medium-large size onion)
1 medium potato, peeled and chopped
2 oz butter
4 cups vegetable stock
14 oz frozen or fresh baby/petit peas
1 bunch of mint, finely chopped
1¼ cup of milk
Instructions
Sweat the onion and potato in the butter over a very low heat for 10 minutes, without coloring. Add the stock, bring to a boil, then cover and simmer for 20 minutes or until the potato is tender. Raise the heat, stir in the peas and simmer for 2 minutes. Remove from the heat, add the mint, and then immediately puree in a blender, adding the cold milk as you do so. Season with salt and pepper. Gently reheat and serve.