The Pritikin Longevity Center + Spa at the Trump National Doral Resort and Spa in Miami, Florida is the home for one of the world's most famous health/wellness programs.  If you want or need to make changes in your lifestyle for general well-being or serious health issues, the Pritikin program will define and show you how to implement the necessary alterations.  It is a "lifestyle," not a diet.   It requires focus, determination, and work.  And a visit to the Pritikin Longevity Center is all about health and fitness assessment, eating and learning to prepare the right foods, and lots and lots of supervised exercise and not about having facials and massages and fruit-based cocktails poolside.  And the end result can be life-changing.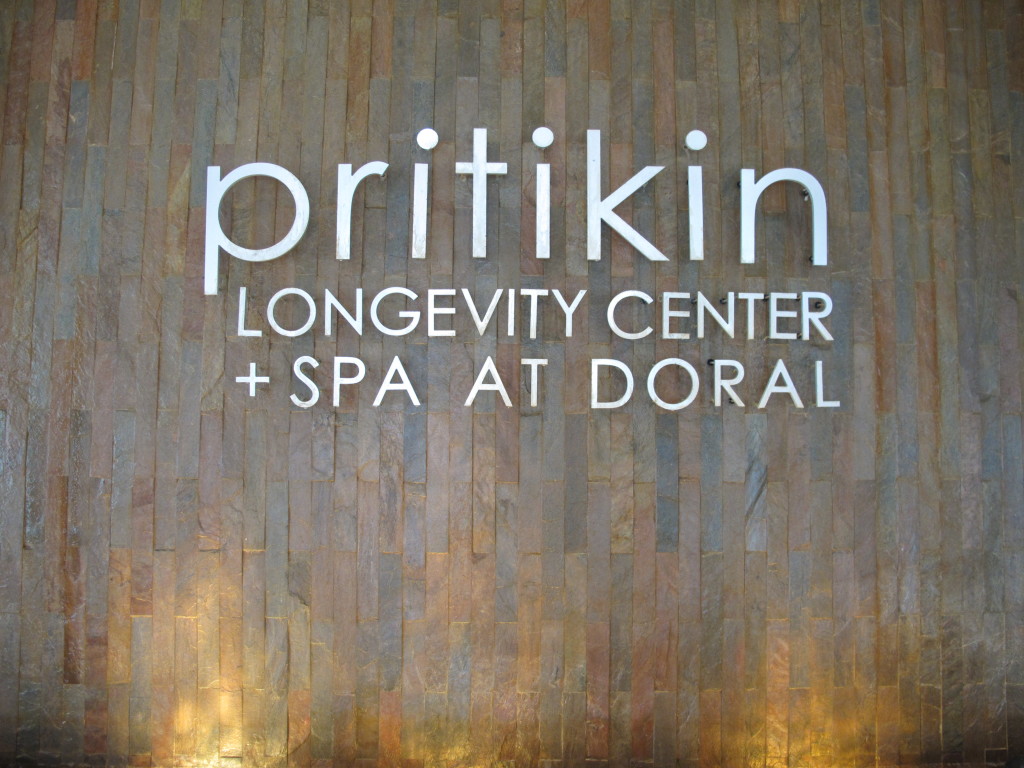 As my reward for being selected the winner of the Pritikin 35th Anniversary Blogger Campaign, I was invited to the Pritikin Longevity Center + Spa for their 35th Anniversary celebration.  I spent three nights and two full days engaged in the Pritikin program.   This is the story of my Pritikin experience.  However, please note I was not enrolled in the full Pritikin program and my experience was just a vignette of what comprises the program.  For example, most guests are there for a minimum of one week and often for several weeks at a time.  The guests undergo stress and medical tests as part of a comprehensive health and fitness assessment and are generally assigned specific activities suitable for their needs.  I was there for an overview of the program, was able to pick and choose my activities, and mercifully did not undergo stress and medical tests (I think the results of the stress test might have impeded my enjoyment of the Pritikin experience).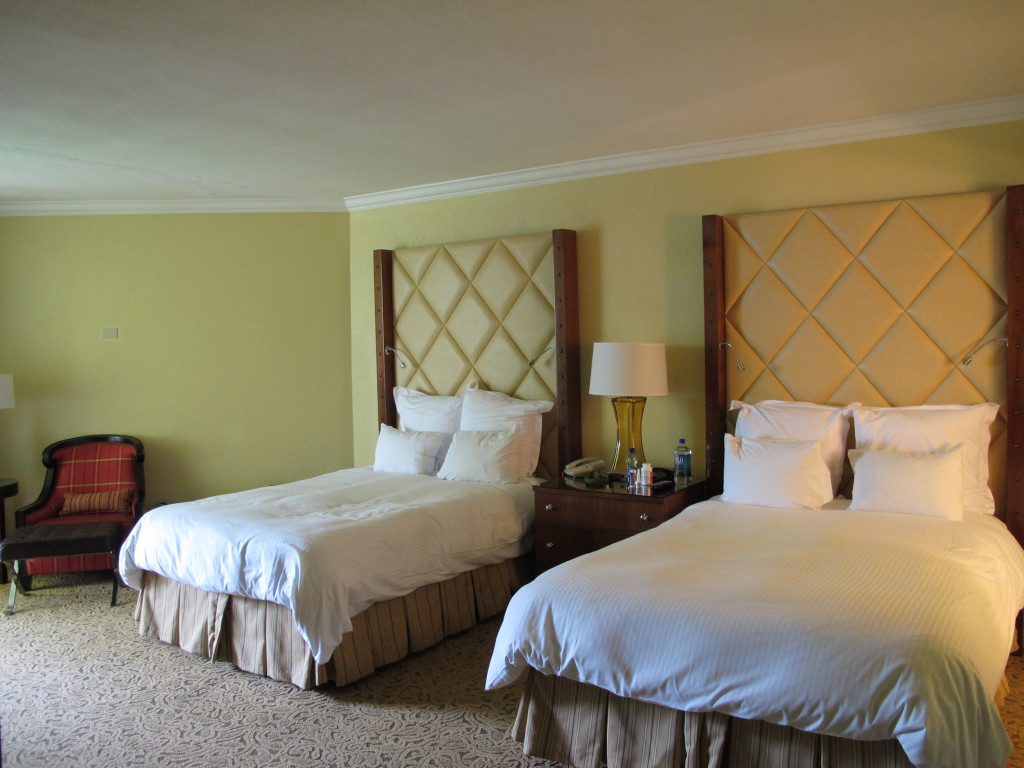 Travel:
My day begins in darkness.  I was up at 4:15 am to make a 7:00 am flight from Palm Springs to Miami via Dallas.  Arrived in Miami at 4:30 pm and was transported by limo to the Pritikin Longevity Center + Spa.  The entrance is within a lush garden and you immediately feel more relaxed.  The staff was welcoming and my room was incredibly comfortable and had a great balcony on which to relax and enjoy the Florida sunset.  Dinner is served from 6:00 to 7:30 pm each night, which is early bird dining for many.  The menu was pleasantly surprising, with quite a few tempting options.   That night featured bison filets, which seemed a popular item, but I decided to go with the chicken curry as my entrée.  The soup du jour was tomato and it was enhanced with orange zest and saffron – it was a spectacular flavor combination.  For dessert, I had a baked apple that looked like it could be right out of the Snow White movie set.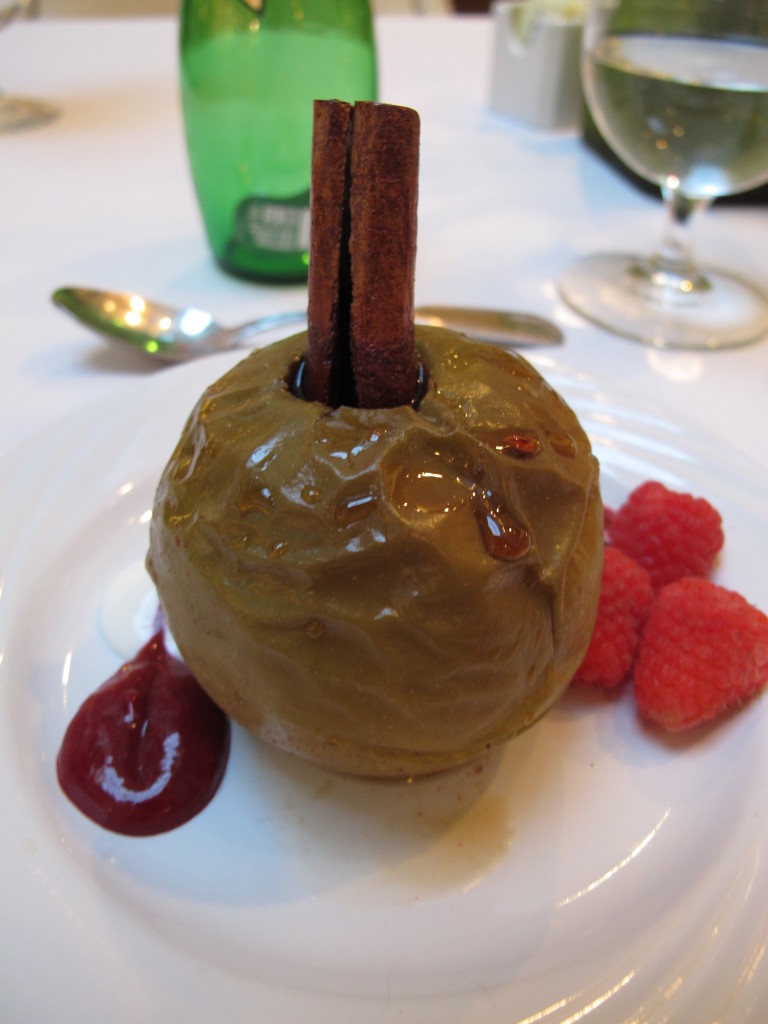 It was a long and exhausting day, but California-time was three hours earlier and, although no longer a night owl—if ever I truly was—a little exploration was in order.  Interestingly, Pritikin is part of the Trump National Doral Resort and Spa that includes world-class golf and spa facilities and hotel accommodations that are undergoing a "Trump" remodel.  Since alcohol is not served on premises at the Pritikin Longevity Center, I decided that after an early day and long flight a glass of wine at the Doral Resort's BLT Prime restaurant was in order.  After a glass of an amusing Super Tuscan, I was able to put aside my eagerness about the next day's activities and sleep like a proverbial baby.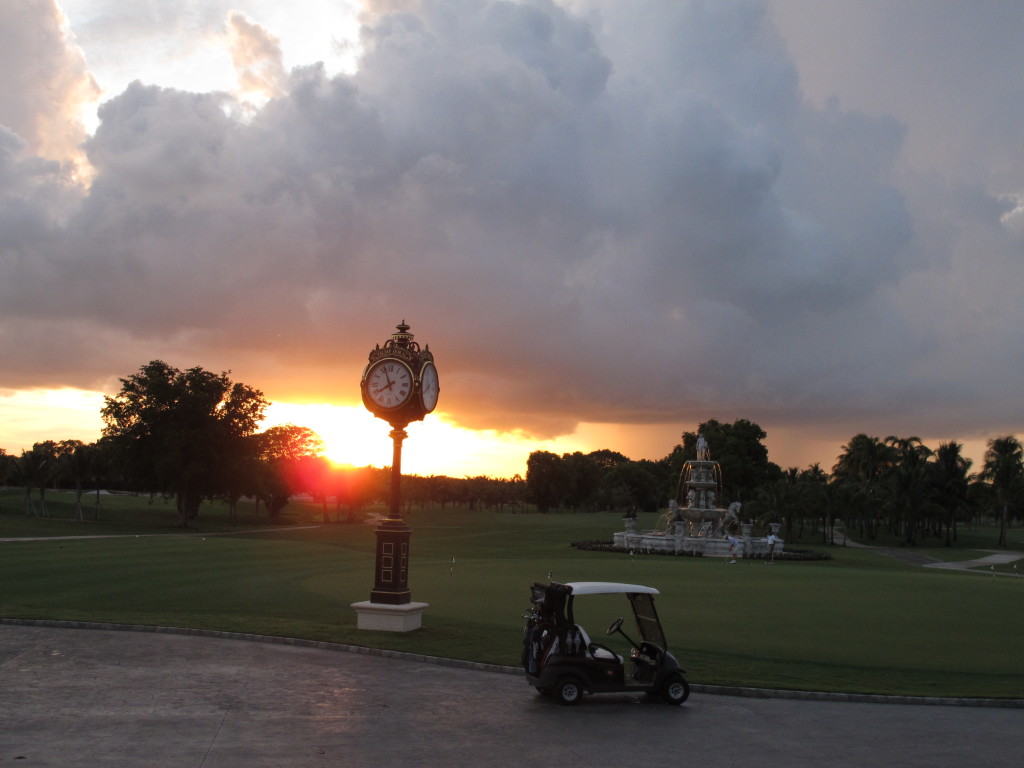 Day One:
Pritikin activities start early.  Breakfast is served from 6:00 to 8:30 am, and my first exercise class was scheduled at 8:30 am.  At 8:00 am I jumped out of bed, realizing I had overslept.  In my defense, it was only 5:00 am in California and the bed was very comfortable.  When motivated, I can complete my daily ablutions posthaste.  So I managed to make it to breakfast in time to have some fruit and tea before accidentally stumbling into the "Chair Zumba" class.  I had intended to go to the yoga class, but I had made a wrong turn and ended up staying because of polite pressure from the instructor and participants.  Who knew "Chair Zumba" existed or that one could actually work up a sweat while exercising in a chair?  Chair Zumba was followed immediately by a regular Zumba class, so there was no rest for the weary.  I have to admit that I am the worst Zumba person ever.  It is hard for me to keep up with the directional changes and movements (it turns out to be much easier in a chair), but it is always a lot of fun and I end up sweating like some kind of farm animal.  The instructor made sure these classes were pleasurable and lively.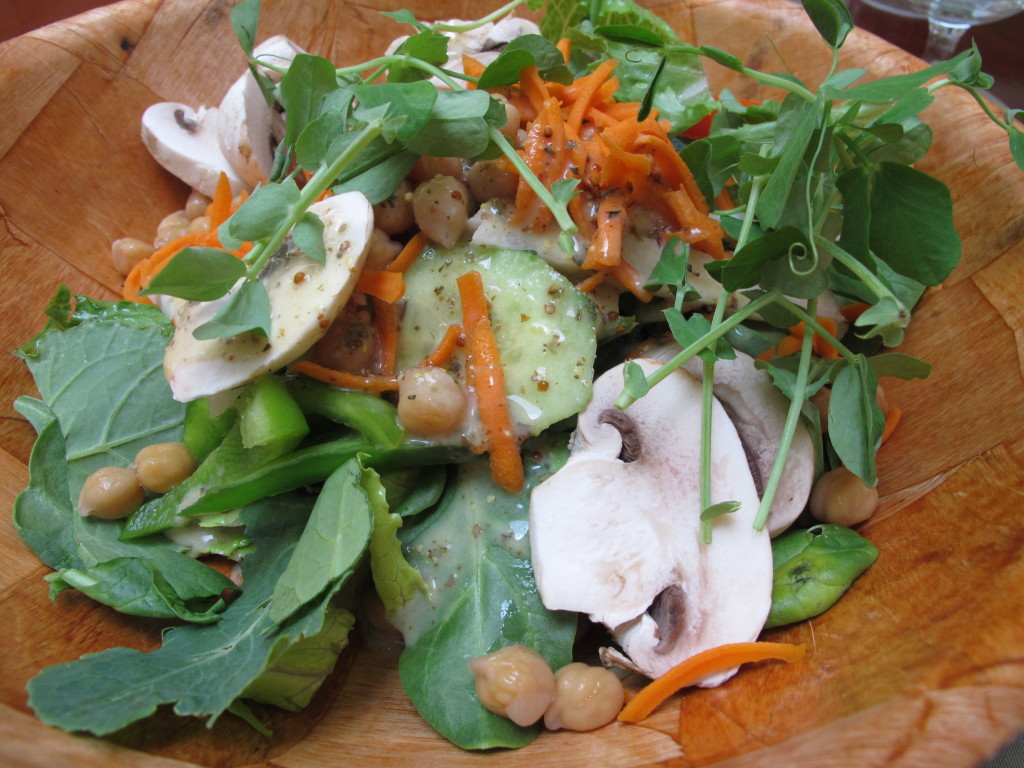 After a full morning of exercise, it was finally time for some nourishment.  An old fashioned cheeseburger and fries sounded good, but that is not the Pritikin way.  So I had a salad bowl, vegetable soup, and a side of black rice and black beans.  At this point, I'm seriously beginning to wonder if this is really going to be filling and last until the afternoon cooking class or if I am going to succumb to the marketplace at the Doral Resort and binge on chips and Diet Coke while I'm getting ready for the Pritikin 35th Anniversary media event.  I'm happy to report that lunch was satiating, but I did feel a little hungry by late afternoon.  Not sure if that was from habit or necessity.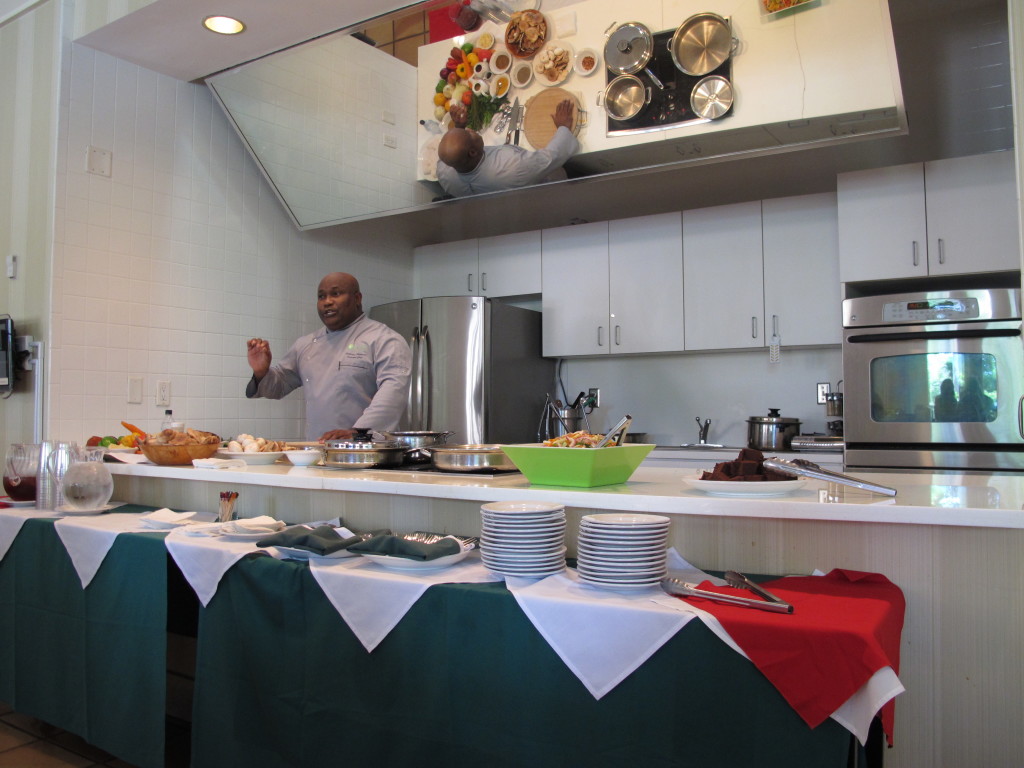 The media event for Pritikin's 35th Anniversary showcased all that the Pritikin program has to offer.  A tour of the Longevity Center and Doral Resort Spa was followed by Pritikin Chef Anthony's cooking demonstration.  To help the media better understand the impact the Pritikin program can have, an eight time guest talked about talked how the Pritikin program has helped her recover from cancer by creating and helping her maintain a healthy lifestyle free of toxic food.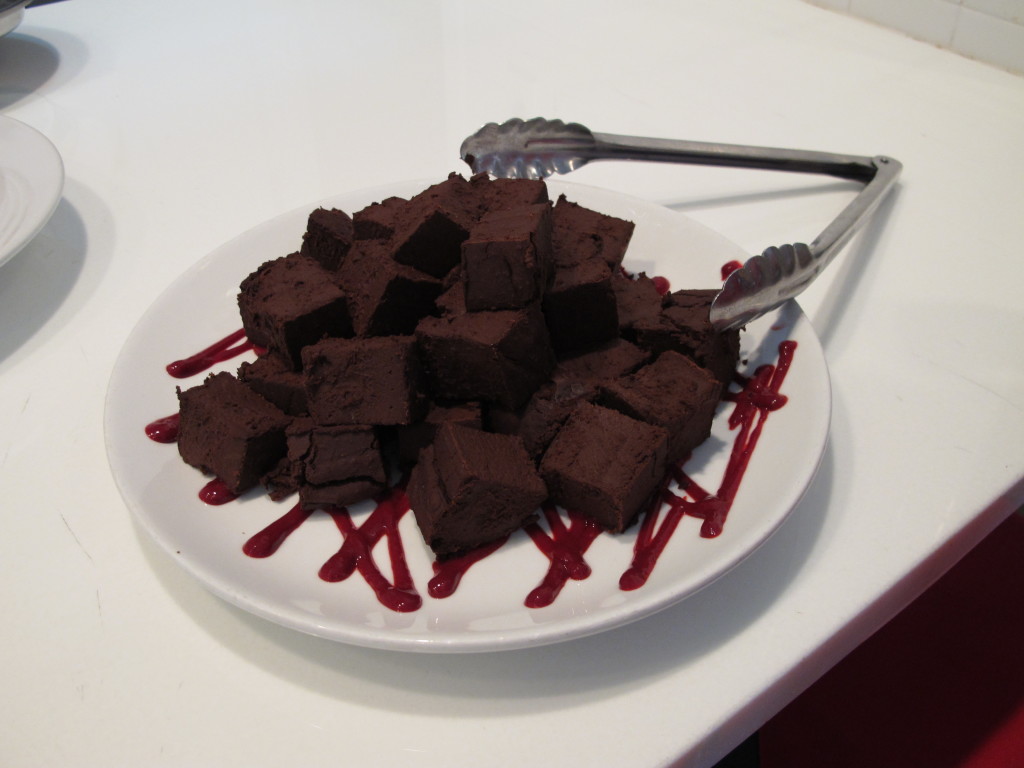 After the media event for the 35th Anniversary, I attended a cooking class that was full of great ideas and tasty recipes to help bring the Pritikin lifestyle home with you.  In this cooking class, the chef made Aloo Phujia (potato dish), Banana Vinaigrette, and Lemon Mango Parfait.  All were delicious and easy to replicate at home.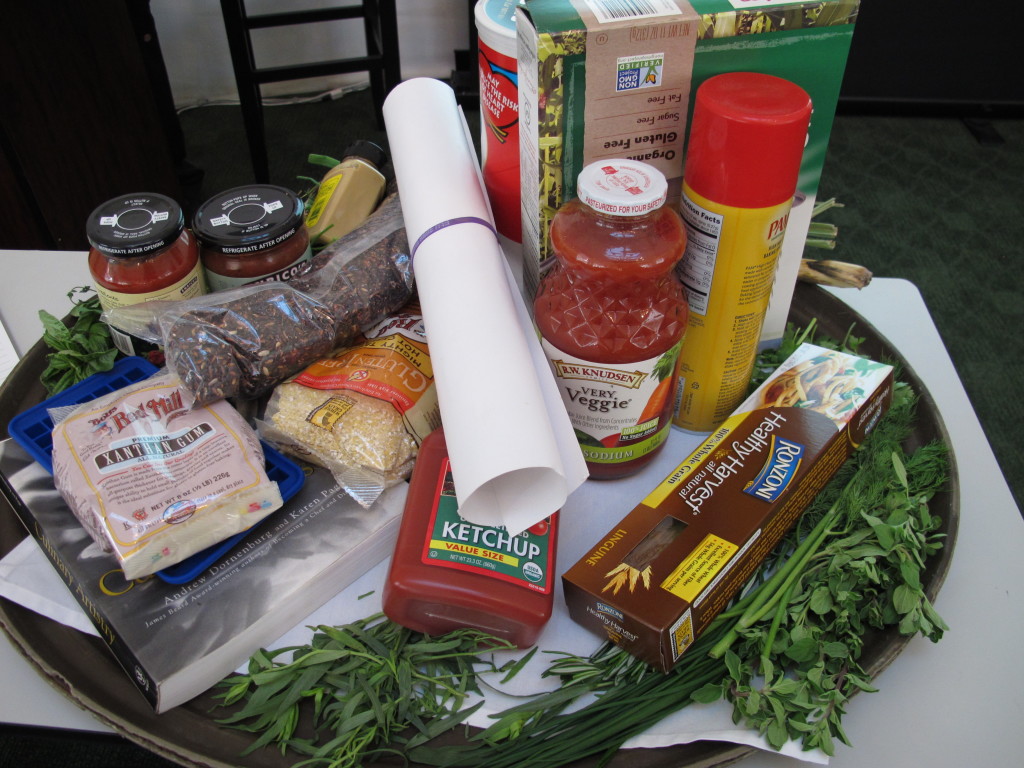 Next was a lecture about "Become Your Own Pritikin Chef at Home".  A few takeaways from this lecture:
Shop the perimeter of the store where the fresh foods are found – the fruits, vegetables, fish, and poultry. If you need to buy frozen fruits and vegetables, that is okay too – just try to avoid canned at all costs.
Whole grains are good. Experiment with grains to make risottos, salads, non-cow burgers, and cereals. Herbs and spices are keys to lots of low-calorie flavor. Skip the oils and butters.
Potatoes are healthy – just don't drench them in butter and salt.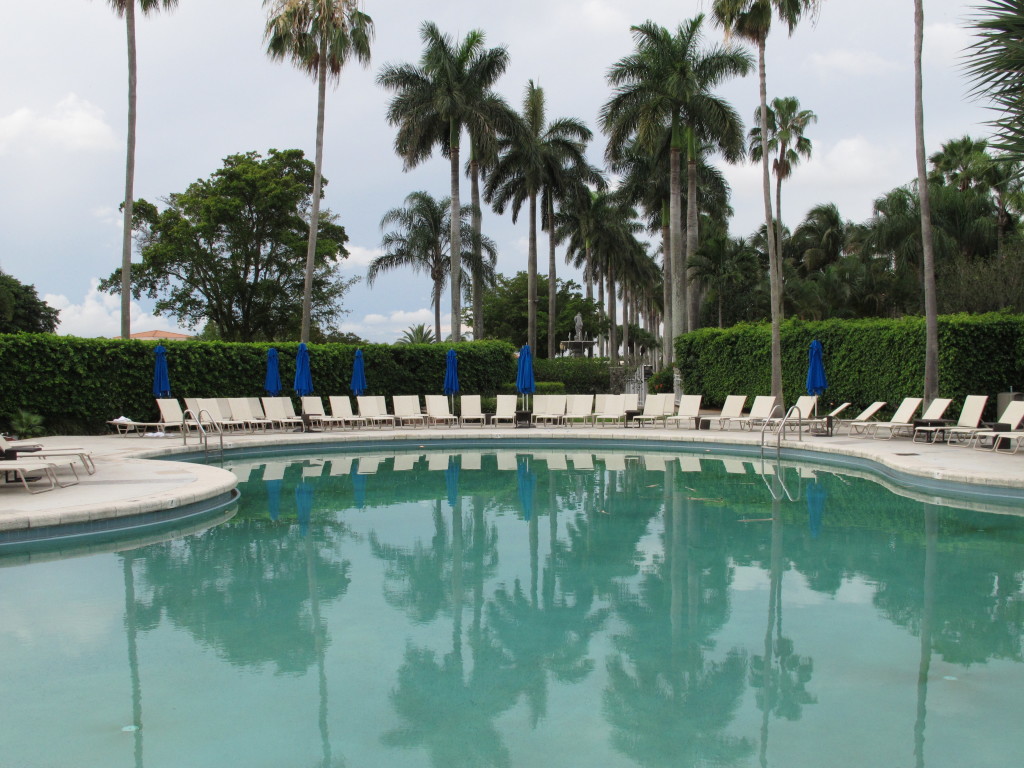 Although the sun was still up, it was time for dinner.  Until this point, I had been dining alone–something I really don't mind doing.  One of the other Pritikin guests noticed I was alone and asked if she could join me.  You may go to Pritikin alone, but will never be lonely as you are sure to find camaraderie and a great support group.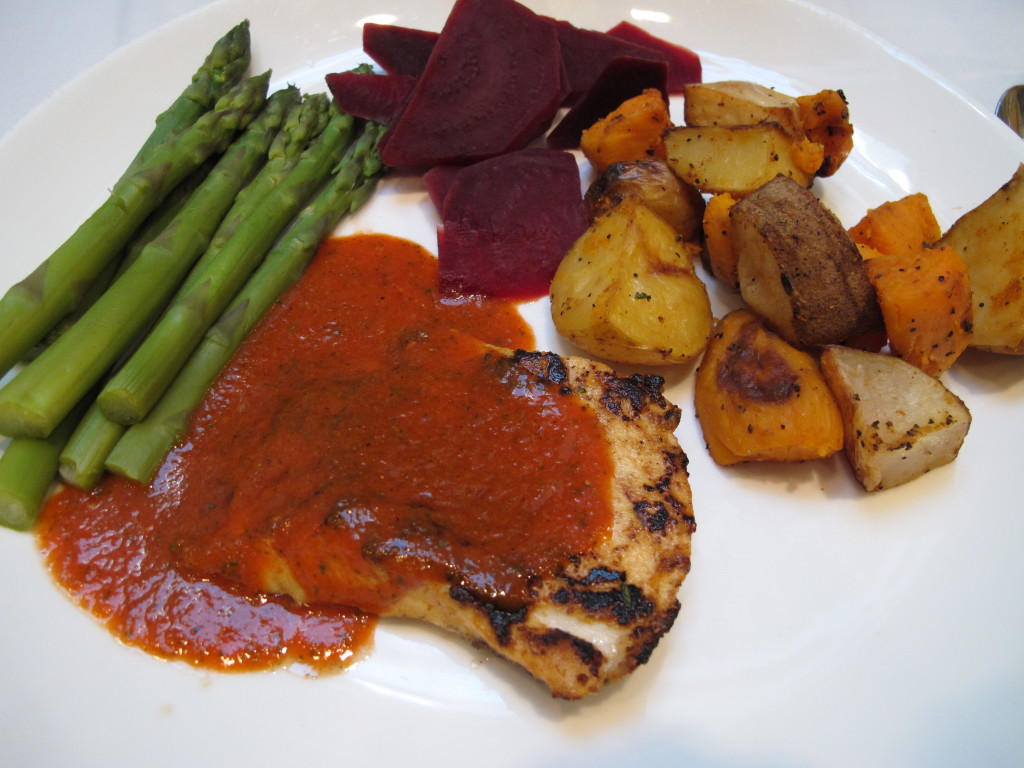 The first course was a red bean soup and it was actually the only item during my Pritikin visit that I did not find very tasty– it simply didn't have quite enough flavor for my palate.  The soup was followed by an artichoke heart and mushroom salad which was very tasty.  The main event was sea bass.  It was cooked perfectly and served with a flavorful tomato sauce.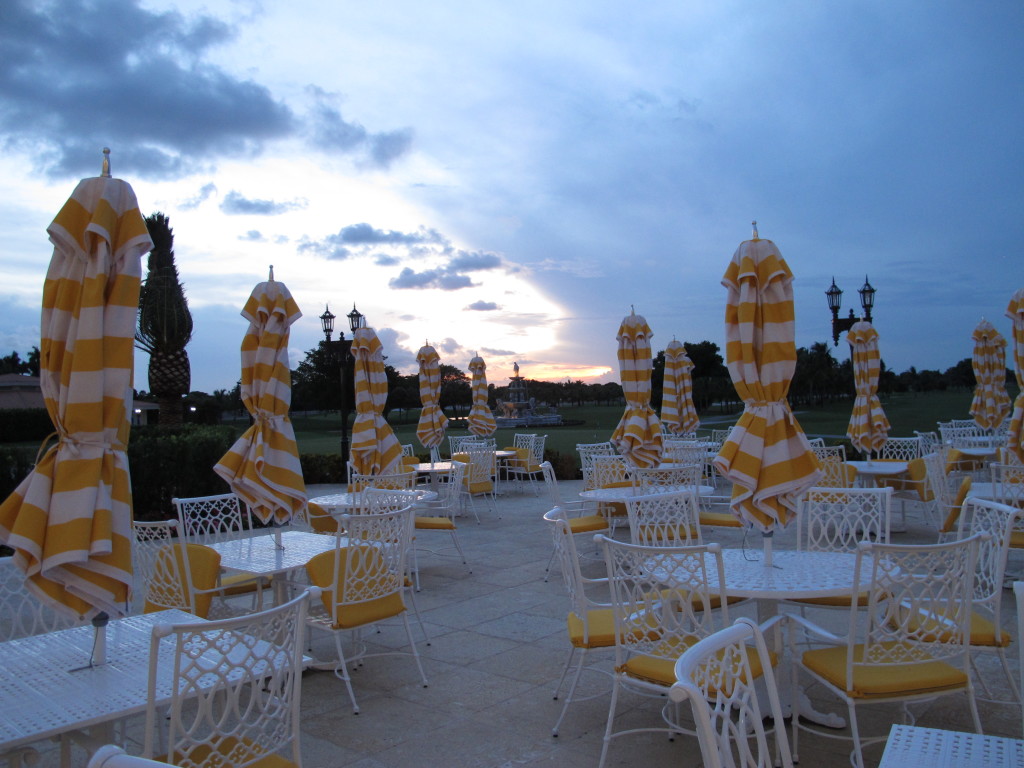 It had been a full day of exercise, learning new techniques in the kitchen, and making new friends.  The sun was finally setting, and I decided to stop next door at the Doral Resort for a glass of wine and a grand view of the sunset.  The bartenders remembered me from the previous night—not sure they get too many Pritikin guests in the cocktail lounge—and insisted that I come back for dinner before my visited ended.  A glass of a Super Tuscan and a beautiful sunset made for a wonderful ending to a very good day.  The only negative was not being able to locate the LA Kings Stanley Cup playoff game on TV.  Cie la Vie.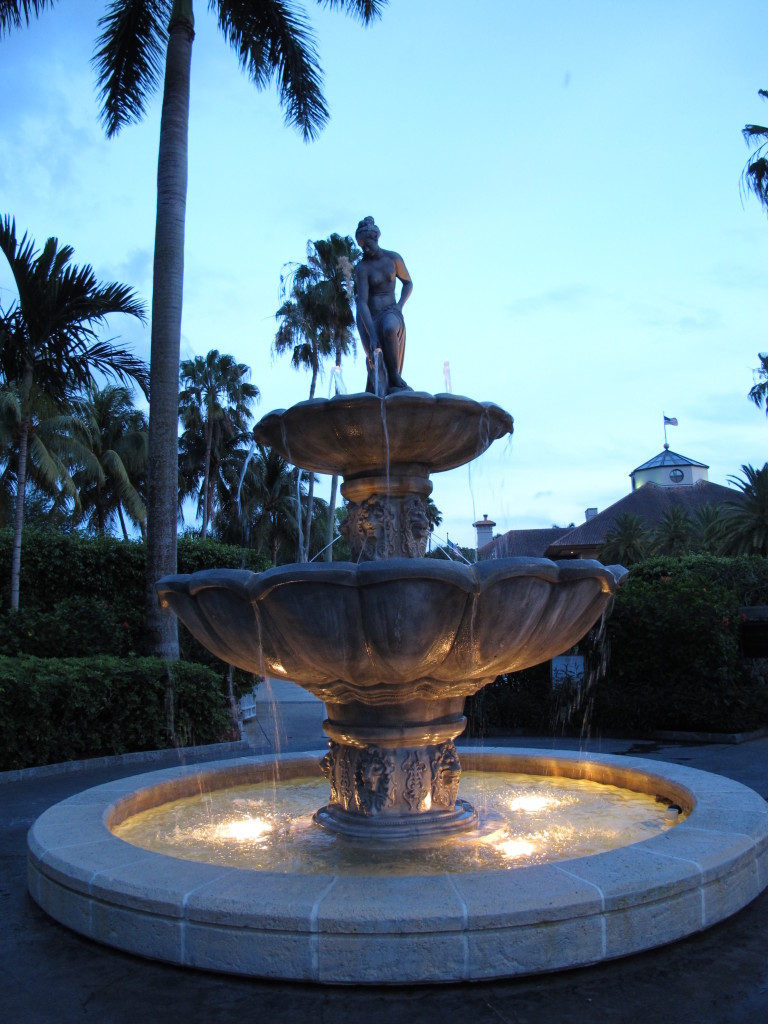 Day 2:
It's Saturday and my inclination is to be lazy and stay in bed.  After all, this is sort of a vacation.  But I was feeling surprisingly refreshed and decided it would be best to get up and start the day off right.  Plus I had met a few Pritikin guests who had invited me to join them for breakfast.  This time I had an omelet with some fresh fruit and mint tea.  Enough food to provide energy, but not so much to drag me down in the  exercise classes.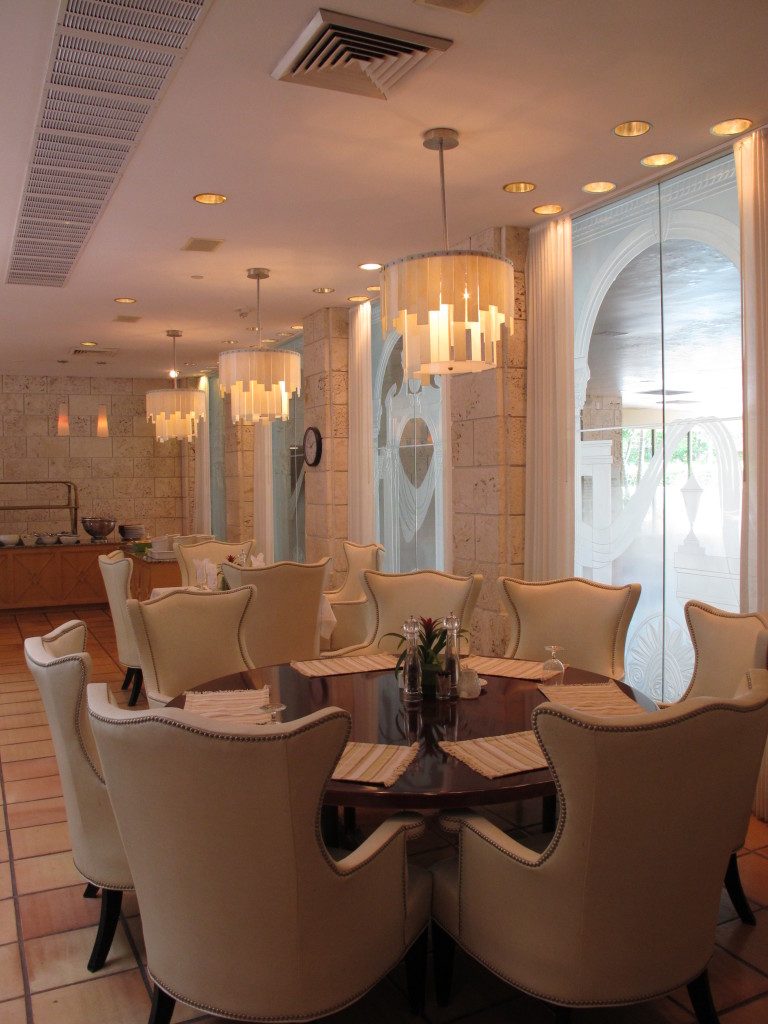 The first class was Core Stretching.  Stretching is a great way to start the day.  It gets the blood flowing in your body and you just feel better afterwards.  At home, I have a stretching program (Classical Stretch) that I love and many of the exercises are similar to what the instructor was teaching.  When I first read that Pritikin recommends stretching every day for 15 minutes, I restarted a program in April and now stretch for 25 minutes every morning after walking the dogs.  Since starting this daily regimen, my body actually feels like flexibility and tone are returning.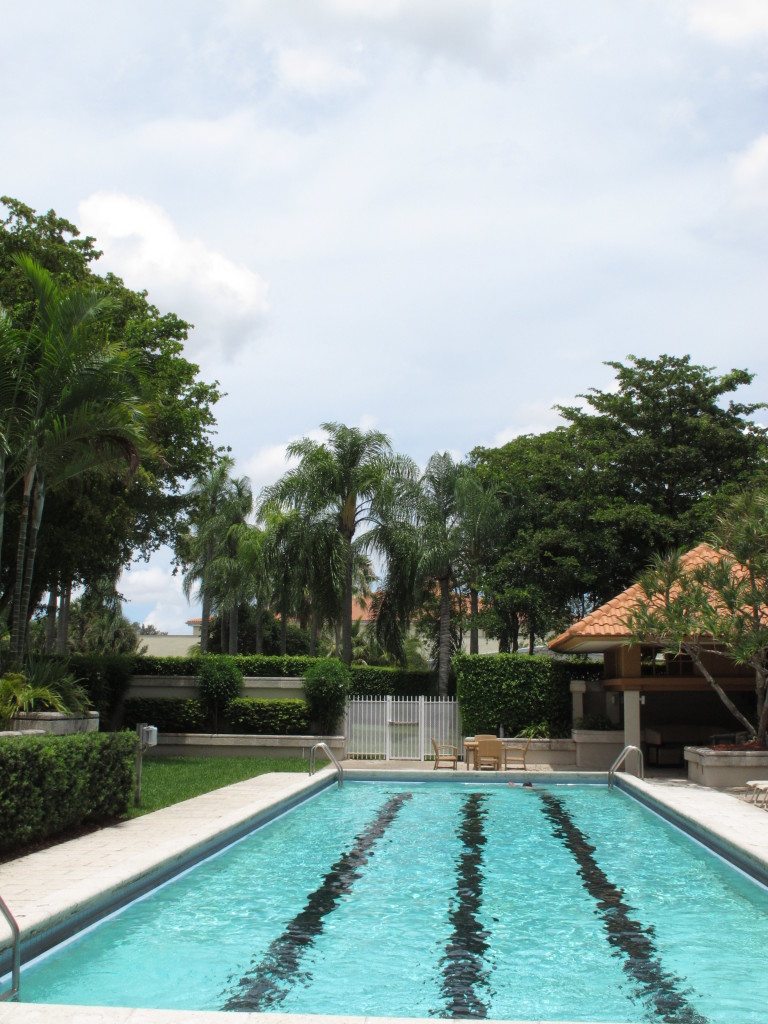 I live in the desert and the pool is an essential part of life six months out of the year.  Thus I'm always looking for new ways to exercise while in the pool.  So I was looking forward to my next class, Aquatics, and it did not disappoint.  Aquatics are low-impact water exercises that are easy on your joints, but also give you a great cardio workout.  If you love the water, I strongly urge that you look into finding an aquatics class in your neighborhood or buy a video for exercises at home if you have a pool, a very deep bath, or nearby fishing hole.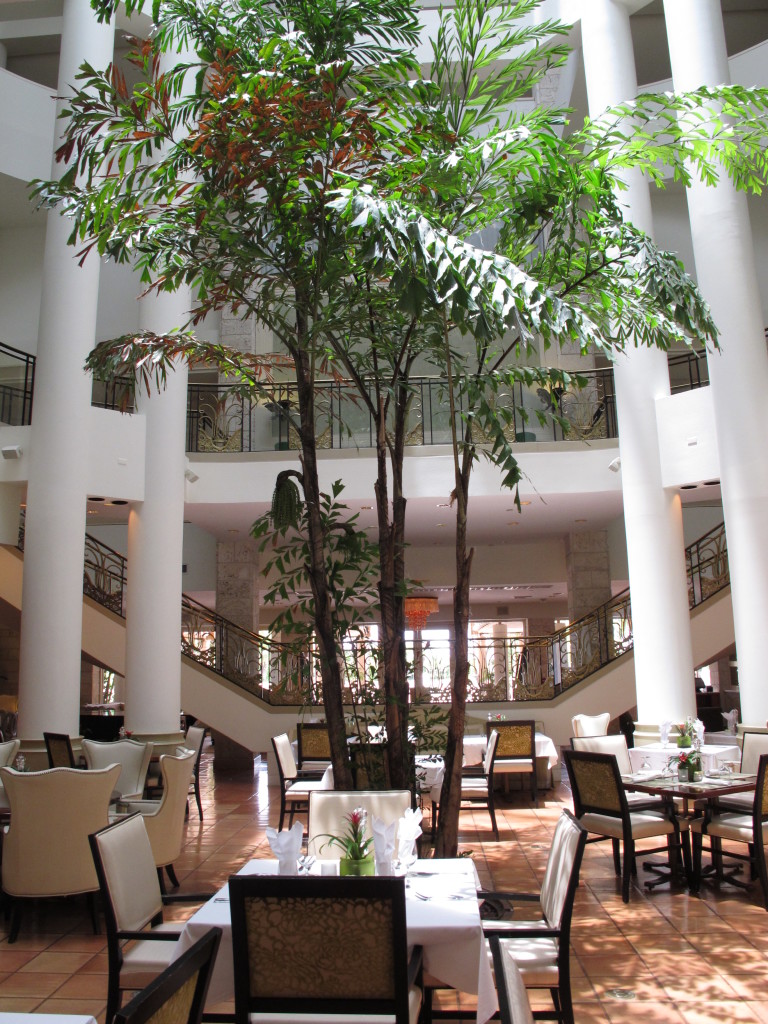 After Aquatics, it was time for some pampering.  So I had a facial at the famous Doral Resort Spa.  The spa is enormous and has all the facilities necessary to provide lavish, world-class services.  The saunas, steam rooms, and plunge pools encourage one to arrive early and use them before a scheduled appointment, which is exactly what I did.
After lunch, I attended the last cooking class of my visit.  The curriculum consisted of Sautéed Spinach and Garlic Roasted Tomatoes, Individual Vegetable Pizza, and Blueberry Yogurt Swirl.  I noticed the chef chopped mostly with an offset serrated bread knife and questioned his knife selection.  Turns out he prefers the serrated edge as it dulls less frequently, thereby reducing your risk of cutting yourself because the knife you are using is not sharp.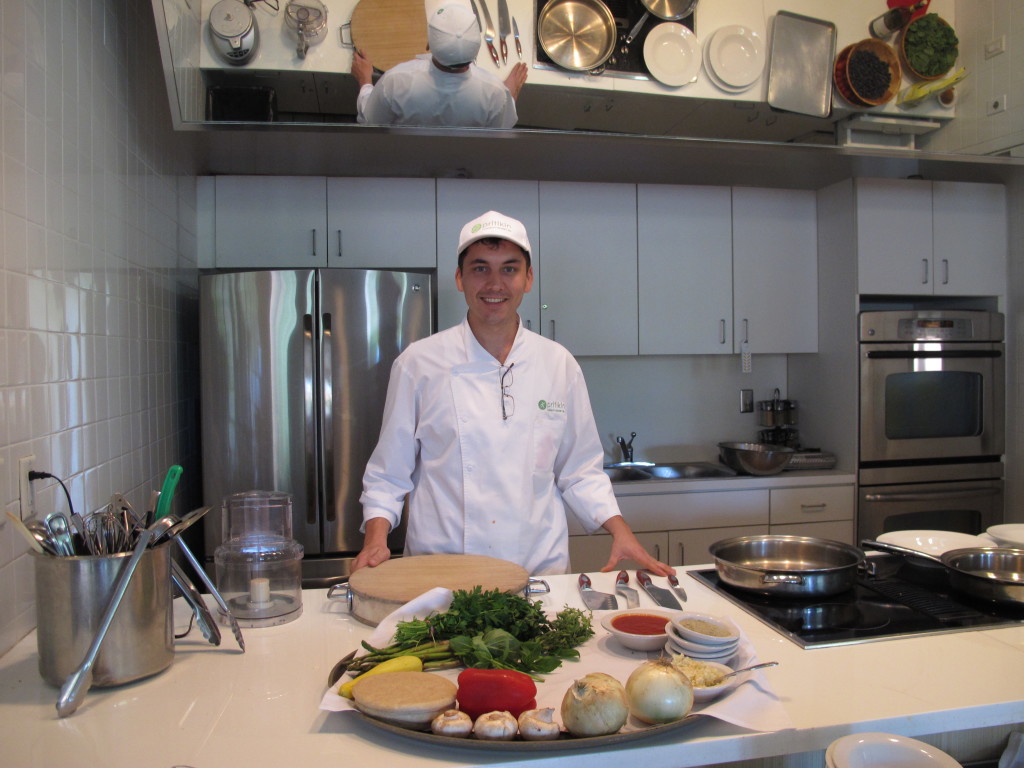 The Pritikin program encourages stress relief, and I am an apt student—particularly when it suits my purpose.  The Doral Resort Spa offers panoply of massage options and back I went to explore one of them.  After a rigorous two days of exercise, education, and eating, I was ready for the therapeutic benefits of a long, deep massage.  Now this is a lifestyle component I can enthusiastically embrace!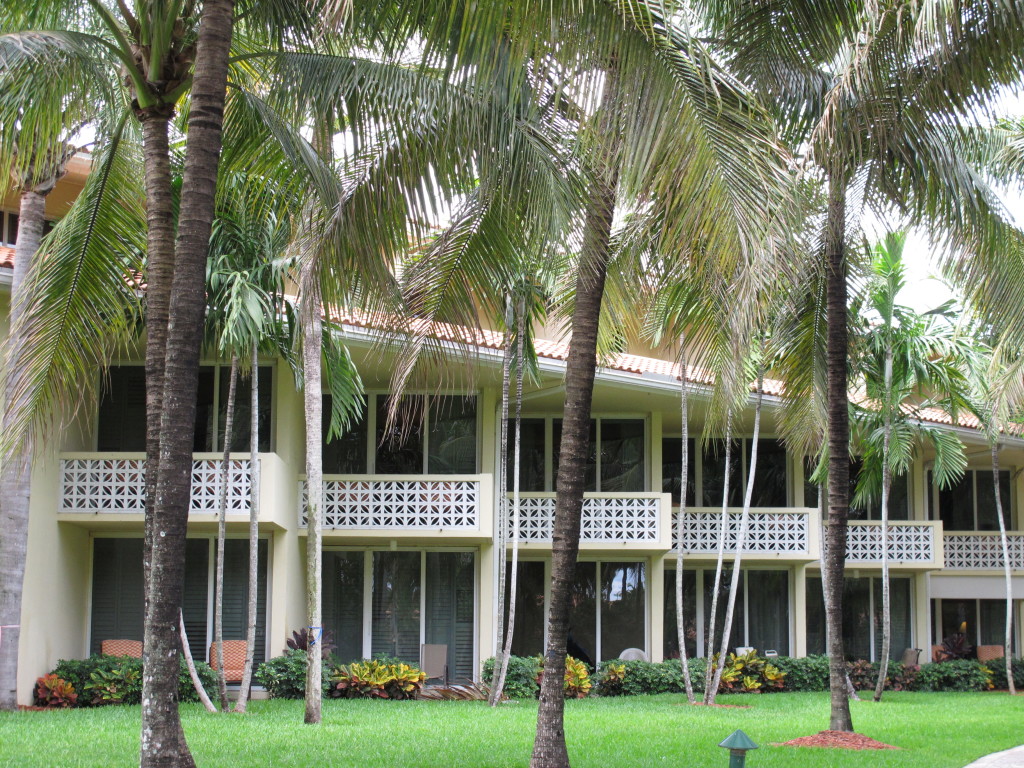 Relaxed as a noodle, I desired a fine evening's repast.  Because the bartenders had insisted, I decided to treat myself to a wonderful meal at the BLT Prime restaurant.  I sipped a Martinez Cocktail while the friendly waiter offered suggestions about items to try.  As beef had not touched my lips for a week and I was in a manly steakhouse, my menu was crafted around high-quality bovine dishes.  Since I had overdosed on salads during my Pritikin stay, my first course was the Filet Steak Tartare with traditional garnishes and country bread.  The country bread was grilled and added a complimentary crispness to the buttery steak tartare that literally melted in my mouth.  Next I went for the smallest piece of meat I could find – a 12 ounce filet mignon.  It was cooked to perfection, which for me is medium-rare.  Creamed spinach and mashed potatoes were brought to the table in adorable little baking vessels.  As I often write about the importance of wine when devouring a hunk of meat, I followed my own teachings and savored yet another glass of Super Tuscan.  Feeling guilty, I skipped dessert and a second glass of wine.  Call that abstinence my homage to the Pritikin program.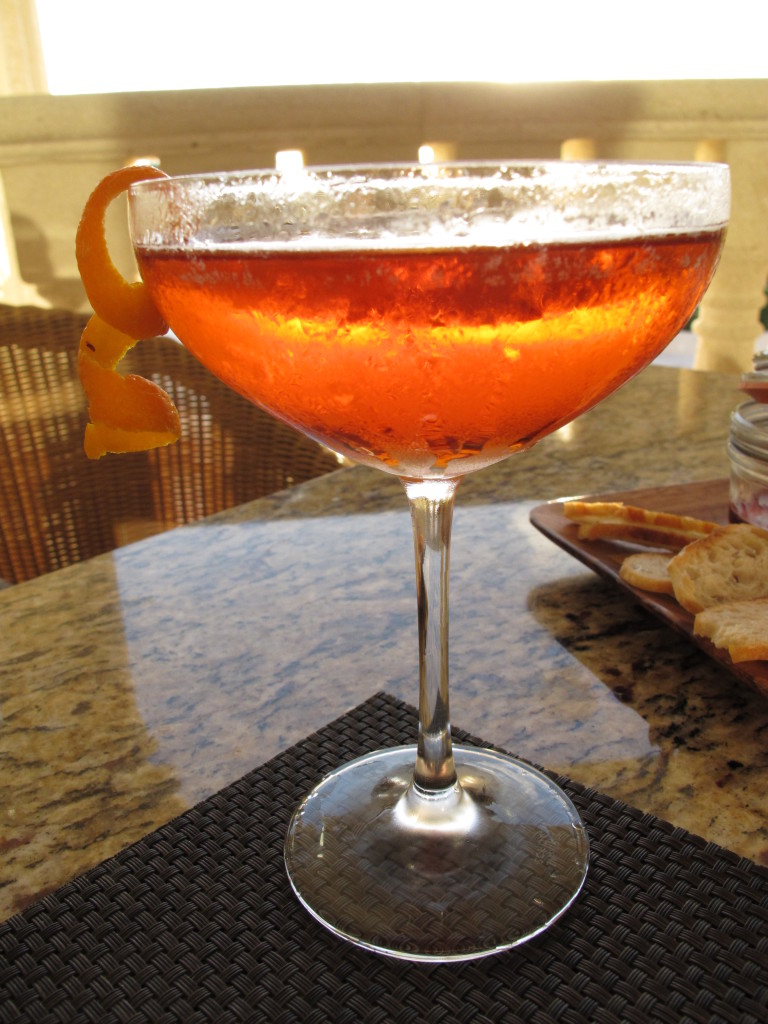 Departure:
Cross-country travel often requires sacrifices, and returning home was no exception.  In order to see my Havanese kids before dark, I was up at dawn, rushed through airports to grab some pre-packaged processed food in order to make tight connections, and squeezed into seats the width of a child's booster chair.  But the long plane flights afforded ample time to contemplate my Pritikin experience.  My thoughts:
The Pritikin program is a comprehensive, medically-directed health and wellness experience.  As noted in its website, the experience consists of hotel, dining, medical, exercise, and healthy living education.  Two days is not enough time for complete immersion in the program, and that is why the Pritikin programs are at least one week and many guests stay much longer to maximize the results.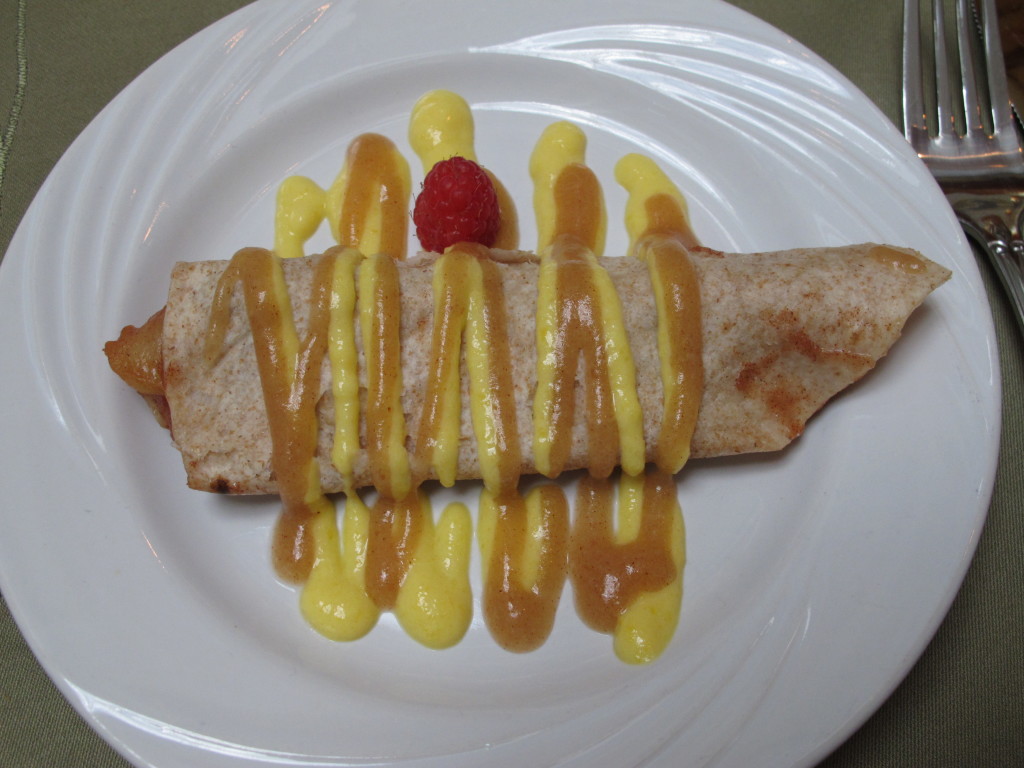 Pritikin is indeed a lifestyle, but one that is crafted for the individual.  The health and fitness assessment and the availability and involvement of onsite medical staff speak volumes about the seriousness of the program and its goals.  It is a program that requires effort, dedication, restraint, and forbearance.  Otherwise, you are likely to succumb to temptation every time your spouse decides to have a Big Mac and fries for lunch.  If you don't plan and keep healthy food and snacks around you, you are setting yourself up for failure as grabbing a soda or handful of M & M's is much easier than going to the store for the good stuff.  Most restaurants are not cooking with a healthy lifestyle in mind, and even their "healthy" options are frequently laden in salt and fat and are highly caloric.  So restraint must be my mantra when it comes to restaurant dining.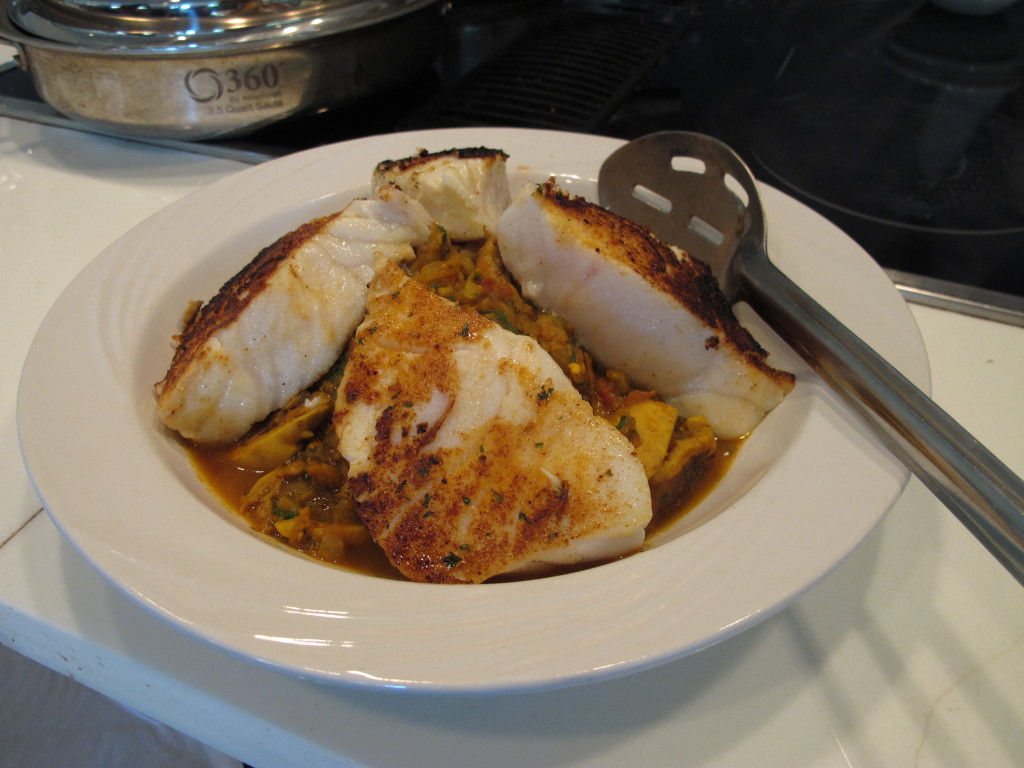 The Pritikin Longevity Center provides a wonderful venue.  The guests are there for a mutual purpose, although their individual needs may be widely different.  So it is like a club where persons of like interests find common ground and support the efforts of others in their quest for a healthy lifestyle.  Although my time at Pritikin was short, I was able to see real benefit from eliminating the harmful effects of salt, sodas, and high caloric foods.  I actually lost some weight and bloat, notwithstanding my excursions to the BLT Prime restaurant.  And the educational programs and constant reminders about healthy eating made me want to disassociate myself from junk funds and focus on fresh fruits and vegetables, grains, white meats, and fish.
Oh, and one last thing.  Eating healthy the Pritikin way does not mean consuming food with the taste and consistency of cardboard.  Remember, you can eat pizza on this program and it is darn delicious!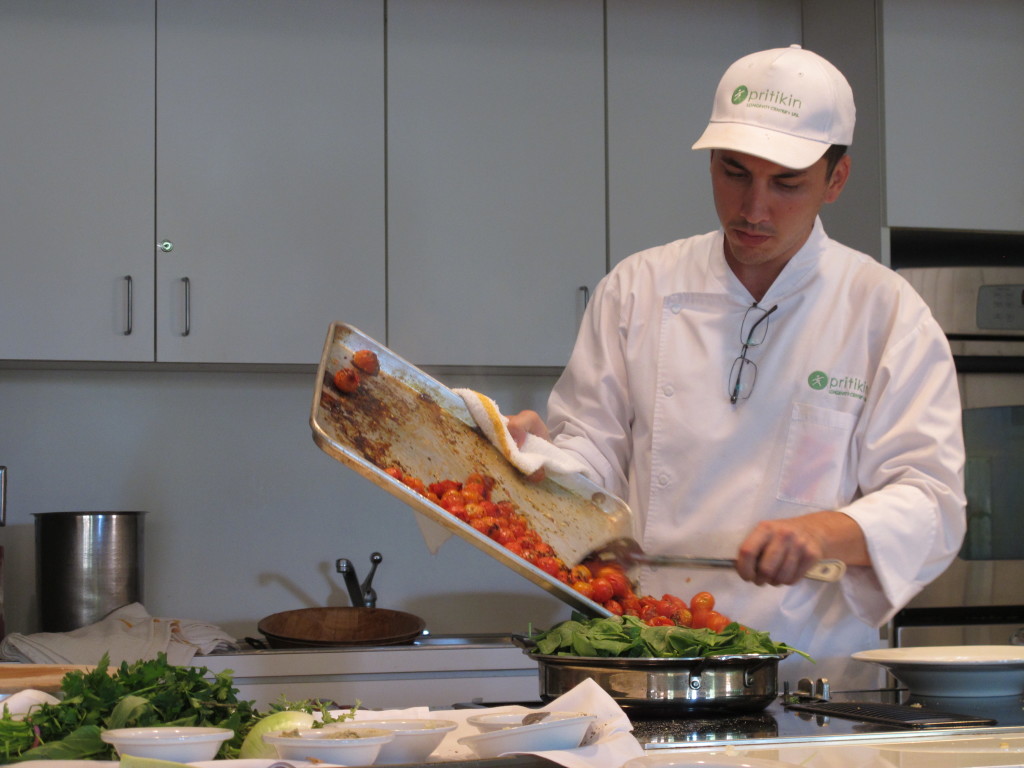 Vegetable Pizza
Ingredients
1 red pepper, julienne
1 yellow pepper, julienne
1 zucchini, julienne
1 red onion, julienne
1 cup domestic mushrooms, sliced
chopped garlic to taste
1 teaspoon dry oregano
½ t black peppercorns, ground
1 cup fat free mozzarella & parmesan
1 cup marinara sauce
8 individual pizza dough – whole wheat if you are not using Pritikin frozen pizza dough
Instructions
Mix all the vegetables with oregano, garlic and pepper. Saute for 1 minute and let cool. Lay out pizza dough on a baking pan. Add 2 tablespoons sauce on each dough and spread out. Layer even amounts of vegetables on each. Sprinkle with parmesan and mozzarella.
Bake at 450 degrees until crust is crunchy about 8 minutes.
Serve immediately