Italy vs. USA.  Yes, that would have been a great World Cup final.  But I am talking about another great summer competition:  the interlude between work and dinner.  In Italy, this intermezzo is called "Aperitivo," a word that means "open the palate" but also signifies the end of the work day and the start of a social evening.  In the USA, this interval is called "Happy Hour" and generally, but not always, starts at the end of the work day.  However, in resorts and retirement areas like the Coachella Valley, Happy Hour may simply mean the time of day or night when a bar or restaurant reduces the price of cheap booze and tacky appetizers to a level deemed irresistible by the geriatric set.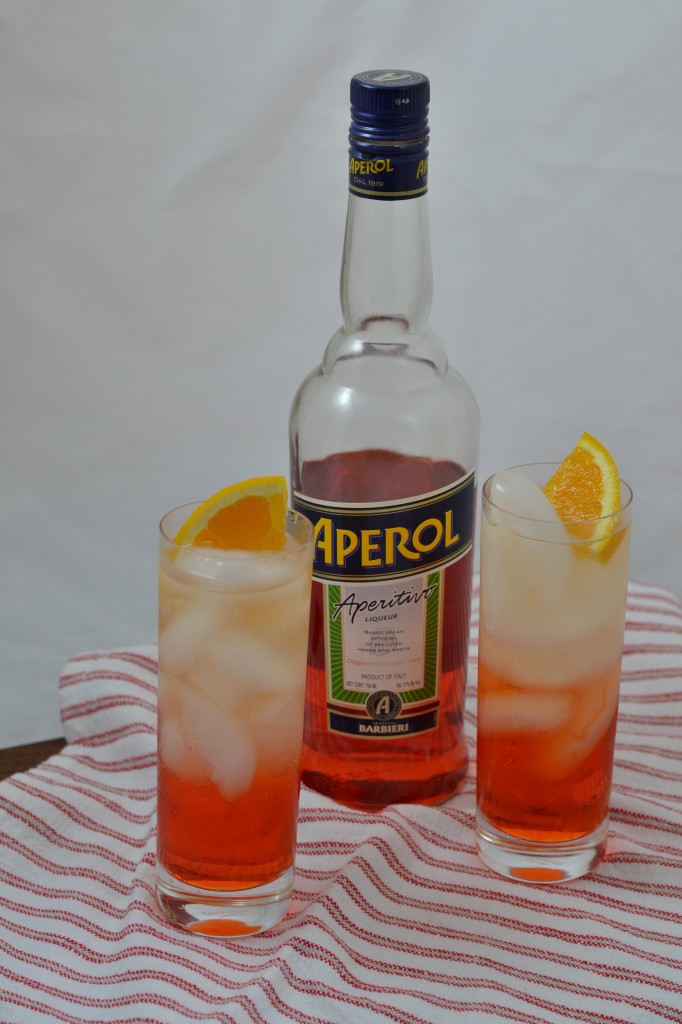 The Italians certainly consider themselves more sophisticated than Americans, and point to fashion and lifestyle to support this contention.  Although I am USA through and through, I must say there is some merit when comparing Aperitivo to Happy Hour. In Italy, Aperitivo is intended to "awaken the palate," not dull it senseless.  So what one drinks during Aperitivo is just as important as what one eats.  And what one drinks must pair perfectly with Carpaccio, Giardiniera, Prosciutto and Melon, Cheese, and Caprese, the cornerstones of Aperitivo.  In contrast is the USA Happy Hour.  When I think Happy Hour, I envision beer, cheap wine, unidentifiable well liquors, chicken wings, nachos, peanuts, potato chips, salty trail mix, and sliders that are made in the classic vinaigrette 3:1 proportion:  in this case, three parts stale, flabby bun to one part yesterday's ground something.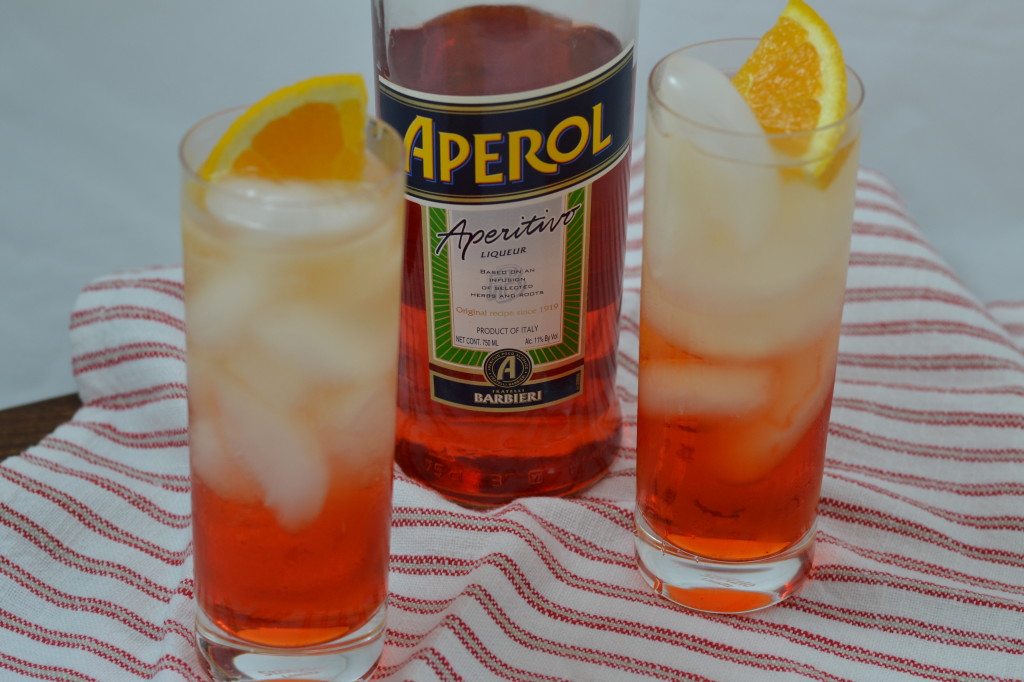 For this week's Weekend Wine Pairing, I decided to make a drink that uses one of Italy's favorite aperitifs served during Aperitivo.  Aperol originated in 1919 in Padua, Italy and is attributed to the Barbieri Brothers.  It is bright orange in color with a uniquely sweet-bitter taste and a low alcohol content of around 11% which was considered groundbreakingly low at the time and remains so today.  The Aperol Spritz is a perfect pairing with Aperitivo and its  preparation is so simple even a novice bartender can make this blindfolded, assuming all the ingredients are at hand and you have practiced first.  Just fill a tall glass with ice, pour in two ounces of Aperol, and add three ounces of Prosecco, a splash of tonic water, and a slice of orange (making sure you rub the orange around the rim of the glass and squeeze a little of its juice onto the mixture).  Prosecco is one of my favorite sparkling wines.  It is the Italian form of Champagne and is generally lighter in alcohol and a smidge sweeter than a Brut Champagne and is perfect for quaffing on its own at any time during the hot summer months.  Once you have tried the Aperol Spritz, it will be una bevanda per la vita (a drink for life).
Aperol has a great video on its website that shows how simple this drink is to make.
Wine Pairing Weekend #2 Bloggers: Be sure to check out the great pairings my fellow bloggers have come up with for the first Wine Pairing Weekend! 
Culinary Adventures with Camilla is posting "Green Fig Ice Cream + Cambiata Albariño"
Vino Travels — An Italian Wine Blog will share "Orzo salad and Trebbiano d'Abruzzo"
Curious Cuisiniere is posting "Grilled Trout paired with a Tropical Fruit Viognier"
ENOFYLZ Wine Blog is pairing "Ceviche and Tablas Creek Picpoul Blanc"
Take a Bite Out of Boca will share "Grilled Mango-Sriracha Shrimp, Pineapple and Peppers paired with Burg Layer Schlosskapelle Spatlese Kerner"
foodwineclick is sharing "Steamers and Cava on the Porch"
Cooking Chat is pairing "Grilled Salmon with Mango Salsa and a White Burgundy"
Join the #winePW conversation: Follow the #winePW conversation on Twitter throughout the weekend and beyond. If you're getting this early enough, you can join us for a live Twitter chat on our theme "Wine Pairings for Grilled Meat" on Saturday, July 12, from 11 a.m. to noon Eastern Time. You can also visit our group Pinterest board to pin some great pairing ideas for later! Stay tuned for the August Wine Pairing Weekend, which will focus on "Wine for Summer's Bounty" on Saturday, August 9.
Aperol Spritz
Ingredients
Ice
2 ounces Aperol
3 ounces Prosecco
Splash of Tonic Water or Mineral Water
Orange Wedge to Garnish
Instructions
Place ice in a tall glass. Pour 2 ounces Aperol over ice. Add 3 ounces Prosecco. Top with splash of tonic water or mineral water. Gently stir or swizzle to mix ingredients. Garnish with orange wedge.