"Popeye, for all his veritable strengths, would be hard pressed to cling to a rock in a storm in the North Sea. Yet the humble bivalve mollusc that is the mussel does this without having to consume vast and unpleasant amounts of spinach. Moreover, they can cling to the rocks in awful conditions and still produce meat which is not only sweet but also tender. "– Oliver McKinley, The Yorker
When I think "muscles," I think of Popeye. Because I am somewhat spelling-challenged and use phonetics as a crutch, maybe it was not surprising that "mussels," the bivalve, made me think of Popeye, and apparently I'm not the only one who made that connection. I was amused to find the above quote in an article by Oliver McKinley in the online version of The Yorker. There was even an online instruction course on how to make Popeye Shots (Spinach and Mussel Soup in Shot glasses) that I will pass on, and Martha Stewart even had a little ode to Popeye in her Popei Mussel Platter that is named after the famous spinach-eating sailor. But the star of this article is the humble mussel and not the peripatetic Popeye.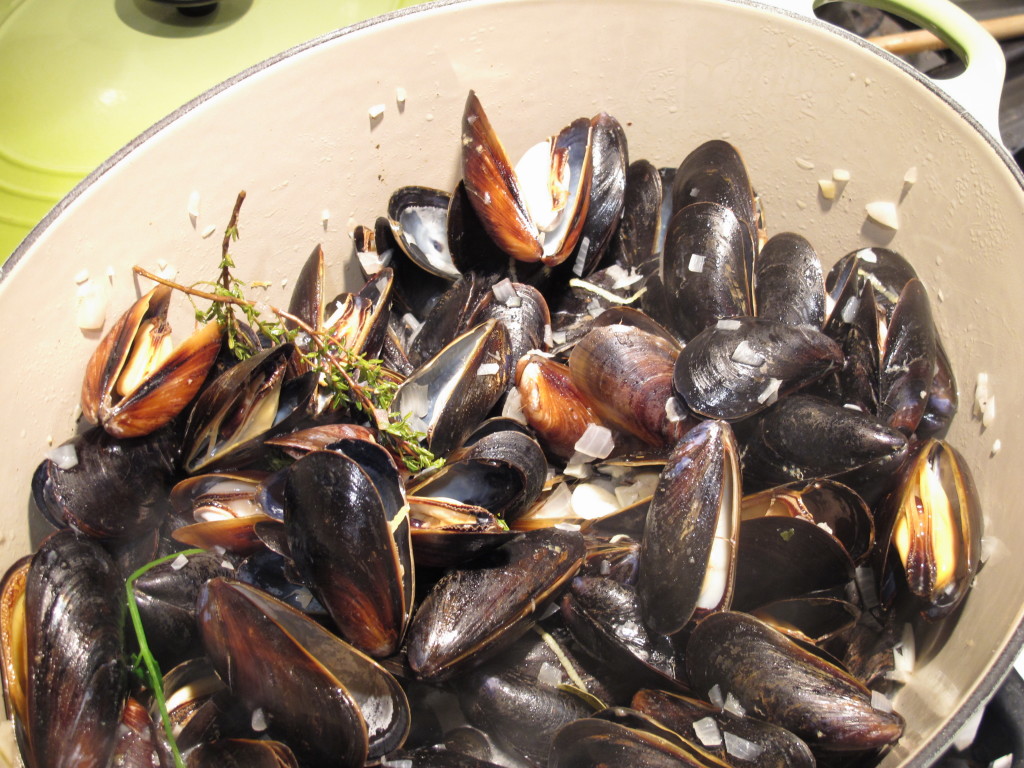 Mussels are gourmet food on the cheap and make for shabby chic bistro fare. They have been used as a meat substitute for years, and were frequently found in diners in the U.S. during war-time when red meat was hard to find. Nowadays, you can find mussels from around the world just by visiting your local grocer or fishmonger.
This week our French Fridays with Dorie assignment was Moules Mariniere, a very traditional way of serving mussels at many bistros in France. A little chicken stock, butter, wine, and garlic and–Voila!–dinner is served. A hunk of hot, crusty bread to soak up the broth, a batch of crispy pommes frites, and a nice chilled white wine complete the meal. What's not to love when you can make a great meal in less than 10 minutes?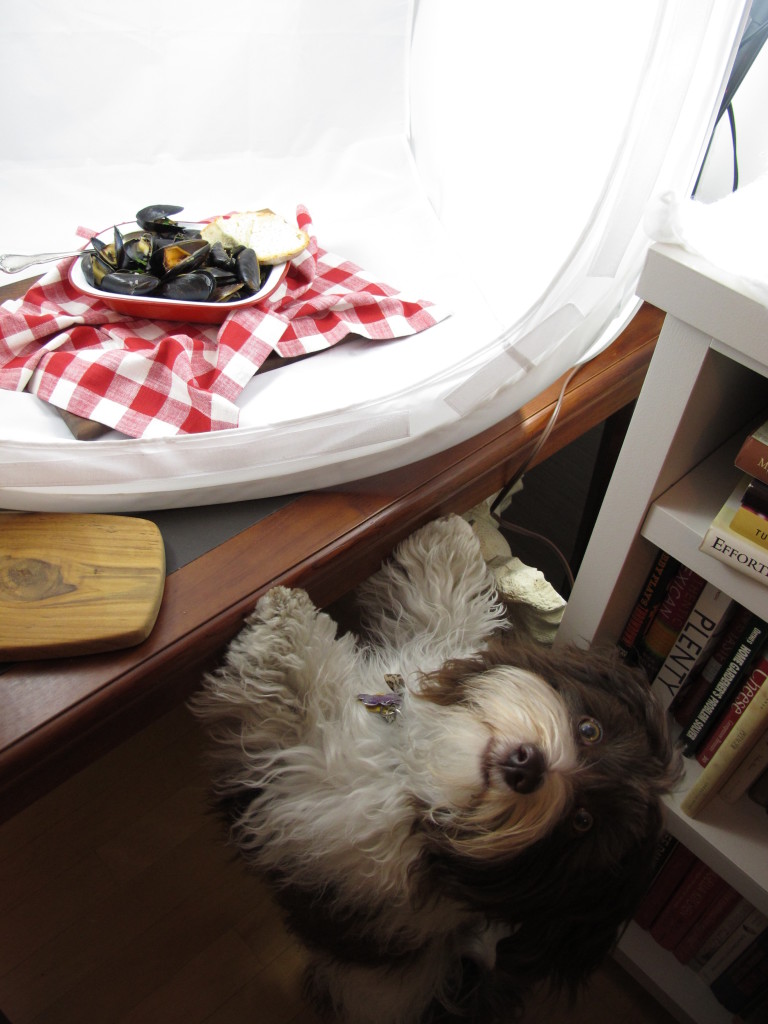 Mussels also happen to be a most adaptable ingredient, which is why you see so many versions by region and country. Just change the broth, seasonings, and enhancements and you can create a totally different flavor profile. Mussels are also a rather fail-proof meal for they tell you when they are done. No need for timers or meat thermometers. Just wait until they open. About the only way you can really screw-up mussels is to eat the ones that don't open. Consider yourself warned: buy only mussels that are closed (some claim a mussel is alright to buy if it closes when tapped, but who wants to buy something that is playing possum?) and open when cooked. Do not force open and eat any mussel that has not willingly shared its secret delights or you will pay the consequences. Ever hear of Montezuma's Revenge?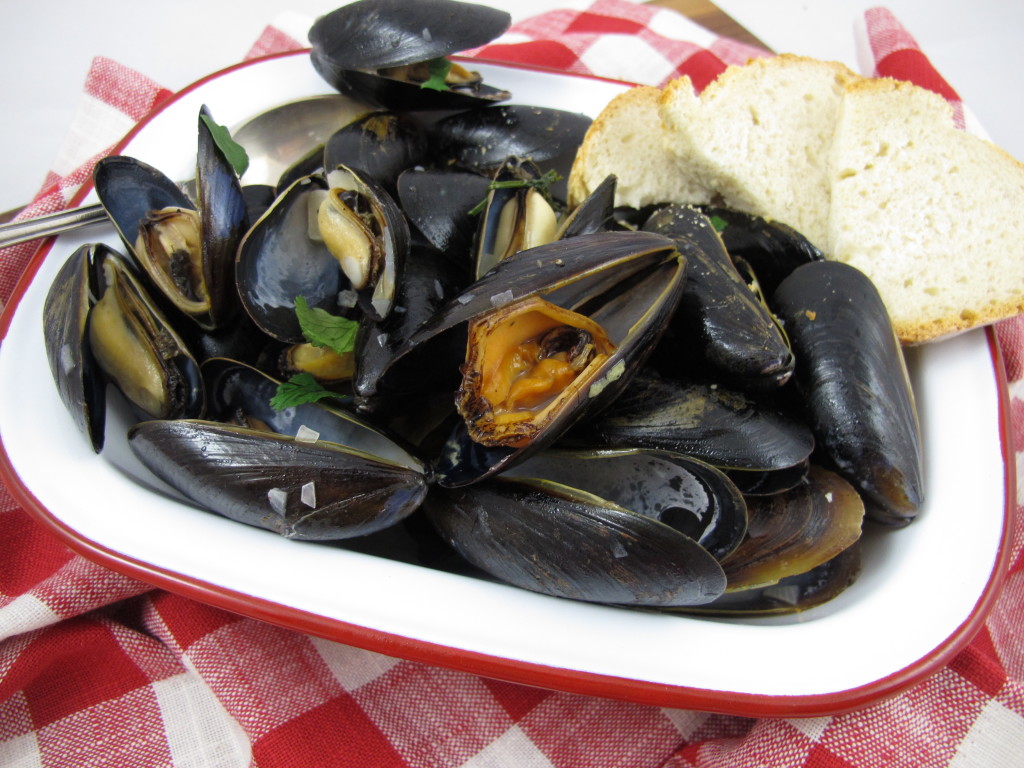 As you know, we don't print the recipes for French Fridays with Dorie and instead encourage people to buy the book and cook along with us. This week though, I'm sharing a very special recipe for mussels courtesy of Chefs Press that can be found in its new cookbook Living Coastal by Jolee Pink. For those who live in cooler climates and are dreaming of warmer weather, this book is perfect for you – it epitomizes our Southern California Lifestyle and is a little sunshine and ocean breeze on each page.
What I love about this preparation of mussels are the subtle layers of flavor that are built from the addition of fennel, linguica (Portuguese sausage), and fish stock, and the zing that is added by the jalapeño butter. This recipe is ready in minutes and the most labor intensive aspect is the jalapeño butter, which can be made ahead of time. What are you waiting for – impress someone today with this budget friendly, chic meal!
Would you like to join Fish Friday Foodies?  We post and share new seafood/fish recipes on the third Friday of the month.  To join our group please email Wendy at wendyklik1517@gmail.com.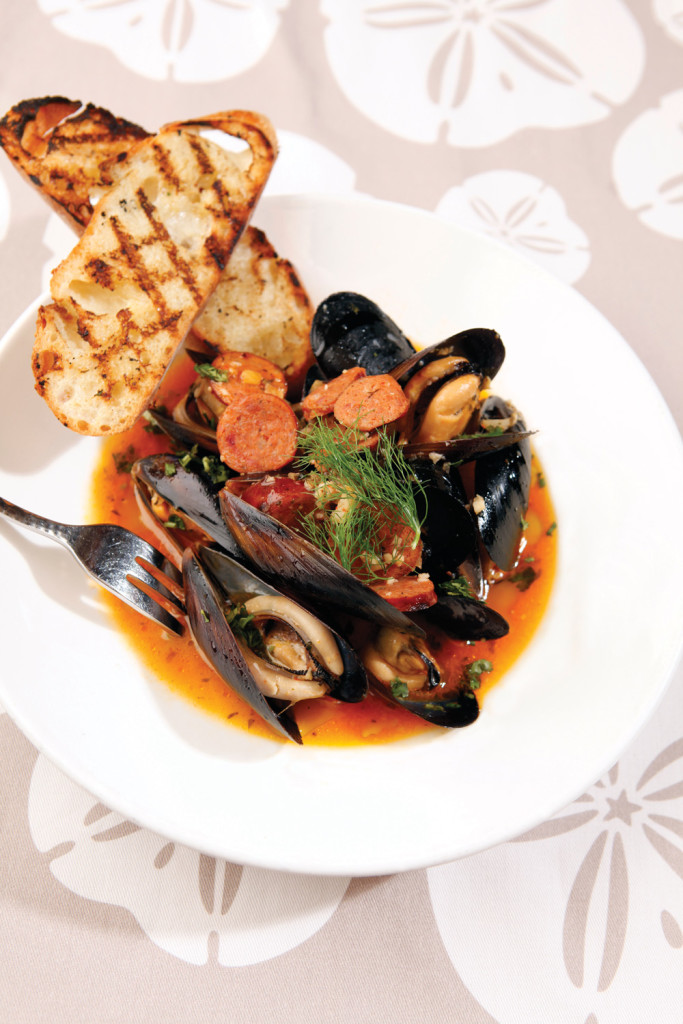 mussels with fennel and linguica in red jalapeño broth
This dish can be whipped up in minutes and easily multiplied to serve as many as you would like. If you can't find Linguica, try Chorizo or a Hot Italian Sausage.
Author:
Living Coastal – Jolee Pink, and Chef Paul Arias
Recipe type:
Entree, or Appetizer
Ingredients
Jalapeño Butter
5 or 6 red jalapeños
½ cup (1 stick) butter, softened
Mussels
1 tablespoon shallots, minced
1 tablespoon garlic, minced
1 tablespoon fennel, minced
1 pound mussels, cleaned, debearded, and patted dry
½ cup white wine
1 cup fish stock
1 lemon, juiced
2 ounces linguica (Portuguese sausage), cooked and sliced
Salt and freshly ground black pepper, to taste
Finishing touches
½ bunch fresh cilantro leaves, chopped
Olive oil, for drizzling
Good crusty bread, sliced and toasted
Instructions
Preheat a grill to high.
Roast jalapeños until skins blister. Cover and let cool. Peel and deseed. In a food processor, purée butter and chiles. Transfer to a small bowl and refrigerate.
Sauté shallots, garlic, and fennel with 1 tablespoon jalapeño butter in a hot skillet on medium-high heat for 1 minute. Add mussels and sauté for 2 minutes, stirring frequently. Add wine carefully to deglaze the pan, then add fish stock. Cover tightly and steam for 3 to 4 minutes, or until all mussels open. Discard any that don't. Add another tablespoon of jalapeño butter, lemon juice, and linguica. Taste and season.
Place mussels in a wide-rimmed bowl, sprinkle with lots of cilantro, drizzle with olive oil and serve with pieces of crusty bread.
Click on the link below to view all the great #FishFridayFoodie recipes this month. Next month we are featuring Soups and Stews!