It's National Squash Day, but here in the desert the response is like a tree falling in the forest when there is no one to hear it.  Rather than promoting squash, Bristol Farms was in a frenzy over Hatch Chiles and had set up several outdoor roasters that increased the already unpleasant temperature but inundated the parking lot with the robust fragrance of roasting chiles.  The aroma was downright intoxicating.  So rather than roast some squash for a ubiquitous squash soup for Sunday Supper—which could not compete in any way, shape, or form with the compelling fragrance of the roasted Hatch Chiles–I decided to expand on the "intoxicating" theme by creating a recipe for one of my favorite squashes:  pumpkin.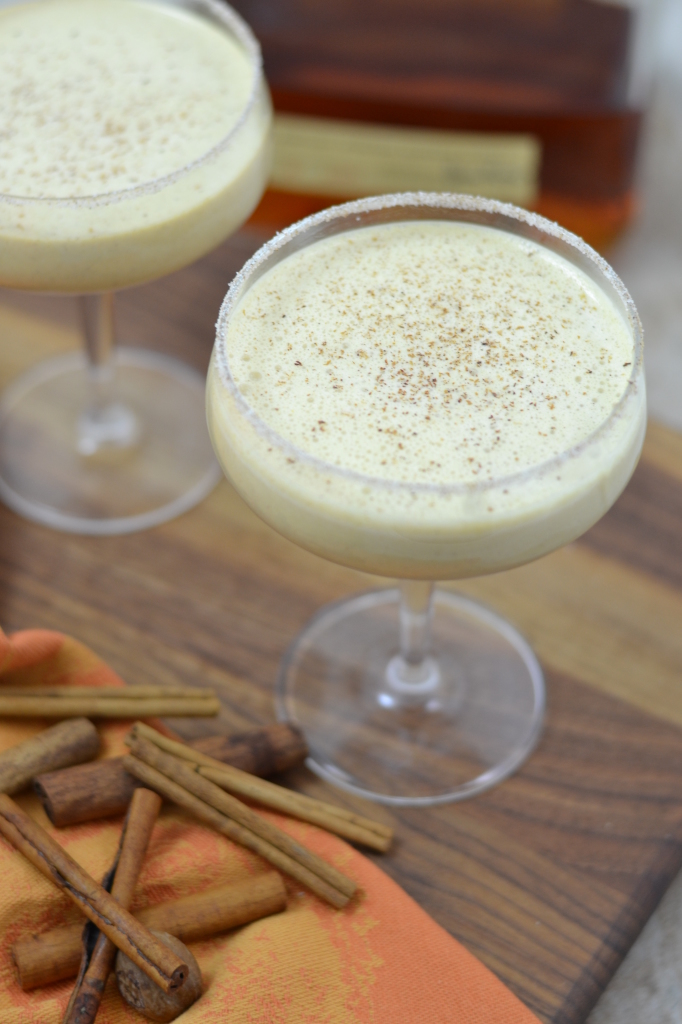 The holidays bring forth pumpkin pies, pumpkin ice cream, pumpkin bread, and pumpkin jack-o-lanterns,  As Sous Chef said one year, if the Pilgrims had to eat pumpkin pie each Thanksgiving, they would have marketed a different filling for their pies.  Unlike Sous Chef, I actually like pumpkin pie and for me the perfect version is not too sweet, has the right amount of spice, and is finished with a dollop of whipped cream.  But I will admit that tradition can become tedious and too much of a good thing can be too much.  And is there a more stressful time than the holidays, except perhaps for milestone birthdays (but who is counting)?  During these strenuous times, I don't reach for a piece of pumpkin pie but for something cool, refreshing, and inclusive of a cherished spirit.
Sous Chef and I try to tailor our libations to the seasons.  When fall and winter arrive, out comes the bourbon for our much beloved Manhattans and Old Fashioneds.  So what would happen if I combined the ingredients for pumpkin pie with Woodford Reserve?  The answer is a "Boozy Bourbon Pumpkin Pie Cocktail" that will fulfill your holiday cocktail and pumpkin pie cravings in one glass.  (It is also a great stress reliever when your in-laws are getting to be a little too much or when holiday shopping turns ugly.)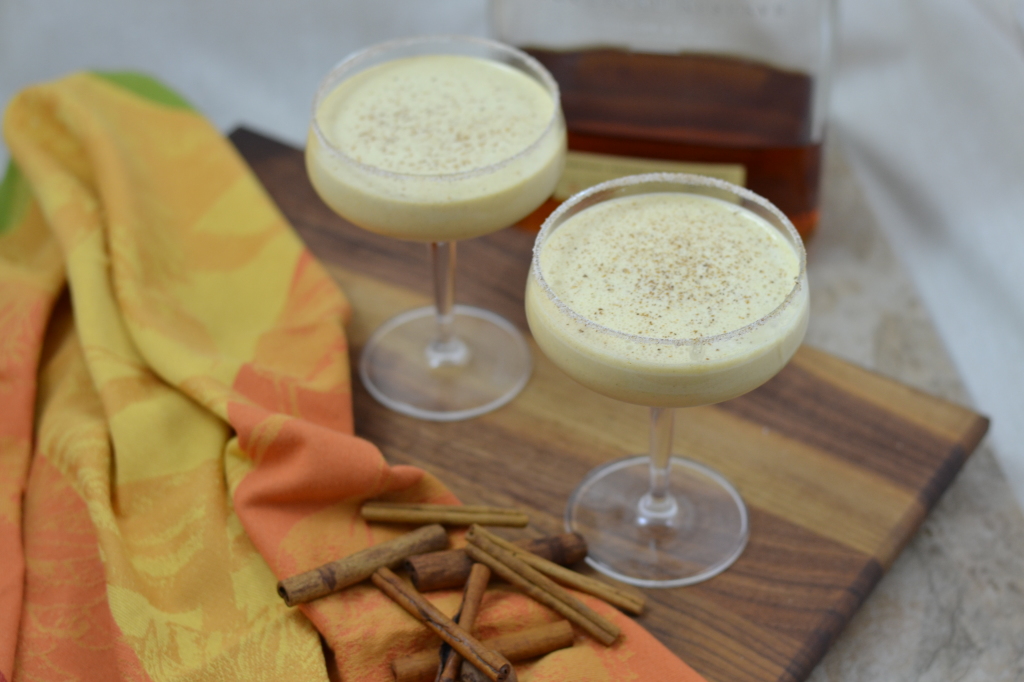 This cocktail is savory sweet and full bodied in the mouth and on the palate.  Woodford Reserve is one of our favorite bourbons because it has a rich, rounded, and smooth taste with a hint of citrus, cinnamon, toffee, caramel, and spice and I found that it performs well with pumpkin puree.  On the nose, this cocktail gives you a hint of dried fruits and oranges that complements the heavy cream and vanilla ice cream.  The result when served straight up is a rich, luxuriously textured drink that is best presented in a martini glass to display its beautiful color and martini-like heritage.  For those like Sous Chef who enjoy cocktails with a frappe consistency, just add a cup of ice to your Vitamix for a frozen delight.  If you follow the Culinary Diva blog, you know I like foods and drinks that are versatile.  This cocktail meets my criteria since its blend of sweet and savory means it can be served before, during, or after the Turkey Day Dinner and is an able dessert substitute for those worrying about a Spanx explosion if a piece of pumpkin pie is consumed.
A special thank you to my Squash Fest Co-Host Alice from A Mama, Baby and Shar Pei in the Kitchen and all the great Sunday Supper members who are participating this week.  Make sure you check out all their great recipes for Squash Fest:
Starters – Appetizers & Cocktails:
Pickles & Relish:
Soups & Salads:
Main Dishes
Side Dishes:
Sweets to Start or End the Day:
Join the #SundaySupper conversation on twitter on Sunday! We tweet throughout the day and share recipes from all over the world. Our weekly chat starts at 7:00 pm ET. Follow the #SundaySupper hashtag and remember to include it in your tweets to join in the chat. To get more great Sunday Supper Recipes, visit our website or check out our Pinterest board.
Would you like to join the Sunday Supper Movement? It's easy. You can sign up by clicking here: Sunday Supper Movement.
Bourbon Pumpkin Pie Cocktail
Ingredients
1 cup French vanilla ice cream
¼ cup pumpkin puree
¼ cup heavy whipping cream
½ cup bourbon
2 ounces simple syrup
1 teaspoon pumpkin pie spice
To Garnish:
Pumpkin Pie Sugar or Cinnamon Sugar
Grated Nutmeg
Orange Liqueur (Cointreau, Grand Marnier)
Instructions
Make Pumpkin Pie Sugar or Cinnamon Sugar to rim the glass by taking approximately ¼ cup of sugar and mixing with 1 teaspoon of either pumpkin pie spice or cinnamon an a salad plate.
Pour a tablespoon of Orange Liqueur into a bowl and use a pastry brush or paper towel to wipe around the rim of cocktail glass. Dip rim of glass in sugar mixture.
Place all ingredients in a Vitamix or Blender, and mix until frothy or pureed. (on the Vitamix use the frozen setting).
Pour into glass and garnish with nutmeg.