"Frugal" is a six letter word that does not really apply to me. Sous Chef thought it did when he first met me, for I was a banker after all, but I fooled him.  And throughout her life my German Grandma Helen stretched soup with ketchup and water should unexpected guests appear for dinner, saved and reused every food container, and cleverly spanxed before Spanx was invented by removing the tattered legs of her hosiery and repurposing them for body shaping.  However the frugal genes seemed to have escaped my DNA.  So the idea of fashioning a budget friendly meal for this week's Sunday Supper was vexing.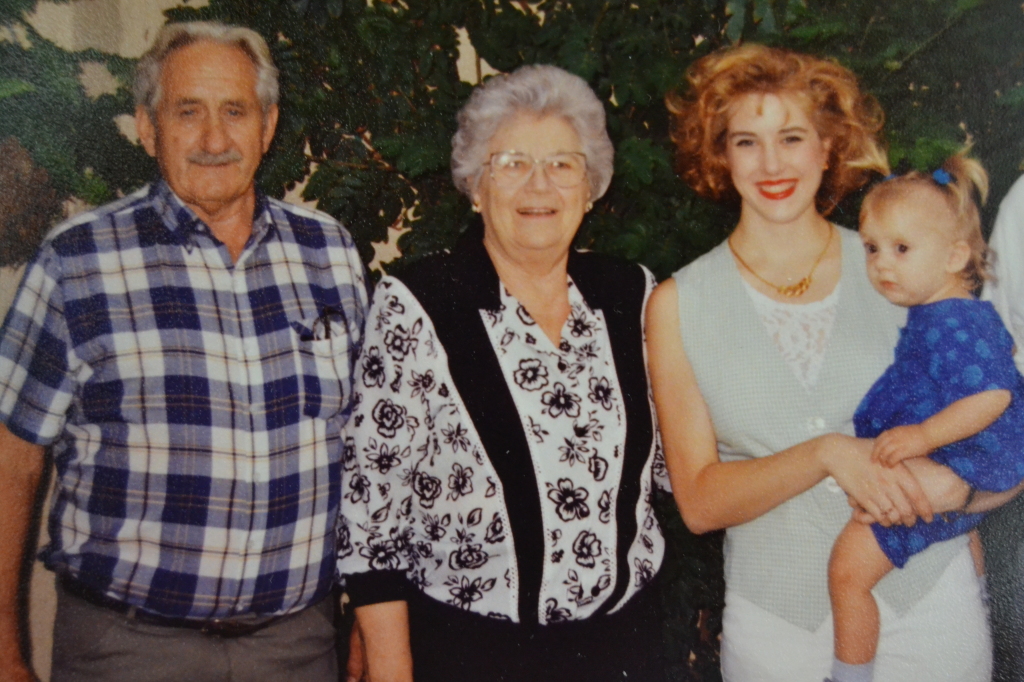 Fortunately, Grandma Helen often served German sausages, and the recollection of those wonderful repasts was my inspiration for a budget friendly meal. Providentially, Sous Chef was no novice in the art of sausage gastronomy given his German heritage.  So after fumbling around for a while and asking a series of inane questions about sausage preparation, Sous Chef stepped into the fray and I just sat back, sipped a glass of wine, watched, and took notes.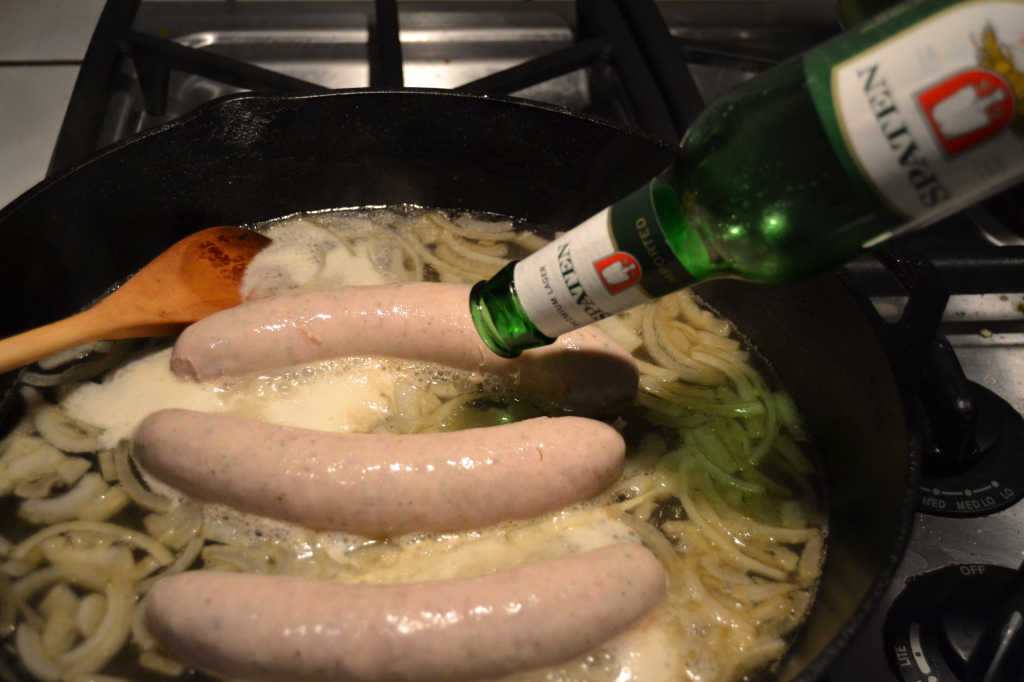 We decided on a one-dish meal using the German culinary holy trinity of bratwurst, sauerkraut, and mashed potatoes. Sous Chef does not work from a script, so I apologize in advance if the following recipe is vague in parts.  His culinary training consisted of watching his mother cook and the trial and error synonymous with long periods of bachelorhood.  But his instincts are good when it comes to German sausages.  He subscribes to the "braise the brats in beer and finish in the oven" school of sausage preparation.  If you have good brats, good beer (for the brats and the chef), and good sauerkraut, he says the rest is easy.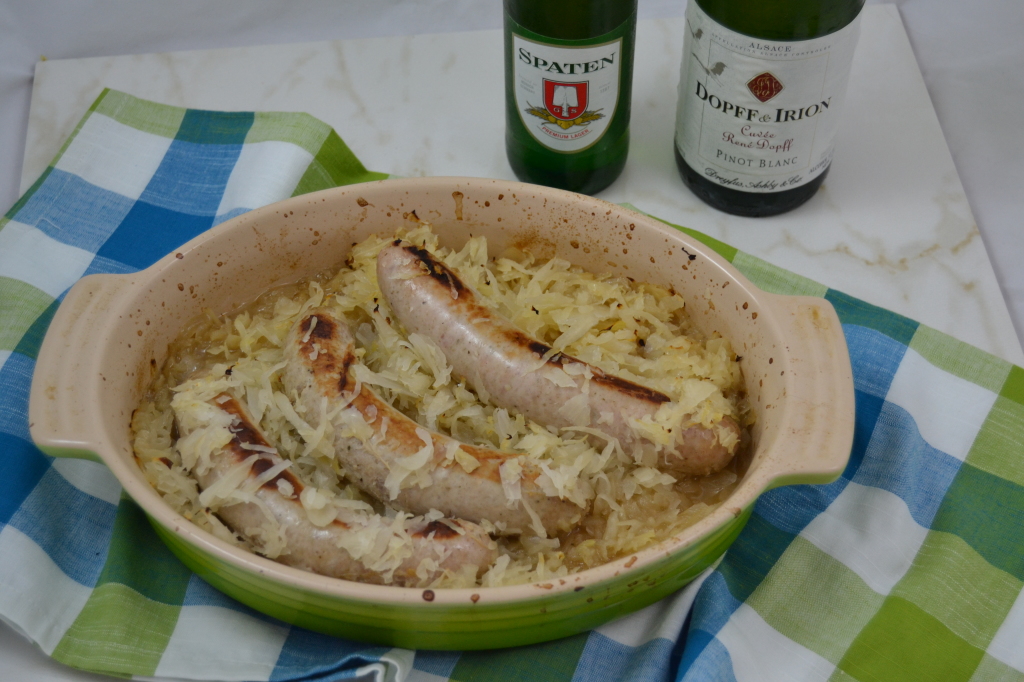 At about $6 per serving, including a glass of beer, the finished dish was very budget friendly. To plate, Sous Chef used a tri-level stacking approach, laying down a base of horseradish mashed potatoes on which he placed the bratwurst and covered it all with the sauerkraut.  Grandma Helen would have been very pleased with the result and the cost.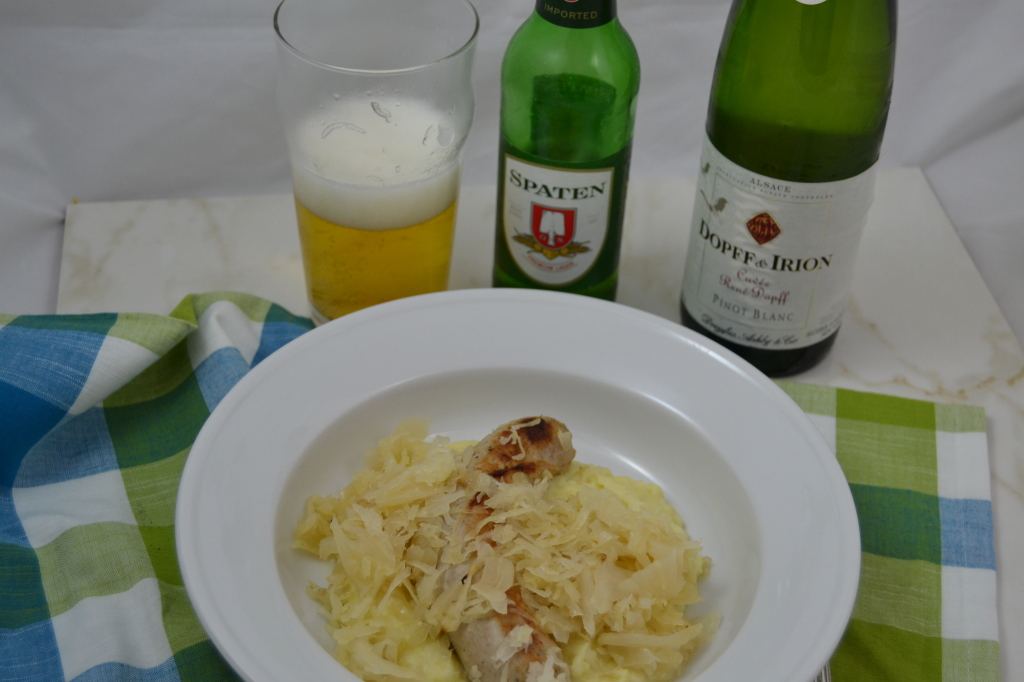 A special thanks to Gluten Free Crumbley and Cooking Chat for hosting Sunday Supper this week!  Make sure to stop by and visit their great sites and all the other Sunday Supper Budget Friendly recipes this week!
Scrumptious Mains (Breakfast and Dinner)
Satisfying Sides
Sweet Treats
Sips, Spreads, and Snacks

Join the #SundaySupper conversation on twitter on Sunday! We tweet throughout the day and share recipes from all over the world. Our weekly chat starts at 7:00 pm ET. Follow the #SundaySupper hashtag and remember to include it in your tweets to join in the chat.
To get more great Sunday Supper Recipes, visit our website or check out our Pinterest board.
Would you like to join the Sunday Supper Movement? It's easy. You can sign up by clicking here: Sunday Supper Movement.
Braised Brats & Sauerkraut
Ingredients
2 tablespoons olive oil
1 medium onion sliced
1 ½ bottles Spaten Lager or other beer (½ bottle for the chef)
4 bratwursts or other German sausage
2 – 3 cups sauerkraut
Instructions
Preheat oven to 375 degrees.
Pour olive oil in skillet and heat on medium high heat. Add the sliced onions and cook until they soften and are light gold in color. Add bratwursts and 1 ½ bottles of beer and braise about 10 minutes, turning the bratwursts periodically and sipping frequently from the remaining ½ bottle of beer.
Pour braising liquid into a baking dish and reserve. Return the skillet to medium high heat, brown the bratwursts on each side, and place in baking dish. Cover the bratwursts with sauerkraut and bake uncovered in oven for approximately 20—25 minutes.
Serve the bratwursts and sauerkraut over bed of mashed potatoes.