Dip season is upon us and there is no way to escape it.  So whether you are taking a dip in the pool, being dipped by your dance partner, or at a picnic surrounded by a smorgasbord of dips (the food kinds, of course), you may as well embrace summer as the official dip season.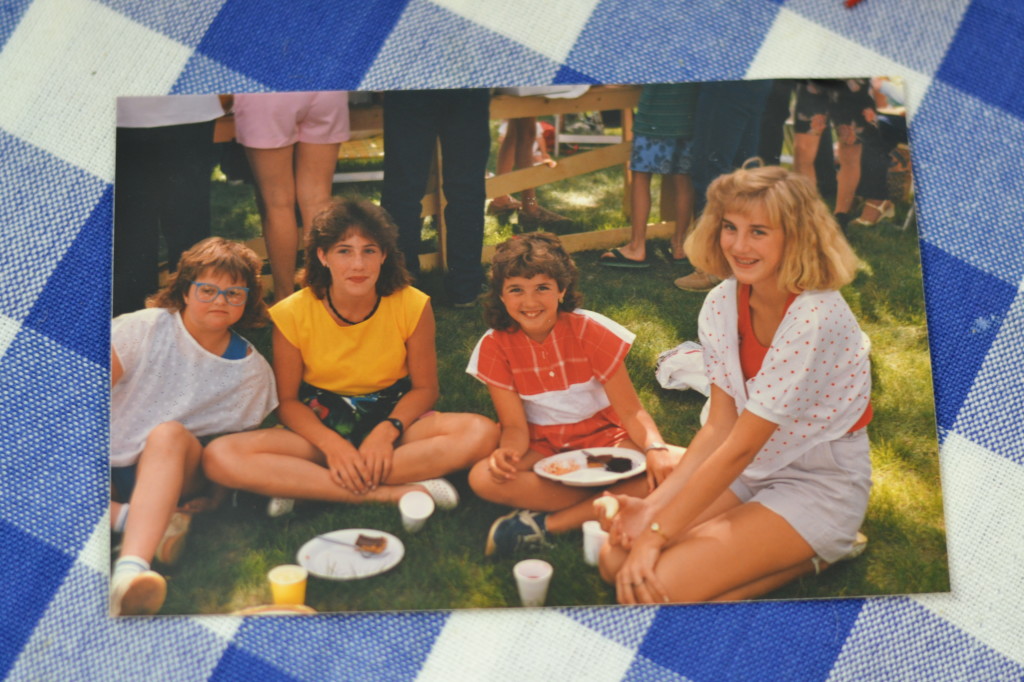 As a child I was quite fond of dip season.  That of course was before I found out I'm allergic to the great outdoors, developed cellulitis, and discovered that I cannot keep up with Sous Chef on the dance floor.  As an adult I've grown to dislike most things associated with "dip season" (except for the obligatory dip in the pool).  Potlucks and picnics are two of my most feared social invitations since germs  and food-borne illness are just waiting to come home with me from these events.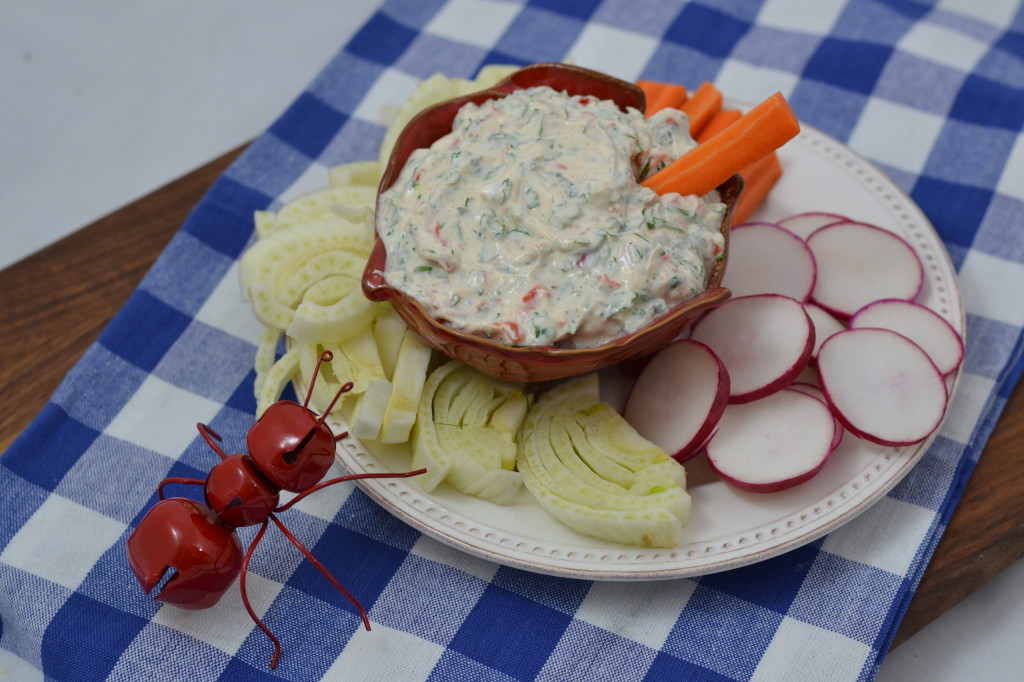 As we live in Hell during the summer, an indoor picnic is pretty much our only picnic option.  Our dip repertoire is generally rather pedestrian.  Guacamole, salsa, and hummus are standard fare.  Sous Chef adores crudité and Trader Joe's Tzatziki and Hidden Valley's Ranch Dressing make suitable dips for all things vegetable.    But with summer upon us, I decided it was time to expand our dip options in hope of finding something unique and  exciting.  Incredibly, my search extended only so far as Siba's Table on The Cooking Channel.   Like manna from heaven, Siba dropped a Peppadew Dip recipe on me during a recent show.  If you are not familiar with Peppadew, it is the brand name for a sweet/spicy red pepper that originated in South Africa and was "discovered" in the early 90's.  It is about the size of a small cherry tomato and generally comes hulled, seeded, and pickled in brine and ready to be stuffed, sliced, diced, or eaten as is.  Fortunately for us, markets like Bristol Farms and Jensen's here in the desert have them in plastic containers, which makes it seem these might be fresher than those found in bottles.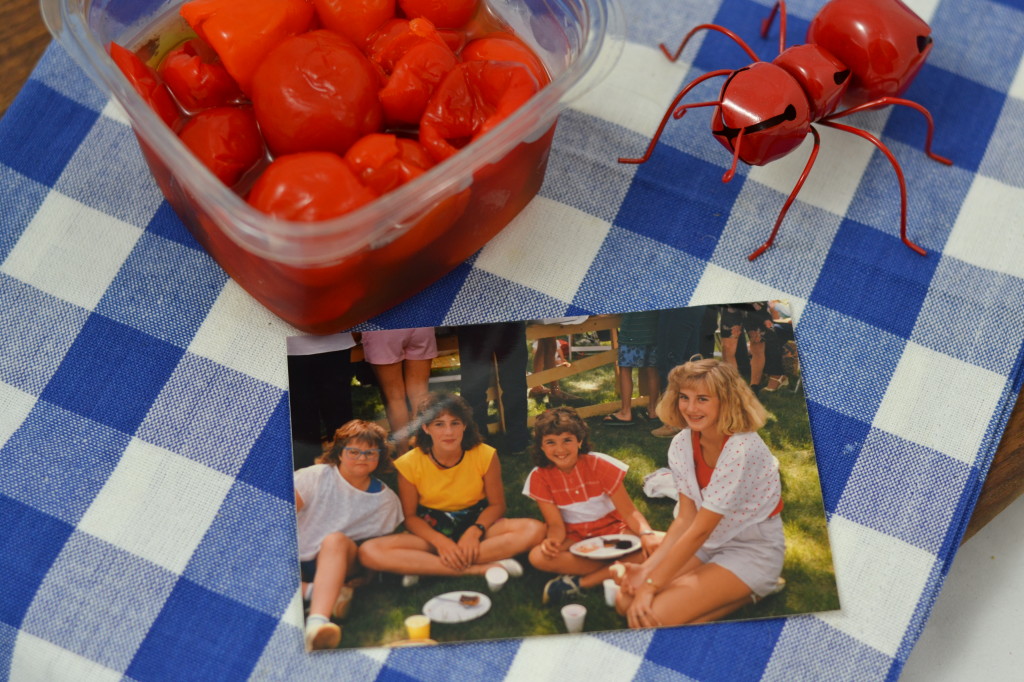 Siba made her Peppadew Dip with mayonnaise.  While her dip was interesting, flavorful, and showed real promise for a variety of uses, we each found the result to be a little cloyingly sweet for our palate as a crudité dip. Don't get me wrong.  There is absolutely nothing amiss with Siba's Peppadew Dip and I might use it as a dip for fried fish, as in fish and chips.  Maybe South African mayonnaise has a different flavor than what I buy here, or maybe South Africans like their dips sweeter than I do.   Regardless, the Peppadew's  sweet/spicy heat seemed a natural complement to most crudité, so I played around with Siba's concept, experimenting with different bases.  Crème' Fraiche, Greek Yogurt, and Light Sour Cream added the extra bite that I was looking for.  Ultimately, the Light Sour Cream was my favorite base and the dip reached perfection when I increased the recipe's amount of Peppadew and cilantro and added a soupçon of Hungarian Hot Paprika.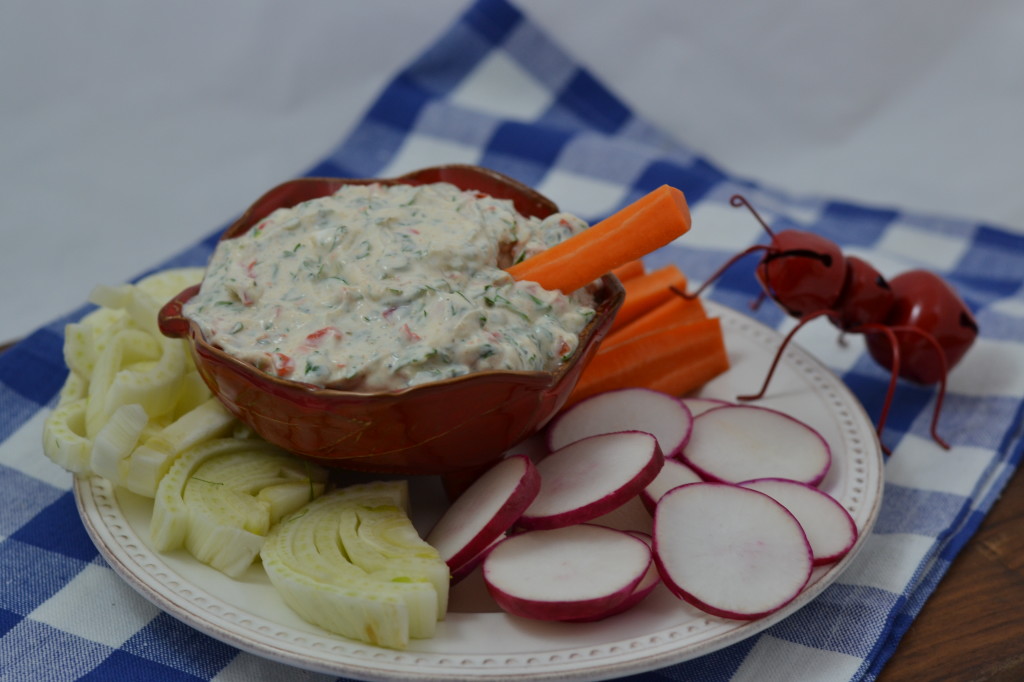 This is one dip you can really sink your veggies and chips into.   It can be whipped up in five minutes and served to family and uninvited guests  as an impromptu appetizer.  Don't be surprised if your friends and family start referring to you as the "Dip Master" and request your special dip for their events.
A special thanks to Jane of Jane's Adventures In Dinner  for hosting this week's Sunday Supper Picnic Edition.
Beverages
Appetizers
Mains
Sides
Salads
Sandwiches and Wraps
Sweets
Join the #SundaySupper conversation on twitter on Sunday! We tweet throughout the day and share recipes from all over the world. Our weekly chat starts at 7:00 pm ET. Follow the #SundaySupper hashtag and remember to include it in your tweets to join in the chat. Check out our #SundaySupper Pinterest board for more fabulous recipes and food photos.
Would you like to join the Sunday Supper Movement? It's easy. You can sign up by clicking here: Sunday Supper Movement.
Peppadew Dip
This dip is so simple to make and gets rave reviews. It is versatile and can accompany an array of fresh vegetables and chips. It is also a great alternative to tartar sauce.
Ingredients
1 cup sour cream
16 diced peppadews
¼ cup chopped fresh cilantro
¼ to ½ teaspoon Hot Hungarian Paprika (if you can handle a little heat go for ½ teaspoon)
¼ teaspoon salt
¼ to ½ teaspoon freshly ground pepper
juice of 1 lime
Instructions
Place all ingredients in a bowl and mix. Chill and serve with fresh vegetables, chips or pita bread.