The Red Carpet is all about glamor, glitz, and luxury and Oscar food should reflect these traits.  So with the presentation of Oscars just hours away, it is time to get serious about your cuisine for the 87th Academy Awards.
The Sunday Supper Crew is all about Red Carpet Cuisine this week (check out the Crew's Oscar suggestions).  I know it is attempting to bring in the Colonel or chicken wings, or to throw burgers and brats on the barbie.  But Oscar deserves better.  So hide the take-out menus and impress your family and friends with some star quality food.  That's why I chose Martin Yan's Red Carpet-worthy "Cantonese Lobster" for this year's Oscar repast.  Not only does it have all the qualities of the Red Carpet, but it is a dish that takes less time to make than to place and pick-up your take-out order.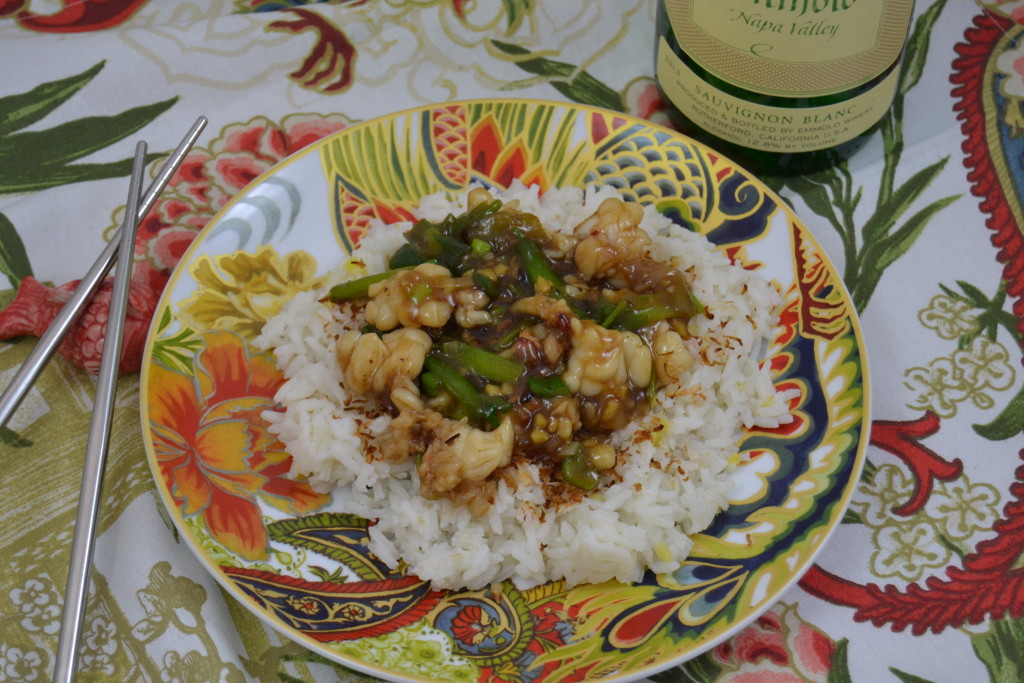 Beauty is in the eye of the beholder, and unquestionably there is plenty of male and female pulchritude trodding the Red Carpet.  While the lobster's beauty might not be as obvious as Nicole Kidman's, it indubitably evokes the Red Carpet traits.  Martin Yan's Cantonese Lobster truly has star qualities and looks beautiful on the plate, the cuisine equivalent of the Red Carpet.  It is glamorous, glitzy, and luxurious, with exotic ingredients, subtle heat and a touch of sweetness.  The combination of ginger and black bean garlic sauce makes this dish uniquely Cantonese.  It is served over a bed of Coconut Ginger Rice that enhances the lobster's Cantonese flavors.  One bite and you will be awarding an Oscar to Martin Yan's Cantonese Lobster.
A word about Martin Yan.  If you happen to be one of those youngsters who thinks the TV food world began with Rachel Ray or Guy Fieri, let me tell you that it is worth watching PBS for the educational quality of cooking shows like Martin Yan's.  The very first televised cooking show was Philip Harben's "Cookery" on the BBC in 1946, and the very first dish was, appropriately enough, Lobster Vol-au-Vents.  Julia Child followed in 1963.  But Martin Yan is one of the earlier television chefs and started his show "Yan Can Cook" in 1982 on PBS.  Martin Yan is still actively involved in cooking shows and in the fall of 2014 started a new PBS series called "Martin Yan's Taste of Vietnam."  Watch Martin on television and get his cookbooks — you won't regret it.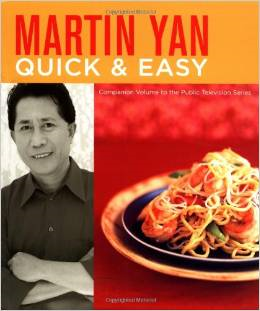 Nominees for Best Supporting Appetizers:
Nominees for Best Course in a Leading Role:
Nominees for Best Supporting Sips:
Nominees for Best Delectable Desserts:
Nominees for Best Dressed Table:
Join the #SundaySupper conversation on twitter on Sunday! We tweet throughout the day and share recipes from all over the world. Our weekly chat starts at 7:00 pm ET. Follow the #SundaySupper hashtag and remember to include it in your tweets to join in the chat. To get more great Sunday Supper Recipes, visit our website or check out our Pinterest board.
Would you like to join the Sunday Supper Movement? It's easy. You can sign up by clicking here: Sunday Supper Movement.
Martin Yan's Cantonese Lobster
Author:
Martin Yan, Martin Yan Quick & Easy
Ingredients
2 lobster tails (each tail should be ½ pound)
Seasoning Mixture:
4 cloves of garlic, minced
2 green onions, cut into 1-inch lengths
1 teaspoon minced ginger
2 teaspoons black bean garlic sauce
For the Sauce:
1 tablespoon vegetable oil
⅓ cup chicken broth
¼ cup Chinese rice wine or dry sherry
2 teaspoons cornstarch dissolved in 1 tablespoon water
1 teaspoon sesame oil
1 green onion, julienned
Instructions
Remove the lobster meat by cutting along the inner edges of the soft undershell. Using a fork, pry out the meat. Cut the meat into 1-inch pieces. Set aside.
To make the seasoning mixture, combine all the ingredients in a small bowl and mix well. Place a stir-fry pan over high heat until hot. Add the oil, swirling to coat the sides. Add the seasoning mixture and cook, stirring until fragrant, about 30 seconds. Add the lobster meat and stir-fry until opaque, about 2 minutes. Add the broth and wine and bring to a boil. Add the cornstarch solution and cook, stirring, until the sauce boils and thickens, about 30 seconds. Stir in the sesame oil and green onion.
Transfer to a serving plate and serve.
Coconut Rice
Author:
Martin Yan, Martin Yan Quick & Easy
Ingredients
¼ cup unsweetened flaked coconut
⅔ cup unsweetened coconut milk
1⅓ cups water
1 cup long-grain rice
1 tablespoon minced ginger
½ teaspoon salt
Instructions
In a small frying pan, toast the coconut over medium heat, stirring frequently, until lightly browned, 3 to 4 minutes. Immediately pour onto a plate to cool. Set aside.
In a 2-quart pan, combine the coconut milk, water, rice, ginger, and salt. Bring to a boil over high heat, reduce the heat to low, and simmer uncovered, until craterlike holes form on the surface of the rice, about 6 minutes. Cover and continue cooking, undisturbed, until all the liquid is absorbed, about 10 minutes.
Fluff the rice with a fork. Transfer to a serving platter, sprinkle with the toasted coconut and serve.