I was perplexed by this week's Sunday Supper Crew topic: unprocessed food.  And the general definition of "foods that you can grow or make yourself" wasn't too helpful.  Did I need to cultivate my own fruits and vegetables, churn butter from cow's or goat's milk, and slaughter my own home-raised meat and poultry in order to qualify?  Did I need to turn our home into Old McDonald's Farm despite strict zoning ordinances to the contrary?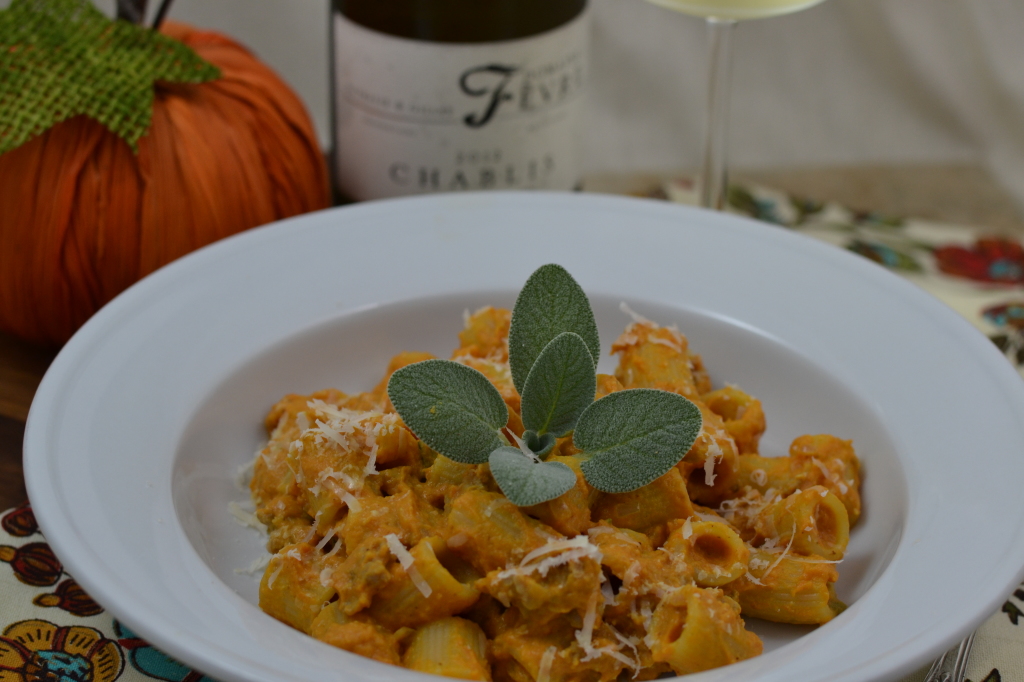 When in doubt, I go for pasta since I can make it myself and the store brands I buy contain nothing artificial. For the sauce, I wanted to be creative and produce something having other than the ubiquitous tomato base.  It is pumpkin season and surely a pumpkin in its raw state is unprocessed.  I had no raw pumpkin at hand, but I did have a can of Libby's "100% Pure Pumpkin" which I handed to Sous Chef and asked "What can you make of this?"  Sous Chef, being a consummate wiseass, looked the can over carefully and replied "This?  Well, I can make a telephone; I can make a cookie cutter; I can make a food stacker; I can make a pendant!"  Clearly, I picked a bad time to quit sniffing saffron, but at least the Libby's product was simply pureed pumpkin with no other ingredients.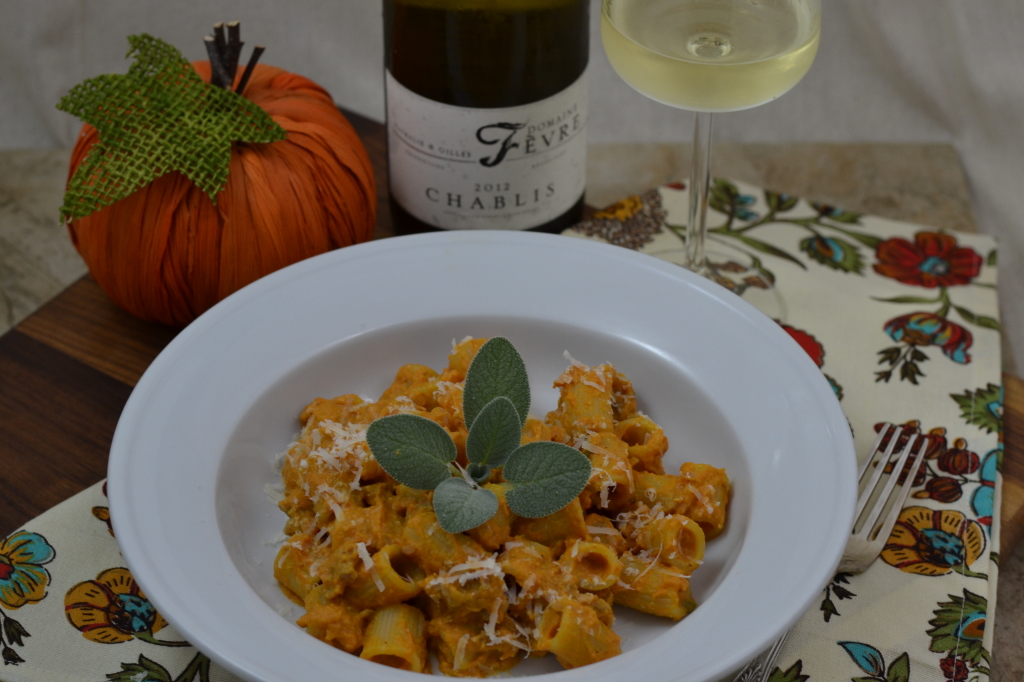 Putting aside the poor adaption of dialogue from Airplane!, I was confident about being on the right track for my unprocessed pumpkin pasta.  This pasta dish takes less than 30 minutes to prepare and can be made with pantry staples (so long as they are pure and unprocessed, of course).  The pumpkin provides a rich, flavorful base for the pasta that I enhanced by adding Parmigiano-Reggiano and sage.  This makes for a perfectly fine pasta sauce, but for me the flavor was a little bland and the color too uniform.  So to kick things up a bit I added Italian Sausage.  If your heat tolerance is on the wimpy side, use Sweet Italian Sausage; for the macho, use Spicy Italian Sausage; and for the moderate gourmand, use a combination of Sweet and Spicy Italian Sausage.  At the time, I did not consider whether the Italian Sausage was unprocessed or not, but a review of the Trader Joe's website says the sausage is just skinless chicken, red and green peppers, water, and seasoning (salt, spices, and turbinado sugar—yes I know this sugar is processed to a small degree, but I am going to ignore that fact), so I am going to say the sausage meets the "unprocessed" definition.  If a wine can be called Cabernet Sauvignon because it contains at least 75% of that varietal, I can call my Pumpkin Pasta "unprocessed" since it contains at least 99% unprocessed ingredients!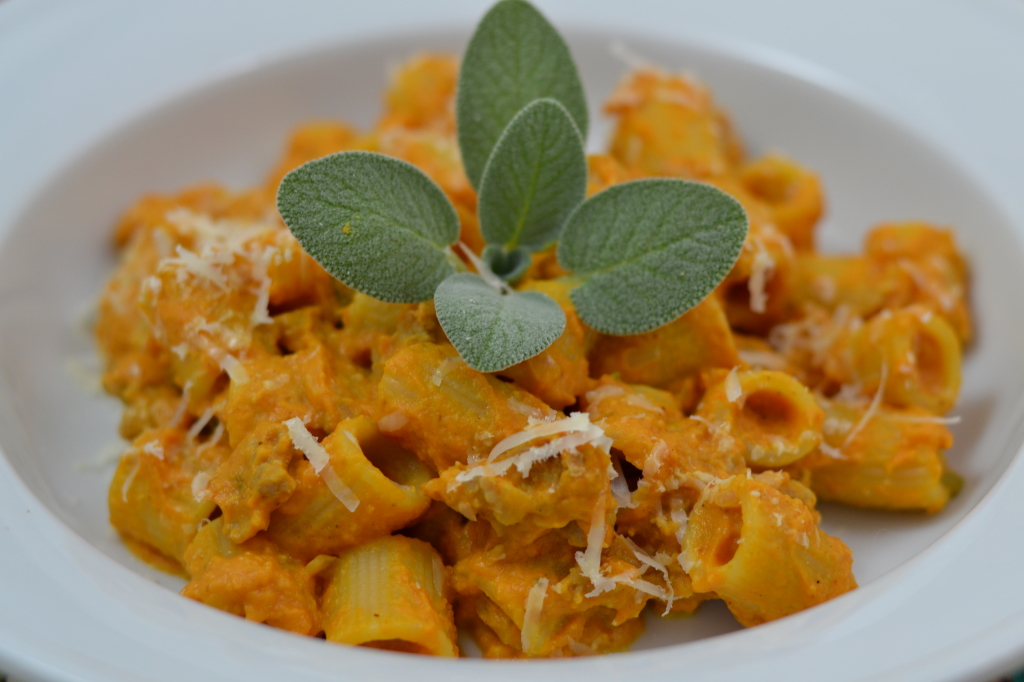 Pair this lovely pasta dish with a crisp white wine like Chablis, pop in the Airplane! DVD, and have a wonderful evening.
Special thanks this week to our host Foodie Stuntman, make sure to check out all the great unprocessed recipes from the Sunday Supper Crew.
Alluring Appetizers and Stunning Sides
Enticing Entreés
Decadent Desserts
Join the #SundaySupper conversation on twitter on Sunday! We tweet throughout the day and share recipes from all over the world. Our weekly chat starts at 7:00 pm ET. Follow the #SundaySupper hashtag and remember to include it in your tweets to join in the chat. To get more great Sunday Supper Recipes, visit our website or check out our Pinterest board.
Would you like to join the Sunday Supper Movement? It's easy. You can sign up by clicking here: Sunday Supper Movement.
Pumpkin & Italian Sausage Pasta
Recipe type:
Entree or Side
Ingredients
1 pound of short pasta – i.e. penne
2 Sweet Italian Sausage
2 tablespoons olive oil
2 chopped shallots
4 chopped garlic cloves
1 cup chicken broth ½ cup white wine (dry preferred)
1½ cups unsweetened pumpkin puree
½ cup heavy cream
2 tablespoons chopped fresh sage
¾ teaspoon salt
½ teaspoon pepper
¼ teaspoon ground nutmeg
½ cup freshly grated Parmesan Cheese
Instructions
Bring a large pot of water to a boil and salt before adding pasta to pot. Add pasta to water and cook pasta.
Heat olive oil in a large pan over medium heat.
Remove sausage from casing, add to pan and brown for approximately 3 minutes.
Add onion and garlic and cook for approximately 5 minutes.
Add chicken broth and wine; bring to a boil.
Add pumpkin, heavy cream, sage, nutmeg, salt and pepper to broth mixture. Combine and heat through.
Combine pasta and pumpkin sausage sauce and serve warm. Top with parmesan cheese and sage if desired.