Happy St. Patrick's Day!  To round out my celebration of Irish Food, I am bringing you a special edition of Sunday Supper which includes my entrée of Twice-Baked Turkey Pie and Creamed Cabbage with Bacon, along with a selection of other Sunday Supper members' posts venerating all things Green.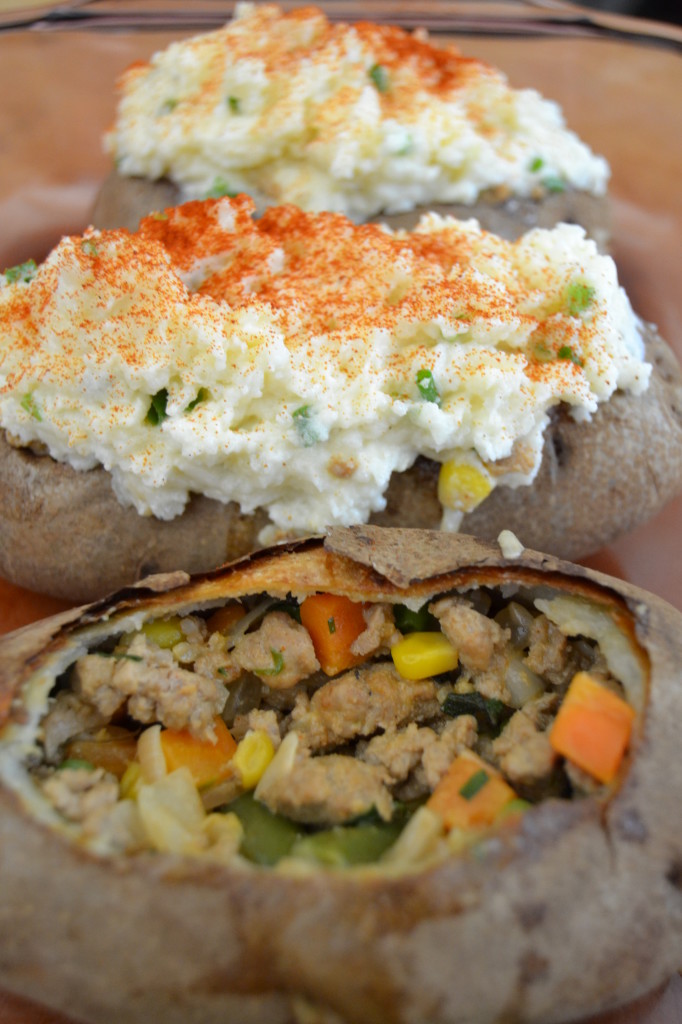 I have been busy this week rooting for Roger Federer at the BNP Paribas Open and systematically working my way through the menu of Nobu Indian Wells that is located within that tournament's just opened Stadium 2.  So I wanted something for my St. Patrick's Day entrée that was simple to make, easy to enjoy, and worthy of being leftovers for the next day.  Over lunch and a bottle of wine at Cuistot in Palm Desert, Sous Chef and I were considering some recipes I had found in Rachel Allen's Recipes from Heart and Home and he had found online when Googling for Irish recipes.  We particularly liked Rachel Allen's recipe for Turkey and Ham Potato Pie and Taste of Home's recipe for Shepard's Pie Twice-Baked Potatoes.  In a moment of inspiration, we took elements from each recipe, added a few Culinary Diva twists, and created our own version of Shepard's Pie.  The essence of Shepard's Pie is a meat concoction covered in mashed potatoes that is prepared in a baking dish, hence the reference to "pie."  With wonderful results, we substituted ground turkey for beef and the hollowed shell of a baked potato for a baking dish.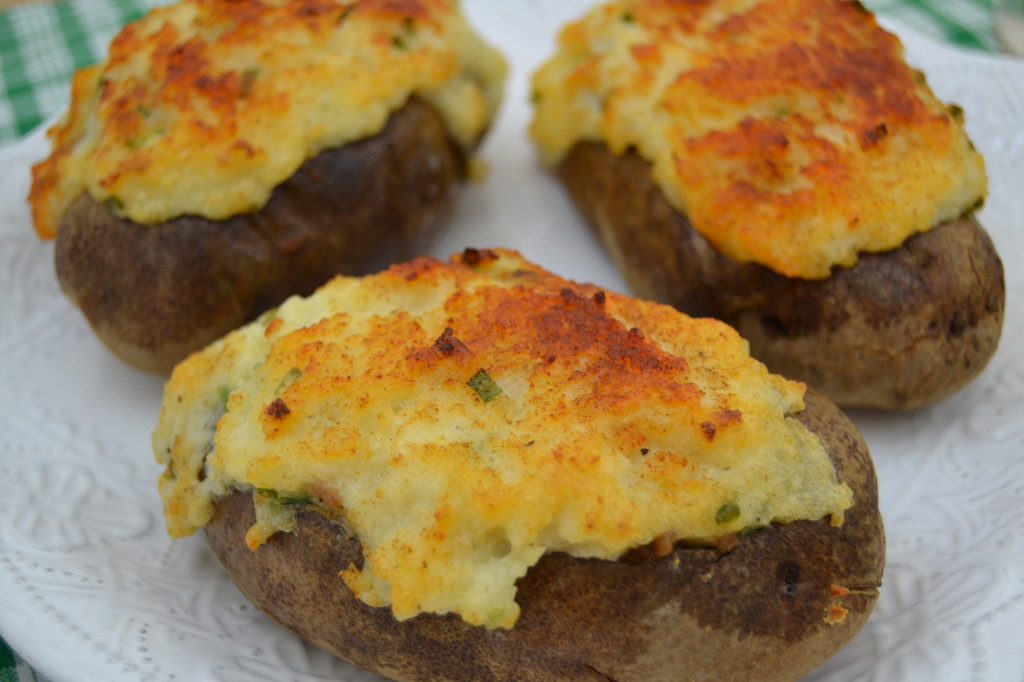 To keep our stuffed baked potato from feeling lonely on the plate, I needed a strong accompanying dish.  Rachel Allen has many recipes worth trying, but one that especially intrigued me was Cabbage with Cream and Bacon.  The Flavor Thesaurus refers to this combination as "a big brazen, unrefined pairing that resists gentrification…..it is so rustic it should come in a John Deere salad bowl."  What can I say:  I'm ready to invest in John Deere salad bowls – this cabbage is ridiculously good.  Bacon is crisped in butter.  Thinly sliced cabbage is added to the bacon fat/butter drippings plus a dollop of water and cooked until slightly wilted.  Then the bacon is returned and some cream added to cook another few minutes.  This dish generates immense olfactory pleasure.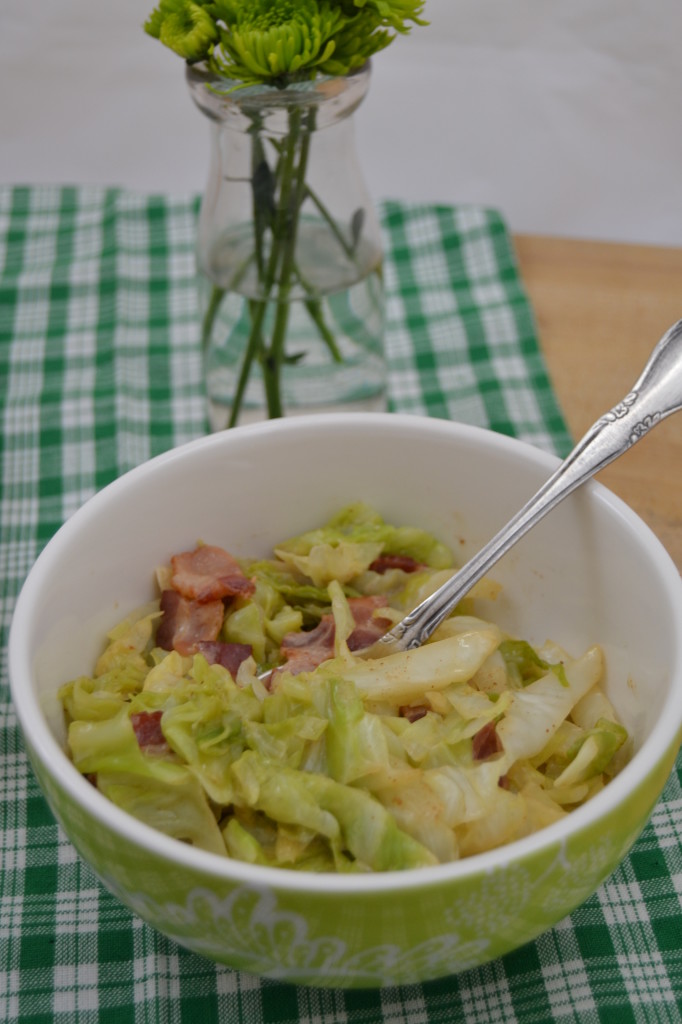 Our two Havanese puppies are decidedly non-Irish, the breed having descended from Spain to become the national dog of Cuba.  So they were interested in our Irish entrée only in the most primitive sense.  They smelled turkey and bacon and they wanted some.  Alas, this St. Patrick's Day celebration does not extend to dogs, and their Blue Diamond kibble had to suffice.  But Sous Chef and I had no restriction as we sat down to enjoy this delightfully Irish repast.  As I savored this entrée, I was reminded of hearty peasant fare for the sophisticate.  The cabbage is a lusciously seductive dish, and perhaps next time I will heed Sous Chef's suggestion and add a soupçon of balsamic vinegar to brighten the taste.  The stuffed baked potato is like a riddle wrapped in a mystery inside an enigma.  You have the outer potato skin, golden brown from twice-baking, mounted by golden peaks of fluffy mashed potatoes hiding a treasure trove of well-seasoned turkey and vegetables and bearing the mark of Sous Chef's inclusion of Guinness Beer in its making.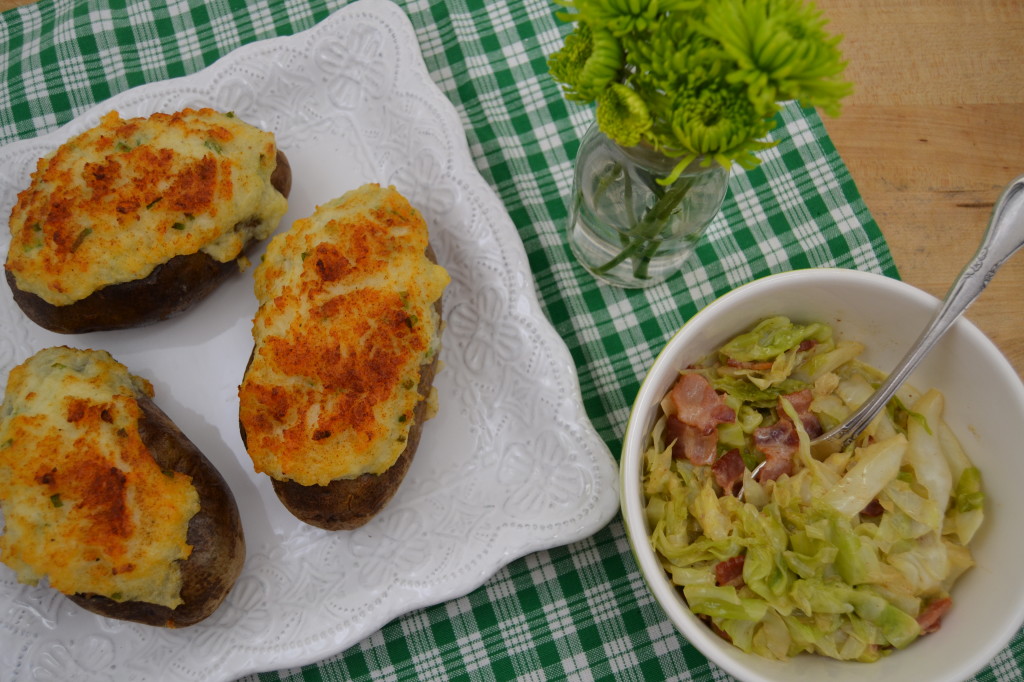 You know by now the Culinary Diva considers adult beverages an essential component of any non-working time meal.  For our St. Patrick's Day meal we paired the stuffed baked potato and cabbage dishes with Guinness beer, Bushmill's Irish Whiskey, and a 2007 Ketchum Russian River Pinot Noir.  I started with the beer and ended with the Pinot Noir and I can say with certainty—or at least to the best of my recollection—that all paired nicely with every facet of this St. Paddy's celebration.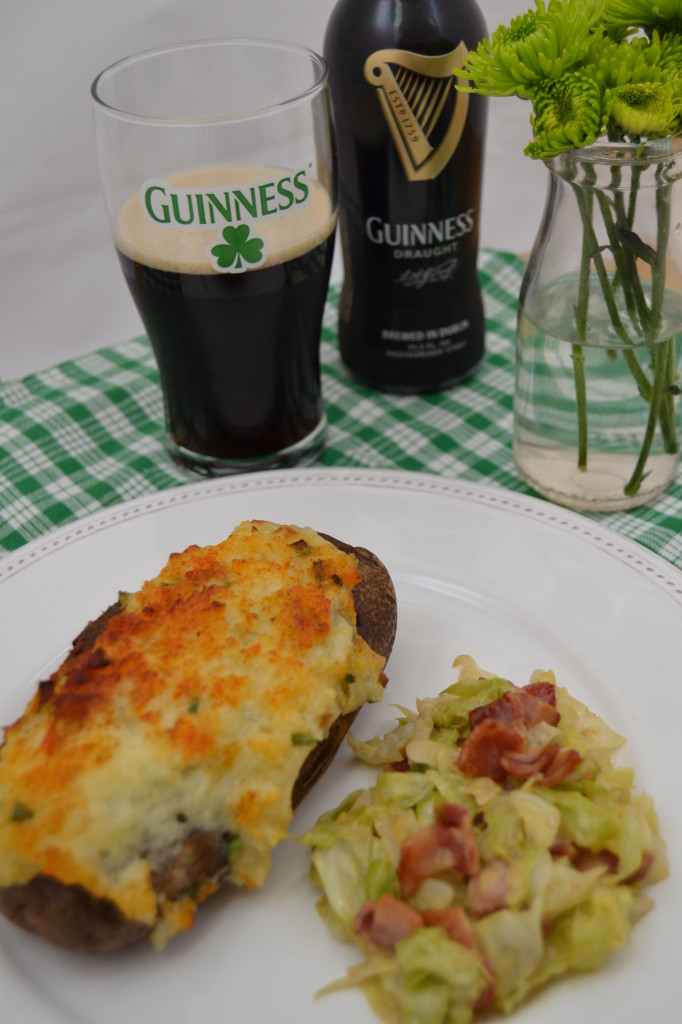 For Sous Chef, St. Patrick's Day is a religious as well as a national holiday.  He and his lawyer friends began their annual celebration when the doors to their favorite Irish bar opened in the morning and lasted until the late Foxy had drained his final beer and finished his closing Irish song on the piano.  If you are looking for an Irish Toast this St. Paddy's day, here is one suggested by Sous Chef from the many uttered during his very long day of celebration:
"Sláinte na bhfear agus go maire na mná go deo!"  (roughly pronounced, slawn-cha na var agus guh mara na m-naw guh djeo—and hopefully easier for you to say than for me)
The toast means, "Health to the men and may the women live forever."
Green Light Appetizers and Sides
Getting Greens Through Salads
Entreés That Will Leave You Green With Envy
Desserts and Beverages That Will Make Others Turn Green
Join the #SundaySupper conversation on twitter on Sunday! We tweet throughout the day and share recipes from all over the world. Our weekly chat starts at 7:00 pm ET.  Follow the #SundaySupper hashtag and remember to include it in your tweets to join in the chat. Check out our #SundaySupper Pinterest board for more fabulous recipes and food photos.
/>Would you like to join the Sunday Supper Movement? It's easy. You can sign up by clicking here: Sunday Supper Movement.
Twice Baked Turkey Pie
Ingredients
6 large russet potatoes
2 tablespoons olive oil
1 pound ground turkey or beef
1 medium onion, chopped
4 garlic cloves, minced
1 package (16 ounces) frozen mixed vegetables
2 tablespoons Worcestershire sauce
1 tablespoon A-1 Sauce
¼ teaspoon salt
3 teaspoons paprika, divided
½ cup Guinness
½ cup heavy whipping cream
¼ cup sour cream
1 cup shredded Kerrygold Irish Cheddar
1 cup shredded cheddar cheese
¼ cup shredded Parmesan cheese
2 tablespoons minced chives
2 tablespoons fresh tarragon
2 tablespoons fresh oregano or marjoram
Salt and Pepper to taste (approximately 2 tablespoons pepper and 1 tablespoon salt)
To Garnish:
1 teaspoon paprika
½ cup shredded cheddar cheese
1 tablespoon minced chives
Instructions
Preheat oven to 375.
Clean potatoes; dry; rub with oil. Bake at 375° for 1 hour or until tender.
In a large skillet, cook the turkey, onions and garlic over medium heat Add the mixed vegetables, Worcestershire sauce,A-1, Guinness, Cream, salt, pepper, 2 teaspoon paprika. Cook and stir until vegetables are tender.
When cool enough to handle, cut a thin slice off the top of each potato and discard. Scoop out the baked potato and keep shell
In a large bowl, rice or mash the potato, add butter. Add the whipping cream, sour cream, cheeses and chives. Mix until combined.
Spoon 1 cup meat mixture into each potato shell; top with ½ cup potato mixture. Sprinkle with remaining paprika.
Place on a baking sheet. Bake at 375° for 20 minutes. Sprinkle with cheese; bake 5 minutes longer or until melted. Sprinkle with chives. Yield: 6 servings.
Cabbage with Cream and Bacon
Ingredients
4 tablespoons Kerrygold butter
6 slices of bacon, thinly sliced
1 large Savoy or Green Cabbage out leaves removed
2 cloves garlic, crushed
1 tablespoon water
¾ cup heavy cream
Salt and Pepper
Instructions
Melt the butter in a large frying pan over high heat, add the bacon, and fry for 4-5 minutes, until crisp and golden. Remove the bacon with a slotted spoon and place on paper towels to drain. Reserve liquid in pan.
Cut the cabbage into quarters, and remove the core from each piece. Thinly slice against the grain. Add the cabbage to the pan, along with the garlic and water. Saute for about 5 minutes over medium-high heat, tossing frequently, until wilted and just tender.
Increase the heat a little and return the bacon to the pan. Pour in the cream and allow to bubble for a few minutes until thickened slightly. Season with salt and pepper to taste and serve immediately.