Thomas Jefferson and Napoleon III may seem strange bedfellows, but they shared a passion for wine and were instrumental in making sense of the Bordeaux wine industry. Their contributions have assisted The French Winophiles' tour this month of the Médoc and Haut-Médoc regions in Bordeaux.
Bordeaux may not be a bastion of French culinary creations (consider that two of its most famous foods are macarons and canelés), but it is without doubt France's largest winegrowing region, producing over 60 million cases of wine annually from around 6,600 growers operating within 60 distinct appellations. The grapes allowed in a red Bordeaux wine are Cabernet Sauvignon, Merlot, Cabernet Franc, Petit Verdot, Malbec, and Carmenère and the blend varies from appellation to appellation. While Médoc refers generally to the whole area on the "Left Bank" (the area south or west of the Gironde river or its tributary the Garonne), it is also its own appellation that refers to the area north of the powerhouse appellations of St.-Estèphe, Pauillac, and St.-Julien. Haut-Médoc is located to the south, between St.-Julien and the city of Bordeaux. Areas that do not fall under a specific appellation, such as St.-Estèphe, are labelled under the regional Médoc or Haut- Médoc appellations. Merlot is important in the Médoc while Cabernet Sauvignon is favored in the Haut- Médoc. These appellations are also the home of the majority of cru bourgeois estates and often offer excellent value.
Bordeaux wine has been exported to other countries since the 1600's. Initially consumers sought wines identified as from Bordeaux, but later specific estates began to gain attention for their wines. Not surprisingly, the first chateaus to earn such notoriety were Lafite, Latour, Margaux, and Haut-Brion. As time passed, the demand for Bordeaux wines became more specific and regionalized by "appellation" and there developed the basic human trait of wanting wines classified by quality to aid in selection. So arose a need for wine classifications in the same way we now crave "top charts" for music, movies, clothes, restaurants, etc.
When Thomas Jefferson visited Bordeaux in 1787 he created his own list of the best wines, a list that classified the wines in the Medoc as a whole and not by appellation. Most importantly, he instituted the idea of having levels of classification, with the aforementioned estates in the highest classification and the remainder in a second and third classification. Napoleon III assisted in taking the process further in 1855 when his Exposition Universelle de Paris (the equivalent of a world's fair) generated a need for consumers to understand the relative merits of the wines from thousands of Bordeaux wine producers that would be presented at the exposition. So the Gironde Chamber of Commerce ordered an official classification of the wines of the Bordeaux appellation. All chosen wines were from the Left Bank, and only Chateau Haut-Brion from Graves was included from outside the Médoc.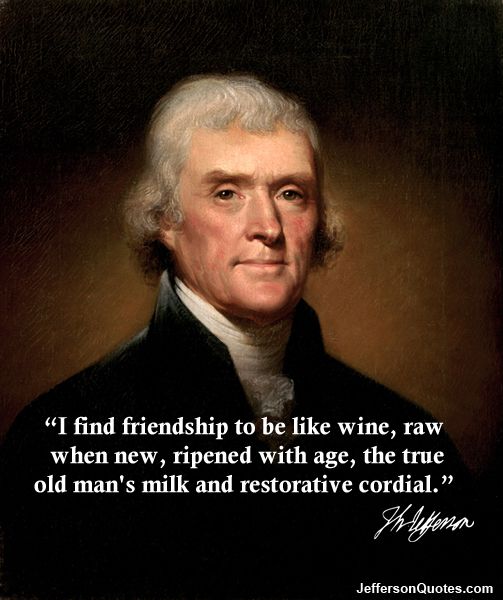 The red wines were divided into five classifications that oenophiles have lived by since 1855. Although the classification was completed in just two weeks, it is an amazingly enduring document. Since its creation, it has been changed only three times, the most recent in 1973 when Chateau Mouton Rothschild was elevated to First Growth standing. In comparison, the United States Constitution has been amended twenty-seven times and doubtlessly does not operate as seamlessly as the Bordeaux 1855 Classification of the Médoc. And, yes, I say this knowing that there are probably some Second Growths that should be First Growths, that some lower classification wines sell for more than some higher classification wines, and that the Right Bank wines are not included although they contain some of the most expensive wines in the world, such as Pétrus, Cheval Blanc, and Le Pin. But there are extenuating circumstances, such as at the time of the classification such Right Bank wines were either not being produced or not considered more than simple wines.
Our home wine refrigerator contains bottles of 1982 Chateau Haut-Brion and 1982 Chateau Lafite Rothschild, so I thought about going deep for my analysis of red Bordeaux wine. When I suggested this to Sous Chef, he was horrified and threatened all manner of bodily harm if I so much as touched one of those bottles. So I took a step back and concluded that a Third Growth wine would do just fine. Enter a 2010 Chateau La Lagune Haut-Médoc. This estate dates back to the 1600's and is the highest ranked wine from the Haut- Médoc appellation. Its current operation is fascinating and worthy of a separate blog piece. Caroline Frey is owner, winemaker and oenologist. She graduated from the Bordeaux School of Oenology in 2002 and purchased Chateau La Lagune in 2004. She is young, successful, and leading La Lagune to bigger and better things. Keep this wine in your radar.
I found my selection at Total Wine for $69.95 and Bank of Sous Chef financed the purchase. Total Wine can be a bit of an overwhelming place to make a wine selection, so I rely on the ratings of well-known and trusted sources when purchasing wine there. I find when it comes to French wines I can trust Wine Advocate ratings to coincide with my palate preferences.
Said Wine Advocate:
"Is this 2005 "deja vu all over again"? Proprietress Caroline Frey has elevated the quality at La Lagune since acquiring this estate, and the 2010 is another superb effort as well as one of the better values in Bordeaux. An opaque purple color is followed by an extraordinary perfume of black raspberries, black currants, licorice and subtle smoke and graphite. While uber-concentrated, full-bodied and pure, it retains both elegance and precision as well as a sensational 45-second finish. The suppleness of the tannins and stunning opulence suggest it will drink beautifully for 25+ years." Reviewed by: The Wine Advocate – 94 pts
The review was spot on. The wine is marvelous and left Sous Chef and I jockeying for the last glass. True to its location, the wine is a blend of 60% Cabernet Sauvignon, 30% Merlot and 10 % Petit Verdot. ABV is 14.5%. However, this wine is very smooth and elegant and you don't feel any of the heat on the palate you can get with high ABV or a relatively young, Cabernet Sauvignon based wine.
There is no better pairing for a red Bordeaux than a slab of meat. So I paired the wine with Beef Tenderloin with Horseradish Sauce from a recipe I found in Julia Reed's South Cookbook. A special wine deserves a special meal and this pairing is anniversary, birthday or holiday dinner party worthy. The beef is rubbed with butter and salt, and you know butter makes everything better – just like bacon! Then it is roasted and served with one of the lightest and fluffiest Horseradish Sauces you will find. Not only does the Horseradish Sauce make a great accompaniment to the beef, it makes a stellar addition to mashed potatoes or a topping for baked potatoes. I even used it as a spread the next day on beef sandwiches. This is one versatile sauce to have in your cooking arsenal.
In the name of "research" I also purchased a 2010 Chateau Potensac Médoc (no growth classification, just a nice cru bourgeois blend with ABV 14%) to pair with "Frenchie" burgers. This bottle was $29.95 and received a 92-point rating from James Suckling and 90 points from Wine Advocate. The price is a little more than we typically spend for "burger" wine, but when the comparison wine is a Third Growth, a wine with some quality is needed.
Said James Suckling:
"Aromas of blueberries and raspberries with hints of flowers. Full body, with fine tannins and a clean, fresh finish…92" JamesSuckling.com 02/13
Said Wine Advocate:
"The wine is outstanding. Rich black raspberry and black currant fruit intermixed with some graphite and floral notes are followed by an opulent, fleshy, full-bodied wine with impressive concentration, texture and length…90" WA 2/13
So here's the thing: when experimenting with wine appellations, it's generally best to start with the lower-end wine first and move on the higher-end wine. This makes for a fairer playing field. While there was nothing intrinsically wrong with the Chateau Potensac, it just did not have the same smooth, velvety, elegant style as the Chateau La Lagune. However, the wine was quite lovely with the burger which we "Frenchified" by adding caramelized onions, mushrooms and Raclette Emmi cheese. The wine is worth a do-over with a fresh palate and more sophisticated cuisine.
A huge thank you to Jill from L'occasion for offering to host The French Winophiles!  Here is the lineup from our talented and knowledgeable French #Winophiles:
Michelle from Rockin Red Blog shares Diving Into Bordeaux Wine with Winophiles: Medoc
Camilla from Culinary Adventures with Camilla brings us To the Médoc with Herbed Lamb Chops
Wendy from A Day in the Life on the Farm presents The Ozarks meet Haut Medoc??
Christy from Confessions of a Culinary Diva goes for Banking on Bordeaux
Jeff from Food Wine Click offers us Left Bank and Lentils
Jill from L'occasion, will share Why We are Drinking Now: A Médoc Beauty
Interested in joining in? Put 8 am PST on your calendar and pop into twitter. Hunt down the hashtag #Winophiles. Share, ask, enjoy.
Upcoming Tour Dates:
August 20th – St. Emilion/St. Emilion Satelites
September 17th – Graves and Entre-Deux-Mers
Join us for our upcoming events by emailing your post title to Christy at culinarydiva@icloud.com or Jill at jillbarth@msn.com.
Horseradish Sauce
Author:
Julia Reed – Julia Reed's South Cookbook
Ingredients
6 tablespoons prepared horseradish
1½ cups sour cream
½ cup heavy cream, whipped to soft peaks
1½ teaspoons Dijon mustard
2 teaspoons fresh lemon juice
1 teaspoon salt
½ teaspoon sugar
freshly ground black pepper
Instructions
Place the horseradish, sour cream, heavy cream, mustard, lemon juice, salt and sugar in a medium bowl and fold to combine. Check for seasoning. Add more salt and/or lemon juice if desired and stir in pepper to taste.