The French are like a custard, inside a soufflé, wrapped in a pastry. How else to explain the benefits from a fatty diet, heavy smoking, and persistent alcohol consumption—the so-called "French Paradox–or their penchant for making things more difficult than they need be? See, for example, any French recipe. Perhaps it results from arrogance by wanting to appear smarter or insidiously elitist or more cultured than others. Or just maybe they are, especially when it comes to food and wine.
This week marks the start of the French Winophiles, a group devoted to exploring French wines in considerable depth. I can place some credit—or is it blame?—for the concept on Jordane Andrieu, owner of Heritage Fine Wines in Beverly Hills. I walked into his beautifully appointed wine store with some trepidation—after all, French wine is abundant and sometimes incomprehensible, particularly for one whose French is limited to "oui"– and left in a sort of a French Haze. Perhaps it was his charming demeanor or accent. Or perhaps it was his selection of wines from many different appellations, large and small, some common and some obscure. Most likely it was his enthusiasm for wine. Regardless, it was one of the most stimulating conversations Sous Chef and I have had about wine. The visit sparked the idea to create a group that focuses on French wines and does so region-by-region.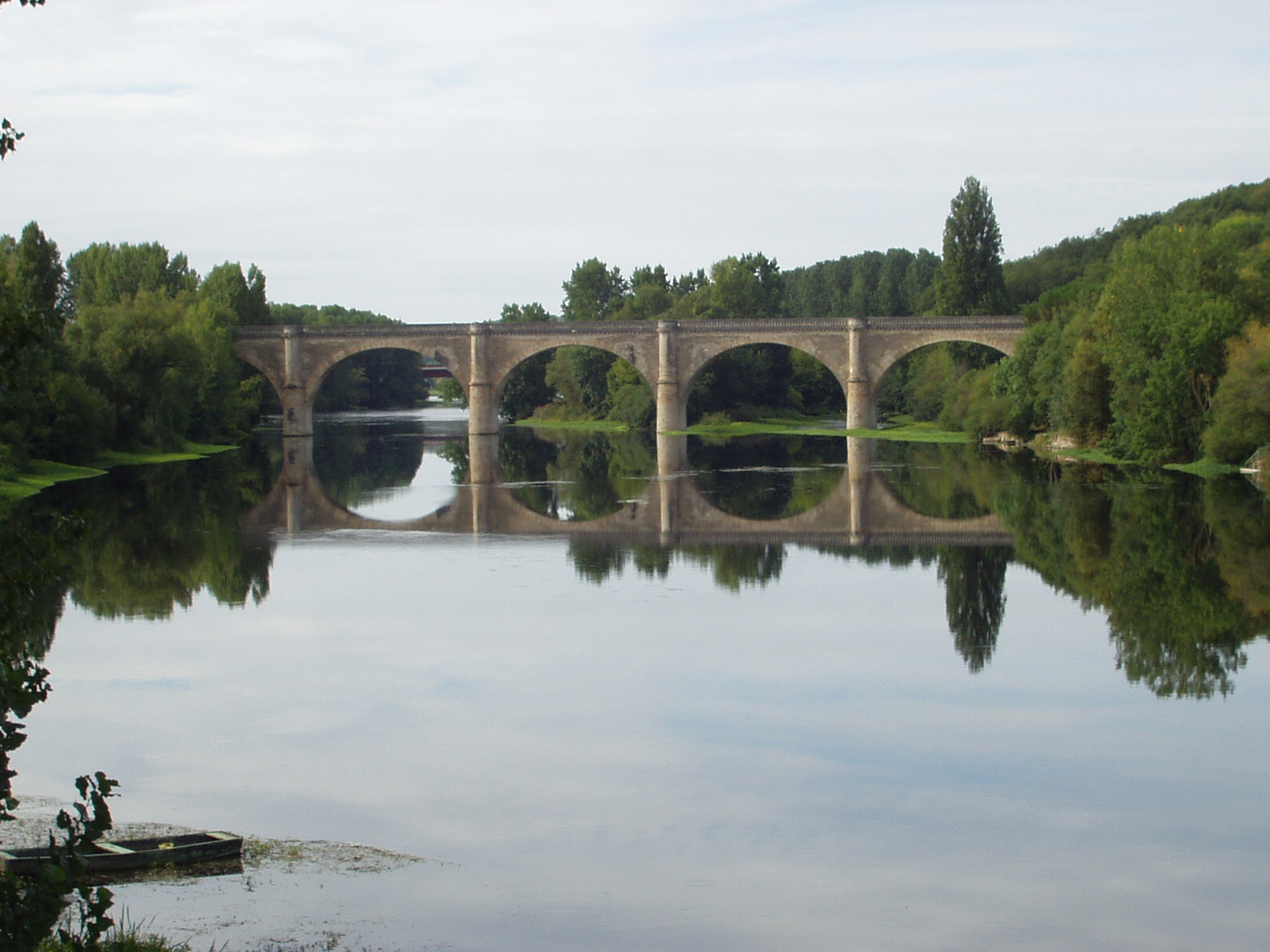 France has ten principal wine regions, nearly 280 appellations (ranging in size from huge, such as Bordeaux, to tiny, as in a single-vineyard appellation), and an incredibly convoluted system for identifying and guaranteeing the quality of its wine. In short, the French Winophiles have embarked on a never-ending journey to better appreciate the wines of France. This suits me just fine for, like Miss Marple and Jessica Fletcher, I am intrepid in my efforts to get to the bottom of things, particularly a fine bottle of French wine.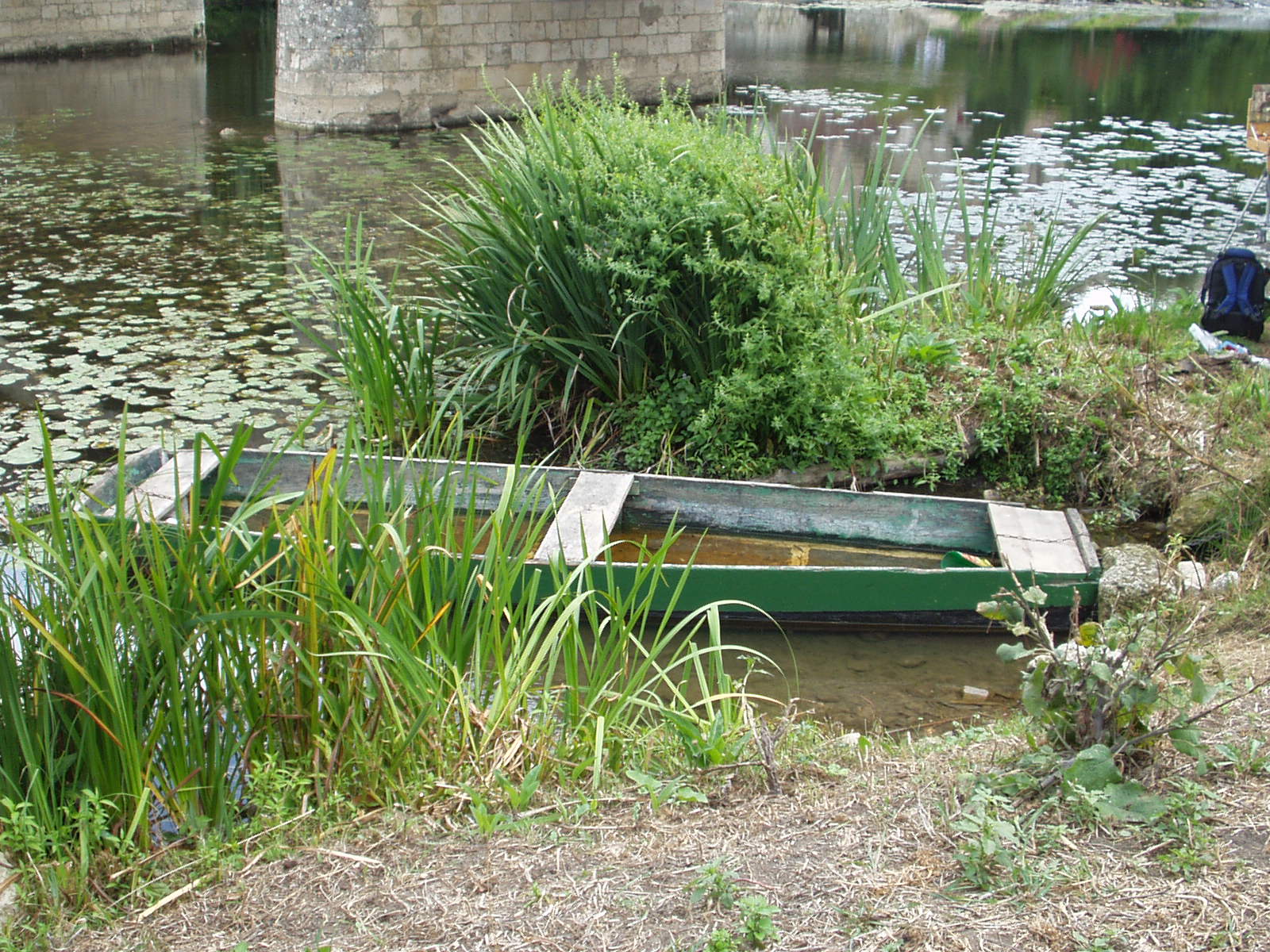 The Group will focus on the ten major wine regions, the first being the Loire Valley. It is the only French wine region I have visited. When I think of the Loire Valley I imagine châteaux, bicycles, and light, refreshing wines. Totally captivated by this region, it is where my passion for French wine blossomed and the thought of living in the French countryside, ala Peter Mayle, took hold. But I'm a dreamer and dabbler and Sous Chef frequently has to bring me back to reality in a way that only an attorney can do. So he prefers I limit myself to trips around Wally's Beverly Hills and Heritage Fine Wines rather than an Air France ticket and Citroën rental car.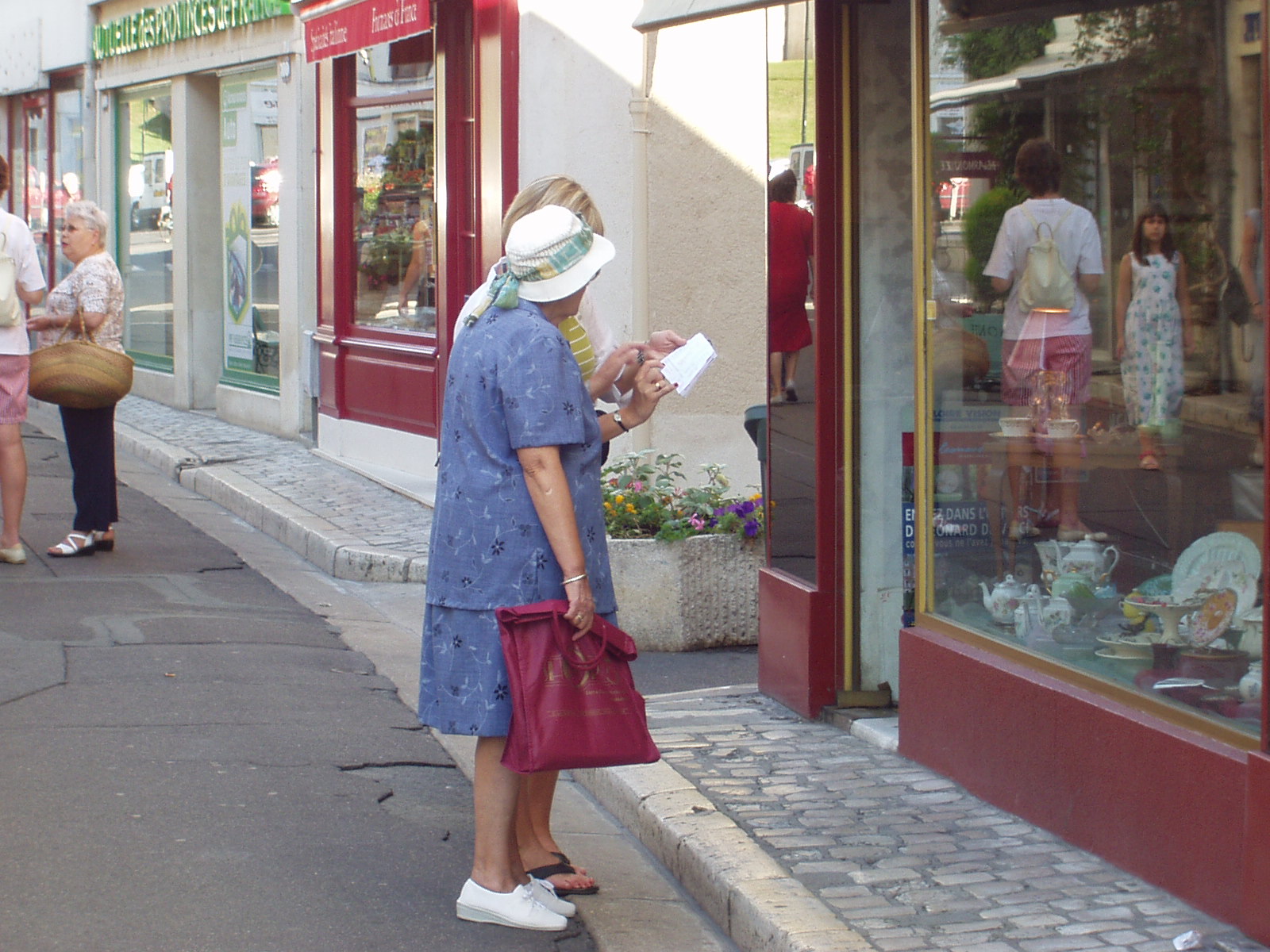 A little background on the Loire Valley:
The Loire Valley wine region is rather broad and encompasses areas situated on the Loire River from the Muscadet region near the city of Nantes on the Atlantic Coast to the Sancerre and Pouilly Fume regions just southeast of the city of Orleans in north central France. Within the Loire Valley there 87 appellations, 185,000 planted acres, and a variety of grapes sure to please your palate: Chenin Blanc, Sauvignon Blanc, Cabernet Franc, Melon de Bourgogne, Gamay, and Pinot Noir. These grapes produce wonderful white wines, rosés, and reds, and the wines are generally great values for the quality. Surprising to me, the Loire Valley is also the second largest sparkling wine producing region in France, second only to Champagne.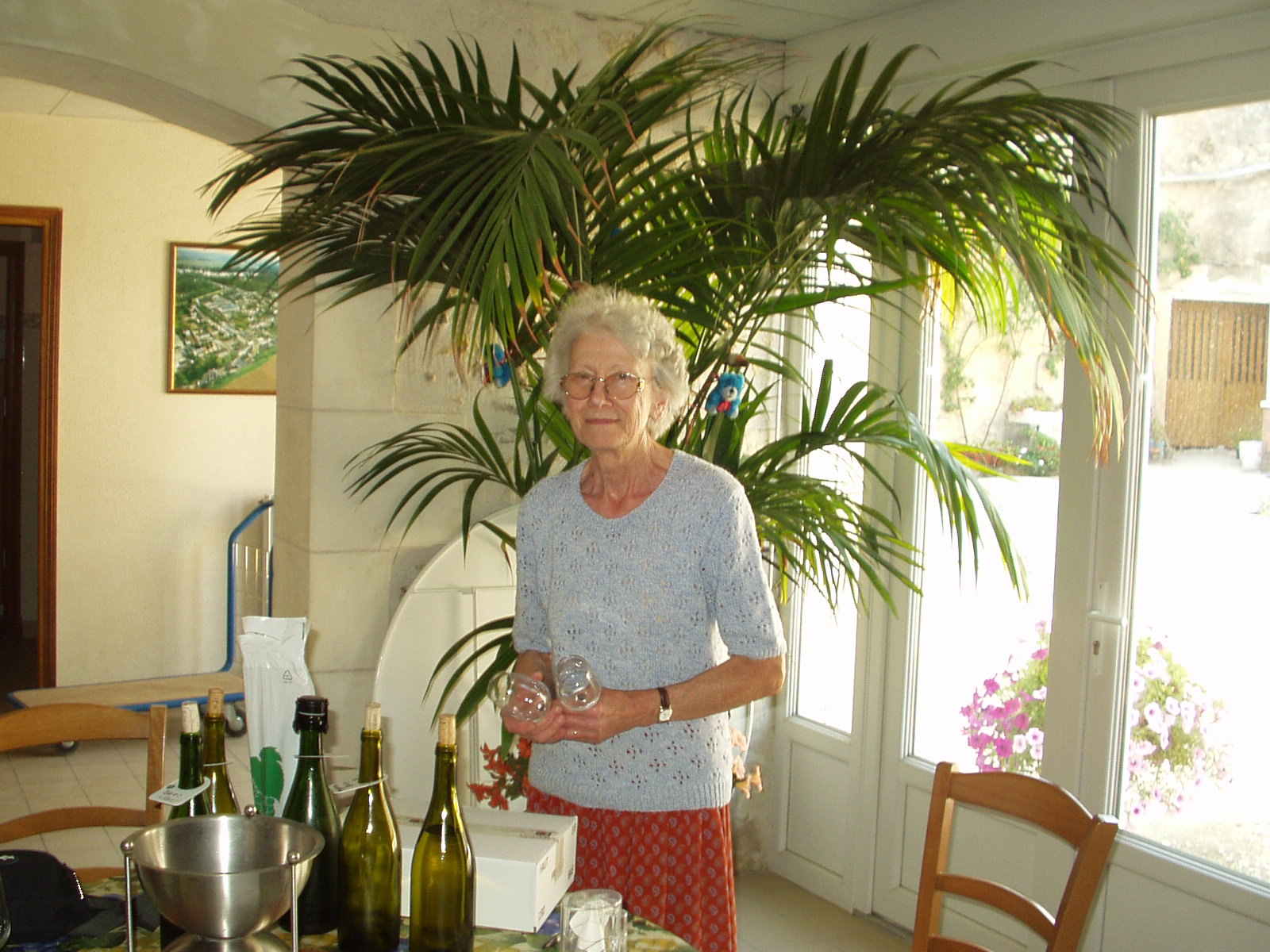 Wines from the Loire Valley are noted for exhibiting several commendable characteristics: they are moderate in alcohol and have restrained acidity and minerality that make them ideal food wines; they are pure expressions of varietal and terroir unblemished by oak; and they generally represent excellent value. Although promoting their "purity of expression," Loire Valley wines may include chaptalization (the process of adding sugar to the unfermented grape to increase the alcohol content after fermentation). This process is somewhat controversial in California and there is a movement led by a confederation of pinot noir producers called In Pursuit of Balance that espouses natural, lower alcohol, and less hedonistic wines without any contrivance.
The Wine Sources:
Fortunately for me, Sous Chef is always eager to dive into my wine research and insists on buying 6-12 bottles to make sure we have a full understanding of a wine region and a sufficient selection from which to make wine and food pairings. For the Loire Valley examination, six bottles came from our local Total Wine and the other six bottles came from Heritage Fine Wines. In all instances the wines met our expectations in terms of value and quality. The Total Wine bottles averaged about $18 while the Heritage Fine Wines bottles averaged about $80. For everyday drinking, the wines from Total Wine served the purpose and provided a great value; for special occasions, the Heritage Fine Wines really stepped up the game in terms of quality, subtle complexities, and elegance.
The Cuisine:
For food pairings, I pulled out Hungry for France by Alexander Lobrano. It is a beautiful cookbook that breaks out the cuisine of France by region, a real boon if you are working your way through the French wine regions and need provincial food pairings. I may have fallen in love with this cookbook as I cooked almost every recipe from the Loire Valley section. All of the recipes I tried will make appearances on our table again, and were weeknight friendly and dinner guest worthy.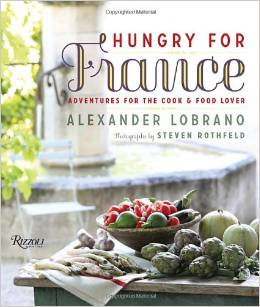 The first meal started with a Chard-Roasted Salmon with Fennel Salad, the preparation for which is reminiscent of salmon en pappiollate. We used Copper River Salmon since it was available and in season. The salmon is rubbed with an anchovy oil, wrapped in chard leaves, and then roasted and served with a Fennel Salad. The rich flavors of the salmon are complimented by the saltiness of the anchovy oil and the bitterness from the chard leaves while the fennel salad adds a nice bite to refresh the palate.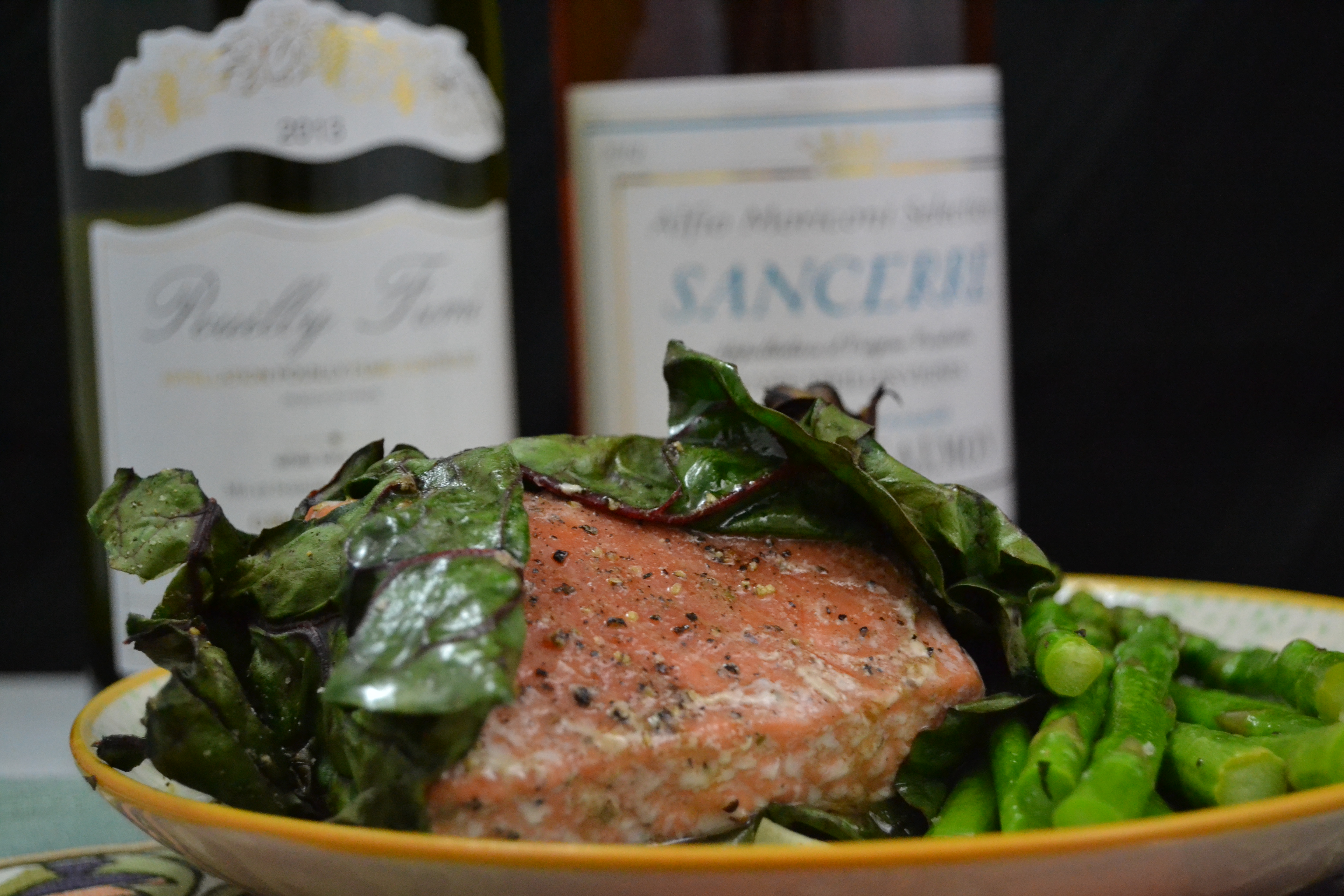 Since we had a semi-healthy entrée, we indulged with an Apple-Strawberry-Tomato Crumble dessert. What a great reminder that tomatoes are fruit and can be used in a dessert! The tomato added a nice complexity to the crumble and helped balance the sweetness of the strawberries and apples. Do try this combination at home!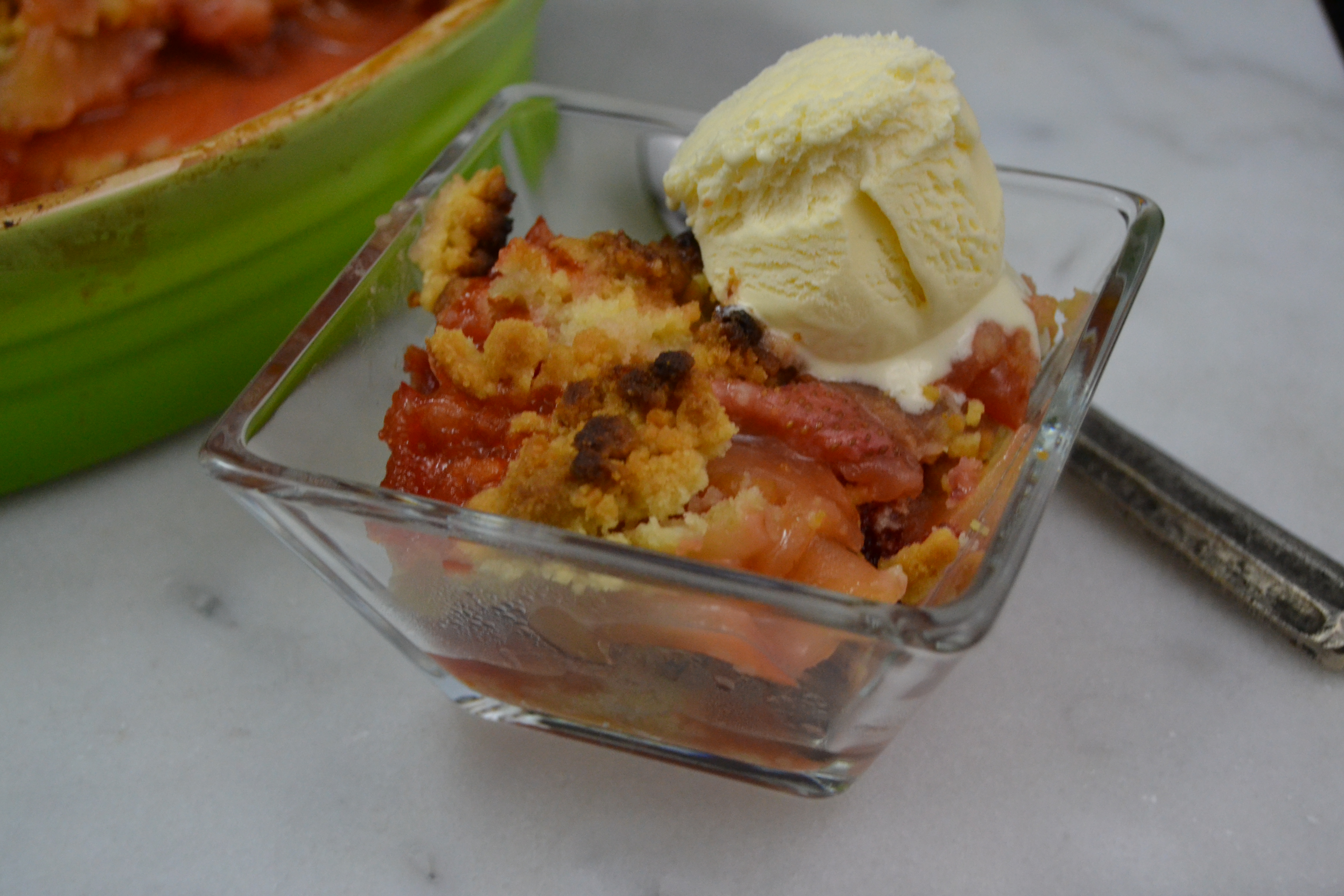 We paired the salmon dish with two Loire Valley wines. The first was a 2013 Blanchet Pouilly Fume that had citrus notes and hints of flintiness that paired well with the salmon. It is light to medium bodied and very delightful with food or on its own. Blanchet is a small family run winery on eight acres in the middle of Pouilly Fume. This is a great quality wine at $17.99 a bottle and will pair well with your summer salads and seafood offerings. You can find this wine at Total Wine.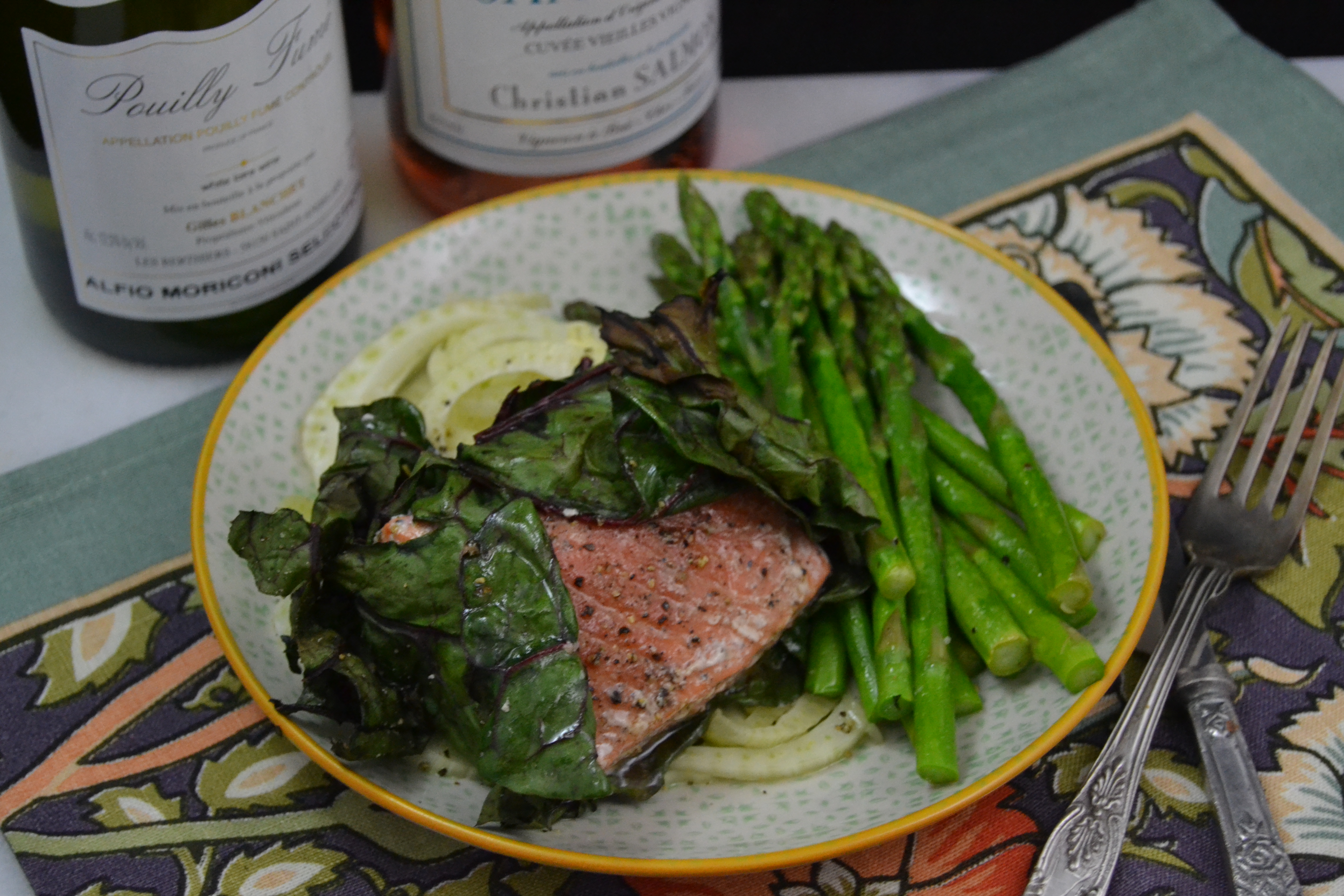 The second wine was 2014 Salmon Sancerre Rosé. Living in the desert, where our temps in the summer are generally over 100 degrees (this last week we reached 118), I have a great appreciation for rosés as they frequently bridge the gap on days when you want a red but prefer the relative coolness of a white. (And, yes, I understand that the correct serving temperature for reds and whites is quite similar, but really, who does not enjoy a chilled wine during the less temperate weather?). This rosé is dry and has notes of strawberry, cherry, and vanilla. This is a very elegant rosé that was a great pairing with the salmon. Like the Blanchet Pouilly Fume, it will pair with all your summer fare. You can find this at Total Wine for $19.99 a bottle.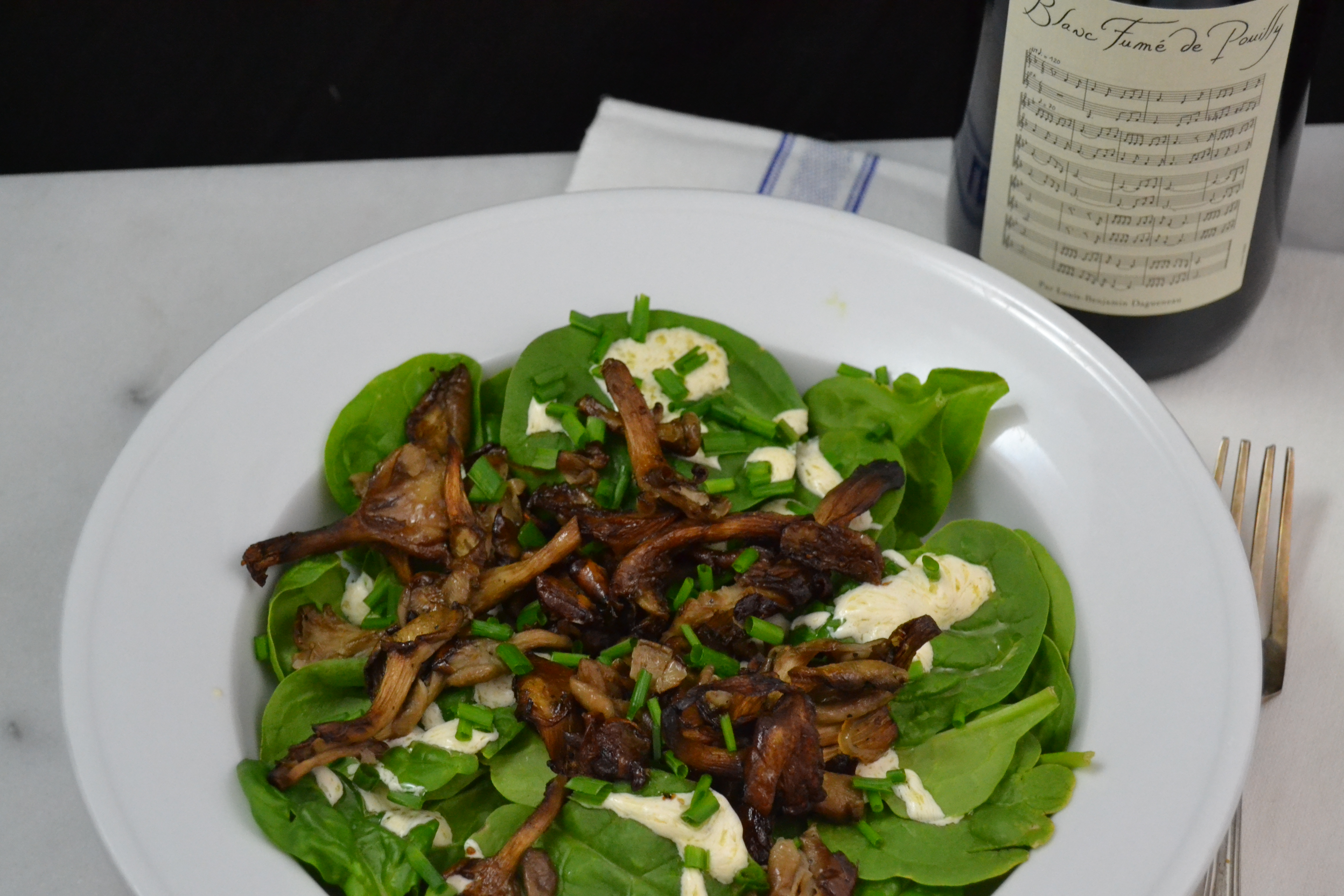 Because I am a bit obsessive-compulsive about things, I couldn't stop with just one meal. So our second meal was a feast of Roasted Oyster Mushroom Salad with Goat Cheese Vinaigrette and a Pork En Cocotte with Red Plums. I covet the Roasted Oyster Mushroom Salad and the 2011 Domaine Didier Dagueneau Blanc Fume de Pouilly wine pairing. The earthiness of the roasted oyster mushrooms complimented the minerality in the wine, which also had an herbal quality with notes of mint and sage and a peppery finish (perhaps almost that of a radish) and tones of orange and grapefruit on the nose. This wine was from Heritage Fine Wines and retails for $75 a bottle. Definitely a special occasion wine, and this meal definitely qualified.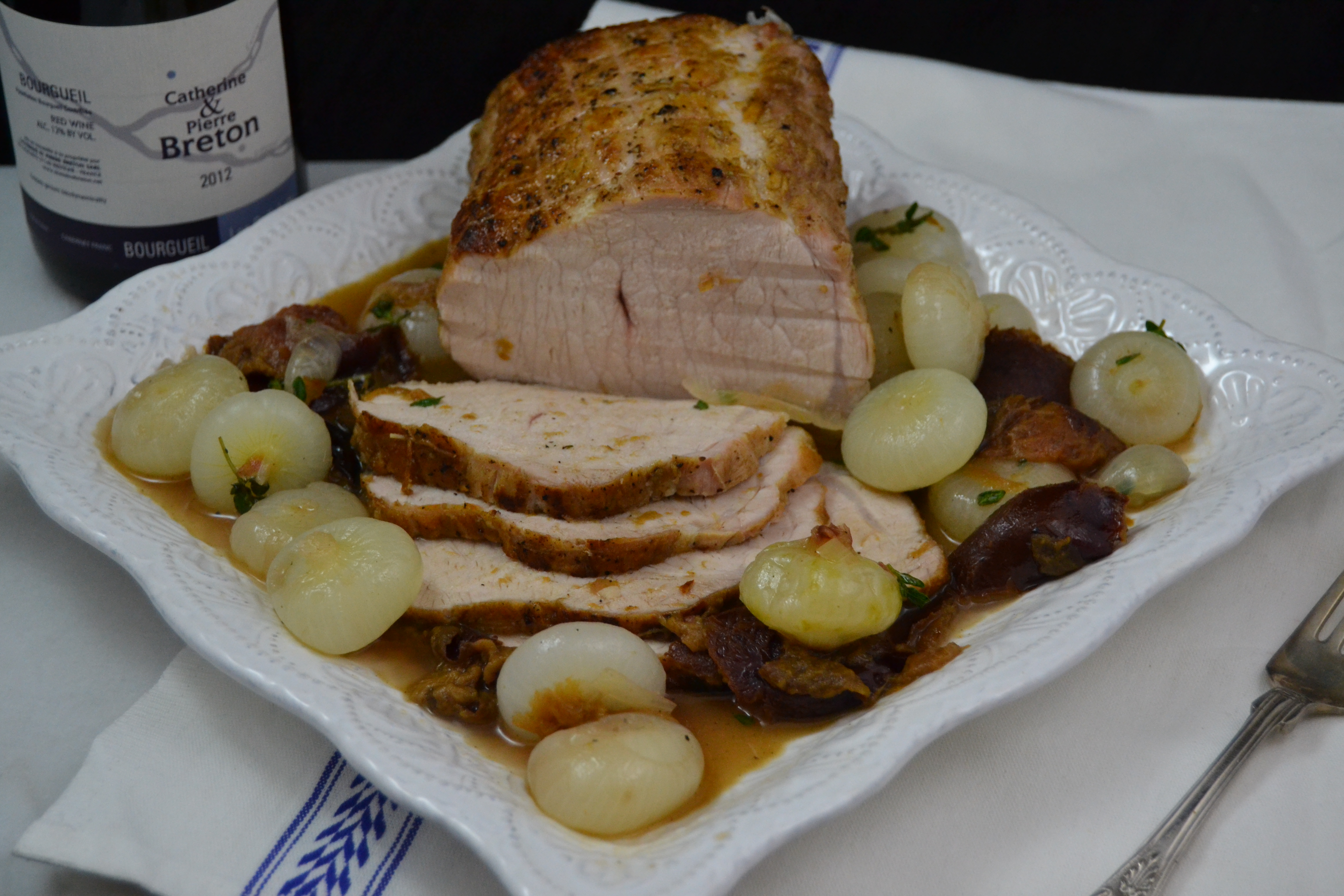 The entrée that evening was a Pork En Cocotte with Red Plums. Sadly, I overcooked the pork. But it was a good reminder that you should not forget to check your food just because your significant other is acting frisky in the kitchen. We both enjoyed the flavors of this dish despite the dryness of the pork and are looking forward to a redux sometime soon (both the pork and the friskiness).
As mentioned in previous posts, a good bottle of wine can compensate for cooking mishaps and our bottle of 2013 Catherine & Pierre Breton certainly did so. The term "Breton" in the Loire Valley means Cabernet Franc. This food friendly wine had lively fruit and pepper notes common to a good Cabernet Franc and is aged in stainless steel, rather than oak, and is unfiltered, all which adds to its austerity. The wine is meant to be consumed while young and we are glad to comply. The vines grow in gravel and have passed their Golden Jubilee. The wine retails for $24.99 at Total Wine and is a great value for the quality. The ABV is 12% so it is nice and light for summer meals. One note: the overall structure and flavor profile of this wine is significantly enhanced when paired with food.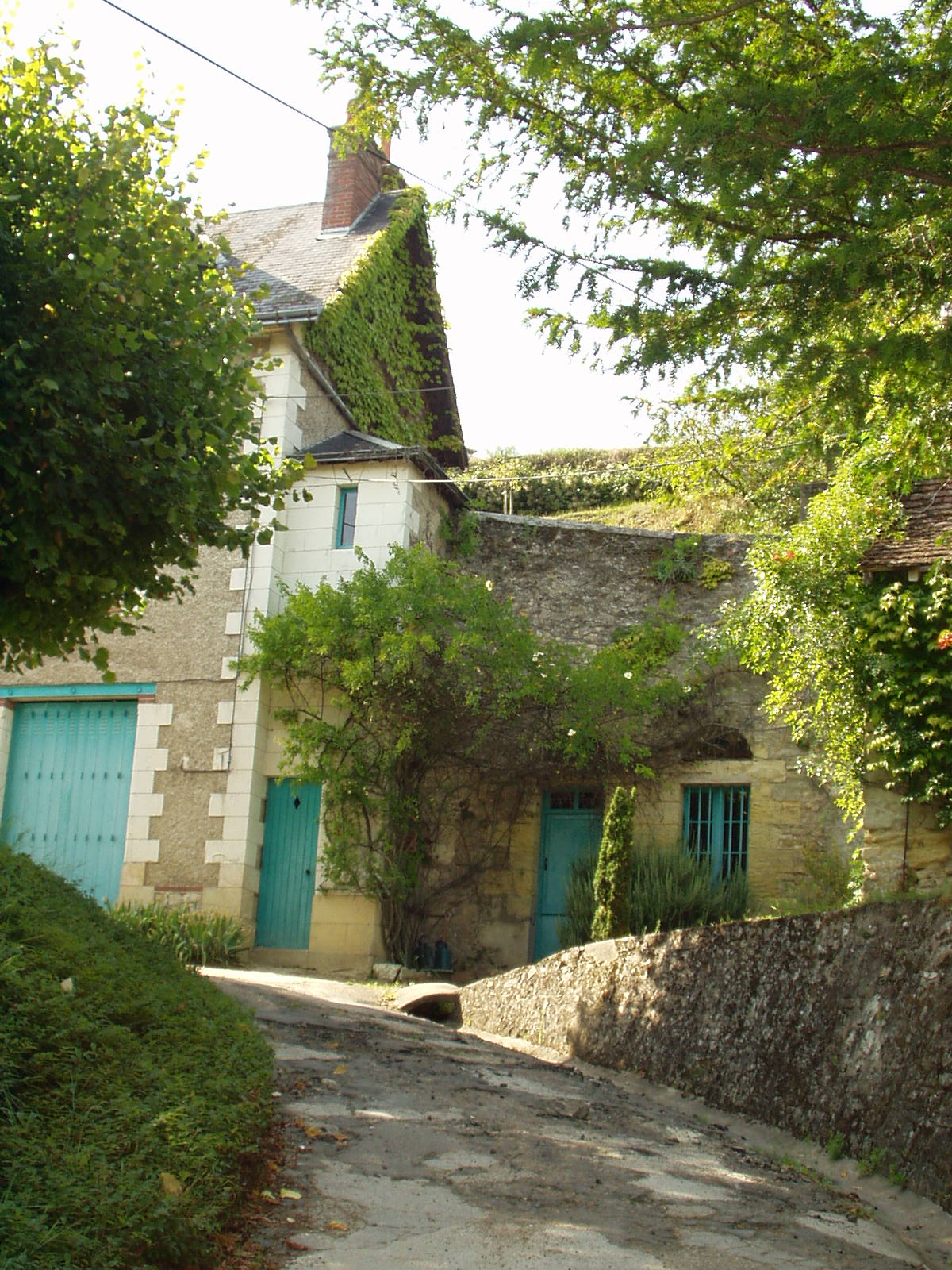 With that note I'm turning it over to the rest of The French Winophiles to whet further your appetite for Loire Valley wines. They've come up with some incredible pairings, so make sure to check out the below links for more inspiration.
Martin from Enofylz Wine Blog shares "Tale Of A Crémant de Loire Brut Rose At The Table"
Jeff from foodwineclick indulges in "Saint-Jacques Poêlées & Sancerre"
Sarah from Curious Cuisiniere brings us "Grilled Salmon with Beurre Blanc and Loire Valley Muscadet"
Wendy from A Day in the Life on a Farm tempts us with "Vouvray Poached Pineapple with Rosemary Whipped Cream featuring Bardon and Guestier aka CIC meets French Winophiles"
David from  Cooking Chat shares "Grilled Shrimp with Pouilly-Fumé
Camilla from Culinary Adventures with Camilla  brings us "Gravlax, Goat Cheese, & French Sorrel Stuffed Squash Blossoms + Patient Cottat Sancerre 2013"
Anna from Anna Dishes is tempting us with "Strawberry Lavender Compote with Loire Valley Brut Rose"
Tammy from Telling Stories from Chez Nous is sharing "Lemon Garlic Chicken with Pan Sauce paired with Oisly & Thesse Sauvignon"
Christy at Confessions of a Culinary Diva is sharing  "Chard Roasted Salmon with 2013 Pouilly Fume and 2014 Sancerre Rosé"
Join us next month on Saturday, July 18th as we explore the region of Provence. If you are interested in participating in the fun, email me at culinarydiva@icloud.com for further details.
Au revoir until July 18th!
For an understanding of the goals and aspirations of the In Pursuit of Balance group, see The Grapes of Wrath by Bruce Schoenfeld, May 28, 2015, at NYTimes.com.
Chard Roasted Salmon with Fennel Salad
Author:
Hungry For France by Alexander Lobrano
Ingredients
½ fennel bulb, sliced ⅛ inch thick on a mandolin, fronds reserved
2 Tablespoons plus 2 teaspoons extra virgin olive oil, plus more for brushing
2 Tablespoons fresh orange juice
kosher salt and freshly ground pepper
2 teaspoons anchovy paste
4 large Swiss Chard leaves, thick center ribs removed
4 – 6 oz salmon fillets, skinned
Instructions
Heat oven to 450 degrees. In a medium bowl, toss fennel, fronds, and 2 tablespoons oil and orange juice. Season with salt and pepper.
In a cup, blend anchovy paste with remaining 2 teaspoons olive oil.
Brush a large baking sheet with oil. Spread chard leaves on the baking sheet. Set a salmon fillet on each leaf, brush with anchovy oil, and season with pepper. Fold leaves over salmon and cover with more leaves if needed to fully enclose. Brush with more oil and season with salt and pepper.
Bake the salmon rotating the sheet halfway through, until barely opaque in center and the leaves are crisp, 8 to 10 minutes.
Mound fennel salad on plates, top with salmon and serve.