French food is often deemed fussy and unattainable for the home cook. Rarely is it considered weeknight fare for the busy working family. Until now, that is. I've found a chicken recipe that cuts through the hassle and provides a gourmet meal that is worknight friendly. No, I am not talking about a chicken breast awash in Campbell's Mushroom Soup, but a real blanc de poulet in a handcrafted mushroom sauce. Pair this with a bottle of Chinon and, Voila!, life is good.
If you are beurre-adverse, you had better skip to the next paragraph for the chicken breast is bathed and sautéed in a vat of butter (okay, maybe just a stick, but you get the idea), then set aside and kept warm whilst blanched, sliced mushrooms and shallots are added to the remaining butter and browned. A little Dark Rum is added to bring out the rich flavor of the mushrooms, and the sauce is finished with crème fraiche. For service, the sauce is ladled liberally over the chicken breast. This indulgent meal can be accomplished in less than 30 minutes.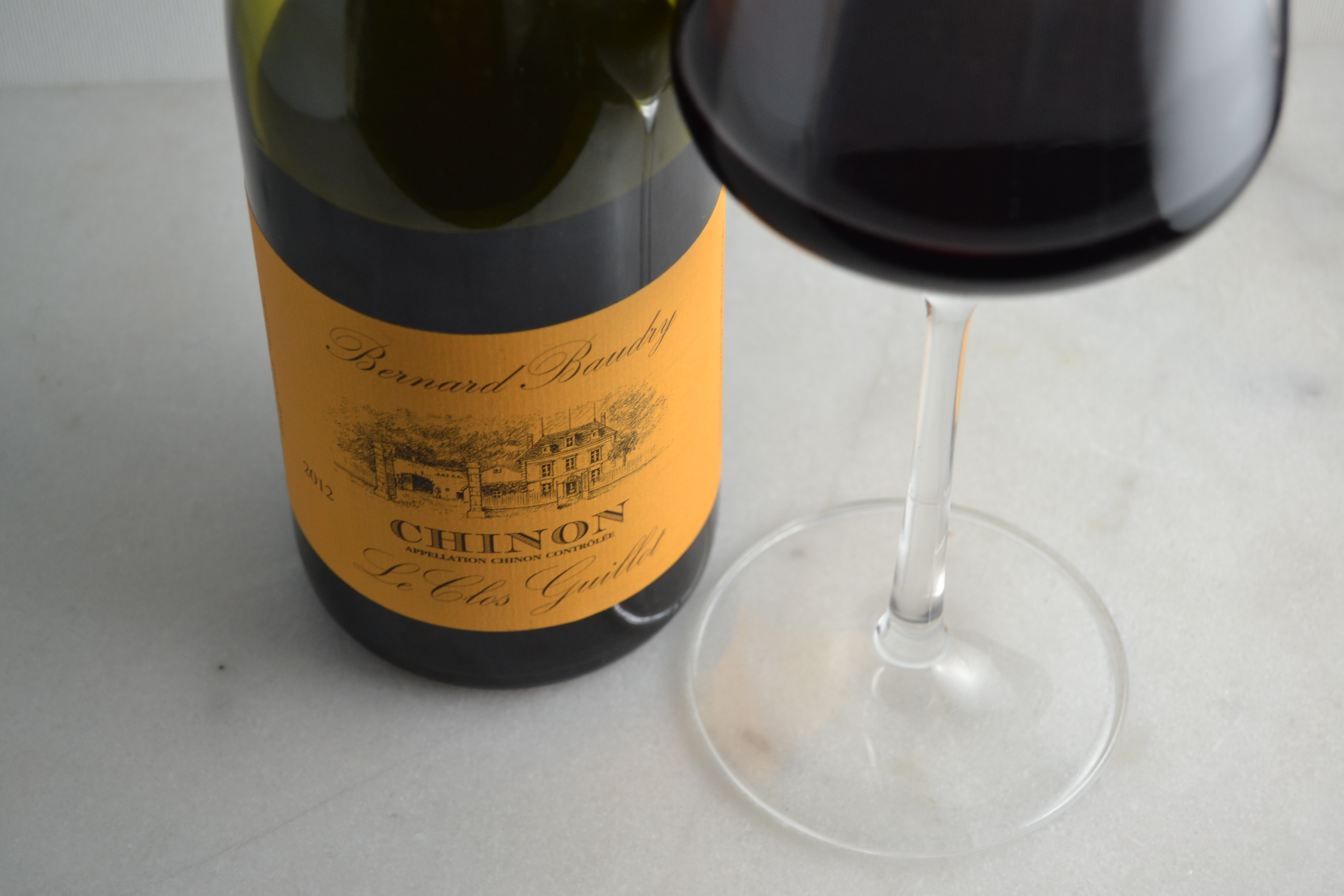 Pair this dish with a wine from the Loire Valley and you have a match made in heaven. I selected a 2012 Bernard Baudry "Les Clos Guillot" Chinon purchased at K & L Wines for $33.99. The grape varietal is Cabernet Franc and the ABV is 12.5%. The "Les Clos Guillot" is lighter in style, making it the perfect bridge wine for chicken and its musky notes a savory complement to the mushroom sauce. The wine exhibited additional notes of plum and cherry and the tannins were chewy and well-balanced. It is a delightful wine that paired perfectly with the food, yet it is quaffable on its own. This is a natural wine in which the winemaker lets the grapes and terroir do most of the work. Accordingly, it is organic, harvested by hand, and bottled without fining or filtration.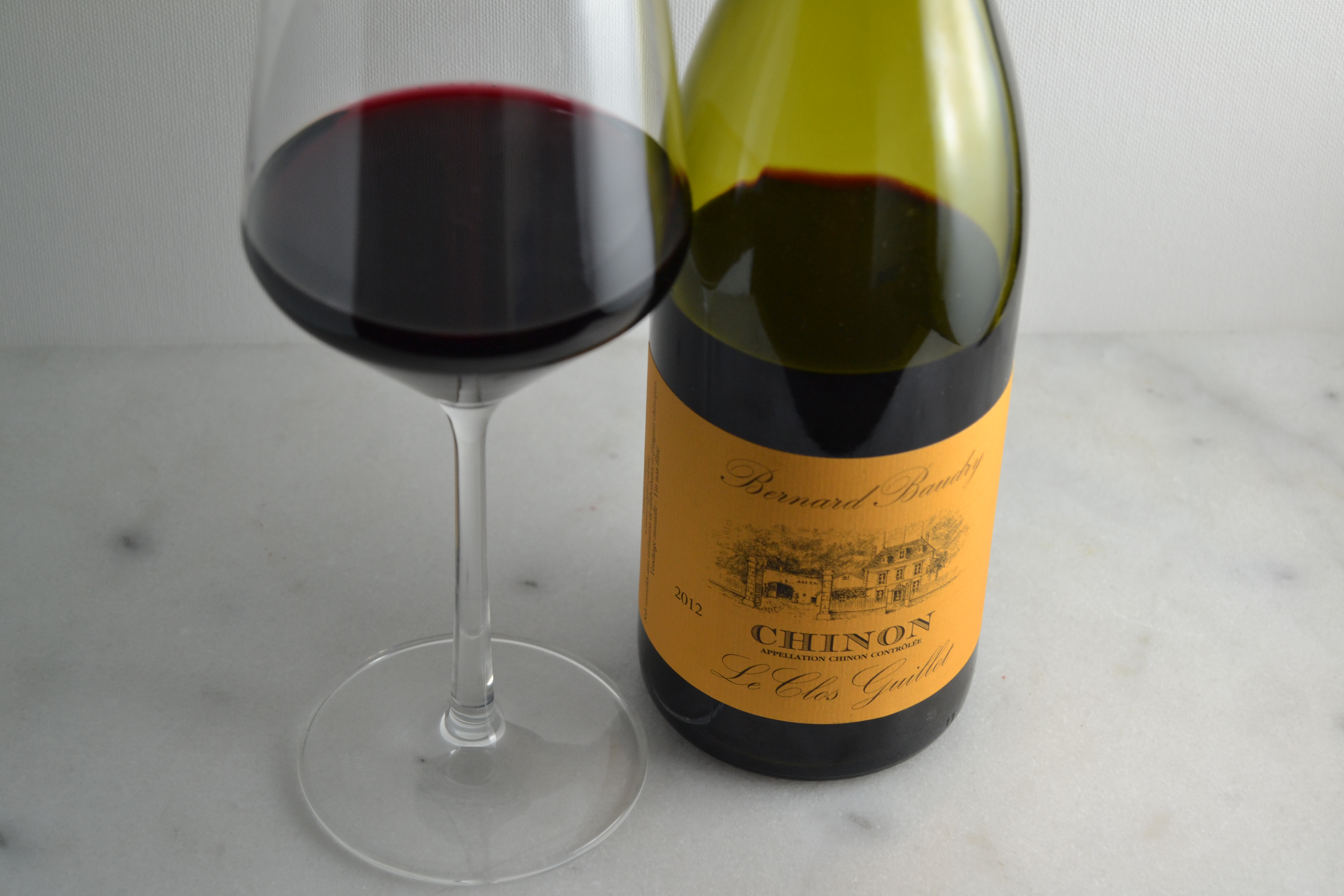 Looking for food and wine pairings? Don't miss these pairings:
Alice of  The Wine Culturist  shares "From the Loire to the Ends of the Earth: Cabernet Franc Untamed"
Camilla from Culinary Adventures with Camilla tempts us with "Cod in a Mushroom Cream Sauce with Dom Pichot Vouvray"
Jill of L'Occasion shares "Vouvray During WW2: A Wine Worth Fighting For"
Jeff from foodwineclick brings us "Easy Spring Dinner with Pommes Gratin and Chinon"
Martin of Enofylz Wine Blog shares "A Taste of Montlouis Pétillant Originel"
Michelle from Rockin Red Blog shares "Diving into Loire Valley Wines with Winophiles: Chinon"
Christy from Confessions of a Culinary Diva  "Chicken and Chinon"
Make sure to join in our live Twitter Chat on Saturday, May 21st using hashtag #Winophiles at 8 am PST/11 am EST.
Upcoming Events:
June 18th – Upper Loire – Cheverny, Sancerre, Pouilly-Fume/Pouilly-Sur-Loire
July 16th – Medoc, Haute Medoc
August 20th – St. Emilion/St. Emilion Satelites
September 17th – Graves and Entre-Deux-Mers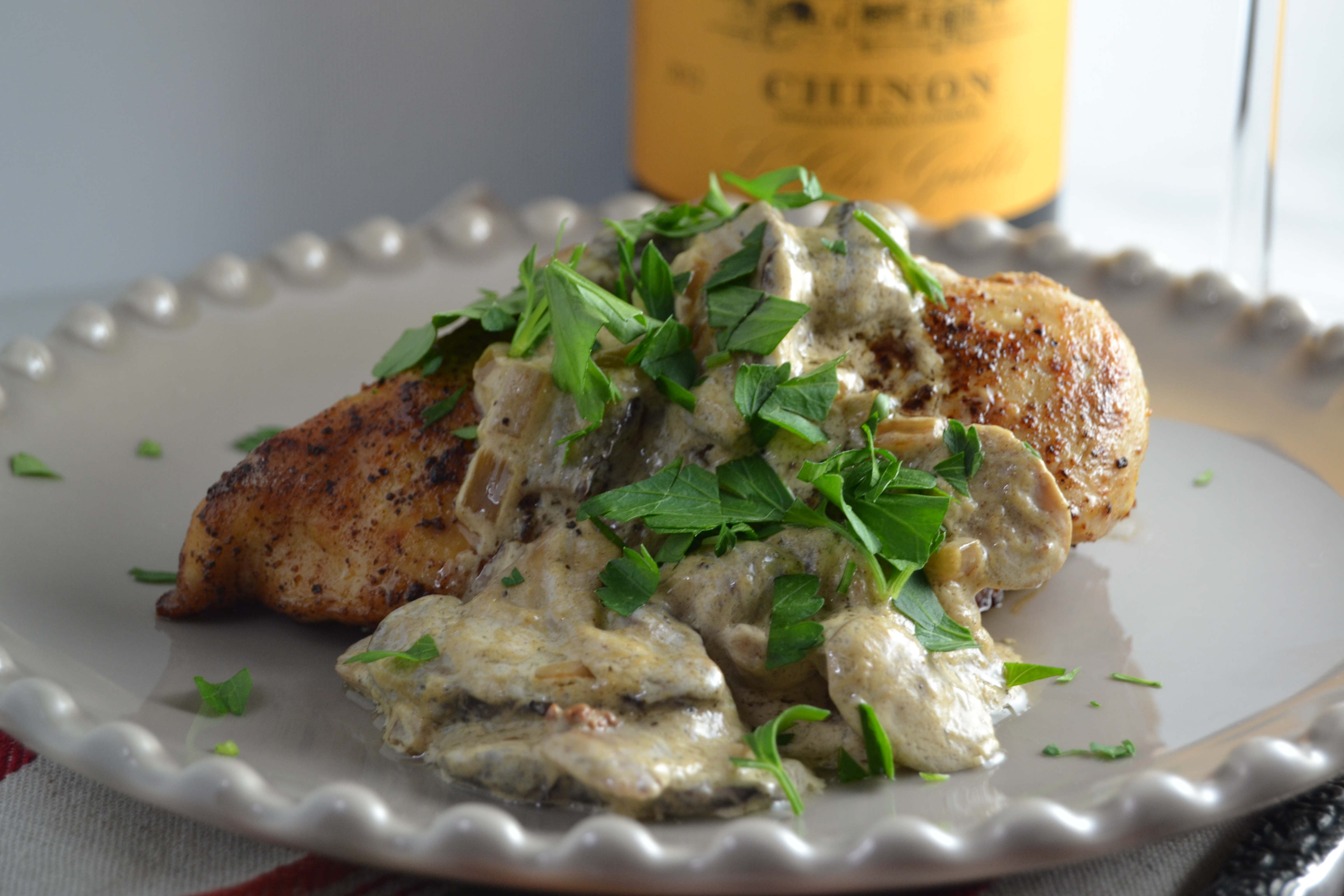 Chicken with Mushrooms & Rum
Ingredients
1 stick of unsalted butter
2 tablespoons olive oil
4 boneless, skinless chicken breasts
1 package sliced white cremini mushrooms
8 shiitake mushrooms, sliced
2-3 shallots peeled and finely sliced
5 tablespoons dark rum
8 oz crème fraiche
Flat leaf Italian parsley for garnish
salt/pepper
Instructions
Season the chicken breasts with salt and pepper.
Fill a stock pot or dutch oven with water, heat to boiling, and plunge the sliced mushrooms into pot for 1 – 2 minutes, remove and place into a colander. Pat dry with paper towel and set aside.
Heat the olive oil and butter in a skillet or heavy bottomed panned over medium-high heat and cook the chicken until the outside is a golden brown, turn, and cook other side until golden brown approximately 15 minutes. Remove from heat. Place chicken on plate and cover with foil to keep warm.
Place shallots in skillet with remaining butter/oil mixture. Add mushrooms and cook until golden brown. Remove from heat, pour in rum, return to heat and boil for 1 minute. Add crème fraiche and taste for seasoning – add more salt and pepper if necessary. Boil for 2-4 minutes, then serve immediately over chicken breasts and garnish with parsley.