Amorphous is the word that best describes Southwest France (or Sud Quest as we Francophiles like to say). It is this big area that encompasses the Atlantic Ocean as a western boundary and shares the Pyrenees and a border with Spain. Its capital is Toulouse, the third largest city in France, and the region is unique for its combination of oceanic, Mediterranean, and continental influences. The Romans planted grapevines in 125 BCE and, according to Paula Wolfert, "They really eat well down there."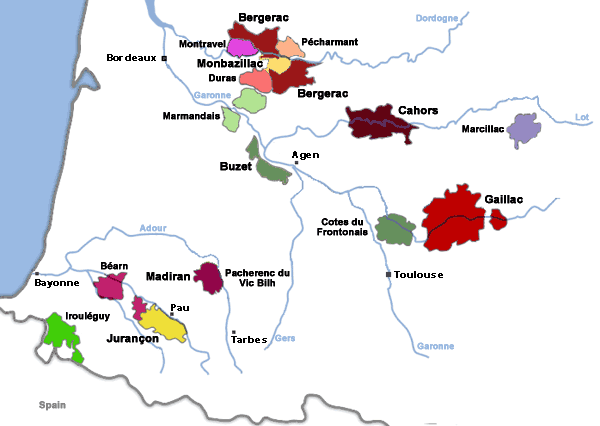 Seems like this should have been a fairly simple exploration of a French wine region by The French Winophiles, but I have found that nothing is simple when it comes to French viniculture. Although Bordeaux and Languedoc are part of geographic Southwest France, they are very important exclusions from the Southwest France wine region. Notwithstanding, this is a complex wine region that has some thirty appellations, 850 independent producers, 23 cooperative cellars, and 124,000 acres of vines which produce a relatively equal amount of white versus red and rosé wines. It is home to lots of small producers who frequently use rare and little known grape varietals such as Negrette, Arrufiac, and Gros Manseng.
While at K&L Wine Merchants in West Hollywood, I asked for Southwest France wines and was handed a bottle of 2013 Domaine Bordenave Terres de Mémoire Jurançon Sec. I ultimately learned that the wine was slightly orange in color and had hints of golden flavors, perhaps honey, apple, and pear. The acidity was balanced and it had lovely floral notes on the nose. The use of "sec" signified it was a dry wine and it was, sort of. I would say it was something like a dry Riesling, except it did not have quite as much acid as some. This detail turned out to be important when I paired it with Creamy Artichoke Soup with Shrimp from Alexander Lobrano's Hungry for France cookbook. The soup was delicious but the pairing was disjointed. The soup was a little rich and a little sweet tasting. In fact Sous Chef questioned whether it was intended as an appetizer or a dessert, but then he is from southern California and thinks a jalapeño pepper is on the sweet side. While I liked the wine a lot, I thought the pairing needed a wine with more acid to cut through the sweetness a bit. My fault and an important lesson learned. I got a great tasting wine from K&L Wine Merchants, just not the one that would best complement the dish I prepared. Next time I will ask for food pairing suggestions when I buy wines unfamiliar to me.
With that first wine/food pairing a bust, I ordered Southwest France by Paula Wolfert on Amazon and prayed it would arrive in time for redemption. It arrived just in time to make a meal, but not in time to plan and purchase the requisite ingredients. So I did a refrigerator hunt, found a couple of duck breasts on hand for the Weekend in a French Kitchen challenge, and adapted one of Paula's recipes to suit my purposes. Heck, anywhere there is water there are ducks, so I assumed, correctly so, that duck was a typical fowl in Southwest France.
I love cooking with duck, but this was to be an unusual preparation for me. For the first time I was going to smoke a duck breast. To insure tenderness, I cross-hatched the duck breasts and brined them for eight hours before cooking them in my seldom used Cameron's Stovetop Smoker for about 20 minutes. Since the stovetop smoker was in use, I decided to smoke peach halves and asparagus for the last 10 minutes of cooking time. To finish crisping the duck skin, I grilled it skin side down and for about two minutes. That resulted in such a nice look that I did the same with the peach halves. The smoking process was great for everything except the asparagus, which it overpowered. Maybe I should have given the asparagus a little grill time as well?
I paired this dish with a 2013 La Folle Noire d'Ambat, another Southwest France wine from K&L Wine Merchants. This was a fortuitous pairing as the smoky duck was complimented by the jammy blackberry and pepper notes of the wine. It was deep red, almost burgundy in color, and quite earthy. It is made from 100% Negrette grapes that grow in the Fronton area near Toulouse. Story goes that the Knights of Templar brought this grape back from Cyprus over 900 years ago and called it Negrette because of its dark skin. True or not, the Negrette grape produces wines that are low in acidity and mature quickly. These wines reflect the earthy, mineral qualities of the terroir they grow in and pair well with hearty, rustic food.
I can't wait to explore more wines of Sud Ouest when The French Winophiles starts exploring French wines by individual appellations next year. Until then, don't forget to check out the rest of the great food and wine pairings from Sud Ouest:
Join us Saturday, August 15th at 11 am EST/8 am PST for a live Twitter chat using #winophiles.  September 19th The French Winophiles are touring the Laguedoc-Rousillon Region – join us by emailing your post title to culinarydiva@icloud.com by September 16th.