The hills are alive with the wines of Alsace. I can't drink Alsatian wine without thinking about the Von Trapp family and having the songs from The Sound of Music flood my brain. Okay, I know that was Austria and Alsace is situated on the border of France, Germany, and Switzerland. But you get what I mean: quaint villages set in a beautiful mountainous region. It's enough to make you want to break out into song. I mentioned Alsace to Sous Chef and he broke out his Lederhosen and did a little jig around the house singing about all his favorite things, like brats and sauerkraut.
The Wine Region:
This charming region has 39,500 acres of vineyards that primarily produce white wines. Alsace consists of three major AOCS: Alsace GOC (92% white still wines); Cremant d'Alsace AOC (Sparkling White and rose wines); and Alsace Grand Cru AOC (limited special vineyard wines that comprise only 4% of total production). Contrary to U.S. requirements, the Alsace AOC requires that the bottle contain 100% of the grape variety used. Except for certain Grand Cru AOCs, blends must be labeled "Edelzwicker"," Gentil", or a named wine. And although it strives for purity, the Alsace AOC does allow chaptalization (a method where sugar is added to fermentation) which is a quite controversial practice in California.
This region is a white wine lover's paradise as 90% of the wine produced is white. These white wine varietals are palate pleasers that are great to sip on their own and pair with most any food. Many of these varietals, such as the Gewurztraminer, are so versatile they pair well with the impossible foods – like asparagus, artichokes, and spicy Asian cuisine. The primary grapes in Alsatian wine are:
21.9% Riesling – 21.5% Pinot Blanc – 19.4% Gewurztraminer – 15.4% Pinot Gris – 9.9% Pinot Noir – 7.5% Sylvaner – 2.3% Muscat – 2.4% Other (Auxxerois, Chasselas, Chardonnay).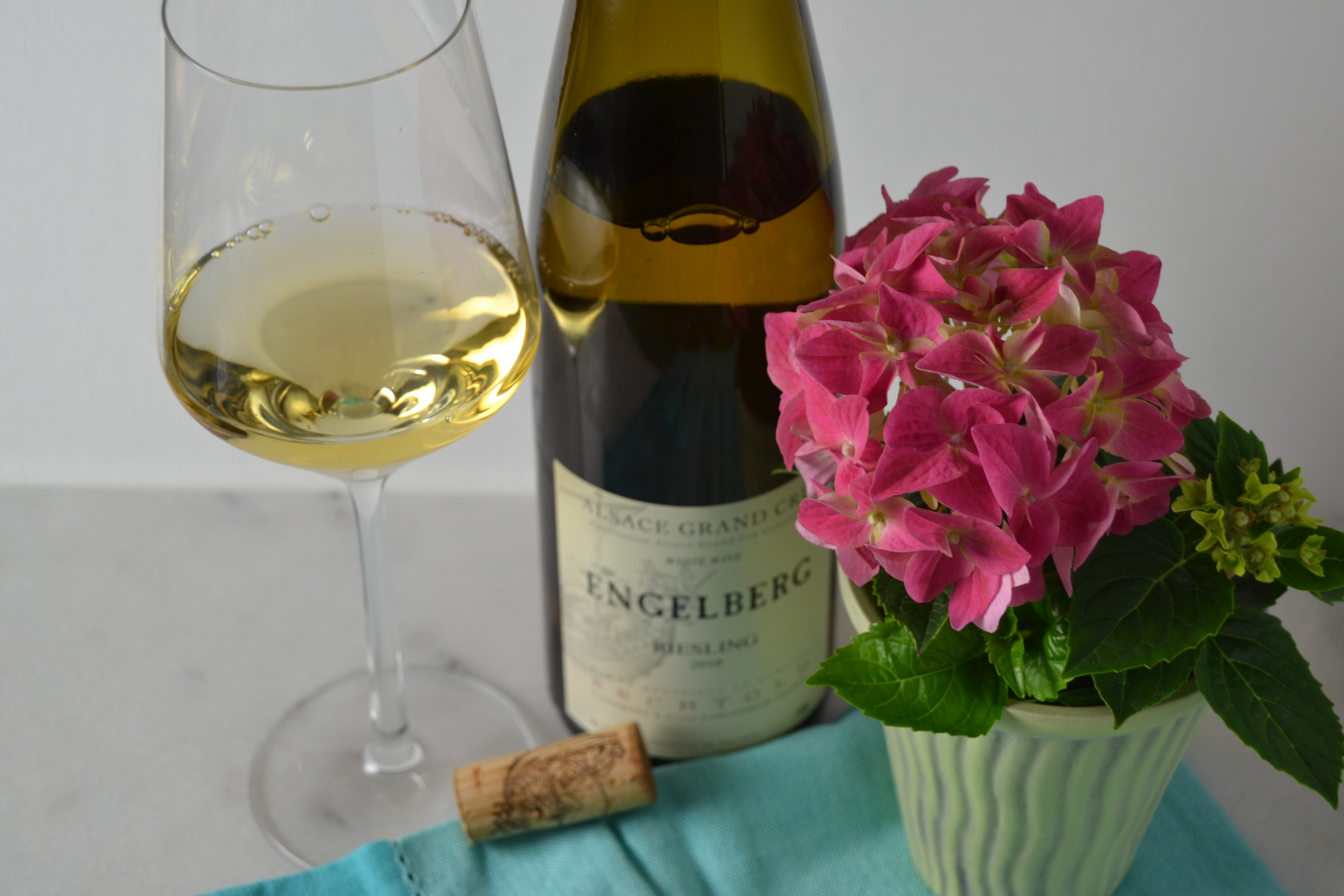 Our Pairings:
My first Alsatian wine was a Huber Meyer Cremant D'Alsace Brut Rose. This is 100% Pinot Noir with an ABV of 12.5%. The color was a deep, clear, copper – almost like Copper River Salmon. The nose was quite aromatic with hints of wild strawberry, cherry, and rose. On the palate the wine was fresh and light with hints of minerality and berries with cream. The finish was medium. This wine is off-dry, so there is some residual sweetness – but it is not a sugar bomb. I paired this with sushi and sashimi, and it was a quite good combination. It would pair even better with spicy Asian food. This is a great sparkling wine for a ladies lunch or brunch. It can be purchased at K & L Wines and Whole Foods for $16.99.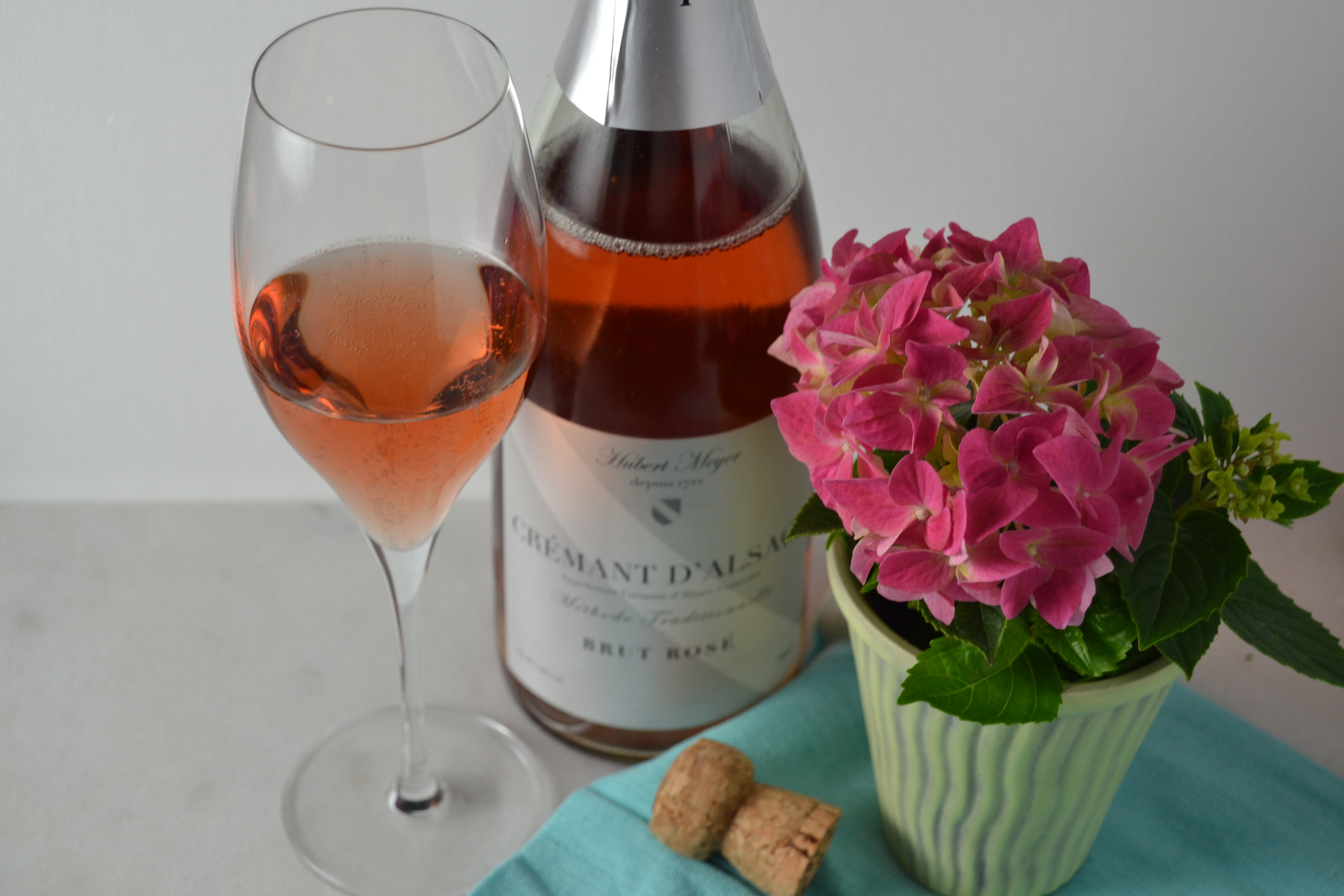 Next I paired a 2010 Engelberg Bechtold Alsace Grand Cru Riesling with New England clam chowder. This wine was medium, straw-yellow, and clear in the glass. It was very aromatic with hints of citrus and lemon. On the palate I tasted honey, honeysuckle, apricot, and some minerality. It is dry, medium-bodied, and very flavorful with a medium-long finish and an agreeable ABV of 12.5%.   Being a Grand Cru AOC, this is a special wine, but it paired quite well with a pedestrian dish like New England clam chowder (although it was a darn good clam chowder if I may say so). I purchased this wine from The Wine Hotel in Los Angeles for $28.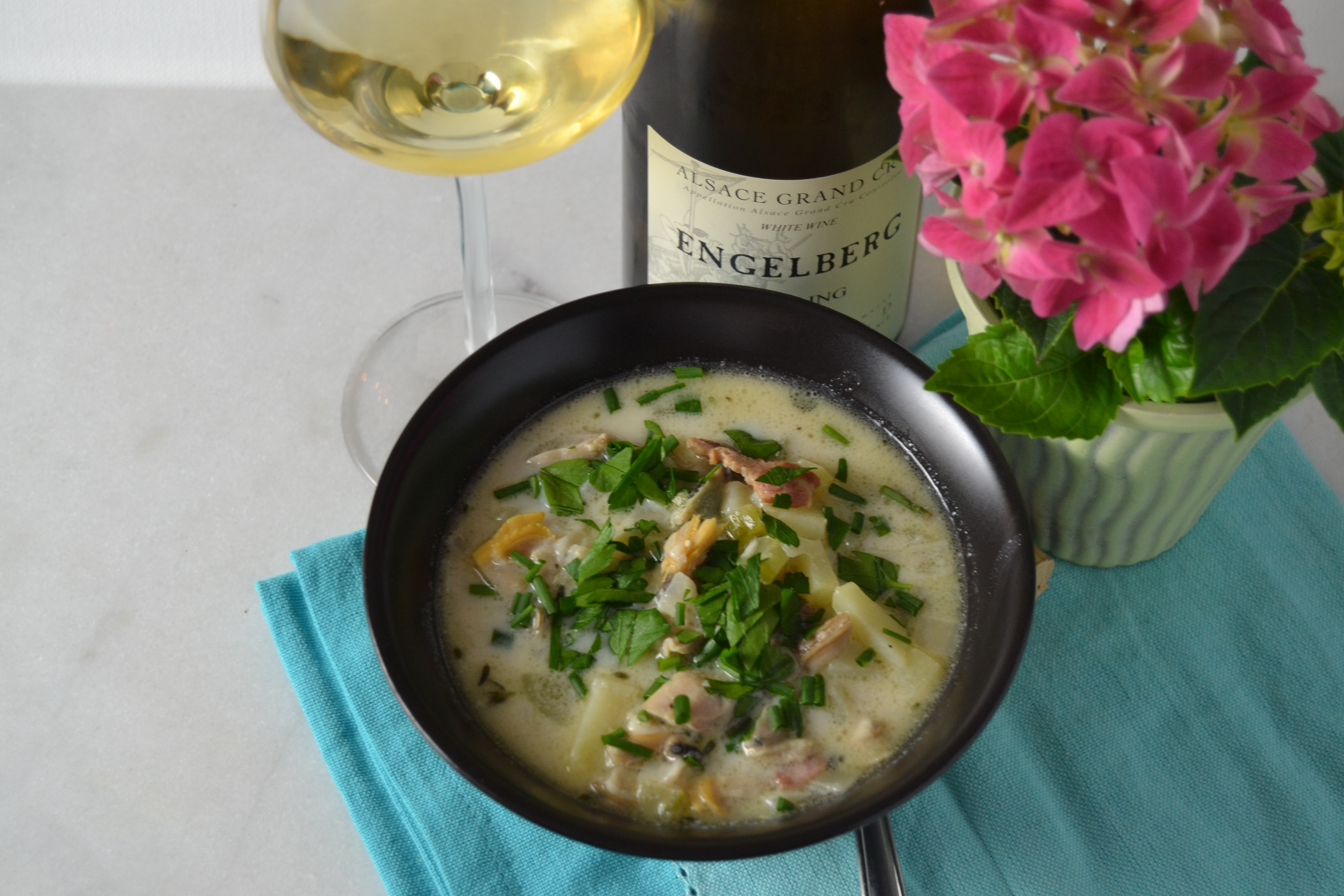 Brats and Sauerkraut may sound like a German repast, but as I note above Alsace is right on the German border and shares many food preferences with its Teutonic neighbor. While the food may have been simple, Sous Chef's selection of Alsatian wines made the pairing a real challenge. Sous Chef picked up a bottle of 2012 Trimbach Riesling and 2011 Domaine Zind Humbrecht Gewurztraminer from Bristol Farms. Comparing these wines was like comparing apples with oranges, so I decided a side-by-side comparison was appropriate. The 2011 Domaine Zind Humbrecht Gewurztraminer is not like your typical spicy German Gewürztraminer. It is off-dry and has a hint of sweetness to it. It is very fragrant with a musky, floral-rose aroma. The color is gold with a hint of amber. On the palate, you definitely get the floral notes. Once I had rose on the brain, that was the predominate palate note I picked up. ABV is 14%. This wine was not ideal with the Brats and Sauerkraut. Its flavors are simply too strong. So I tried it with Muenster cheese and it paired much better. The best way to learn about wines is to open them up, try them with different foods and experiment.  I'll be buying another bottle of this to try with the winemaker's recommended pairing with smoky/creamy foods, and to this I would add spicy foods as well. The wines from this producer should be readily available. Mine was purchased at Bristol Farms for $26.99.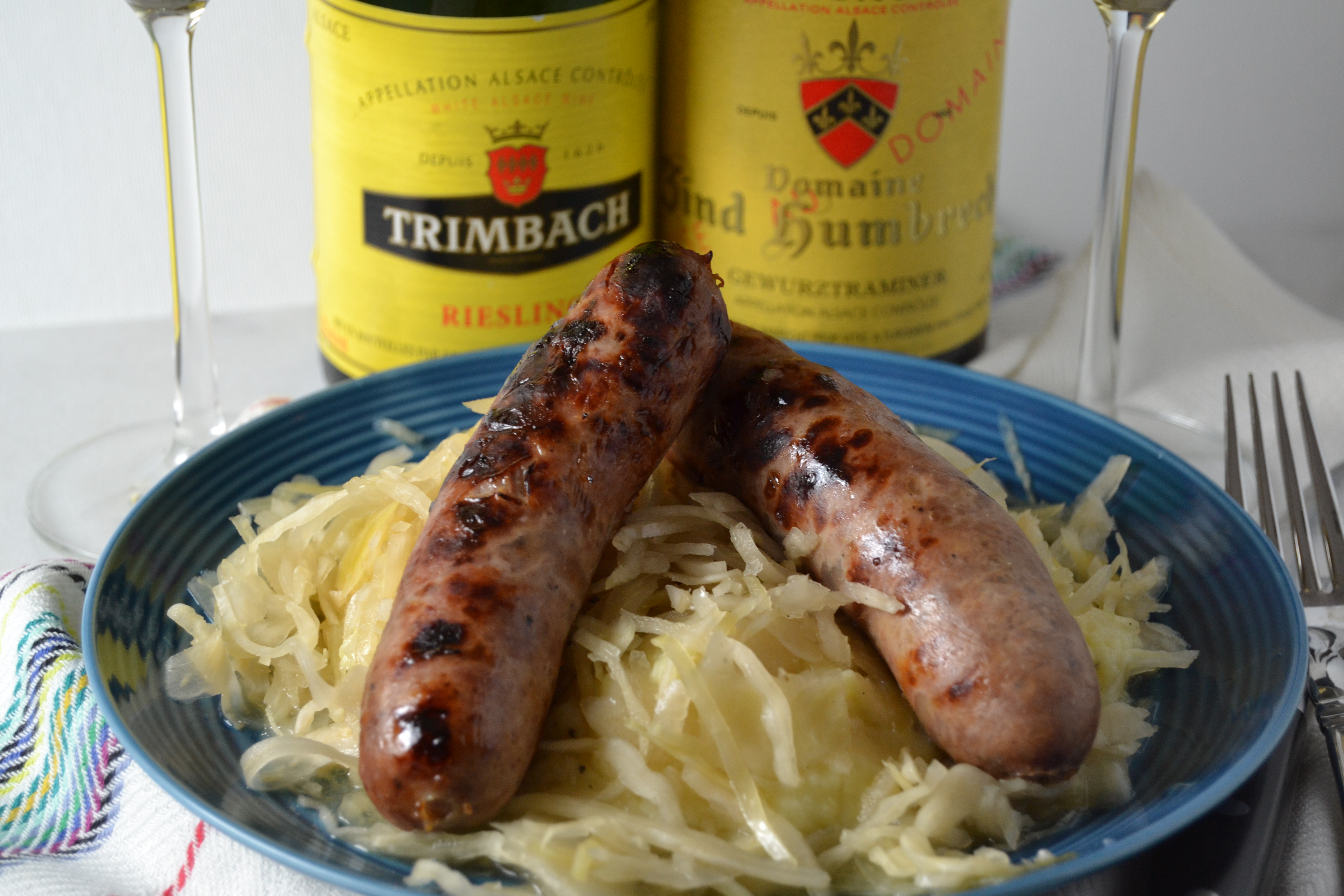 The best pairing with the Brats and Sauerkraut was the 2012 Trimbach Riesling. The Trimbach Riesling is a crowd pleaser in the dry Riesling arena. It is great on its own, or pairs exceptionally well with most foods. In the glass, you will notice the color is more in the green-yellow range. This wine is quite fragrant with hints of orange blossom, peach, and lemon. On the palate there is a crisp, dry minerality with subtle hints of apple. The wine is very balanced and has a 12.5% ABV. The Trimbach Riesling is a good wine to keep on hand because of its versatility. And fortunately it is readily available for purchase. Mine was purchased at Bristol Farms for $24.99.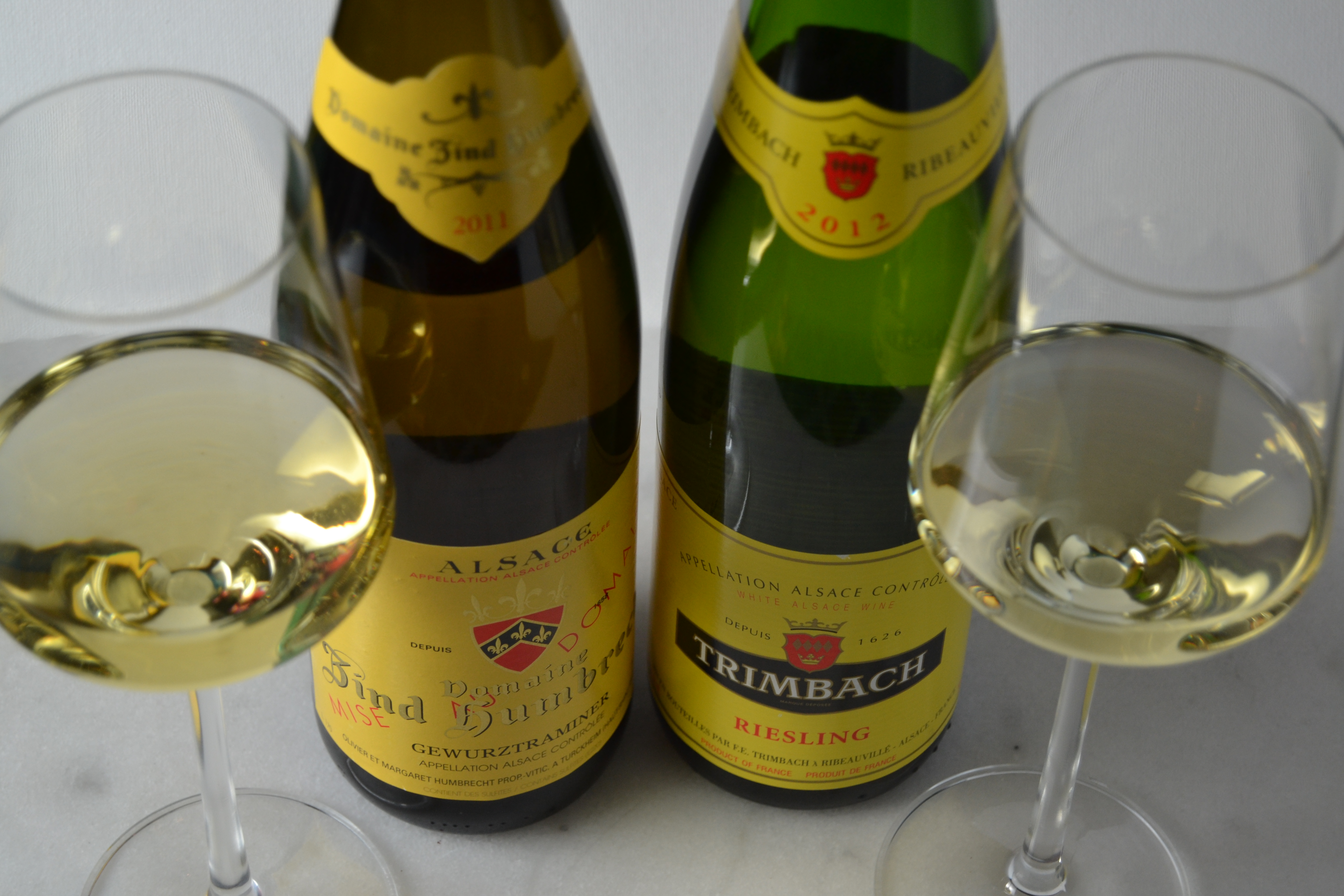 Alsatian wines in general are high-quality, good value, food friendly wines. If you are not familiar with them, visit your local wine store and experiment. Once you go Alsatian, you will return over and over again!
The French Winophiles have prepared a virtual tasting for you and are sharing some of their favorite pairing from Alsace. Make sure to visit their sites for more inspiration:
Join us Saturday, February 18th for a live Twitter Chat at 8 am PST/11 am EST using #Winophiles.
Upcoming events:
Loire Valley Tour
March 19th  – Pays/Nantes
April 16th – Anjou/Saumer
May 21st – Touraine/Vouvray
June 18th  – Upper Loire – Cheverny, Sancerre, Pouilly-Fume/Pouilly-Sur-Loire
Interested in joining The French Winophiles? Email me at culinarydiva@icloud.com.