The 103rd Tour de France has officially begun. In our home, this marks 21 days of Sous Chef religiously waking before the crack of dawn to make sure he watches live the full coverage each day of the race. It also is the only time I believe Sous Chef when he claims to just watch for the "scenery." (Usually, when he refers to "scenery" it involves long-legged, tanned, buxom blondes.) For me, it's three glorious weeks of exploring the cuisine and wine from the regions the Tour visits.
To celebrate the 2016 Tour de France, I've joined a group of bloggers that will be featuring cuisine from each of the regions the Tour will be cycling through. A big thank you to Sarah from Curious Cuisiniere who put together this culinary event.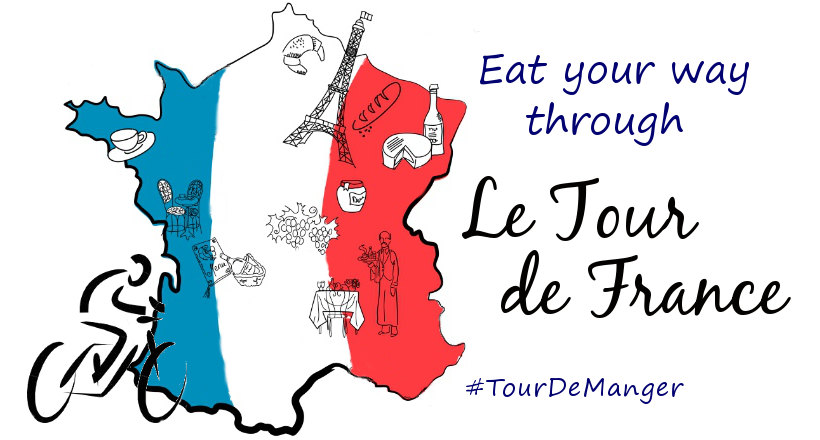 My selection for this culinary tour is Paris. Paris is the final leg of the Tour de France and, although largely ceremonial for those in the General Classification, the sprinters competitively strut their stuff in front of enthralled, well lubricated Parisians. How I would love to be there sharing in the excitement of the race and languorous summer days spent exploring the Eiffel Tower, museums to satiate the artistic mind, and the food. I can't think of a better place to spend some lazy summer days! Unfortunately, returning to Paris in the near future is but a dream, so I will have to live vicariously through the Tour de France, Netflixing foreign movies, and whipping up Parisian inspired culinary delights.
I'm sharing three summer-friendly recipes that you can whip up in a jiffy with minimal cooking. My first recipe is for Zucchini Boats with Chevre. The title is self-explanatory. What you aren't expecting is the punch from the fresh mint or the curry spices. This recipe is great as a starter, side vegetable or starch substitute for an entrée or just a little nibble for Happy Hour. Pair it with a white wine from Vouvray and your taste-buds will be dancing all night with happiness!
Looking for a new alternative to the traditional tomato and cucumber salad? The White Peach and Yellow Tomato Salad will do the trick. This salad is a combination of sweet, savory, and tart with a punch of fresh mint to finish. It's so good, I can't decide if it is a starter salad, condiment for chicken or fish, or a savory dessert. It pairs beautifully with the white wines from Vouvray.
My final Paris recipe is Clams with Cream Sauce. This recipe is adapted from a famous Paris Restaurant—Le Bistro du Dôme. This is reminiscent of a light clam chowder and the ingredients are minimal – clams, heavy cream, and thyme. In six to seven minutes, dinner is served! Voila! As good as this was, I am thinking about adding shredded carrots, celery, and onions next time to spice things up a bit. And in either case, a good Muscadet or Chablis makes for a wonderful wine pairing.
While we can't make to France to cheer the racers on in person, we're cheering them on in spirit by joining together with a group of food bloggers to explore the cuisines of the regions they will be biking through.
Be sure to visit each one to learn more about the regions on the route and to enjoy a taste of the cuisine! Show us how you plan to eat your way though Le Tour de France all month long with the hashtag #TourDeManger !
Zucchini with Chevre
Author:
Christy Majors adapted from The Paris Cookbook by Patricia Wells
Recipe type:
Appetizer, Side
Ingredients
4 small zucchini
½ small white onion, sliced into thin strips
2 tablespoons extra virgin olive oil
1 teaspoon curry powder
salt/pepper to taste
4 ounces chevre
2 tablespoons heavy cream
3 tablespoons mint leaves, cut in chiffonade
Instructions
Preheat oven to 400 degrees.
Bring large pot of water to a boil. Prepare ice bath.
While water is boiling, slice zucchini lengthwise into boats and scoop out and reserved the meat in the middle. When water is boiling, add the zucchini and blanch until softened but still firm. Remove and place immediately into the ice bath to stop cooking. Drain the zucchini and let dry.
In a saute pan, combine the extra virgin olive oil and onions, along with a pinch of salt and sweat the onions for about 5 minutes until soft and cooked through on low heat. Add the reserved zucchini meat and curry powder. Cook until softened about 5 more minutes.
In a small bowl, combine the chevre and the heavy cream and mix until thoroughly combined and easily spreadable.
Place the zucchini boats in a baking dish, side by side, and spoon the curried mixture into them, filling about ¾ of the way. Sprinkle with mint. Add a layer of the chevre mixture filling to the top and sprinkle with the remaining mint and bake for about 15 minutes.
Serve warm or room temperature
Bistro Du Dome's Clams with Cream and Thyme
Author:
Christy Majors adapted from The Paris Cookbook by Patricia Wells
Recipe type:
Appetizer/Entree
Ingredients
2½ pounds clams – littleneck, Manila or cherrystone
6 springs of fresh lemon thyme
¾ cup heavy cream
fresh pepper to taste
Instructions
In a large saute pan or skillet combine the cleaned clams, thyme and cream. Toss to coat the clam shells thoroughly. Cover and cook over high heat 3-6 minutes, shaking the pan occasionally until all the clams have opened. Once clams have opened serve in a bowl with the sauce. Discard any clams that did not open up.
White Peach & Yellow Tomato Salad
Author:
Christy Majors adapted from Paris Express, Simple Food from the City of Style by Laura Calder
Ingredients
4 white peaches, blanched, peeled, pitted and sliced
4 yellow tomatoes, sliced as close the size of peach slices as possibles
Extra virgin olive oil to coat fruit (1 – 2 tablespoons)
fleur de sel
freshly ground pepper
2 tablespoons fresh mint – chiffonade
Couple dribbles of Balsamic Vinegar – as good of quality as you can afford
Instructions
Score the bottom of each peach with an X. Bring a large pot of water to a boil and prepare an ice bath. Drop the peaches into the boiling water and blanch for 10-20 seconds. Immediately plunge into ice batch. Peel, pit and slice the peaches into wedges. Cut tomatoes into wedges the same size as the peaches.
Place tomatoes and peaches into a large bowl and toss with olive oil, a pinch or two of fleur de sel, fresh pepper, mint and a dribble of balsamic vinegar and mix to combine ingredients. Plate and serve.