I am seasonally challenged. Here in the desert, our seasons are warm, warmer, very warm, and downright hot. So merely looking out the window provides no clue to what fruits and vegetables may be "in season." Plus the bounty of California, given its geography and temperate climate, and the proliferation of international produce shipments means year-round availability for many items, thereby adding to the confusion. So this week's Wine Pairings Weekend theme of "Fall Fruit" caused me some consternation.
Which fruits qualify as a "fall fruit"? I actually went online, typed in "fall fruit," and learned from the resulting resources. Apples are a fall fruit, but since apples of one type or another are available year-round, I consider them non-seasonal. Good to know pears, pomegranates, and persimmons are predominantly fall and winter fruits, but I found no inspiration in them. But when the word "fig" caught my attention, I had all the inspiration I needed. Fortunately a fig technically qualifies as a fall fruit because it has a short "second growing season," usually just in time for Thanksgiving.
A fig has an earthy quality that makes it combine beautifully with wines, meats, and cheeses. Lately I find myself using figs with greater frequency and in a multiplicity of ways. One of my favorite combinations is a pork tenderloin with a light sauce of figs, apple brandy, and fresh apples. This combination is sensational and makes for a good transitional fall dish that bridges the chicken and fish of summer and the hearty beef of winter.
Pairing pork with wine is a simple matter. Pork is promoted as a "white meat," so one is not constrained by the old historical adage about pairing "white wine with fish and red wine with meat." Pork pairs well with anything from a bold chardonnay to a rosé to a light red wine. An obvious pairing is pinot noir, a difficult wine to produce but one of the most versatile for it complements a wide variety of foods. But I wanted to focus the wine pairing on the figs and to challenge my wine guru to come up with something unusual.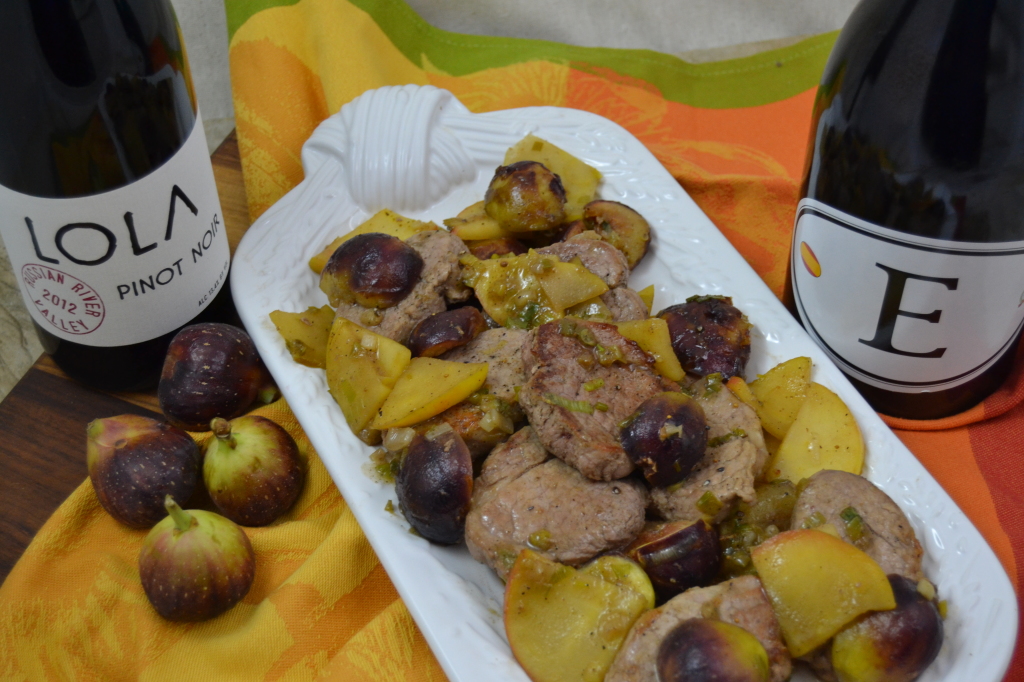 Dan Sullivan of Dan's Wine Shop in Palm Desert is a bit of a wine genius. Not only does he remember the type and styles of wine you like, he is always at the ready with new selections to try in every price range. When I told him about my Pork Tenderloin with Apple and Fig Sauce, he immediately recommended a great new Pinot Noir he was carrying – Lola. At $25 a bottle I had to try it, but I asked Dan if he could recommend a bolder wine pairing for this dish.
Dan suggested a bottle of Locations E2 from Dave Phinney of Orin Swift wine fame. At $14.95 this Spanish wine could be the deal of the century. The wine is an eclectic blend of super-concentrated Grenache, Tempranillo, Monastrell, and Carignan from specifically sourced vineyards in Spain. The winemaker's notes speak about an intensity and richness of fruit flavors with an expansive and pleasing finish and silky tannins. Wine Advocate rates this wine at 93 points and Sous Chef and I agree completely. This is a fabulous wine at a great price and paired beautifully with the pork, fig, and apple dish.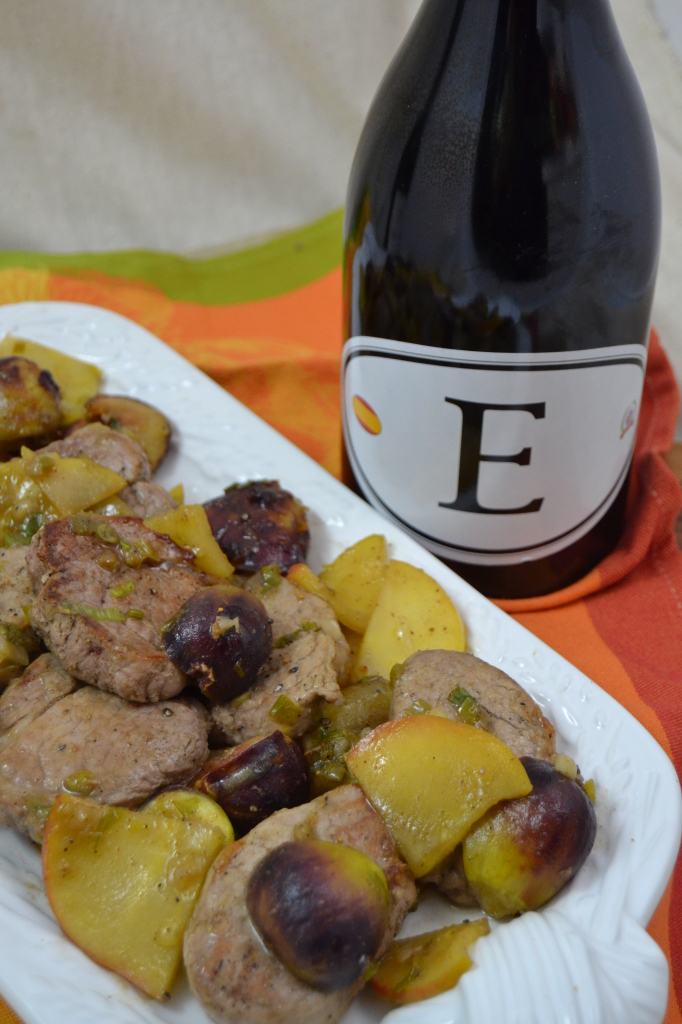 The Lola 2012 Pinot Noir Russian River Valley was a surprisingly approachable and drinkable wine for the $25 price. If you are a pinot noir fan, you recognize that it is hard to find a good quality pinot under $40 these days. The Lola Pinot Noir offered aromas of wild strawberries and cream with a hint of vanilla bean balanced by a nice acidity and mild tannins. It is also low in alcohol at 13.2%, so your head will thank you the next day. Sous Chef and I are convinced that we suffer fewer unpalatable effects when a wine's alcoholic content is in the lower rather than immoderate region.
Although both wines went incredibly well with the Pork Tenderloin with Apple and Fig Sauce, our verdict was for the Locations E-2 because it brought more boldness to the pairing. And for other suggestions about what to make and which wine to serve this fall, check out this week's Wine Pairings Weekend postings.
Wine Pairing Weekend #5 Bloggers
Here's what all of the bloggers have created for the October Wine Pairing Weekend!
Savories
Pumpkin Lasagna with Halter Ranch's Côtes de Paso by Culinary Adventures with Camilla
Squash and Sausage Soup with Pumpkin Cornbread and McKinley Springs 2010 Bombing Range Red by Tasting Pour
Linguine with Roasted Carnival Squash and a Garnacha by Cooking Chat
Pinot Vs. Syrah – Pork Tenderloin with Fig & Apple Sauce by Confessions of a Culinary Diva
Sweets
Caramelized Almond Apple Upside Down Cake with a Late Harvest Riesling by A Day in the Life on the Farm
Surprise!
Wines for a Sweet & Savory Fall Harvest Meal by foodwineclick