God jul!
The Wine Pairing Weekend Group's theme is the creative pairing of holiday food and wine. I am many things, and one is being a Holiday Diva who is always looking for the newest decoration, another comprehensive holiday entertaining guide, and unique traditional regional or ethnic holiday fare.  Since my roots are Scandinavian, I decided to look northward for inspiration and I found it in Norway.  What says "holiday party" better than meatballs?  They can be tasty, easily maintained at a suitable temperature in a chafing dish warmed by a sterno can, and plucked out by and eaten from a toothpick, which has the added benefit of allowing one to remove any nasty stuff from between the teeth that is sure to put the kibosh on serious conversation or mate hunting.  And for reasons I have never understood, women seem to eat meatballs at a party rather than crudités, cheeses, canapés, or other appetizers.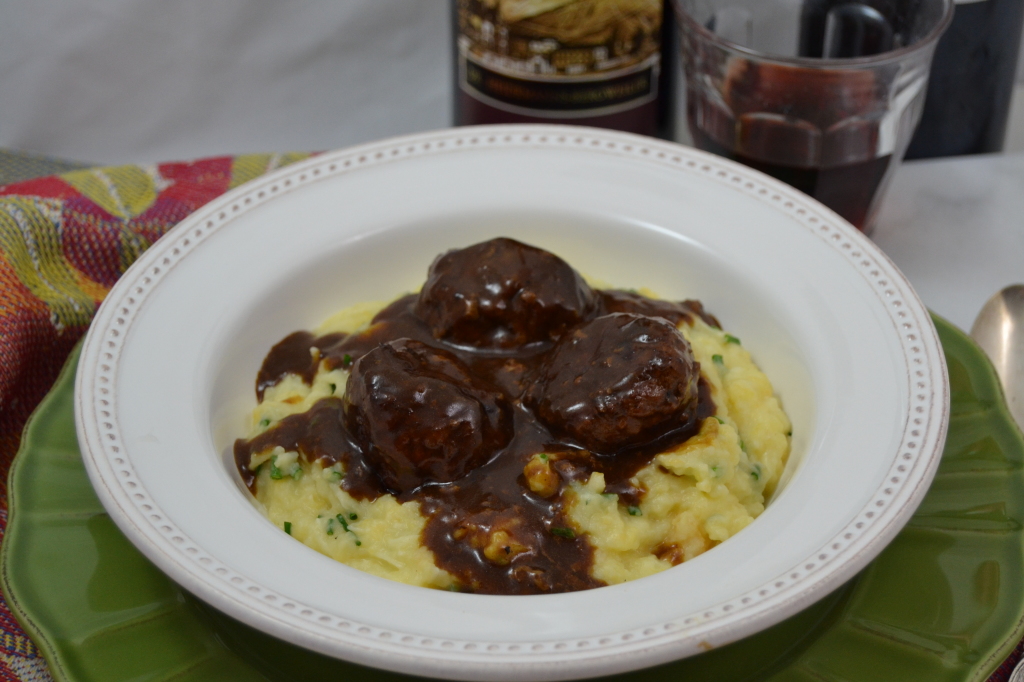 So for my offering, I selected Norwegian Meatballs, a traditional Norwegian dish that can be an appetizer or an entrée depending on whether rolled to the size of a ping pong ball, golf ball, or jai lai pelota. If an entrée, it is frequently paired with rutabaga mashed potatoes, which is what I did.  The concept is really simple and easy to execute.  The meatballs are some combination of veal, pork and beef that is enhanced with allspice, nutmeg, grated onions, egg, and heavy cream, and after being lightly sautéed are immersed in a rich brown sauce that is made with beef stock, Kitchen Bouquet, and cream.  The entire meal can be prepared and served in about an hour.
A fun thing about the Wine Pairing Weekend Group is that finding a creative dish is only a fraction of the challenge. As one can judge from the group's nom de guerre, wine pairing is the dominant focus.  Whenever possible, I like to pair food and wine regionally, but finding Norwegian wine proved an impossible task.  Notwithstanding its proximity to the North Pole, Norway has some two dozen wineries.  But in this glacier-riddled country, vodka and aquavit are the preferred alcoholic beverages, the better to keep one warm during the long winter months, and wine production is just a sideline.  Plus aquavit has the added benefit of use as petrol when in a pinch (if you have ever tasted the stuff, you will know what I am saying).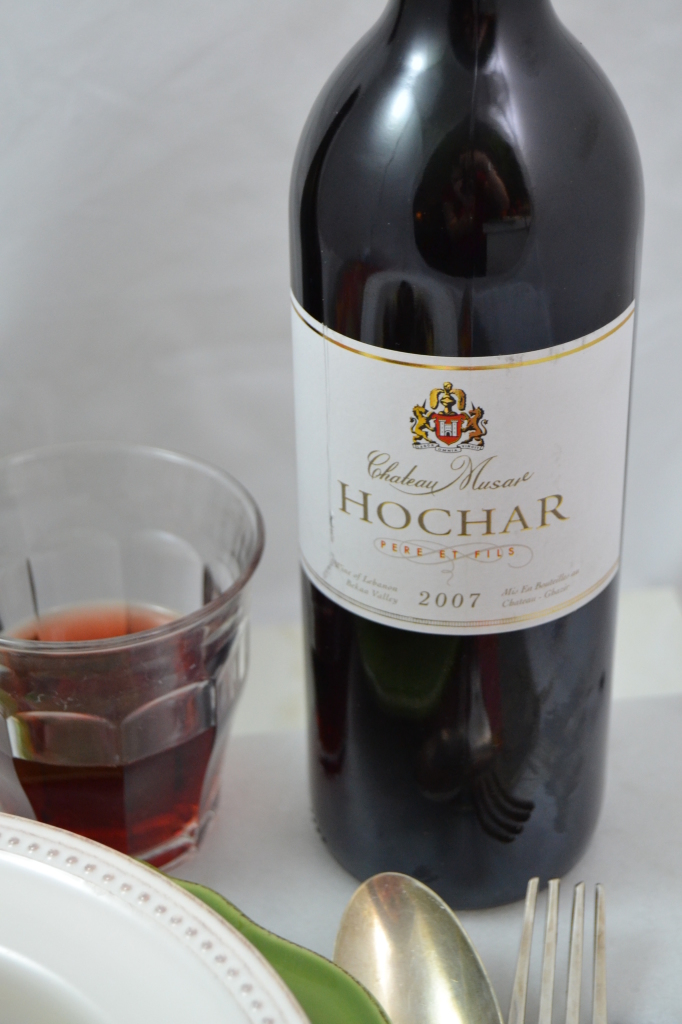 Sous Chef really wanted to go off the reservation and suggested a sake pairing. After all, sake is frequently assumed to be a rice wine, although its fermentation process is more closely akin to beer.  I demurred, thinking Sous Chef's lucidity had been affected by one too many martinis at Cuistot where we were discussing the pairing challenge.  Since sommelier Fred has such a great wine list, I decided to cheat and look through his forty page wine catalogue for guidance.  I found it and decided to take the ying and yang approach to wine pairing.  If Norway is one of the world's oldest inhabited countries then it made sense to pair the meatball dish with a wine from one of the world's oldest wine growing regions, Lebanon.  Fred introduced us last year to the great wines of Chateau Musar.  For the Norwegian Meatballs, I chose Chateau Musar Hochar Pere Et Fils 2007.  This wine is a blend of 50% Cinsault, 20% Grenache, and 15% each of Cabernet Sauvignon and Carignan.   This wine is frequently referred to as the second wine of Chateau Musar; however, according to Chateau Musar this is inaccurate as the grapes are sourced from a single vineyard that was planted over 50 years ago near the village of Aana in the Bekaa Valley that is characterized by "deep, gravelly soil over a limestone base."  This wine is versatile and teams well with most foods and is easy to quaff.  It is a rich spicy wine with aromas of plums, cherries, figs, and dates and a hint of thyme.  It is also quite low in alcohol at 13.5% and retails at under $30.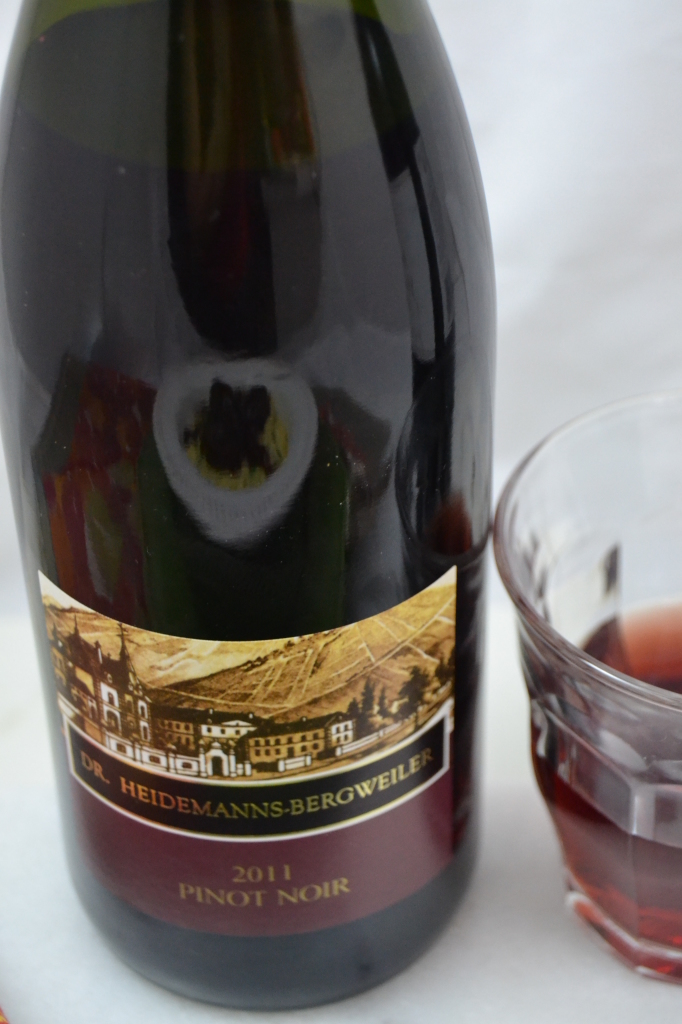 Just in case ying and yang weren't on good speaking terms, I decided to have two German wines as back-ups. Germany is the closest major wine producing area to Norway, so the pairing of German wine and Norwegian Meatballs made sense in an oeonophillic way.  We selected two German wines from Total Wines about which we knew nothing:  a 2011 Dr. Heidemanns-Bergweiler Pinot Noir for $14.99 and a Dr. Heidemanns-Bergweiler Riesling Brut Sekt for $22  Though the Pinot Noir was described as medium-bodied, we both felt the wine was very light in flavor and viscosity.  It was a very interesting wine, very drinkable, and possessing an aroma and flavor profile that we still have not resolved.  But just not the right pairing for this dish.  The German sparkling wine is light-bodied, with citrus, floral, and mineral overtones, and a mind-enhancing 12% alcoholic content.  As is usually the case, this sparkling wine  was very food friendly and paired quite nicely with the Norwegian Meatballs and Rutabaga Mashed Potatoes.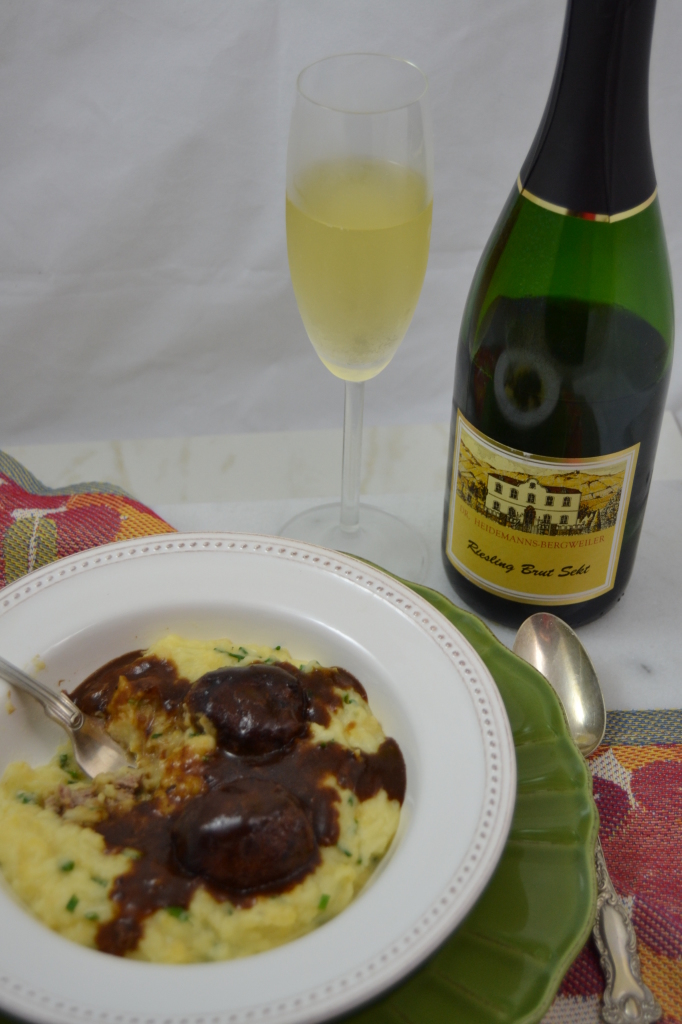 When we sorted through the multiple bottles and wine glasses, we concluded our tasting was rather comprehensive (for two people), quite interesting, and very educational. The Chateau Musar Hochar was the unanimous winner for we felt its sensually elegant lushness held up well to and complemented the spices found in the Norwegian Meatballs.  Our second favorite was the Dr. Heidemanns Bergweiler Riesling Brut Sekt.  The German Pinot was interesting, but just lacked enough body to hold up to the meatballs and sauce.
My conclusion: Norwegian Meatballs is a great holiday dish and a full, luscious red or sparkling white is a great pairing.  As for "god jul," it means "Merry Christmas" in Norwegian.  Supposedly the Norwegians don't say "Happy Holidays."  But let's just keep a secret and say we think it means "Happy Holidays to One and All."
Make sure to check out all the Creative Holiday Pairings this weekend:
Creative Thanksgiving-Inspired Dishes and Wine Pairings
Mains
Turkey, Tempranillo and Sweet Potatoes by Cooking Chat
Thanksgiving from the Veneto: Turkey, Pomegranate Sauce & Valpolicella by foodwineclick
Norwegian Meatballs by Confessions of a Culinary Diva
Shepherds Pie Casserole with Barnard Griffin Syrah Port by Wild 4 Washington Wine
Butternut Squash and Cheddar Bread Pudding and Donkey & Goat Stone Crusher by ENOFYLZ Wine Blog
Sides
Purple Sweet Potato Soup with Roasted Lobster + Bonny Doon Vin Gris de Cigare by Culinary Adventures with Camilla
Arugula Pear Salad paired with Torrontes from Argentina by A Day in the Life on the Farm
Sweet Potato and Cranberry Bake with Cranberry Blush by Curious Cuisiniere
Desserts
Walnut Tart with Sparkling Brachetto d'Acqui by Vino Travels — An Italian Wine Blog
Can we skip to dessert? by Pull That Cork
Don't Forget Leftovers!
Day After Turkey and Seafood Gumbo by It's Ok To Eat The Cupcake
Turkey Pot Pie and Boedecker Cellars Chardonnay by Tasting Pour
Don't forget to our Twitter chat today, November 8th at 11 a.m. Eastern Time! We'll be talking about our tips and tricks for the best Thanksgiving wine pairings. We'd love to have you join us!
And, be sure to mark your calendars for December's Wine Pairing Weekend, hosted by Jeff of foodwineclick. Just in time for Holiday parties, we'll be sharing sparkling wine and hors d'oeuvre pairings. Join in the #WinePW 7 conversation on Saturday Dec. 13!
Norwegian Meatballs
Ingredients
¾ cup grated white onion
For Meatballs:
¼ cup half and half
2 tbsp. cornstarch
1 egg
1½ tsp kosher salt
¼ teaspoon nutmeg
¼ teaspoon allspice
¼ teaspoon black pepper
½ pound each of ground veal, ground pork, ground beef
2 tbsp. unsalted butter
1 tbsp. olive oil
For Brown Gravy:
2½ cups low sodium beef broth
1 tbsp Better than Bouillon
3 tbsp all purpose flour
1 tsp Kitchen Bouquet
Instructions
Preheat oven to 400 degrees.
For meatballs:
Combine onion, half and half, cornstarch, egg, salt, nutmeg, allspice and pepper in a bowl. Add meatloaf mix and combine. Roll mixture into golf ball size meatballs by rolling mixture between the palms of your hands.
Heat the butter and oil in a non-stick skillet over medium heat. Brown the meatballs in 2-3 batches about 2 minutes per side (do not cook through). Transfer browned meatballs to Dutch Oven.
For the gravy, pour off remaining fat in skillet. Deglaze with 2 cups of broth scraping up any brown bits. Stir in beef base and bring to a simmer. Whisk the remaining beef broth with flour and kitchen bouquet and stir into mixture. Simmer gravy until thickened approximately 5 minutes. Pour gravy over meatballs and transfer to oven and bake 35-40 minutes.
Mashed Rutabagas & Potatoes with Jarlsberg
Ingredients
3 cups peeled and cubed rutabagas
2½ pounds Yukon Gold potatoes cut into chunks
¾ cups heavy whipping cream
½ cup shredded Jarlsberg cheese
6 Tbsp unsalted butter
minced chives
salt and white pepper
Instructions
Boil rutabagas over medium high heat in a large pot with enough salted water to cover rutabagas by 2-inches. Boil for 10 minutes.
Add potatoes and cook until rutabagas and potatoes are fork tender (approximately 15-20 minutes). Drain, and return rutabagas and potatoes to pot and let dry over medium heat approximately 1 minute.
Mash rutabagas and potatoes with ricer or whip with hand mixer on low speed. Stir in heavy cream, cheese, butter, chives and season with salt and pepper.