Wine Pairing Weekend is one of my culinary favorites.  This week the Wine Pairing Weekend Group is celebrating "Wine for Summer's Bounty."  If you have been reading Confessions of a Culinary Diva for any length of time, you know that summer in the desert is my worst culinary time of year and hell on a foodie.  While the majority of the food bloggers and food magazines are celebrating a bountiful harvest of fresh, gorgeous summer produce, I'm relegated to picking through the produce bins hoping to find something that is not limp, moldy, or an odd brown color.  So this post is not about my wretched summer culinary experiences, but rather about my dreams of enjoying Summer's Bounty on the coast of Spain.
Spain is one of the top destinations on my "bucket" list.  Partially for the food and wine, and largely due to a longing to see the Sorolla Museum in Madrid.  Until that happens, I'm left to vacation in the comfort of my kitchen by cooking from José Andres' cookbooks, reading my art books about Joaquin Sorolla, and occasionally dining at Andres' The Bazaar in Los Angeles or Jaleo in Las Vegas where Spanish food, particularly paella, is an art form.
The cuisine and wines of Spain have a long and cultured history and tradition.  If you are a PBS Geek like me, you have probably seen at least one episode of José Andres' "Made in Spain" series where he visits his home country, explains the cultural origins of the dishes, and then shows how to make them at home.  The "Made in Spain" cookbook from this series is one of my go-to books when I want to create a Spanish themed dinner at home.
This week I needed a little culinary vacation to Spain and  a paella was just the ticket.  Paella is a Spanish rice dish that is traditionally made  in a large, flat pan over open flame.  The cooking process creates a "crust" that the rice must have to truly be a paella and not a risotto, which is celebrated for its creaminess.  Apart from the stock, the dish can actually be prepared fairly quickly and does not require copious amounts of pot stirring or babysitting.  It's also a fairly adaptable dish.  Once you know the technique, you can customize to suit your availability of ingredients and preferences for seafood, meat, and sausage.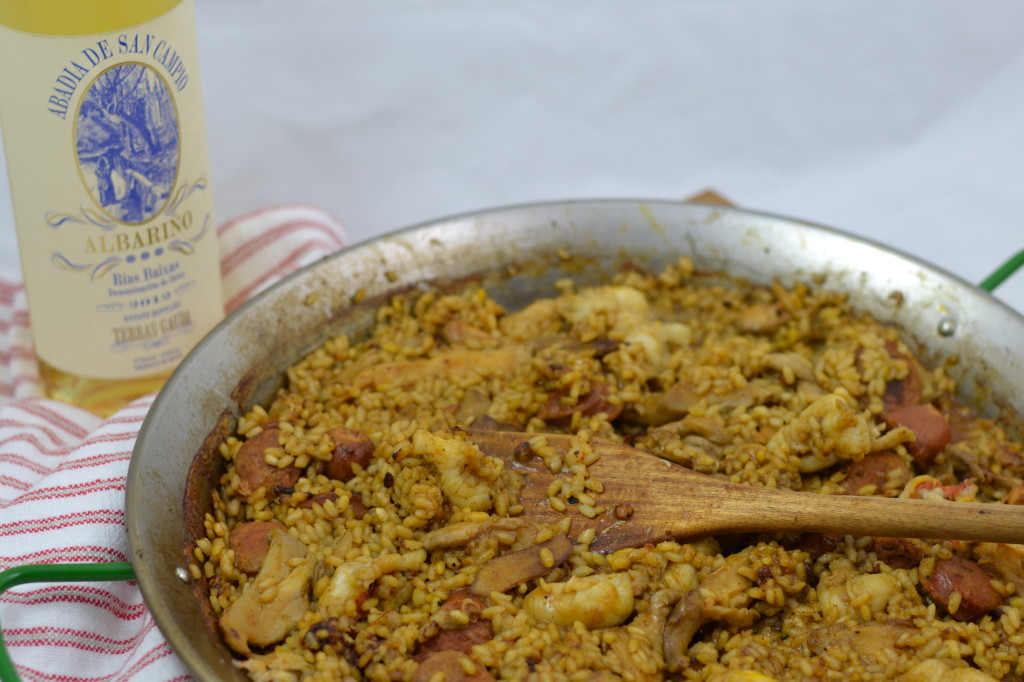 My Lobster and Mushroom Paella started with a luxurious lobster stock made from lobster shells,  unshelled, uncooked jumbo Mexican shrimp, tomato, parsley, bay leaf, and salmorra.  The lobster stock is used for flavor and cooking the remaining ingredients:  lobster, onion, mushroom, chorizo, and paella rice.  Start to finish, the cooking time is less than 20 minutes.  And, unlike risotto, an admonition "Do Not Stir" generally applies, thereby relieving one from the tedious task of constantly stirring over a hot, steaming pan.
Spaniards consider wine an equally important component of a meal.  The adage "what grows together goes together" is a precept for pairing wine and food.  If you are creating a meal filled with flavors from a particular region, a no brainer way of pairing is to find wine from that region, and then narrow it down to the type/style that will complement your dish.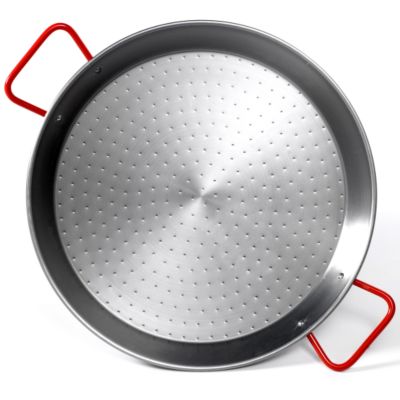 Albariño is one of my favorite wines and great for pairing with food.  It is a crisp white wine, bright and clear in color, generally light in alcohol, and maintains a fantastic balance of fruit and acid.  On the nose and tongue you will get aromas and flavors of citrus fruits and pineapple.  The good balance of acidity and fruit means it pairs especially well with seafood.
I paired the Lobster and Mushroom Paella with a 2012 Abadia de San Campo Albariño from the Rías Baixas appellation within the Galicia region in northwest Spain.  This wine can be found at Total Wine for $16.95 and is a very drinkable and approachable wine that held up well to the spice and heat of the Lobster and Mushroom Paella.
Don't forget to check out all the other great wine and food pairings this weekend from the Wine Pairing Weekend Group.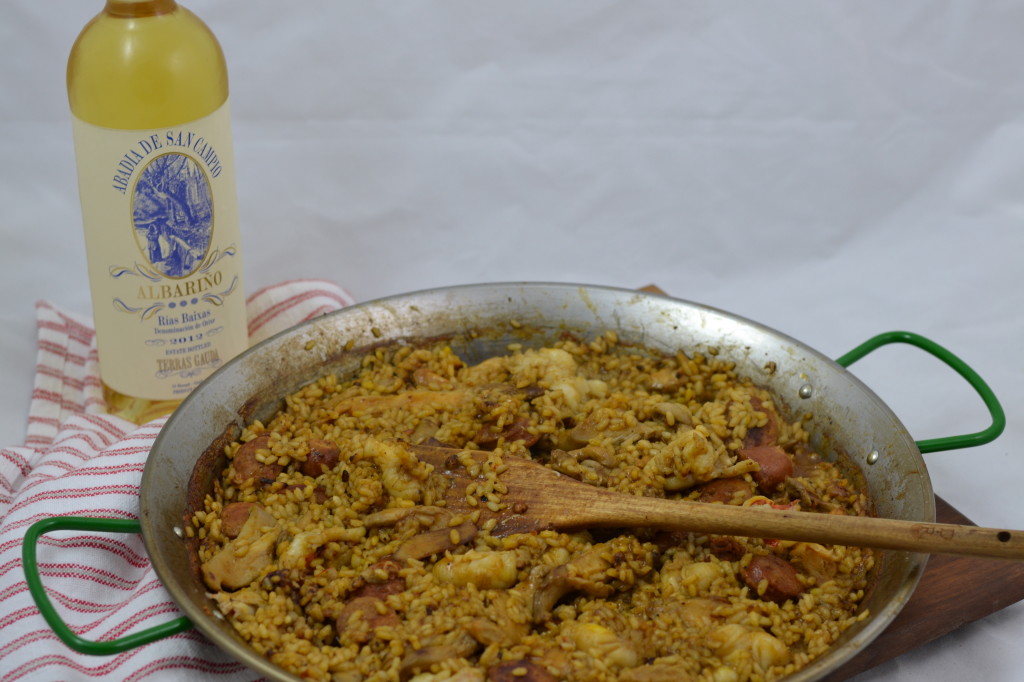 Tweet
Wine for Summer's Bounty: Join the conversation! Live Twitter chat via #winePW Saturday, 11 am ET/ 8 am PT. #winepairing
Wine Pairing Weekend # 3 Bloggers: Be sure to check out what my fellow bloggers have come up with for the August Wine Pairing Weekend!
Pull That Cork will share "Wine for Summer's Bounty. Will Garnacha Do the Trick?"
Meal Diva will pair "Summer Vegetable Red Sauce with Amarone"
Culinary Adventures with Camilla is posting "Pan-Seared Padròns with DeRose Vineyards' Négrette"
Vino Travels — An Italian Wine Blog will share "Tomato, toe-mah-toe: Summer's bounty with Sicilian wine Donnafugata"
Grape Experiences is pairing "Cecchi Chianti Classico 2010 and Vegetable Lasagna"
Curious Cuisiniere will share "Chipotle Garden Salsa with Wild Hare Petite Sirah"
ENOFYLZ Wine Blog is posting "Grilled Paiche with Fresh Corn and Poblano Peppers"
Take a Bite Out of Boca will share "Quinoa-Crusted Eggplant and Heirloom Tomato Stacks paired with Monrosso Chianti"
foodwineclick is sharing "Summers' Bounty or Attack of the Killer Turnips?"
Confessions of a Culinary Diva will blog about "Lobster Paella and Albarino"
Tasting Pour will share "Summertime and the Cooking is Easy"
Cooking Chat is pairing "Linguine with Pesto, Fresh Tomatoes and a Sauvignon Blanc"
Join the #winePW conversation: Follow the #winePW conversation on Twitter throughout the weekend and beyond. If you're reading this early enough, you can join us for a live Twitter chat on our theme "Wine for Summer's Bounty" on Saturday, August 9, from 11 a.m. to noon Eastern Time. You can also visit our group Pinterest board to pin some great pairing ideas for later! Stay tuned for the September Wine Pairing Weekend, which will focus on "Regional Food and Wine Pairings" on Saturday, September 13.
Lobster, Chorizo, and Mushroom Paella
Ingredients
For the stock:
1 large red ripe tomato, halved
½ head of garlic – halved and with paper skin removed
6 fresh flat-leaf parsley sprigs
1 bay leaf
4 uncooked lobster tails
½ pound jumbo uncooked shrimp
3 tablespoons Salmorra
1 teaspoon lobster soup base
For the rice:
¼ cup Spanish extra-virgin olive oil
8 ounces fresh seasonal mushrooms – i.e. chantrelle, pioppini, beech or anything you find
1 cup Spanish Bomba rice
pinch of saffron
sea salt to taste
Instructions
For the stock: Combine the tomato, garlic, parsley, bay leaf in a large stock pot and cover with 2 quarts of water. Bring to a boil over high heat, then lower the heat to a simmer.
Using a sharp knife, separate the lobster meat from the tail. Refrigerate the lobster meat until ready to use in the paella. Add the lobster shells and uncooked shrimp (shell on) to the stockpot and continue to simmer the stock for 1 hour.
Remove the stock from the heat. Remove lobster tail shells from pot. Transfer the shrimp and 2 cups of the stock to a blender and puree. Set a fine mesh strainer over the stockpot and pour the puree through the strainer back into the pot and stir until well combined. Then strain all of the stock through another fine mesh strainer or a cheesecloth-lined colander. Set the stock aside and discard the solids.
Prepare the rice: Using a sharp knife, cut up the reserved lobster.
In a 13-inch paella pan, heat 2 tablespoons of the olive oil over medium heat for 2 minutes until just smoking. Add the lobster pieces and sauté about 1 minute on each side. Transfer the lobster to a plate. Pour 2 more tablespoons of the olive oil into the paella pan, then add the chorizo and sauté for 2 minutes. Add chanterelles and sauté for 2 minutes.
Stir in the rice and salmorra and cook for 1 minute. Pour in 4 cups of the strained stock and stir until well combined, about 30 seconds. Increase the heat to high and cook for 6 minutes. Do not stir the rice again as it may cause the rice to cook unevenly.
Add the saffron and season to taste with salt. Reduce the heat to low and simmer for 11 minutes. After about 6 minutes, add the lobster pieces to the paella to continue to cook for the final 5 minutes. The rice should have absorbed all of the liquid. Remove the paella from the heat, cover with a clean kitchen towel and let the paella rest for 5 minutes before serving. Serve with spoonfuls of allioli.
Salmorra
José's tips: This sauce can be kept in the refrigerator, covered, for up to two weeks or frozen for up to 3 months. Be sure to drizzle the top of the sauce with some olive oil before you cover it to prevent it from drying out.
Recipe type:
Seasoning/Sauce
Ingredients
1 tablespoonSpanish extra-virgin olive oil . .
12 whole garlic cloves, peeled . .
3 ñora chili peppers (or any other dried sweet chile pepper), seeded
1 pound canned plum tomatoes, drained . .
1 teaspoon sugar .
⅛ teaspoon sweet pimentón (Spanish smoked paprika)
Instructions
For the Salmorra: Heat the oil in a medium pot over medium heat. Add garlic and sauté until soft, about 2 minutes. Add the chili peppers and toast, stirring, for about 3 minutes, then add the tomatoes and sugar. Cook for 15 minutes or until the tomato liquid evaporates. Stir in the pimentón. Transfer the mixture to a blender and purée. Pour into a bowl, and season to taste with salt. Makes 2 cups.