"Youth is when you're allowed to stay up late on New Year's Eve.  Middle age is when you're forced to."  Bill Vaughn
Sous Chef says that New Year's Eve is for amateurs, and really I don't disagree.  So we have created an alternate celebratory program that suits us just fine.  A typical New Year's Eve involves a great bottle of bubbly, a sumptuous multicourse dinner with a special bottle of wine, a good comedy movie to ring in the New Year, and no funny hats or noisemakers to distract or annoy the Havanese kids.  Since I have become something of an early bird (the better to get those special dining offers here in the Coachella Valley), an at-home New Year's Eve celebration allows us to watch the ball drop at Times Square and toast the New Year as early as 9:00 p.m.  In truth, some years I don't even stay up that late, given the quality and quantity of our food and wine.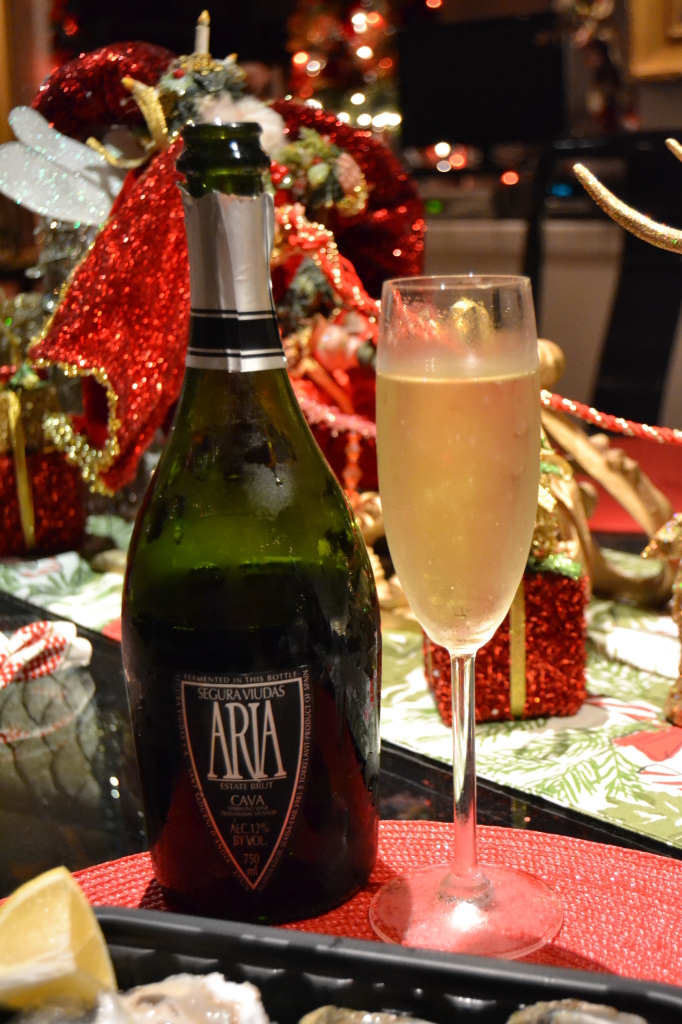 I love the bubbly and don't limit its consumption to holidays, birthdays, sea cruises, or weddings, but it is de rigueur for New Year's Eve.  We have our favorites, but part of the fun of being in a group like Wine Pairing Weekend, and engaging in themes such as today's "Sparkling Wine and Appetizers," is the opportunity to try things different from the norm.  There are many, many sparkling wines on the market.  Fortunately, paralysis by analysis was avoided when UPS delivered bottles of Segura Viudas Aria Estate Brut and Estate Extra Dry for me to sample.  These sparkling wines are Cavas from Spain and part of the Gloria Ferrar family.
Segura Viudas is situated on an estate that dates back to the 11th Century in the renowned Penedes region of Spain just outside Barcelona.  The wines are handcrafted in the méthode champenoise according to Cava traditions that began over 100 years ago.  These Aria Cavas are made from Macabeo, Parellada, and Xarel-lo grapes.  They are low in alcohol at 12% and low fermentation temperatures help produce a delicate and graceful sparkling wine.  This makes these Aria Cavas easy to sip on their own, although they are even better with proper food pairings.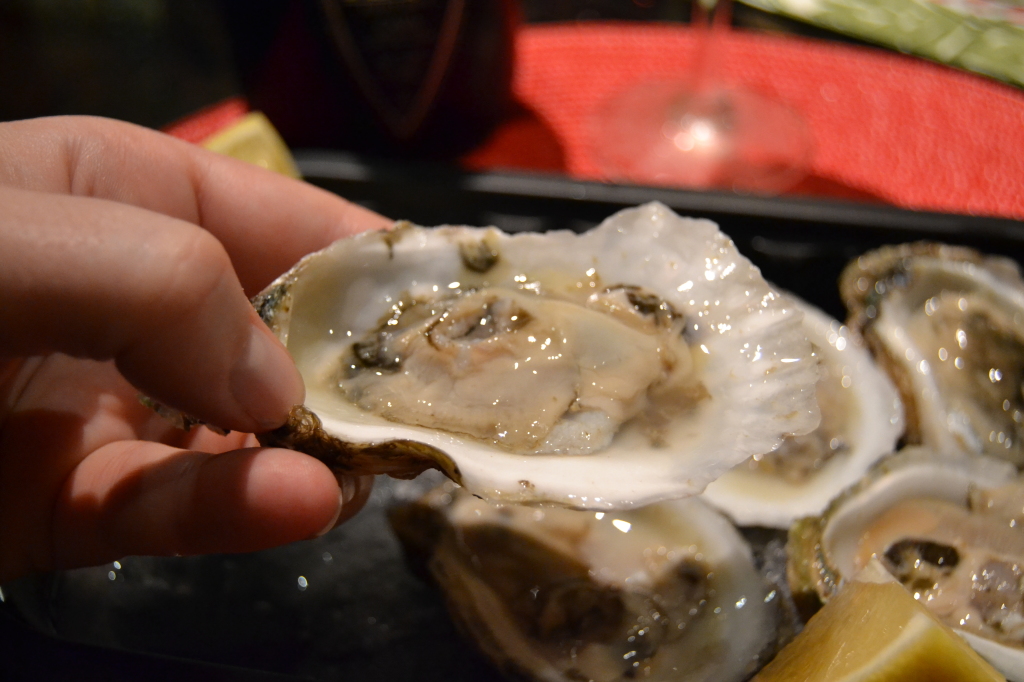 The primary difference between the two sparkling wines is the amount of residual sugar each has and the resulting sense of sweetness that results.  For reasons best known probably to the monks of Dom Perignon, "extra dry" is actually sweeter than "brut," a designation which connotes a "dry" sparkling wine (see chart below for the dry-to-sweet designations for sparkling wines).  We found the wines very fungible and agreed with the tasting notes that either goes well with traditional Spanish fare such as shellfish, cheeses, and Jamon Serrano.  But when it comes to shellfish, I prefer drier to sweeter, so we focused on pairing the Brut with something special.
Our culinary world has changed since Whole Foods Market opened in Palm Desert.  Each day fresh shellfish and seafood are delivered to the store.  They are good, fresh products, the kind that smells like the ocean and not an overripe trash can.  Sous Chef considers Blue Point oysters a delicacy and has fond memories of them from his dinners in New York City after days spent in endless depositions and meetings.  At Whole Foods you can do "take-out" fresh oysters that they will shuck and plate on a bed of ice in a sealed plastic container.  In the words of Ina Garten, "How easy is that?" And it was.  All that was left to do when I got home was to create a separate Spanish tapas platter of Jamon Serrano, Manchego, Idiazabal , and Campo Montalban Cheeses, some olives and Marcona Almonds, and a big hunk of sourdough bread.  This is a feast for grazing:  no utensils required, minimal clean up, and maximum enjoyment.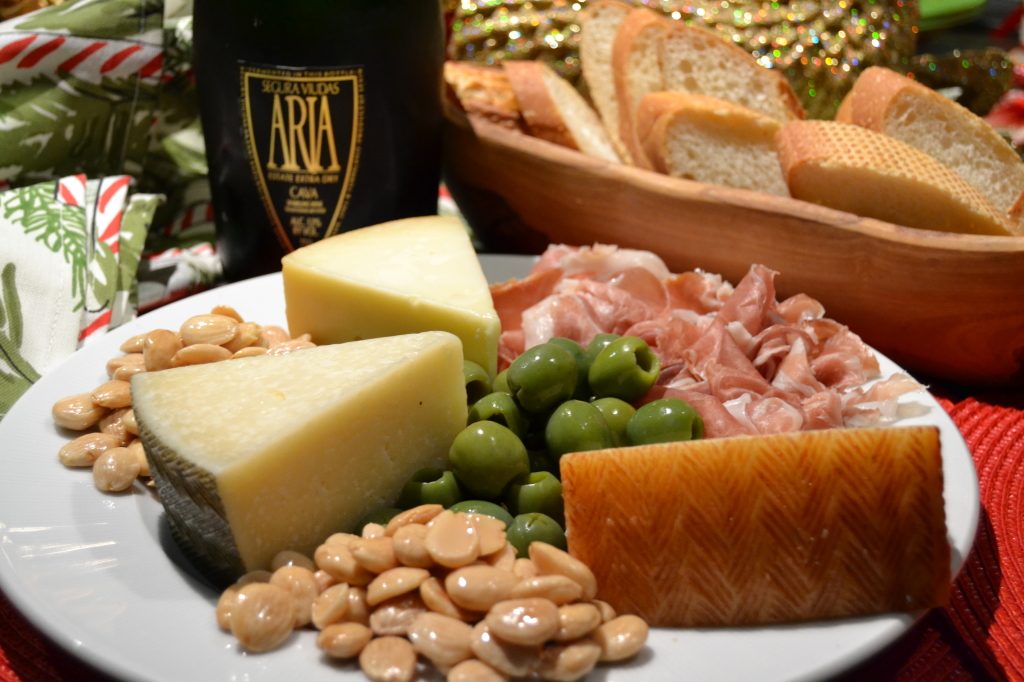 The Segura Viudas Aria Estate Brut paired beautifully with the oysters and the Spanish tapas.  The tasting notes accurately describe it as lively and refreshing, perfect for any occasion.  On the palate you will taste fresh pineapple, almonds, honey and straw, with a hint of pear and fresh bread (hints of yeast).   The fresh flavors of the Brut perfectly complimented the briny oyster liquor.  I would pair this with any shellfish and most strongly flavored seafood, and at $14 a bottle this is a quality Cava you should keep in your refrigerator for everyday use.
I don't believe you can ever have too much of a good thing, although those who suffer from gout may disagree.  The Blue Point oysters were so terrific that we had an encore, this time pairing the oysters and Spanish tapas with the Segura Viudas Aria Estate Extra Dry.  The tasting notes suggest there are flavors of fresh pineapple, apples, pears, honey, caramel and a touch of citrus.  I find that slightly sweeter wines, whether sparkling or still, generally provide an appropriate counterpart to lightly spicy and zesty foods.  But the Extra Dry did more than this and it helped balance out some of the tanginess of the olives and bitterness of the almonds while bringing out the smokiness of the Campo Montalbon cheese.  Like the Aria Estate Brut, it paired marvelously with the Blue Point oysters.   And at a price of $14 per bottle, it provides great value as well as great taste.  Although we prefer dry wines for most occasions, we recognize the benefits of effervescently light  sweetness and would not hesitate to drink or pair the Aria Estate Extra Dry with a variety of seafood/shellfish and spicy dishes.
The Gloria Ferrar family of wines graciously provided me with a bottle of the Brut and the Extra Dry.  I provided the shellfish, Spanish tapas, linen, silverware, glassware, service, clean up, and Sous Chef.  As I have stated before, I am the Culinary Diva and not a member of the Fourth Estate.  And while I welcome trying new and old products and writing about them, unless noted (as in the case of tasting notes or product profiles provided by the producer), the opinions and experiences found in my blogs are expressly my own.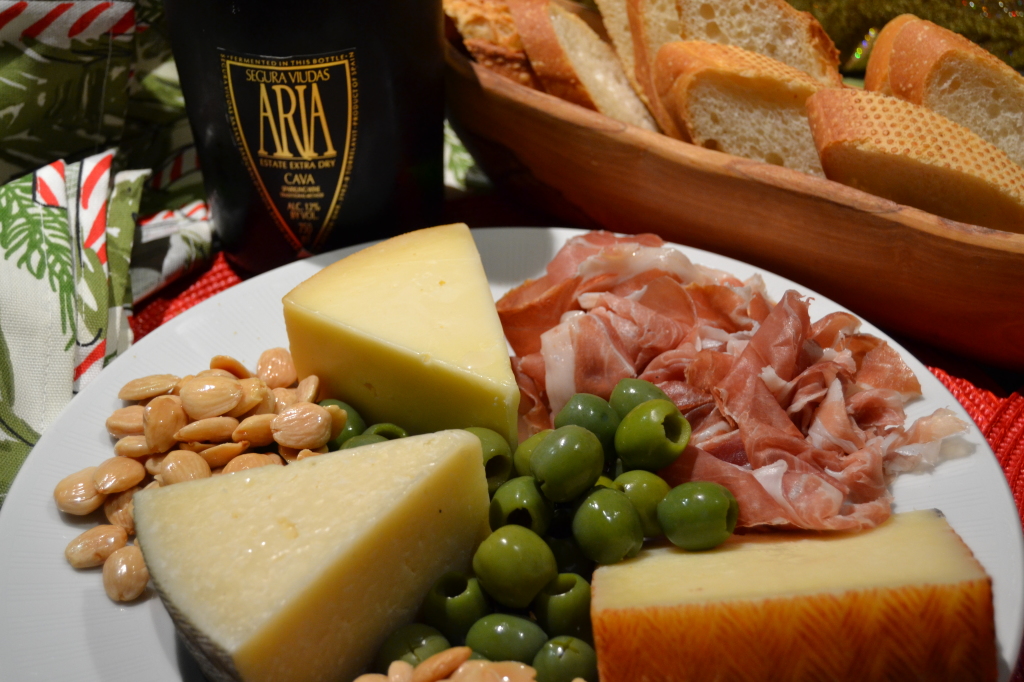 | | |
| --- | --- |
| Level of Dryness | Amount of residual sugar per litre |
| Extra Brut | 0.6% |
| Brut | 1.5% |
| Extra Dry | 1.2 – 2.0% |
| Sec | 1.7 – 3.5% |
| Demi-Sec | 3.3 5.0% |
| Doux | 5% + |
#WinePW Wine Pairing Weekend Holiday Entertaining!
December is holiday festive party time! Our job this month is to create some great sparkling wine and appetizer pairings. If you see this early enough, please join us December 13th at 10 a.m. Central Time. We'll be chatting on twitter at #WinePW about our creative holiday sparkling wine pairings. We'd love to have you join us!
Sparkling Wine and Appetizer Pairings
Here are the ideas available from our group for you. Try something new this year!
Bacon and Greens Dip with Bubbly by Cooking Chat
Piedmont Sparkling Nebbiolo & Pungent Anchovy Green Sauce by foodwineclick
Segura Viudas Aria Cava with Oysters and Spanish Tapas by Confessions of a Culinary Diva
Butterflied Spicy Prawns and Treveri Sparkling Wine by Wild 4 Washington Wine
A Seasonal Nibbles Duet + Pear Valley Vineyard's Frizzante Muscat by Culinary Adventures with Camilla
Appetizers served with a Sparkling Wine by A Day in the Life on the Farm
Cranberry Brie Biscuit Bites and Sparkling Muscat by Curious Cuisiniere
Moscato with Fresh Fruit Almond Cake and Zabaglione by Vino Travels — An Italian Wine Blog
Domaine Meriwether Sparkling Wine and Make Ahead Spanakopita by Tasting Pour
Wine and Dine: Anna de Cordoniu Brut NV and Herbed Parmesan Crisps by Grape Experiences
Italian Sparkling Wine: Bubbly & Bacon #winePW by Girls Gotta Drink
The Holidays Sparkle on #WinePW by Rockin Red Blog
Butternut and Bubbly by It's Okay to Eat the Cupcake
Smoked Salmon and Potato Chip Appetizer with Louis Roederer Champagne by ENOFYLZ
Don't forget to our Twitter chat today, December 13th at 10 a.m. Central Time. We'll be talking about our tips and tricks for the best holiday wine pairings. We'd love to have you join us!
And, be sure to mark your calendars for January's Wine Pairing Weekend, hosted by Christy at Confessions of a Culinary Diva. We'll be sharing "New Wine Resolutions – Wine or Region you want to explore in 2015″
pairings.   Join in the #WinePW 8 conversation on Saturday January 10!