Ole!  This month the Wine Pairing Weekend Group is traveling South of the Border to Mexico and celebrating Cinco de Nueve  (our version of Cinco de Mayo on Saturday, May 9th.   Join us and explore the regional food and wine pairings we come up with this month.
To get in the mood, we started celebrating a little early. This refreshing Watermelon and Jicama Salad from the Jalisco region of Mexico is sure to please the crowd at your next fiesta.  This salad is light and refreshing, perfect for enjoying poolside.  It can be whipped up in minutes with the assistance of pre-sliced watermelon and jicama.  The dressing has a great flavor profile with a good balance of sweet and sour and even includes Tequila.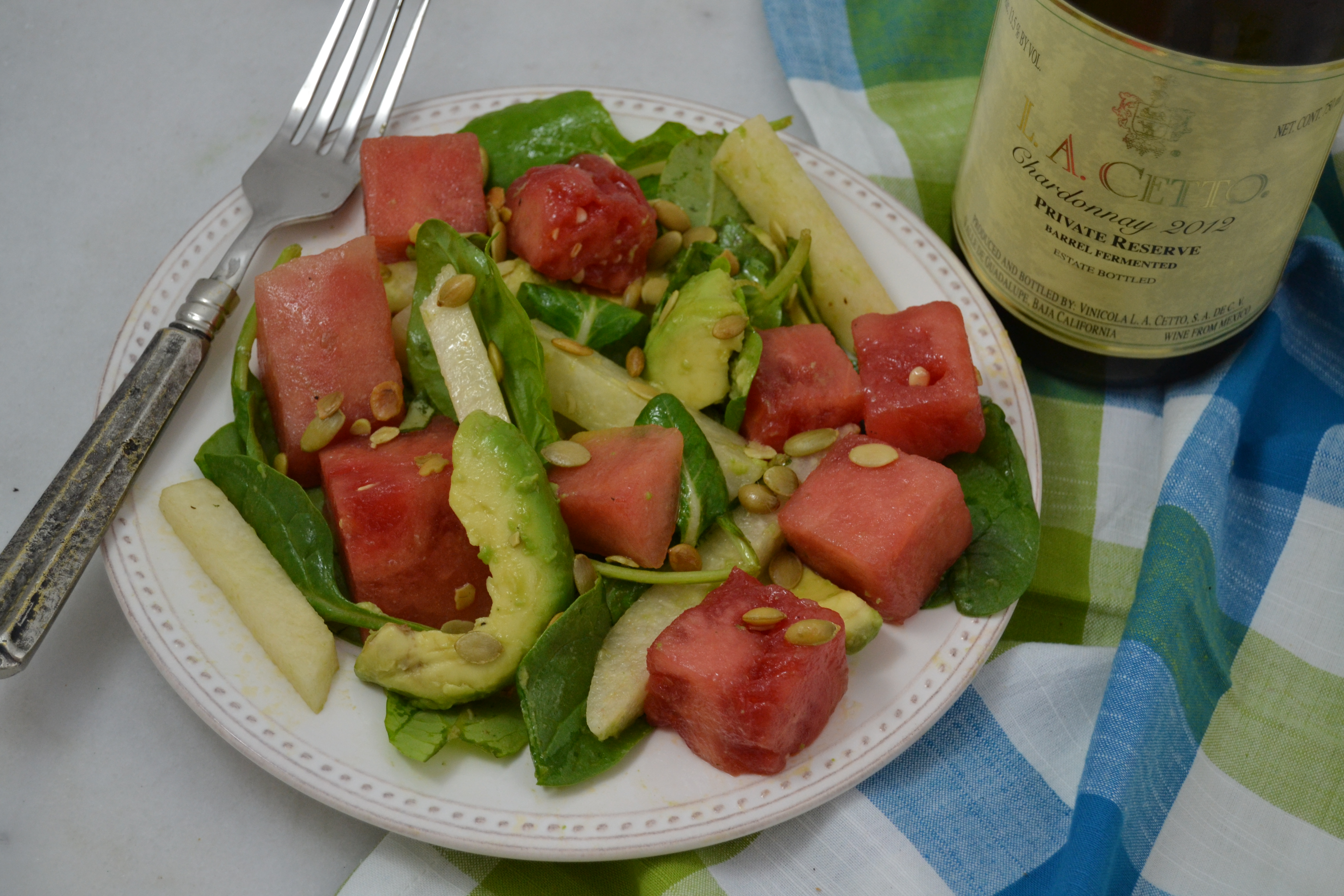 If you love traditional mole, and would like to try something unique, try this recipe from the Puebla region of Mexico for Chicken in Pine Nut Mole.  Don't let the beige color fool you, this dish is tasty and the chicken is moist.  The mole is light with a subtle heat that sneaks up on you but does not overpower the palate.  This received rave reviews from my co-workers.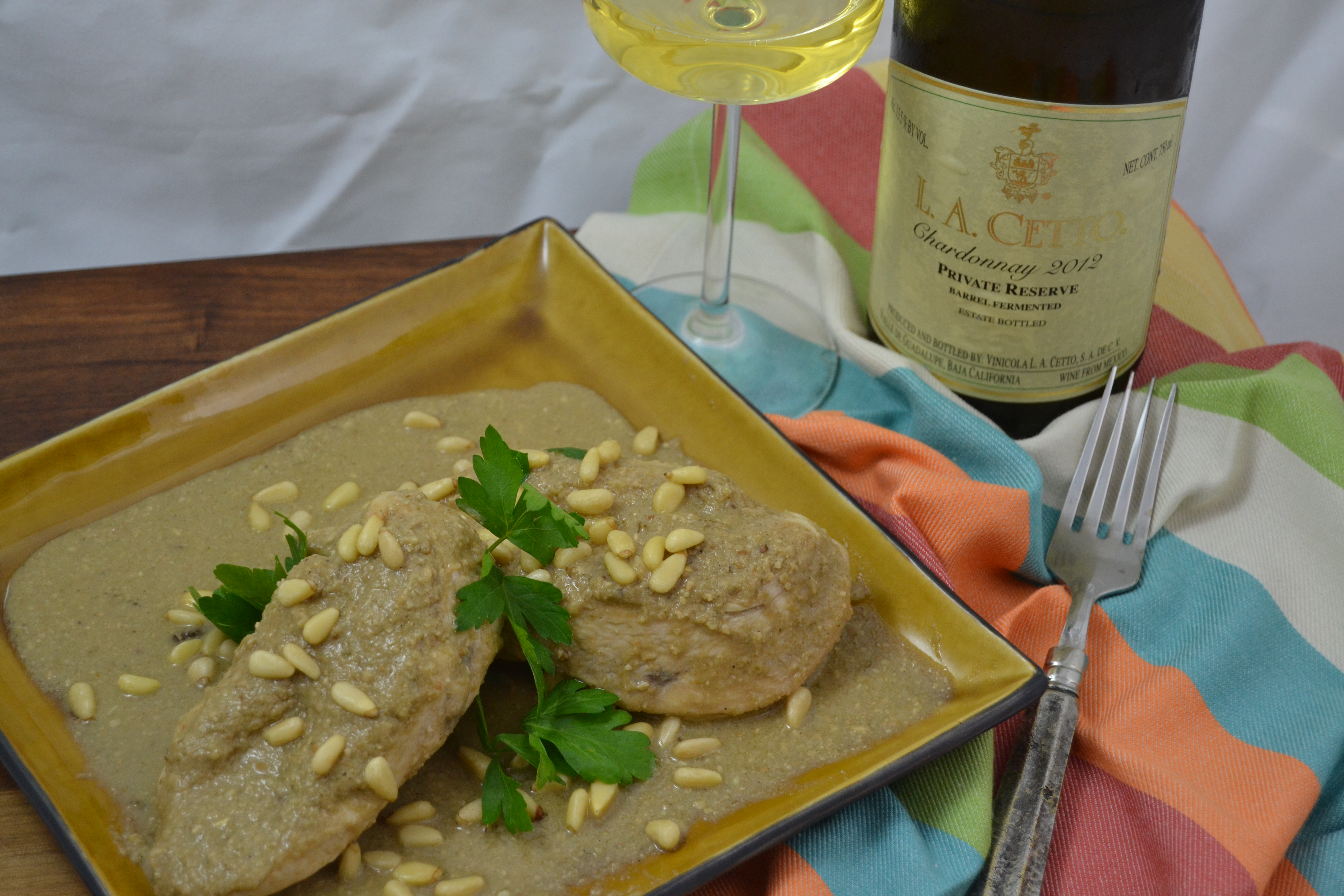 We paired both of these items with a L.A. Cetto Reserve Chardonnay wine from the Baja California Region.  This wine surprised us both as we had fairly low expectations.  It had oak notes but not overwhelmingly buttery on the palate.  It was light and had nice layers of citrus and tropical notes and was golden in color. You can find this wine at Total Wine for $12.99.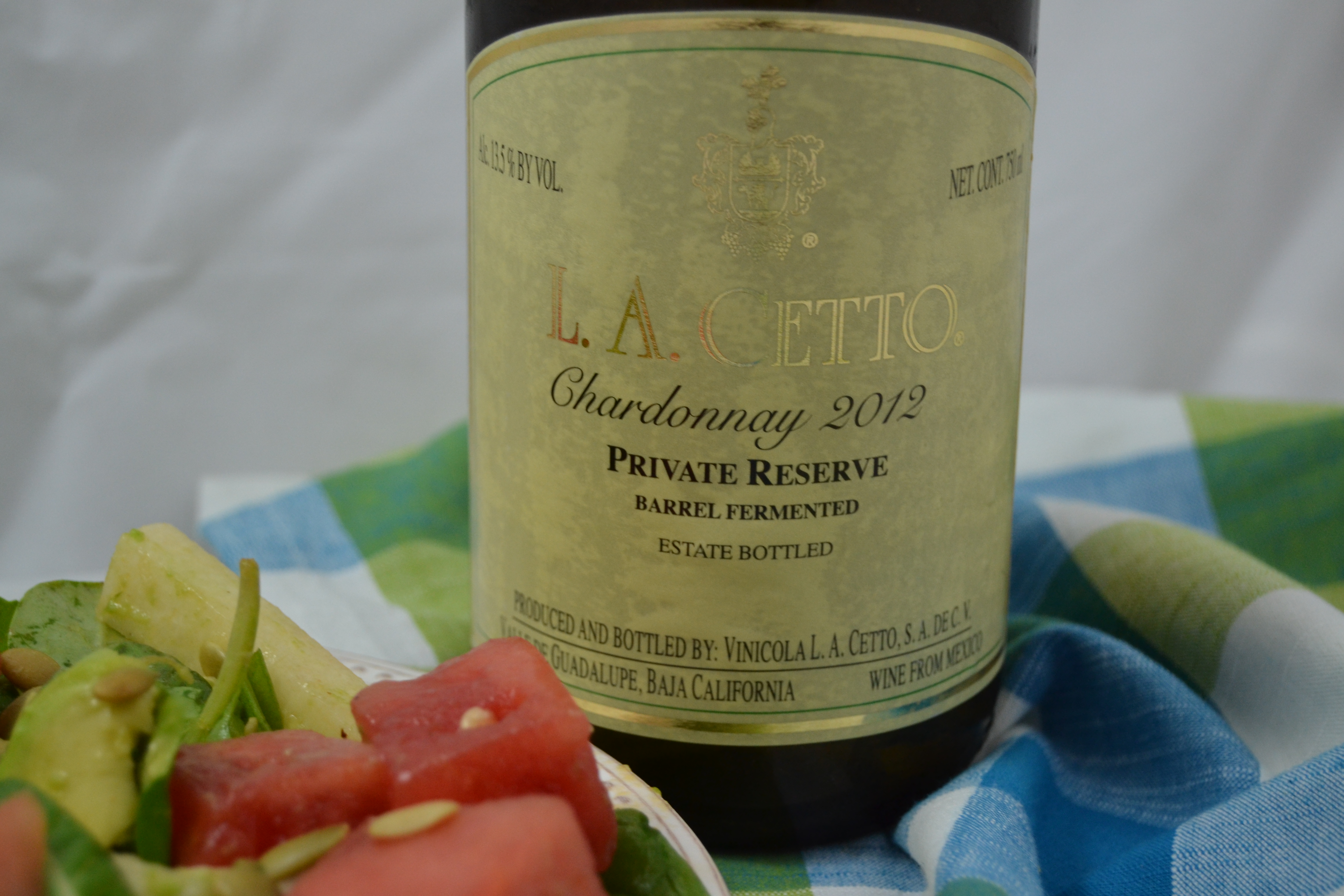 Interested in joining us this month?  Just email at culinarydiva@icloud.com with your food and wine pairing by Tuesday, May 5th.  Hope to see you at the fiesta!
Watermelon & Jicama Salad
Author:
Mexico the Cookbook by Margarita Carrillo Arronte
Ingredients
For the Vinaigrette:
4 tablespoons lemon juice
2 tablespoons tequila
2 tablespoons packed brown sugar
6 tablespoons extra virgin olive oil
sea salt and pepper
For the Salad:
2 cups sliced watermelon
2 cups sliced jicama
10 cups mixed salad greens
1 avocado, peeled, seeded and diced
Instructions
Combine the lemon juice, tequila, and sugar in a bowl, season with salt and pepper, and stir in the olive oil until thoroughly combined.
In a large bowl, combine the watermelon, jicama, and salad greens. Add the avocado and mix gently. Add the dressing to taste and serve immediately.
Chicken in Pine Nut Mole
Author:
Mexico the Cookbook by Margarita Carrillo Arronte
Ingredients
1 white onion, quartered and dry roasted
3 jalapeno chiles, dry roasted
3 cloves of garlic, dry roasted
4¼ cups chicken stock
6 tablespoons olive oil
2 cups dry roasted pine nuts
2 cloves dry roasted
2 allspice berries dry roasted
6 chicken breasts
½ cup pine nuts for garnish
sea salt
Instructions
Dry roast items that need to be roasted. I did this in two separate pans for about 45 minutes in a preheated 350 degree oven.
Put the onion, chiles, and garlic into a food processor or blender, and a ladle of the chicken stock and process until smooth. Strain into a bowl.
Heat 1 tablespoon oil in a large saucepan over medium heat. Add the chile mixture and cook stirring frequently, for 5 minutes.
Put the pine nuts, cloves and allspice berries into a food processor or blender and process until combined. Again, add a ladle of the chicken stock. Strain into the pan with the chile mixture, and discard the contents of the strainer. Taste the sauce and season with salt if necessary. Add the rest of the stock, reduce the heat to low, and simmer for 30 minutes, stirring occasionally.
Heat the remaining oil in a large frying pan or skillet. Add the chicken and cook over medium heat for 4-5 minutes on each side, until golden brown. Remove the pan from the heat.
Transfer the chicken to the pine nut sauce and simmer over low heat for 20 minutes or until cooked through. Remove the pan from the heat.
Divide the chicken and sauce among individual plates, sprinkle with the pine nuts and serve immediately.